By bettyr | Date: 11 Aug' 2020
Sea of Cortez, Midriff Islands Trip Report – July 25th to August 1st.
Led by Nirupam Nigam | Photos by Nirupam Nigam and Group
Often overlooked as a dive destination, the Sea of Cortez is unique in its beauty and distinctly Mexican. Magnificent cardon cactus dot rugged, desert mountains that tower over a mottled blue and turquoise sea. The hot sun and humid air accentuate the tantalizing alure of warm, tropical water. An attractive silence hangs in the morning air and evening stars. Beneath the waves, a wide variety of colorful and charismatic endemic species hide among boulders, seaweed, and coral. And all of this is just a few hours drive from Phoenix on a trip to the Midriff Islands in the Sea of Cortez aboard the Rocio Del Mar liveaboard dive boat!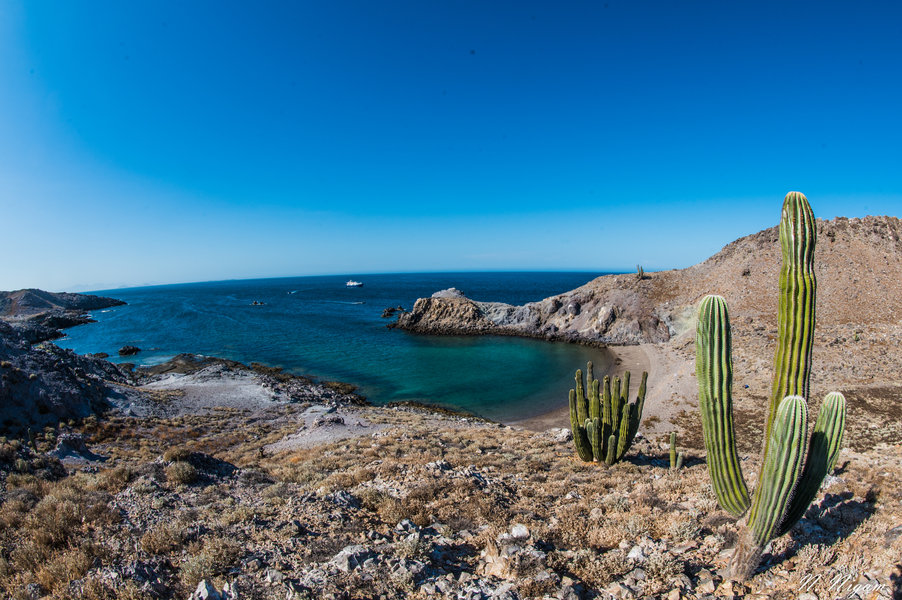 Although I've done dozens of dives throughout Baja, it was my first time leading a photo workshop in the northern Sea of Cortez. The region is unique in that its topography and ocean conditions produce a wide variety of life throughout the peninsula. By the end of the trip I was surprised to find out that the Midriff Islands just might be some of my favorite diving in Mexico – and a hidden gem of a macro destination. Rarely have I dived a locale where the critters are so charismatic – like the bluespotted jawfish, the orangethroat pikeblenny, and, of course, the sea lions.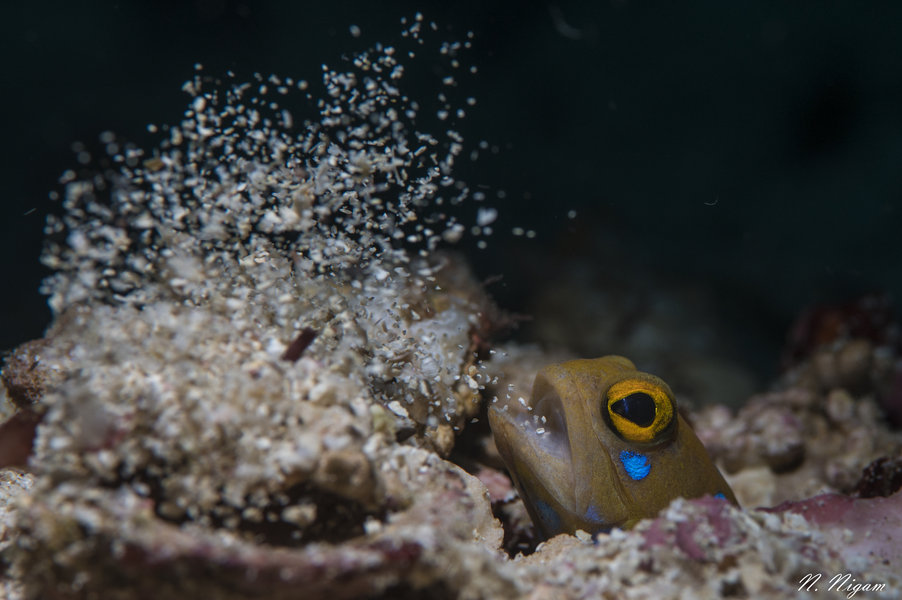 Traveling in Safety
This trip proved to be an even more unique experience as we dealt with the realities of pursuing our passions amidst a pandemic. Traveling during such a time can be a little daunting and confusing, but it is definitely doable. At every step of the way the crew of the Rocio Del Mar helped us navigate the process of keeping safe and having fun. Fortunately for many divers in the United States, Phoenix is a short and easy domestic flight. On the first day of the workshop, most of our group of 16 participants met at the Phoenix airport and loaded our countless duffle bags and suitcases of camera and dive gear into transport vans. It was a 4 hour shuttle across the border to the resort town of Puerto Penasco, Mexico.
At the border, Covid-19 has led to a few changes. It's now necessary to get out of the shuttle with your luggage and walk across the border before getting back in the shuttle. There is also a check point after the border where you are sprayed with disinfectant but it's not nearly as daunting as it sounds. The recent decline in tourism meant that the crossing was nice and empty.
When we arrived at the boat, the crew greeted us with some cold drinks and enthusiasm. They outlined the boats new health policies which included an altered daily schedule, two temperature checks per day, masks inside at all times, and their sanitization guidelines. Maintaining social distancing on a boat can be difficult, but it can be done. The key is constant communication amongst the group. I was very happy that every participant was able to sit down and talk about how we wanted to operate and live with each other during the trip. We made decisions candidly and together.
The Itinerary and Vessel
The trip itinerary covers much of the northern half of the Sea of Cortez with stops for photographing macro subjects, sea lions, whale sharks, and beautiful black coral walls. The uniqueness of the Midriff Islands stems from the fact that there is a lot of ocean mixing at the dive sites. This introduces a lot of nutrients to the water and yields a wide variety of life – but it can be tricky to find the right thermal protection. The temperature during our trip ranged from 72F to 86F – sometimes the temperature range was 5-7F on a single dive! By the end of the trip, we had done 19 dives.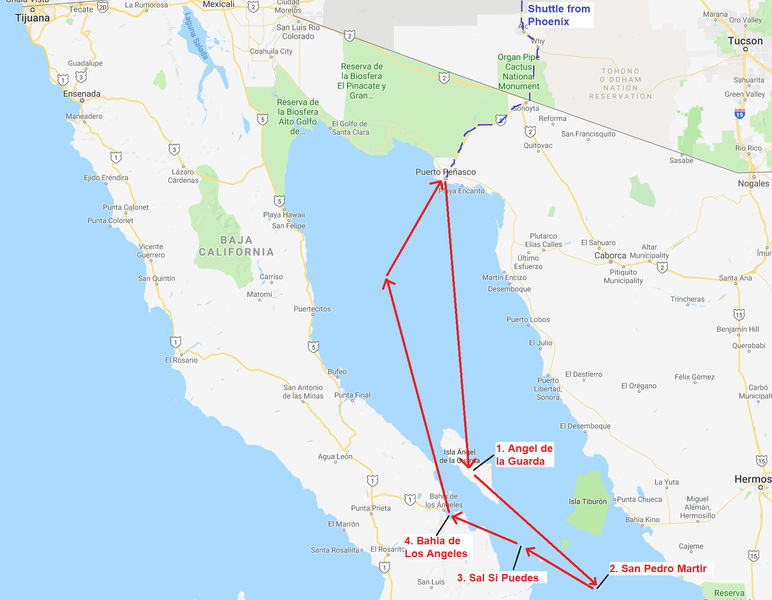 The Rocio Del Mar is a very comfortable liveaboard vessel. It is built to stay stable on the water and the boat has additional stabilizers. It got a little rough during our ride back, but most people got through the trip without getting seasick. Bring Dramamine if you're not sure if you'll get seasick. Most rooms are situated along the main deck but there are a couple of rooms on the second deck. The rooms can fit either one or two guests and each room has its own bathroom and shower. My absolute favorite thing about the rooms was the air conditioning – it gets really hot in the Sea of Cortez. Air temperatures reached 100F during our trip.* Protip: If you are craving a little more space, talk to Bluewater Travel about booking rooms 7 or 8.
The galley is nice and spacious. But the real highlight of the Rocio Del Mar is the food. It's to die for. Some meals looked like they came straight out of a Michelin starred restaurant. Any meal with shrimp was the best meal of the day! One of my favorite experiences of the trip was when the crew prepared an amazing dinner of tacos on the top deck under the stars. I haven't had tacos that good in years (and I eat a lot of tacos).
The diving was like clockwork. We split up into three dive groups. Each site was dived from a skiff, so we would take turns loading the skiff and getting dropped at the site. This gave the crew time to fill tanks and deal with any issues.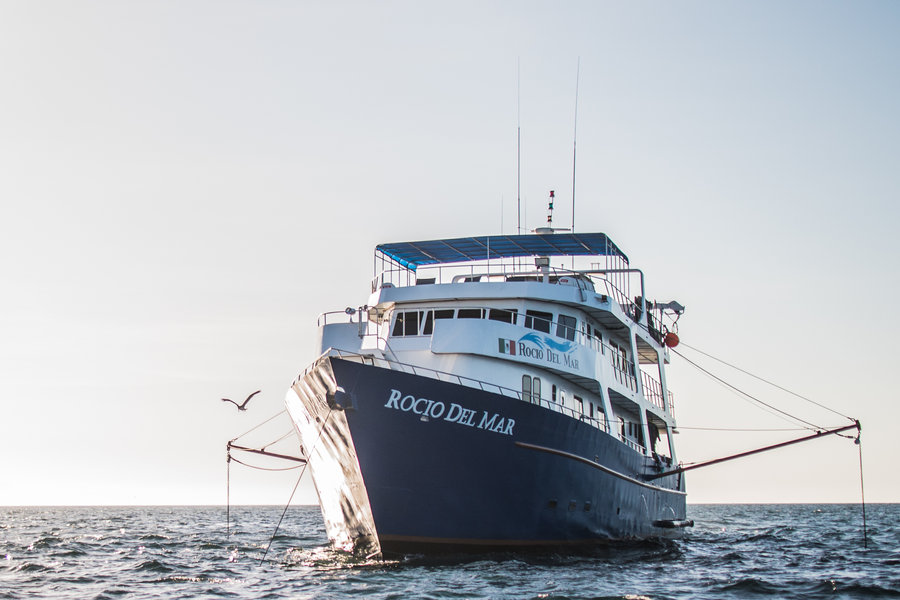 Check out the Rocio's sister ship, the Quino El Guardian!
The Photo workshop: Escaping the Flood!
The great thing about going on a Bluewater Travel photo workshop is you don't need the best camera in the world to learn a lot – any camera will do! Our guests had a wide range of cameras on this trip. Many seemed to prefer the Olympus TG-5 and 6 – an amazing macro tool that was very appropriate for the dives we were doing. Amongst mirrorless shooters, a couple guests were Sony A7R IV fans. Some of our GoPro shooters were able to capture some great video too!.
Every day after lunch, I gave a lesson on an underwater photography topic pertinent to the dives we were doing – ranging from "how to photograph sea lions and whales sharks" to "wide angle photography" to "using Adobe Lightroom." Many in the group spent long nights mulling over and editing photos with me – sometimes until 3 am! I was excited to see so much enthusiasm and willingness to improve. At the end of the trip I was proud with the imagery that came from the group.
As with any sport, we did have some camera issues and even a couple of housing and strobe floods. But at the end of the day we all went home with working equipment. People's vigilance and quick thinking saved cameras!
Protip: The Rocio Del Mar has a single camera table on the dive deck. Try to do any exterior work on your housing on the camera table. However, if you need to open up your housing and work on your camera I recommend taking it into an air conditioned space like your room or the TV room. Just be careful not to crowd the TV room.
The Diving
Days 1&2: Isla Angel de la Guarda
We woke up our first morning at a beautiful desert island – Isla Angel de la Guarda. The check out dive was one of my favorite dives of the trip. At first you descend to an unimpressive looking bed of sand. But the dive guides were quick to teach us how to adjust our eyes. All of a sudden we saw theatrical drama more compelling than a broadway play. Blue spotted jawfish were spitting sand to build their homes. Male orangethroat pikeblennies displayed their mating colors with a dance. Sting rays jumped from the sand at a moments notice.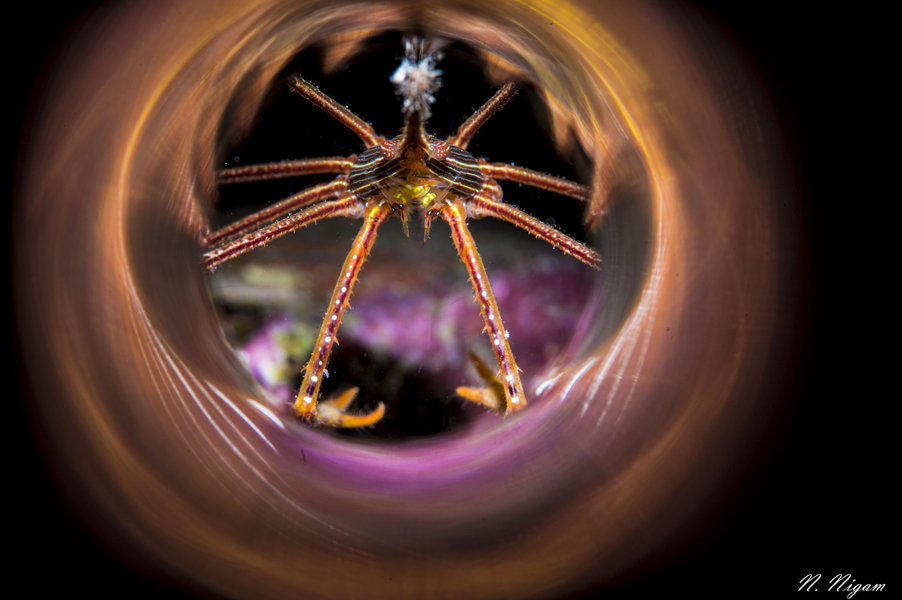 We spent the remainder of the day as well as the next day enjoying the macro sites the northern Sea of Cortez has to offer. And indeed it's macro heaven with all the nudibranchs, blennies, jawfish, eels, and gobies! At times, I even felt the quality of the critters and behaviors they displayed rivaled some of the top macro destinations in the coral triangle. There many not be as much diversity, but there is certainly as much action.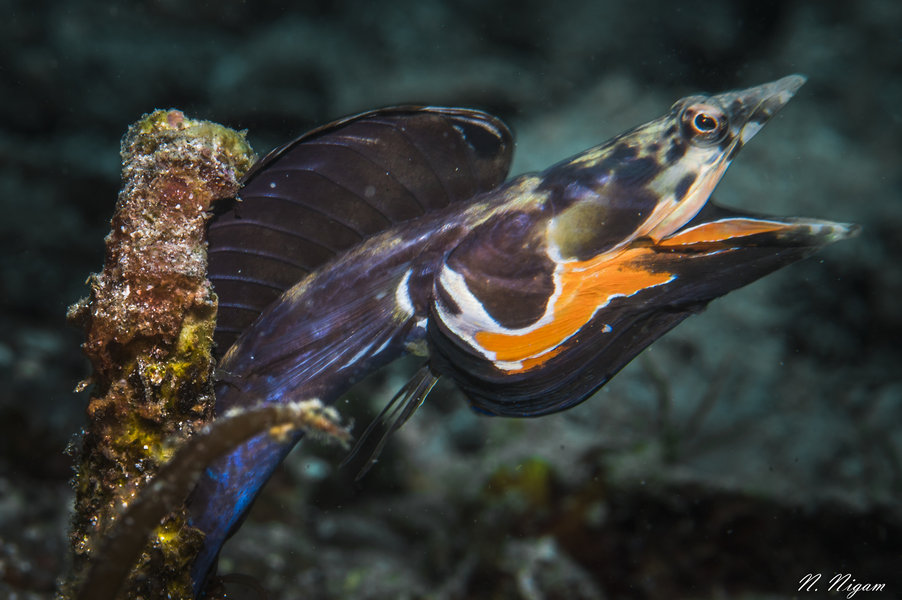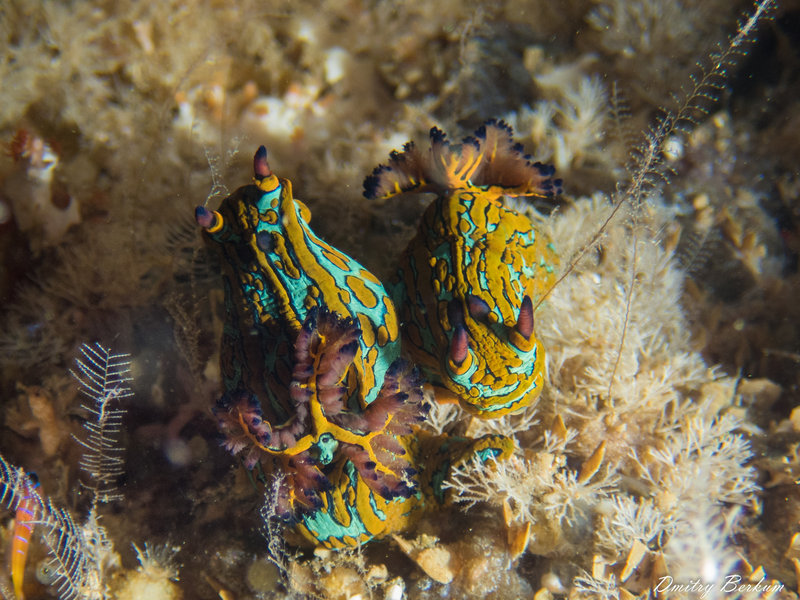 The Search for Fin Whales
On the morning of our second day at Isla Angel de la Guarda the crew spotted multiple pods of fin whales feeding just offshore of the island. We made a quick decision as a group to split into two. One group went diving and the other loaded up on a panga to see if we could get close to the whales...and indeed we did! It isn't until you're riding alongside a massive creature in a boat smaller than the animal that you really appreciate its size. It turns out fin whales are not the most friendly creatures, so we had to try to anticipate their path and swim as hard as we could to keep up. It was amazing seeing their goliath backs swim by, but I only managed to capture a slight shadow of a photo. We all had a lot of fun just having the experience of being so close.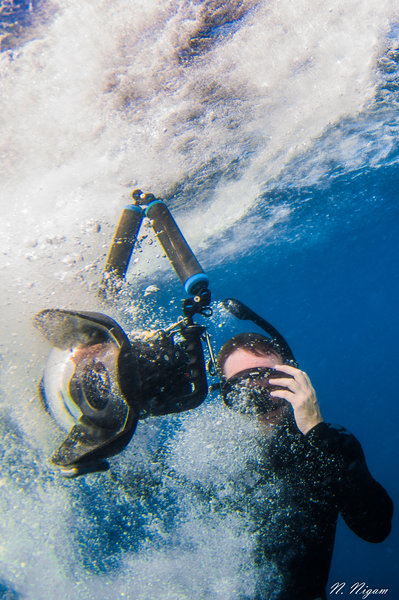 Days 3&4: San Pedro Martir - Sea Lion Heaven!
After two days of macro photography, we were itching to get our wide angle domes in the water, and we weren't disappointed. As you arrive at the rugged islands of San Pedro Martir the first impression is a lot of bird guano and a lot of barking! The sea lions are everywhere. For many their endearing underwater antics and graceful acrobatics was the highlight of the trip. And as many soon found out – sea lions are hard to photograph! The trick is to expose their dark fur properly without getting too much backscatter in the shot. It can be difficult with the sea lions kicking up so much silt into the water.
It can also be tricky to capture their behaviors when their jetting through the water so quickly. It can help to spin around and copy their movements. Just be careful to watch out for bulls! They don't like you playing to close to their females. We had lots of bulls swim up to us and blow bubbles to mark their territory. My favorite behavior I witness was a sea turtle getting bit by a playful sea lion. The sea lions photos we captured were well worth the effort: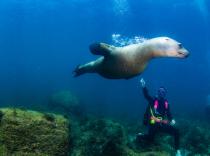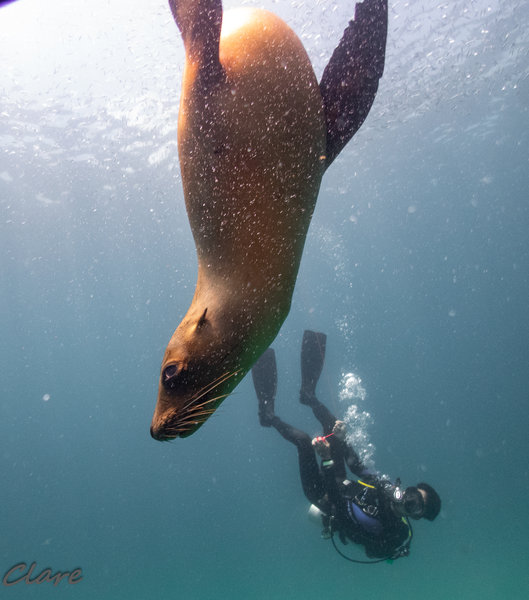 San Pedro Martir is also special for its amazing black coral walls. We spotted lots of octopus, deep diving sea lions, and beautiful wide angle coral scenes on the reef.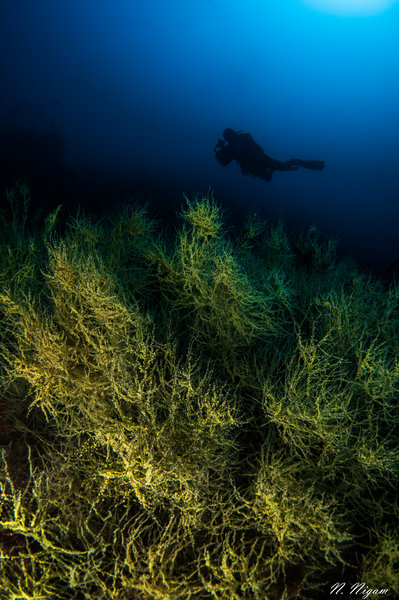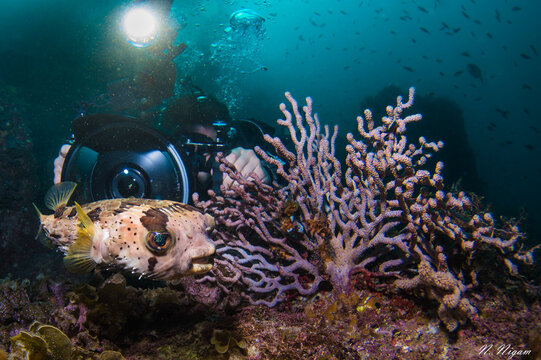 A final highlight of San Pedro Martir was a night dive packed full of scorpionfish, nudibranchs, puffers, sting rays, and odd anemones.
Day 5: Ultimate Macro & Topside Excursion at Salsipuedes & Animas
For day 5, we returned to the macro wonders of the Sea of Cortez. At the first site, we witnessed giant jawfish swimming out of their homes as well as many nuptial male blue spotted jawfish looking for mates. The highlight of the day was the nudibranchs at Caballo – an underwater sea mount known for strong currents. So many nudies!!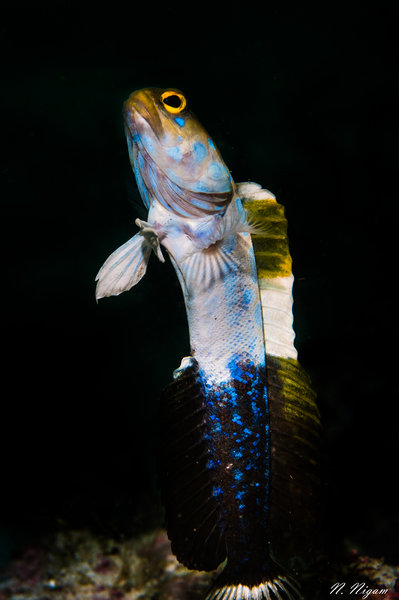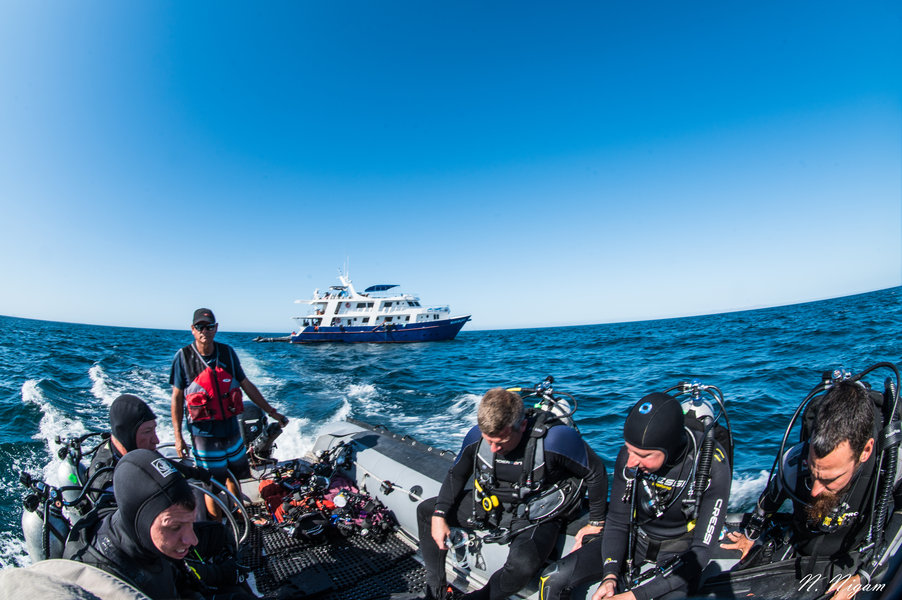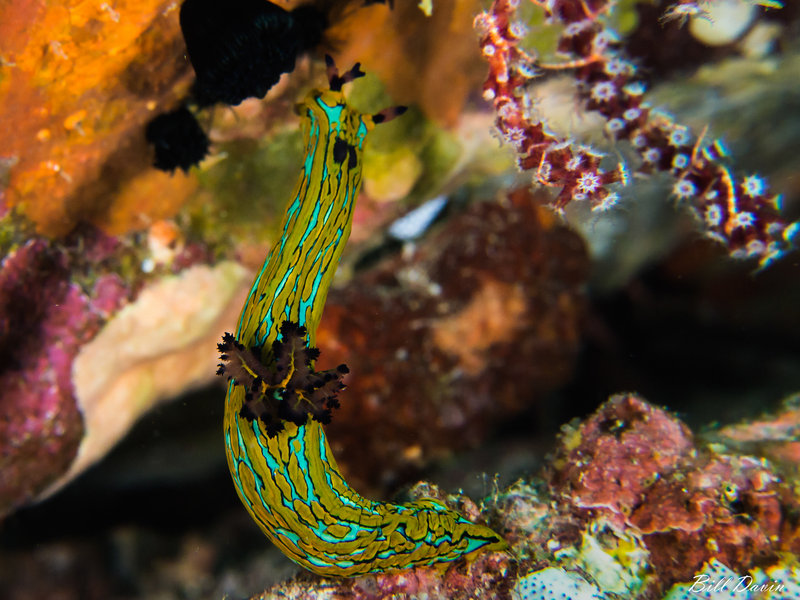 A few guests also went on an afternoon excursion to hike on a remote desert island, discovering snake skin, cholla cactus, and the ruggedness of desert living.
Day 6: Whale Sharks at the Bahia de Los Angeles
The day started with a final macro dive near Bahia de Los Angeles on the Baja Peninsula. It was a packed full of jawfish, flat worms, and shrimp. But the real highlight of the day was snorkeling with whale sharks in Bahia de Los Angeles! The visibility was surprisingly good for the area and there were some very cooperative juvenile whale sharks. Almost everyone got to experience amazing close encounters. Alas, my housing fogged up, but some of our guests came home with amazing photos...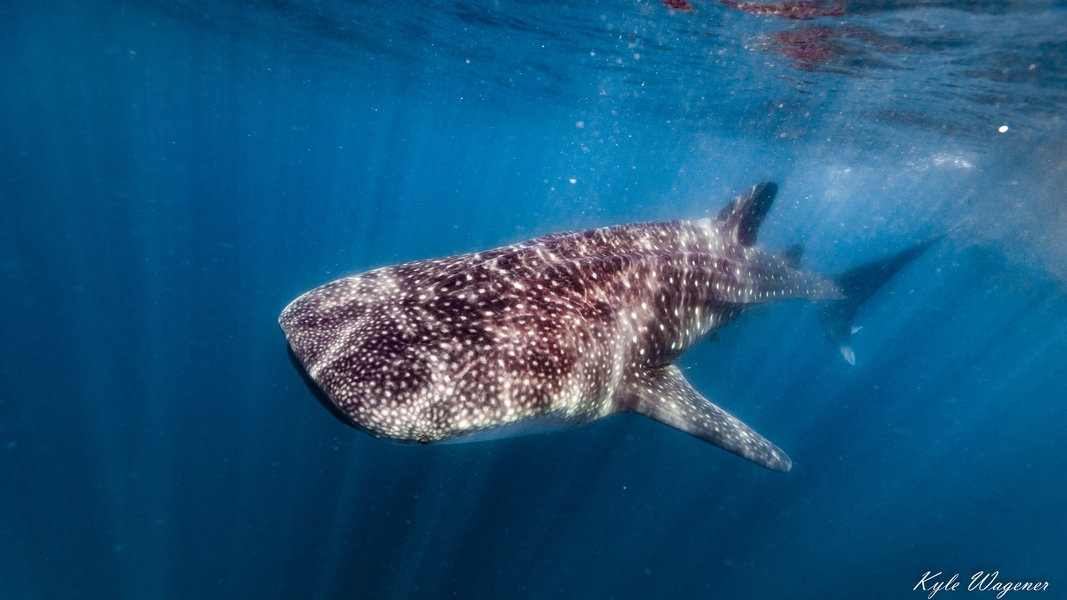 Just as we finished swimming with the largest species of fish on earth, the wind started to pick up, indicating an impending storm. We packed up and started sailing for home. I could not imaging a more rewarding and adventurous experience in a time when we all could use a little vitamin-sea.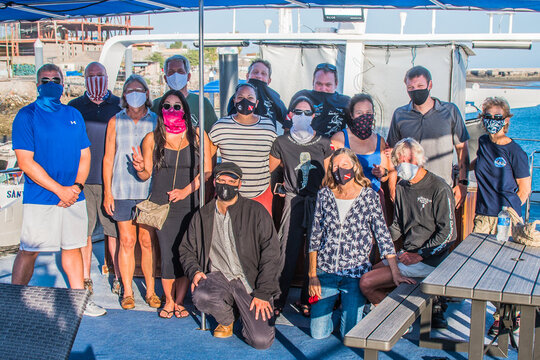 For more information on trips to the Sea of Cortez as well as other amazing destinations email info@bluewaterdivetravel.com.
Join us on one of our other trips to the Sea of Cortez:
2021
2022
Explore Baja trips are similar itinerary but 12 nights instead of 7! Check out these trip dates as well:
2022