By Jacqui | Date: 26 Oct' 2023
La Paz, Mexico Sea of Cortez Trip Report – October 2023
Incredible diving with sea lions and wrecks during BlueWater Travel's La Paz 2023 Underwater Photo Workshop
Trip Leader: Dan Bishop | Images by Dan Bishop and Group
The Sea of Cortez is a destination we always look forward to, and this year's La Paz Photo Workshop was no exception. Eighteen guests joined Bluewater Travel for an unforgettable trip exploring the dive sites around La Paz, Mexico where we enjoyed 86 degree water and had interactions with sea lions, turtles, wrecks, and much more! As always, the sea lions stole the show and were quite playful, and more than one guest found sea lion pups nibbling on fins, cameras, and wetsuit lanyards!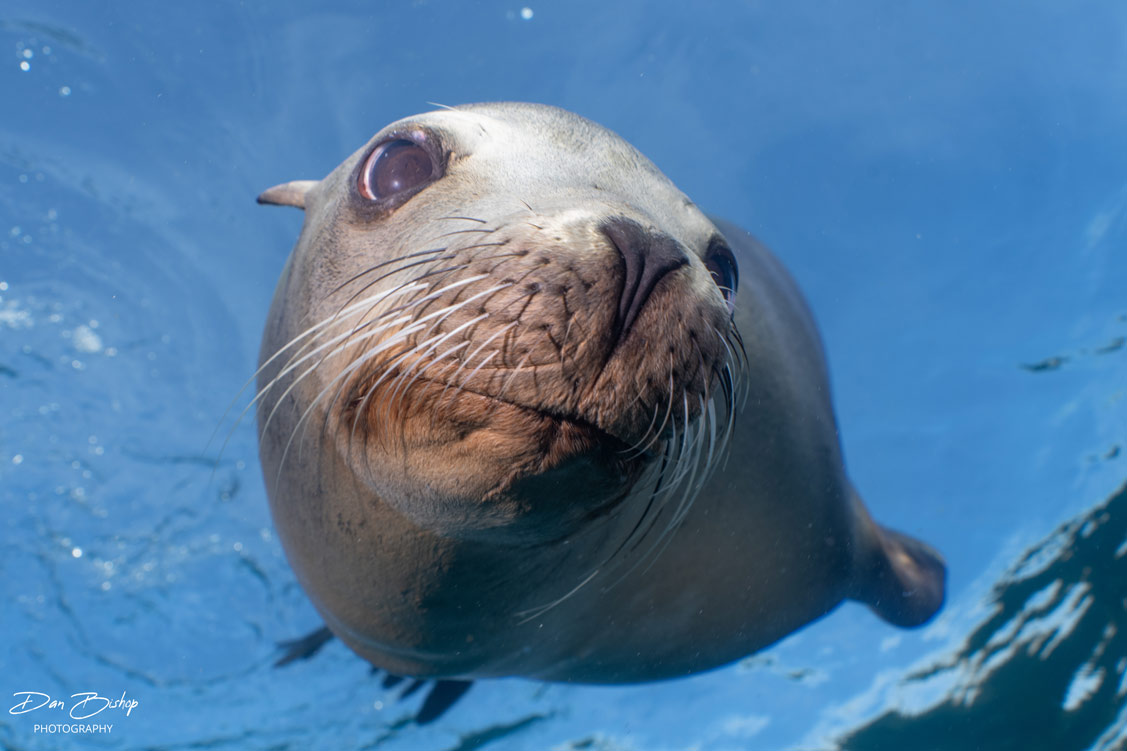 This was a land-based trip where home base was the Hyatt Place La Paz, and Fun Baja was the dive operator. Each day, we departed at 8am for diving, followed by 2-3 dives per day. Boat rides to/from the sites ranged from 1-2 hours, depending on the site, and lunch was served on the boat. Our excellent dive guides Edgar and Diana helped select sites with the best conditions and sea life. Visibility was lower than normal for the Sea of Cortez given El Niño this year, but we made the best of it and managed to produce some great images.
Like years past, this trip was a photo workshop, so in addition to the great diving, we spent 1+ hours each day in the classroom discussing underwater photography fundamentals, wide angle shooting techniques, and editing. We also conducted several image reviews throughout the week. There was a wide range of experience levels in attendance, and thus we covered topics ranging from basic to more advanced shooting techniques. Camera models included the Olympus TG-6, GoPro, iPhone, Nikon D7500/D500/D850/Z7II, Canon R10, and Sony A6600/RX100. I was shooting a Sony A1, Sony 28-60 lens, Nauticam WWL-1B wet wide lens, and Retra Pro X strobes.
The goal of the workshop portion was to provide guests with a technical foundation that would allow them to build their knowledge to expand their photography skillset. Specific topics included manual exposure control, wide angle composition, focusing techniques, strobe positioning, settings / techniques for specific types of subjects (sun balls, models, sea lions, rays, etc.), and a deep dive in to editing in Lightroom and Topaz. Underwater composition was a key focus area, and it became a running joke that 'fish ID' shots were not allowed!
Sea Lions were plentiful and engaged with divers on many of the dives. We did 4 dives at Los Islotes, where a colony of 850+ sea lions live. At this site, there is an abundance of playful pups, curious females, and large males. It never gets old to watch the pups play with each other, play with starfish or rocks, and engage with the divers. We also found sea lions at sites like La Reina, and even a lone sea lion near the wreck of the Salvatierra.
During the week, we visited four wrecks that are in the La Paz area. The wreck of the Salvatierra, in particular, was popular with the guests, as there was an abundance of sea life surrounding the wreck and fairly good visibility that day. Turtles, large schools of yellowtail surgeonfish, large green morays, spotfin porcupinefish, snapper, and more all call this wreck home. The coral covered wreck structures also make a great backdrop for wide angle images.
In addition to still image shooters, a number of guests were shooting video on their iPhones, GoPros, and mirrorless cameras.
There were also some great top side sightings. On Monday, we spotted a breaching pilot whale and her calf near our boat, and on Wednesday, the captain brought the boat close to an island inhabited by booby and other bird species. We were also treated to some gorgeous sunsets! Unfortunately, our trip was cut short by one day due to Hurricane Norma, but luckily that only impacted 2 dives on Friday for most guests.
Additional images from the trip
Join our upcoming trips to the Sea of Cortez:
SEA OF CORTEZ PHOTO WORKSHOP
Aug 24 to 31, 2024 - Learn More
Aug 23 to 30, 2025 - Learn More
EXPLORE BAJA PHOTO WORKSHOP
Oct 5 to 17, 2024 - Learn More
Oct 4 to 16, 2025 - Learn More
Oct 3 to 15, 2026 - Learn More