Destination: Mexico
Manzana F Lote 1 Puerto de, Pichilingue, 23208 La Paz, BCS, Mexico | Full board + 2 dives from $165/ppn

---
Club Hotel Cantamar Quick Pitch
A La Paz dive resort designed for divers and home to a large fleet of dive boats. Club Cantamar is great for groups!
Quick Information
No of Rooms: 42
Dive Center: On-site
Amenities: AC, pool, swim-up bar, private beach, restaurant and more
WiFi: Yes, free
Nearest International Airport: Manuel Márquez de León International Airport
Airport shuttle: Yes
How to Get There
With an international airport, Manuel Márquez de León International Airport (LAP), La Paz is only two hours away from Los Angeles or Mexico City, with most flights arriving from Mexico City, Guadalajara or Los Angeles. Once on the ground, it's a quick shuttle ride to the dive resorts. Club Cantamar is located approximately 45 minutes north of the La Paz airport.
Dive Overview
The Sea of Cortez has sea lions, whale sharks and large schools of fish. Dive sites are usually 1.5 - 2 hours away though.
[Read More: Sea of Cortez Dive Travel Guide]
Accommodations
Types of Rooms, Amenities and Photos

---
Club Hotel Cantamar Room Overview
All guestrooms are carefully decorated and designed to meet your needs for a relaxing getaway. There is a tranquil fountain in the center of the building. Standard amenities included private bath with shower, air conditioning, cable TV with remote control and direct dial telephone. Racks for diving equipment and bathing suits, Iron and Ironing boards and hairdryers are provided in some guestrooms.
Standard Rooms
All standard rooms have ocean views, quiet air conditioning system, and comfortable rustic style furniture. All rooms have satellite TV and most rooms have telephone.
Condos
The condos are located at a supreme location only steps away from the beach. There are only 4 condos total in the resort, each with 2 bedrooms, 2 bathrooms, a full kitchenette, dining room, living room and private balcony. The Cantamar condos are perfect for those who want to be secluded and share the comfort of having a home away from home.
Resort Facilities

---
Club Hotel Cantamar Features
Air-conditioning
On-site restaurant, bar and lounge
Fresh-water swimming pool with swim-up bar
Private resort beach
Resort marina 'Marine Pichilingue' with docking privileges
Full-service resort dive center
Club Hotel Cantamar Food & Drinks
Breakfast and lunch are included in package prices.
Club Hotel Cantamar Activities
Day trips
Fishing
Sea-kayaking
Sailing
Snorkeling
Diving
Packages & Rates
Club Hotel Cantamar Rates

---
Hotel & Dive Packages
Rates are per person in USD, based on double occupancy. Prices subject to change without further notice.
| | | |
| --- | --- | --- |
| Package | Bed & Breakfast | Full Board |
| 3 Nights 2 Diving Days | $446 | $497 |
| 4 Nights 3 Diving Days | $625 | $693 |
| 5 Nights 4 Diving Days | $803 | $889 |
| 7 Nights 5 Diving Days | $1,021 | $1,157 |
| 10 Nights 7 Diving Days | $1,374 | $1,578 |
| 14 Nights 10 Diving Days | $1,898 | $2,188 |
Inclusions
Bed & breakfast: Room + Breakfast + Onboard Lunch on diving days
Full board: Room + Full meal service Breakfast + Lunch + Diner
Ground transportation form and to La Paz airport
Choose between Cantamar Beach Hotel or Bugambilias downtown
2 to 3 Dives a day, depending on weather and dive sites
Taxes
Exclusions
Fuel Surcharge for Las Ánimas dive site
National Park fees ($4/day, $26/week)
Equipment Rentals (aside from weights and tanks)
Tips for crew and hotel
Canned or alcoholic beverages
Can't find the information you need?
Drop us an email at info@bluewaterdivetravel.com or call us at 310-915-6677 and we will gladly help you plan your dream dive vacation!
Dive Information

---
Dive Overview
Playful and happy sea lions. Amazing shipwrecks. A huge variety of fish, invertebrates and reefs. La Paz Bay in the Sea of Cortez offers you incredible dives almost year round. Club Hotel Cantamar take you in comfortable boats, from 10 up to 35 divers, with friendly crews and incredible spots just for you.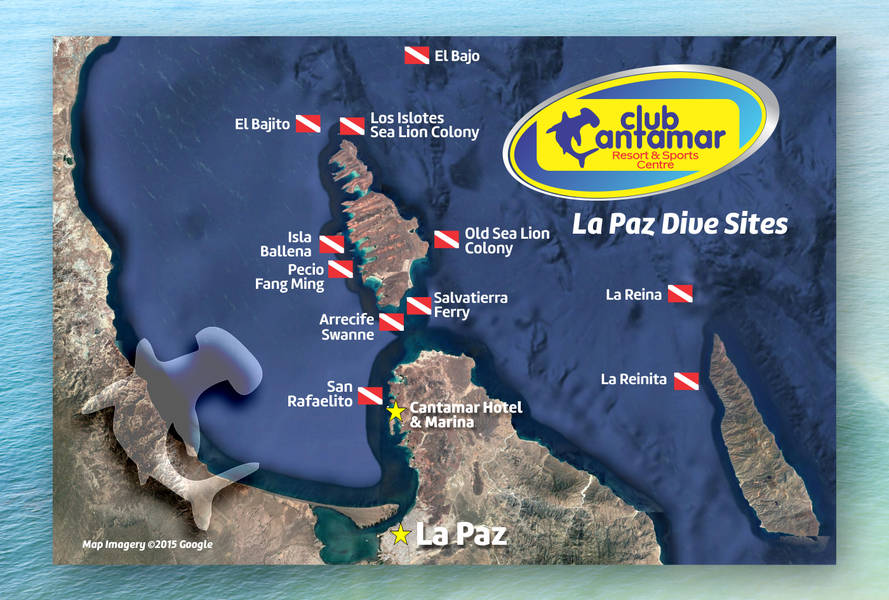 Dive Center Information

---
Club Hotel Cantamar Dive Center Overview
The cornerstone of Club Cantamar is Baja Diving & Service, a dive center started in 1983. Currently, the Baja Diving & Service dive fleet, based at Cantamar Resort, is the largest, fastest and most comfortable fleet on the Pacific Coast of Mexico, and the dive center continues to cater to divers from all over the world. During whale shark season, Baja Diving uses spotter planes to make it easier to find the gentle giants and make the most of each diver's experience.
Dive Center Features
Nitrox Filling Station
Rental Equipment
Private Lockers
Decompression Chamber
Tank Hydro Testing: Club Cantamar had its own hydro test machine
Multilingual dive guides and instructors
Low guest:guide ratios
Underwater Gallery

---