By ilovediving | Date: 20 Oct' 2019
BLUEWATER TRAVEL AUGUST 2019 CROCS & CENOTES TRIP REPORT
By Katie Yonker
As any seasoned diver can attest, we're often looking for new adventures and underwater experiences. Ask any diver what they want to see and you're likely to hear a bucket list of marine species. Though crocodiles were never high on my "to do" list, something about my brief encounter in Jardines de la Reina in Cuba left me wanting more.
Often confused with the saltwater crocodile which inhabits Australia and many places in the Indo Pacific region, the American Crocodile is generally less aggressive towards humans. Though many species of crocodiles are found in brackish water, American Crocodiles have an especially high tolerance for saltwater, allowing them to flourish in the marine protected area of ​​Banco Chinchorro, Mexico. The resident crocodiles here have a 100+ year symbiotic relationship with the local fishermen who clean their daily catch from their overwater huts, discarding fish scraps into the water to be quickly consumed by the crocodiles. After being hunted to near-extinction in the past, the number of crocodiles has grown significantly since the Mexican government began protections in 1996 with the creation of the Banco Chinchorro Biosphere Reserve.


Our trip began in Cancun, an easy flight from many major cities in the US. We were picked up in a comfy van plenty big for the seven of us and all our gear, and began the drive to Xcalak. To break up the 5+ hour drive, we planned a stop at the beautiful Muyil ruins. One of the earliest and longest inhabited ancient Maya sites in the Yucatan, Muyil is situated within the Sian Ka'an Biosphere Reserve and contains the ruins of 22 pre-Hispanic settlements. This enchanting historical site is far less busy than Tulum, making it the perfect place to stop and explore. After a hot and humid walk through a densely packed jungle scattered with ruins, we boarded the van and continued on to Xcalak.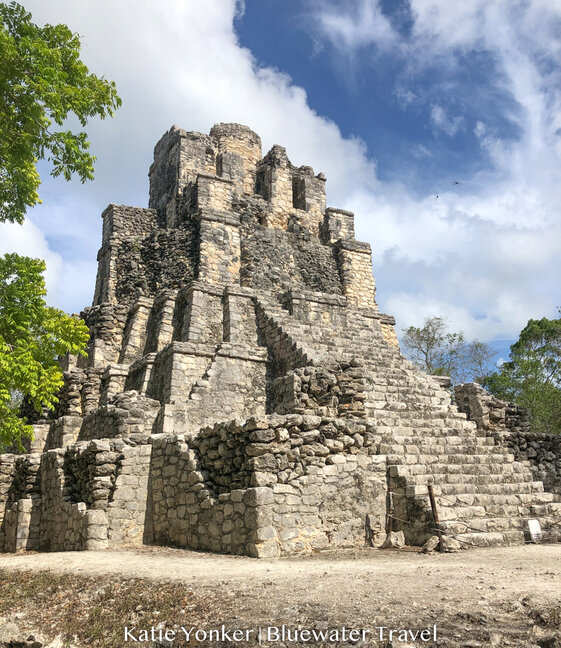 The crocodile expeditions include a few nights in Xcalak before and/or after the trip to allow flexibility, as weather and sea conditions can make getting to or from Banco Chinchorro downright unpleasant and occasionally impossible. The few days spent here also allow guests to dive some of the excellent sites Xcalak has to offer, featuring schools of huge tarpon and the occasional manatee. Though only one of us caught a fleeting glimpse of a manatee in the distance, we all agreed that swimming through the channel among schools of tarpon was mesmerizing. The night before leaving for Chinchorro, we received a lengthy briefing on the safety procedures for the croc trip that followed.
The following morning we set off for Chinchorro. Each morning of the three crocs days began with a dive to hunt for lionfish, an invasive species not native to these waters. The dive on the way out to Chinchorro usually takes place at a site known for friendly nurse sharks which follow you throughout the dive. Though hunting and capturing lionfish was the primary objective, we couldn't help but be distracted by the playful sharks all around.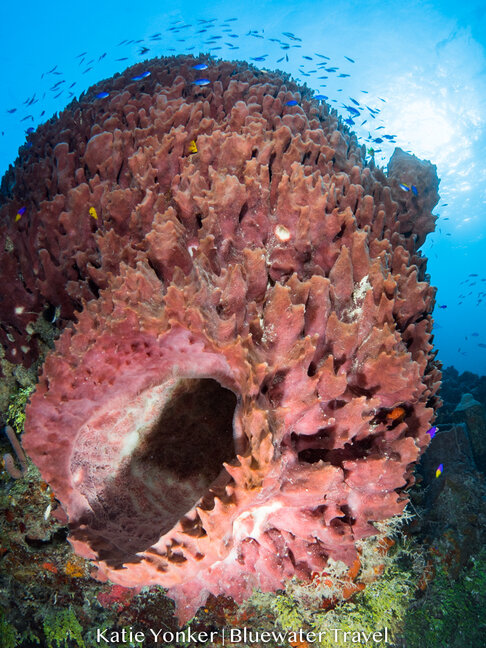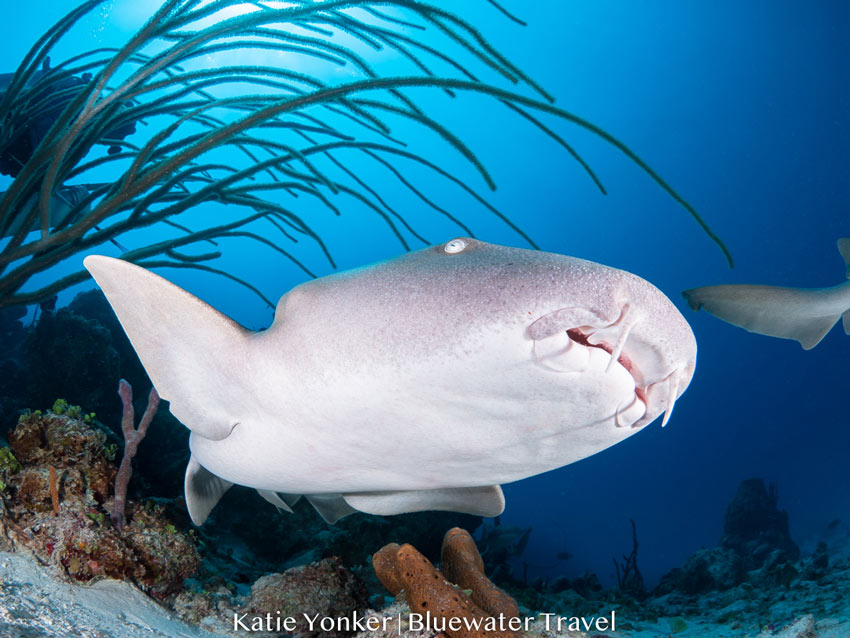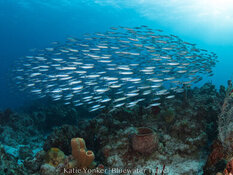 The couple hour boat ride to Chinchorro was calmer than expected and to our delight, the crocs were already there when we arrived. Upon pulling up, the fisherman's hut appeared exactly as advertised, and nothing more. The hut has one large room with 5 hammocks and two raised mattresses for sleeping, a "bathroom" with two different toilets (need I say more?), a large deck from which to watch and gear up, and a kitchen/bedroom occupied by the owner. Sleeping in a hammock in a hut with no amenities may not be for everyone, but it's the only option if you want to experience the crocs of Chinchorro.


The three days spent in the water with crocs were nothing short of incredible. All guests must follow strict protocols to ensure guest safety: only 2 guests in the water at a time, one guest on either side of the guide, always follow the verbal instructions of the guide, etc. Though it may sound rigid, these precautions are what have allowed the operator to maintain an excellent safety record.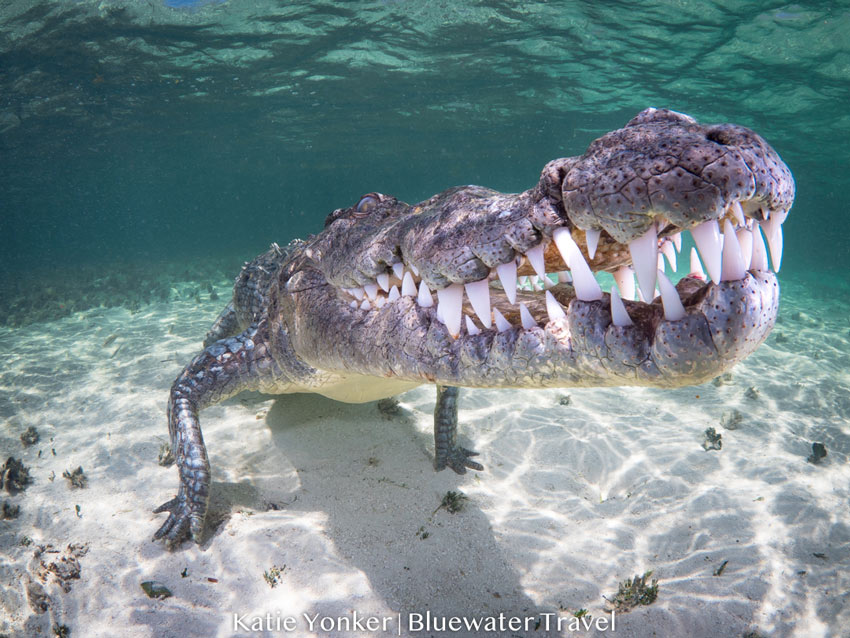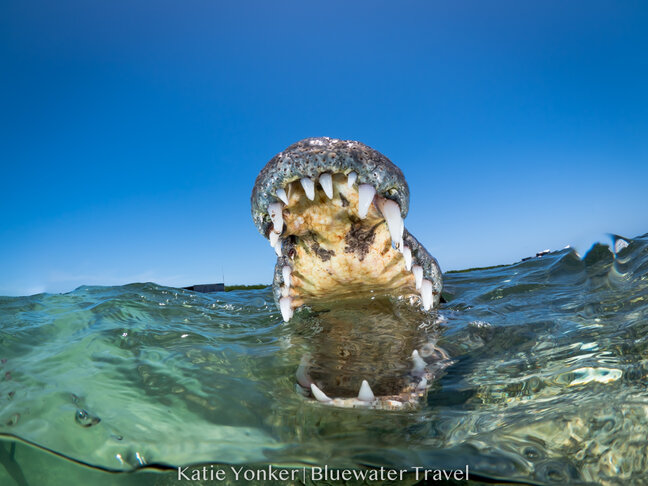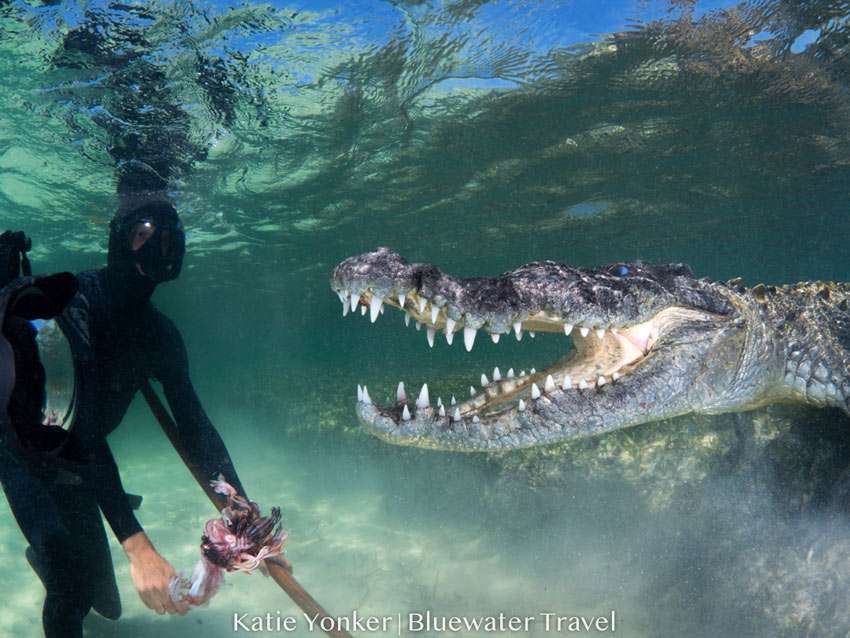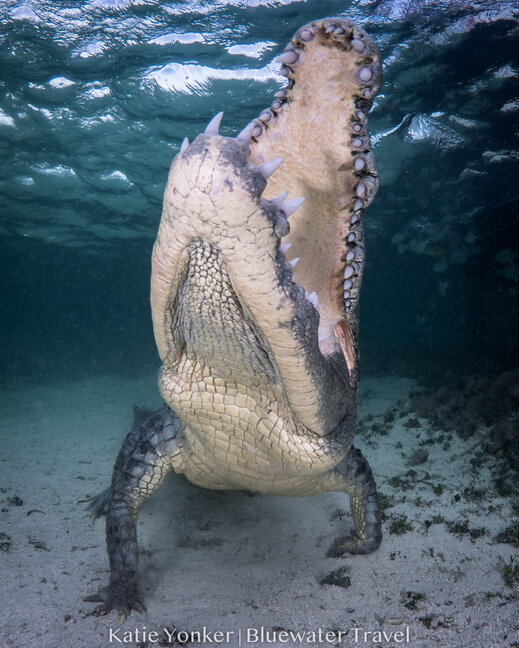 On our final day in Chinchorro we visited the ranger station on Cayo Grande, the largest of the three islands in the atoll. Iguanas ranging from small to massive roam the island, and crocodiles are frequently seen in the lagoon here.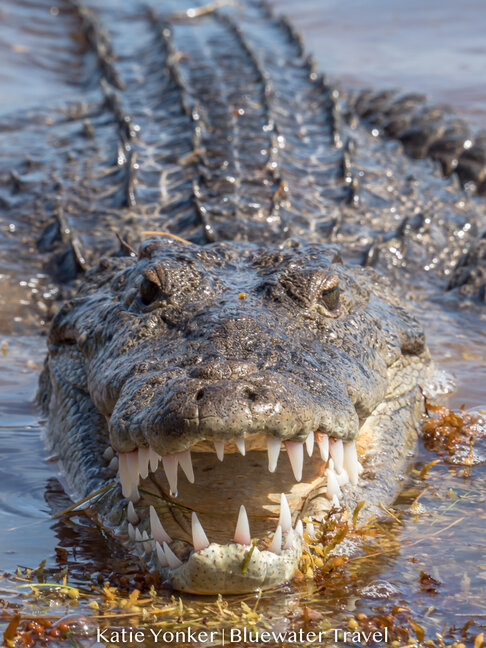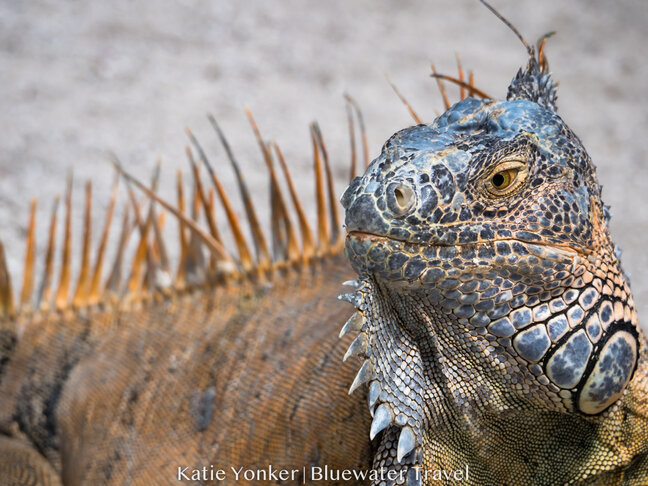 After an exhilarating time in Xcalak and Chinchorro, we headed back to Playa Del Carmen for a couple days of diving the cenotes. A cenote is a natural pit or sinkhole resulting from the collapse of limestone bedrock that exposes groundwater underneath, and these unique dives are not to be missed when visiting the Yucatan peninsula. What you won't find in marine life is made up for by stunning stalactite and stalagmite formations, piercing sunrays, and eerie layers of hydrogen sulfide. We started the morning off early by visiting The Pit, a well-known cenote deep in the jungle known for stunning sunbeams. Though it was a bit overcast and drizzly when we arrived, the clouds cleared allowing for some beautiful shots.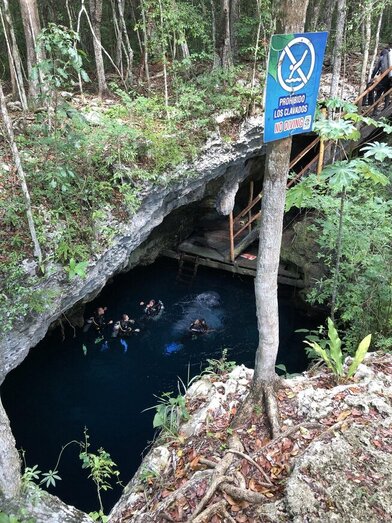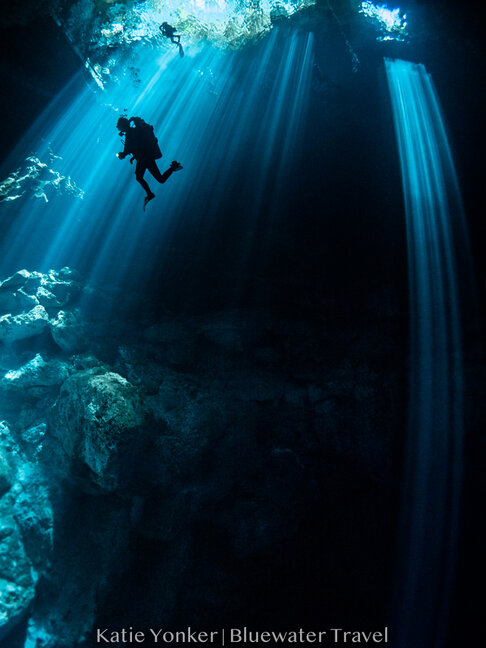 Our next stop was Cenote Nichte-ha. We dived here in lieu of the more well-known Car Wash cenote, and it did not disappoint. There were fewer crowds and the lake of lily pads provided ample shots for photography. At times, this cenote had surprisingly minimal clearance between rock formations, and is therefore best suited for divers who are very comfortable with their buoyancy.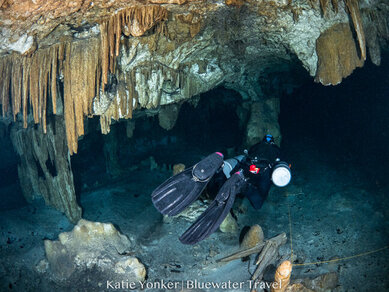 Our final dive was at Cenote Dreamgate. Known for its spectacular formations of stalactites, stalagmites, columns, and crystal-clear water, this cenote blew me away, and is one I would happily dive again and again.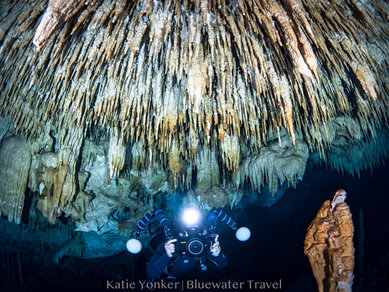 Our final day of diving began at the popular Cenote Angelita. The main draw here occurs at 95 feet deep where a hydrogen sulfide layer separates the freshwater above from the saltwater below, creating the appearance of an underwater river. Our final dive of the trip took place at the lesser-known Cenote Tajma Ha which has everything you could want in cenote: haloclines, stalactites, stalagmites, speleothems, sunbeams, fossils, and even bats! Take note - the up and down profile of this dive might make it challenging for newer divers or those with sensitive ears.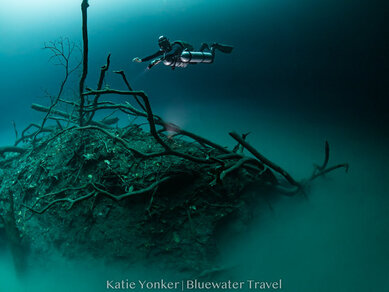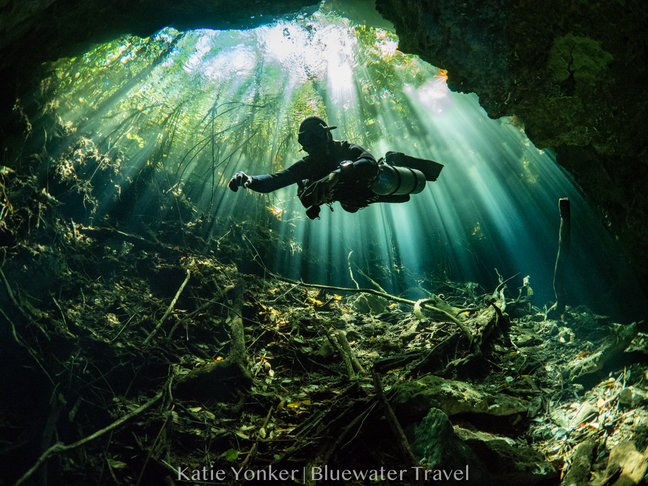 Interested in joining our next trip to Mexico to experience crocodiles and dive cenotes? See 2020 trip details here and 2021 trip details here .


About the Author
Katie Yonker is the Director of Operations and a Travel Advisor for Bluewater Travel. An avid diver and travel planner, Katie's adventures have taken her to the far reaches of the globe to destinations such as Micronesia, Indonesia, the Philippines, French Polynesia, Palau, Australia, Papua New Guinea, Fiji, Red Sea, South Africa, Maldives, Hawaii, Galapagos, Cocos, Socorro, Central America, the Caribbean, and many non-dive locations.