By ilovediving | Date: 15 May' 2019
BLUEWATER TRAVEL March 2019 raja ampat TRIP REPORT
By Katie Yonker
Raja Ampat. For divers, the name alone conjures mental images of calm warm waters surrounded by a fractal spray of knife-like grey karst islands overgrown with a green crust of plants, and of diving protected reefs where the biodiversity of marine life is unmatched in the world. Stretching over 150,000 square miles, Raja Ampat's protected waters are home to more than 1,700 species of reef fish, 600 species of corals, and 700 species of invertebrates - an ecosystem that represents something on the order of 75% of the world's known reef life. The hard coral reefs are unmatched in their extent and health, often stretching unbroken as far as the eye can see. This was my second time visiting the Islands of the Four Kings (the translation of the Bahasa name Raja Ampat) and I was very much looking forward to seeing if it would live up to the expectations of my first visit.
Raja Ampat itself is a regency, an Indonesian government administrative area that has roughly the same level of organization as a city. It's named after the four larger islands off the coast of West Papua's Bird's Head Peninsula. The bigger islands are Waigeo, Batanga, Salawati, and Misool, and there are nearly innumerable smaller islands, pinnacles, and rocks jutting out of the sea. It's a land of aqua blue coral lagoons, jungles, seamounts, deep coral walls, an unmatched natural beauty.
Travel to Raja Ampat can involve a lengthy series of flights and time in airports. On the plus side, there are many international airlines with flights to Jakarta, the most common connection to Raja Ampat. From Jakarta, there are a handful of domestic airlines (some more reliable than others, and only two with direct routes) with flights to Sorong, the starting point for most Raja itineraries.
Sorong itself is an oil town of over 200,000 people. Not pretty, but humming with traffic and construction, it has the feel of a boomtown perched on the edge of the modern world and set against the low hilly jungles of West Papua. Its harbor is full of cargo ships, oil industry vessels, and a large fraction of the roughly 80 liveaboard dive boats that are now operating in the area.
After nearly two days of flights and airports, we arrived in Sorong and were greeted at the airport by the smiling crew of the MV Amira liveaboard, our home for the next 12 days. After all guests had been accounted for, we were efficiently loaded into minivans and driven to the port where we boarded tender boats that jetted us off to the ship.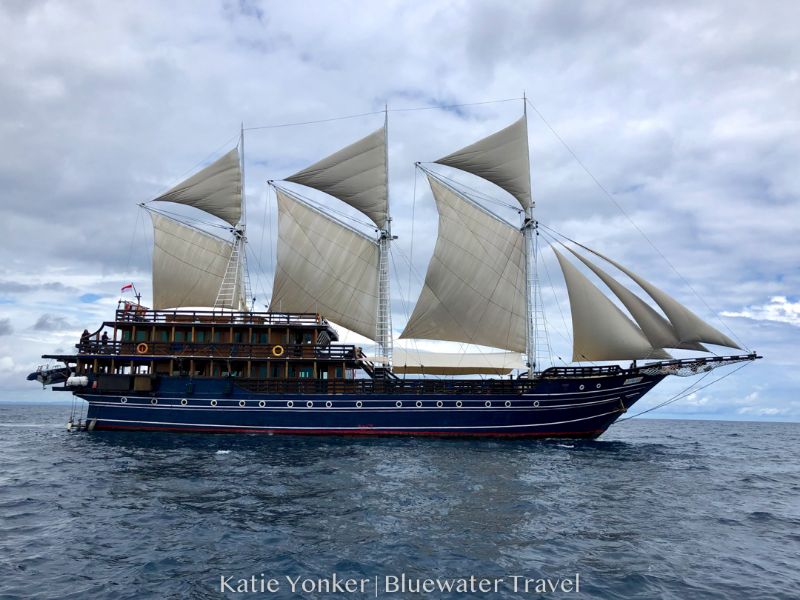 The first thing you'll notice about the Amira as you arrive is that she is a big boat, dwarfing not just the tiny tender that you are arriving in, but also all other liveaboards and pleasure-craft anchored nearby. At 165ft in length and with a very wide 35ft beam, even before boarding you can tell that there will be plenty of room for creature comforts. After climbing aboard, we were offered a refreshing welcome drink and given an overview from the cruise director of the days to come.
Amira runs a professional and safe dive operation with a well-trained crew. Normal dive operations include three daytime dives followed by a night dive. Due to water conditions and light, the first two dives of the day tend to be better for wide angle photography, and the last two are better for macro. But you'll often find that there's so much to see that nearly every dive could be wide or macro! Diving on the Amira, you'll be assisted and cared for at every step - a glass of water before every dive, help getting into your BCD, your fins and camera already in the boat before each dive, tenders patiently waiting at each dive site in case you need to end a dive early, and warm beverages after each dive to go along with a warm towel waiting at your dive station.
Dampier Strait / Kri:
Since my first visit to Raja Ampat, the Indonesian government has made changes requiring liveaboards to start in the Dampier Strait near Waisai/Waigeo, looping down to Misool. In Dampier we were surrounded by brilliant blue water, small islands, and sheltered coves with small white sand beaches. The only signs of human habitation were pale drifts of smoke emerging from the jungle near wooden docks jutting from the mangroves and jungle near fishing communities. The Dampier Strait is one of the more populated areas of Raja Ampat, so for the internet addicted, this will likely be your last chance for connectivity to the outside world.
Our first three days of diving took us to the islands of Mioskon, Friwenbonda, Kri, Mansuar, Gam, and Yangeffo, and to sites like Blue Magic, Cape Kri, Citrus Ridge, and gave us an opportunity to snorkel in mangroves. The reefs were stunningly healthy, which became a theme throughout the trip. At Friwenbonda, you could easily tell that the reefs have been long protected solely by how delicate the corals were. Everywhere you looked there were lace-thin corals that almost looked like seaweed, and incredibly fragile looking brambles of staghorn coral. At Cape Kri there was enough current to allow us to do our first reef hook dive of the trip, and while floating tethered above the reef we were able to relax and join the schools of fish and reef sharks cruising the reef in the flowing water.
Our first two days diving featured many wobbegong sharks with their Muppet-like fringed faces, reef sharks, schools of large jacks and barracuda hunting, open ocean tuna cruising the reef, giant Napoleon wrasse, huge humphead wrasse, schools of sweetlips, a school of countless mobula rays that did a high speed fly-by, nudibranchs, candy crabs, mantis shrimp, gobies hiding in holes, bobtail squid, shoelace-thin coral pipefish, eels, and the beginning of the pygmy seahorse madness that gripped all the photographers on the trip. There was so much to see that you almost didn't know where to look...and that was just the first two days.
The third day was similar in what we saw - more incredibly healthy reef teeming with life, but it also gave us the opportunity to do an optional mangrove snorkel after our second dive. While it is possible to see salt water crocodiles in mangroves, the Amira only allows mangrove snorkeling in places where you are unlikely to have an encounter.
If you've never swum through mangroves, it's a treat, especially if you're a photographer who is looking to nail one of those awe-inspiring split shots. The mangroves are a perfect locale to capture the place where land and sea intermix. The still, shallow waters between the roots of the mangroves are home to many juvenile fish and sharks, invertebrates such as crabs and octopuses, as well as species like the archerfish specially adapted to life amongst mangrove roots. Archerfish are a unique type of fish that live among the tangle of mangrove roots and has the special ability to squirt water in a highly precise way to knock insects into the water to eat.
After our first three days we said goodbye to the northern part of the Dampier Strait and moved a little farther south and west to the area around Piaynemo for more diving, and another great non-reef photo opportunity.
Piaynemo / Land Excursion:
Our fourth day of diving took us to a small island near Piaynemo, and it began with one of the most impressive hard coral landscapes I have ever seen. From the surface, Melissa's Garden looks simply like three closely spaced slender rock pinnacles jutting out of the water, but the scene below is extraordinary. A shallow plateau spreads around the pinnacles and it is absolutely covered in a rolling plain of staghorn coral in many different colors, including a vibrant blue-green that I had never seen before. When you first see the coral it's almost difficult to comprehend. This is the place to pause for a moment, camera aside, and delight in the fact that there are still exquisitely healthy reefs to enjoyed.
The second dive took us to a wall in the narrow Keruo Channel nearby. Unfortunately for us, the tide was against us and the non-existent current meant the innumerable soft corals on the wall were tucked away. With the right conditions, the location would make for a magnificent wide-angle photography dive as the closely packed soft corals were every color, size, and type that you could wish for, with plentiful sea fans. Additionally, the deeper water of the channel looked like it would be a favorite spot to see large schools of fish, but without the current to draw nutrients for smaller fish, the bigger fish stayed away. Alas, nature does not always cooperate with dive boat schedules!
Between the two day dives we saw reef sharks, wobbegong sharks, the expected wide variety of reef fish, and nudibranchs of various colors and varieties, but the real attraction here was the coral vistas, even if the soft coral lined channel dive didn't quite work out for us.
After our second dive, we were loaded up into the tenders and taken to Piaynemo, a collection of tiny islands surrounding shallow aqua lagoons, for a hike up to the highest peak where there is a lookout platform to enjoy the extraordinary view. When I first visited Raja Ampat, the first half of the hike was little more than a muddy path in the forest winding up to a narrow staircase to the top - more than a bit strenuous. Since that trip, the local government has greatly improved the path thanks to a planned visit by the president of Indonesia (which ended up not happening). His loss is all of our gain, as the hike is now an easy climb on nicely maintained stairways. The view from the top was postcard perfect.
For our last dive of the day we went to Keruo island which is in a small bay on a gently sloping, not-quite-wall site that consisted of ridges of coral broken up by channels of sand and rubble. One surprise of this dive was the pygmy octopus we spotted, a creature so small that we thought was a bobtail squid until we zoomed in on our pictures. One of the dive guides also found a type of multicolored painted frogfish more colorful than any I've seen before, but unfortunately it managed to waddle its way into a complex of coral rubble before anyone could get a picture. Other highlights were beautiful complex marbled shrimp with a mohawk fringe, a blue legged corallimorph decorator crab, turtles, eels hunting on the reef, cuttlefish, candy crabs, and more nudibranchs.
Muck Diving at Batanta:
On day five we arrived in the early morning to Batanta to do our only muck diving of the trip. The dive site is in a small bay cut into the steep mountains of the island. The thickly forested slopes looked primeval in the morning light.
In the water, the site itself was widespread bunches of algae and seaweed on a sandy bottom that sloped gently down from the narrow beach to 120ft. Interspersed among the algae were clumps of coral, as well as random things like rocks and logs that presumably rolled down into the water from the forests above. The environment in the bay lent itself to providing plenty of hiding spots perfect for the weird animals that you expect to see in the muck. Each bunch of life represented an opportunity to see something strange and new.
Between the four dive groups we saw multiple varieties of pipe fish (ornate, robust, and coral), octopuses (both reef and mimic), cuttlefish, nudibranchs of all colors, shapes, and sizes, seahorses, trigger, puffer, box, and reef fish, and rays. We also saw all sorts of shrimps and crabs, from small crinoid shrimp, a couple varieties of big mantis shrimp, tiny delicate crabs, dancing sexy shrimp, emperor shrimp riding a nudibranch, to an alien-looking corallimorph decorator crab camouflaged with clumps of living algae. The macro photographers on the trip were burning through memory card space on each dive.
We were originally scheduled to only do 2 dives before making the long transit south to Misool, but instead asked the cruise director and captain if we could fit in one last afternoon muck dive, to which they obliged. After the last dive, the Amira pulled anchor and started the overnight trip south while we had a sunset party on the sun deck with drinks, snacks, and live music performed by the crew.
Misool:
The view from the boat on the first morning in the Misool area was breathtaking. The Amira was anchored near the island of Balbulol in the northern archipelago stretching east from Misool in almost perfectly flat, mirror-like water. The boat was surrounded by smaller craggy pinnacles covered in jungle. To say that it looked beautiful is understated - this remote location looked like a computer simulation of tropical paradise.
In the afternoon we took a boat tour through the aqua waters around a maze of mushroom-shaped islands. We skimmed over healthy reefs, protected by sheer cliffs with jungle tumbling down from the peaks. Our boats passed local fisherman (the only people allowed to fish these waters who've also been organized to help monitor and protect the reefs) on small outrigger canoes hand-lining near tiny fishing camps clustered around white sand beaches in tiny, remote bays.
Underwater was just as spectacular. Hard and soft corals covered the steep sides of the islands and sea mounts. Pygmy seahorses in three different colors were found - the more common knobby Bargibenti purple and the much rarer yellow version, as well as the pale tan Denise species. We saw reef fish of all sizes, octopuses, an electric clam, nudibranchs, and at night, more octopus, complex marbled shrimp, a fuzzy red-orange orangutan crab, and an adorable boxer crab waving anemone poms poms.
South Eastern Misool:
During the night, the Amira sailed down to the southern chain of islands stretching east from Misool. As the only dive resort in the area, the nearby Misool Eco Resort has been given the privilege of coordinating dive slots for sites so that there aren't multiple boats attempting to put too many divers in the water at any given high-demand site. Additionally, they work with local fisherman to protect the reefs and ensure that the areas protected by no-take rules aren't being exploited. This successful conservation effort has allowed the area to maintain and attract healthy populations of large pelagic fish as well as the expected reef life.
On our first day in the area, we were given a morning slot at the popular Four Kings site - a set of four seamounts (hence the name) with tops at depths ranging from 90ft up to 15ft and known for attracting big pelagic animals. We started at the deeper two seamounts and were fortunate to find a very large manta orbiting a cleaning station with schools of large jacks and smaller fish swirling around in the deeper water. After a few lazy loops around the pinnacle, the manta slid off into the deep. Thinking it had gone and wasn't coming back, but hopeful that we might get a last glance, our group swam towards the side of the seamount where it was last seen, and I was lucky enough to be right there when that same manta came swooping up out of the murky depths, passing directly over me, just a few feet away from my camera.
Stunned and happy, we floated in the schools of big fish around the pinnacle watching reef sharks patrol, and wondering if the manta would come back. It never did, but while waiting we had a thrilling encounter. In unison, all the schooling fish quickly darted towards us, looking to avoid danger, and then proceeded by a loud crack we witnessed a large Spanish mackerel barrel into the school, hunting for prey like a silver-blue torpedo! In a flash it turned and disappeared into deep water.
The rest of the day and night was spent diving at small islands in a channel off the nearby island of Wayil as a fairly intense rainstorm blew into the area. We had planned on another afternoon land excursion to hike up to a peak that overlooks a heart-shaped lagoon, but the low hanging clouds and continuing rain forced that outing to be cancelled. Our bad luck with currents continued, and the diving at the islands in the channels was relatively calm so the expected opportunity to see more teeming schools of fish never materialized. The sites did however have beautiful jutting overhangs, walls covered in soft corals that were folded up in the slack current, and absolutely gorgeous shallow coral gardens that in the clear water made you feel like you were swimming in an aquarium.
On the three dives after Four Kings we saw more nudibranchs, orangutan crabs, octopuses (including a pair mating), our first encounter with a walking shark, and a really neat squid in the black water during the safety stop on the night dive.
Our second day of diving in this part of the Misool region was as a series of small rocks - Nudi Rock, Tank Rock, Whale Rock, and Yuliet - sticking up alone out of deeper water surrounded by hidden plateaus of coral. The first three dives offered great opportunities for wide-angle photography as the currents were flowing through gaps in the reef that channeled the water and attracted schooling fish and sharks, while also delivering several chances to find small critters perfect for macro photography. Pygmy seahorses were plentiful at these sites, both the knobby and smooth varieties were located. The night dive took place at Yuliet and we found a number of interesting crabs, shrimp, nudibranchs, octopuses, and a very curious reef shark.

For the last full day of diving we were given another morning slot for a popular site called Magic Mountain, a place common for mantas which visit the cleaning stations on top of the seamount. Unfortunately we weren't lucky enough to see any mantas, but swimming in the crystal clear water around the site we did find large schools of sweetlips, sharks gliding along the edges of the reef, big Napoleon and humphead wrasses, large grouper, and even a baby white tip resting under a table coral. It was a beautiful location with perfect lighting for wide-angle photography.
After Magic Mountain we dived the very appropriately named Fan Club where we were able to see even more pygmy seahorses, including the rare red with white spots Raja Bargibant seahorse on a red sea fan. Our last day dive and our night dive were both at Boo Island. This site featured a large round swim through window, sea fans on the edges of the reef plateau, and a shallow coral garden on top which were all perfect for wide-angle photography. However, there was also an abundance of small critters perfect for macro photography. Some of the highlights of this site were reef sharks, an octopus, a juvenile mantis shrimp, pygmy seahorses (one of which was pregnant), crabs, blennies hiding in holes, complex shrimp, an epaulet shark, and a beautiful blue ring octopus! We all waited patiently taking turns of the blue ring, allowing everyone with cameras the chance to shoot this unique (and deadly) creature.
After the night dive, and while we were all excitedly looking at and editing our blue ring octopus photos, the Amira pulled anchor and moved back to the northern chain of islands off Misool for what would be our last dive of the trip the following morning.
Final Days:
Our last dive was a unique one at the small island of Goa Farandi. We were dropped off by the tender boats in front of a karst cliff that had a large section which looked as if it had been scooped out. Descending, we entered into the mouth of a wide cave that tunneled through a limestone peninsula to the other side of the island, stopping to take photos in the entrance of yet another pregnant seahorse and some nudibranchs. Swimming through, we emerged onto a coral plateau in a bay where we saw more pygmy seahorse as well as the normal assortment of reef life, and from there around a corner with strong currents into another cave, this one with a muck floor where we found a number of interesting nudibranchs. We did a safety stop and surfaced in the air pocket of the cave to see large stalactites and the hanging roots from the plants on the island's surface somewhere above us. Descending again to leave the cave, the divers who still had enough air time rode the current around the edge of the island to a coral garden to finish the dive, while the rest were picked up for the last time by the tender boats.
Though the soft coral and reef life that spans much of Raja Ampat is dependent on currents and tides to reveal its ultimate beauty, it's tough to argue that even the most seasoned diver won't find something to love about Raja Ampat. From its azure blue waters and picturesque green jungle islands to the expansive healthy hard and soft coral reefs below abound with marine life, Raja Ampat is one of those special destinations that leaves divers enthusiastic to return time and time again.
Interested in joining our next trip to Raja Ampat? See details here. Or let Bluewater Travel help you plan and book your own trip to Raja Ampat by contacting us here.


About the Author
Katie Yonker is the Director of Operations and a Travel Advisor for Bluewater Travel. An avid diver and travel planner, Katie's adventures have taken her to the far reaches of the globe to destinations such as Micronesia, Indonesia, the Philippines, French Polynesia, Palau, Australia, Papua New Guinea, Fiji, Red Sea, South Africa, Maldives, Hawaii, Galapagos, Cocos, Socorro, Central America, the Caribbean, and many non-dive locations.