Misool Resort, Raja Ampat, Indonesia
Misool, Raja Ampat 98483, Indonesia | Full-board + 2 dives from $443/ppn

---
Misool Resort Quick Pitch
Misool Resort is an exclusive dive resort located on a remote private island with white sand beaches and pristine coral reefs in southern Raja Ampat.
Its remote location lends itself to a wonderfully healthy and diverse marine ecosystem, right off the dock of your cottage. The resort is surrounded by the richest reefs in the world, at the very heart of marine biodiversity and is inside the Raja Ampat Shark and Manta Sanctuary.
Quick Information
No of Rooms: 20
Dive Center: On-site
Amenities: AC, private open-air bathrooms, private sundecks, camera workstation, spa, land excursions
Nearest Airport: Domine Eduard Osok Airport in Sorong (SOQ)
Airport shuttle: Yes
How to Get there
Misool Resort offers airport transfers for the guests. It is best to take an early flight from Jakarta (CGK) to Sorong (SOQ) where guests are met at the airport and then brought to the harbor and onto a private speedboat, scheduled to depart at 09:00 am.
All guests are advised to arrive in Sorong by 8 am on the departure date. We recommend all guests transit through Jakarta, arriving the day before the start of your stay at Misool Resort. Contact us for assistance to book your flights and hotel stays.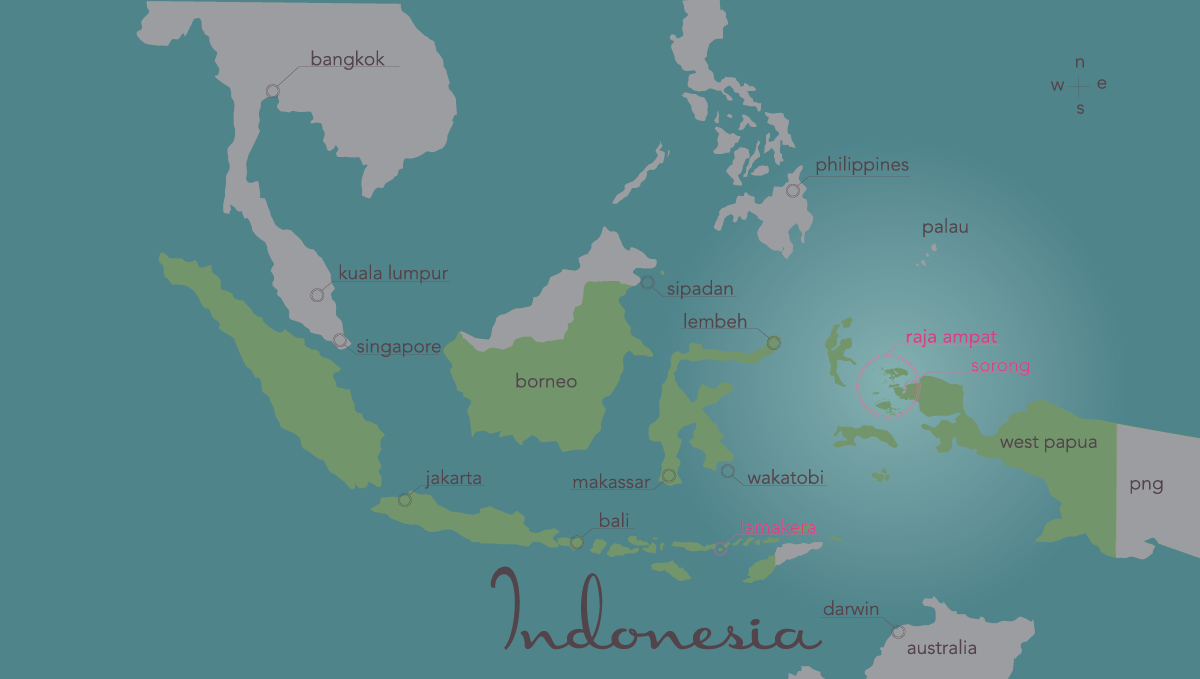 Dive Overview
Full of rich sea life, you can expect to dive a variety of sites including colorful soft corals, expansive hard coral gardens, massive gorgonian sea fans, a manta cleaning station, swim throughs, seamounts, drift dives, placid lagoons and more.
Learn more on Diving in Raja Ampat or see Misool Resort's Dive Sites
Check Out This Great Video!
Room Information
Types, Amenities, and Photos of the Room at Misool Resort

---
Misool Resort ROOMS
Misool Resort was built entirely of reclaimed tropical hardwoods, milled on site with our own portable sawmill. The accommodations have been meticulously designed for comfort, privacy, and sustainability.
All of their accommodations feature Balinese-style open-air bathrooms, air-conditioning, fresh hot and cold showers, mini-bars, in-room safes, and handcrafted furniture and fittings.
The resort has 8 Water Cottages and for those seeking a bit more space and seclusion, there are North Lagoon Villas (Tabisasu, Nasnoos, Wakachom, and Utara) or South Beach Villas (Santai, Tenang, Kalanme, Moro Laiyn, Waya Biru).
Water Cottage
The Water Cottages are built on stilts over the water. For lazy afternoons with a good book, there is a hammock built right into the veranda. The view from your veranda is framed by a traditional grass roof, offering a high degree of privacy as well as shade. Stairs lead down from your veranda to the North Lagoon, and the House Reef is just a few fin kicks away.
Villa Utara
Villa Utara overlooks the House Reef and the spectacular dive sites of Fiabacet beyond. Steps down into the sea give easy access to the House Reef. This Villa features two en-suite bedrooms, a shared common area with a half bath, a loft, and a massive veranda. We especially recommend this Villa for families or groups of 4-6 friends. Private dinners can be arranged on your veranda.
Villa Nasnoos and Villa Wakachom
These two neighbouring villas are built on stilts over the House Reef. They feature a hammock built into the verandas. This is the ideal spot for early evening shark-gazing while the sun goes down. Villas Nasnoos and Wakachom each feature a master bedroom and an indoor living area with sofa. The sofa can be converted into another twin or double bed, and there is a partition to add privacy to the master bedroom. These Villas also have lounge seating sunken into the veranda as well as steps down into the sea. Perfect for 2-3 guests.
Villa Tabisasu
Villa Tabisasu is located on the eastern edge of the North Lagoon. This Villa, named after the local word for 'orchid,' features an en-suite bedroom and adjoining living area. The outdoor living-area face east and enjoys glorious sunrise views, all your own. This Villa is perfect for couples who appreciate a bit more space.
VILLA waya biru
Villa Waya Biru is tucked into the jungle under a wild almond tree, this Villa features unrivalled views over the far southern horizon, with the powder-white South Beach just a stone's through away. This octagonal shaped room has a separate 'pod,' which you may like to use for meditation, yoga, writing, spa treatments, or simply snoozing. The bathroom is built into the surrounding rocks, with a view from the shower that cannot be beat. Hence the name Waya Biru, which means 'Blue Water' in the Misool tribal language. This Villa also features an extra octagonal shaped 'pod,' perfect for meditation or yoga.
VILLA MORO LAIYN
Villa Moro Laiyn is named after the Misool language word for 'South Breeze.' This villa has a decidedly tree house feel to it. Like its neighbor Waya Biru, this Villa is surrounded by trees and jungle sound. From the octagonal-shaped bedroom, you'll be able to see baby sharks cruising along in the shallows of the South Beach. This Villa also features an extra octagonal shaped 'pod,' perfect for meditation or yoga.
Villa Kalanme
Named after one of our island's most important spirits, Villa Kalanme is a complex of three separate en suite bedroom units, with a shared octagonal-shaped lounge area and huge outdoor living space. This Villa is particularly well-suited to those who enjoy greater privacy and gorgeous white-sand beaches. Private dinners may be arranged in the shared lounge area. Recommended for groups of 4-6 guests or families with small children.
Villa Santai
Villa Santai is located towards the end of the South Beach, tucked under the coconut palms. This stunning en suite bedroom features expansive views over the Southern horizon from its huge terrace. Outdoor showers are the perfect place to admire cockatoos and hornbills flying overhead.
VILLA TENANG
Villa Tenang is the last accommodation at the end of the South Beach. Enjoy the sounds of the jungle, with the sea right at your doorstep.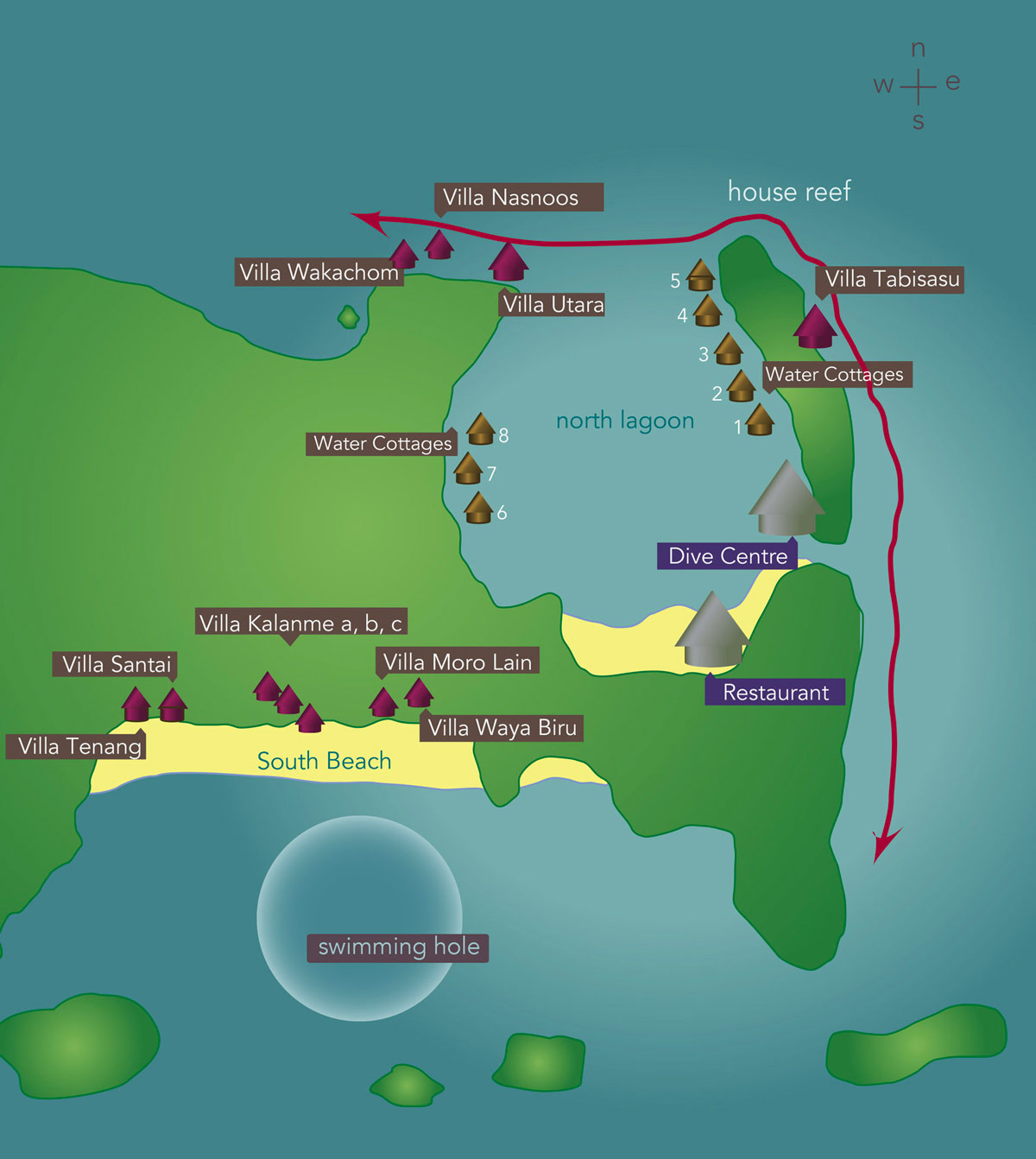 Resort Facilities
Misool Resort Amenities

---
Misool Resort Features
Beachfront
Restaurant
Bar/lounge
Dive Center
Spa services
Free Breakfast
Laundry Service
Multilingual Staff
Kid / Family Friendly
Airport Transportation
Babysitting
Misool Resort Food & Drinks
A broad range of Asian and Western cuisine, with a focus on fresh, local, and organic fare
Snacks and drinks are available throughout the day
Can accommodate vegetarians, vegans, and other dietary needs and restrictions
A selection of wine available
Misool Resort Activities
Diving
Snorkeling
Various excursion packages
Schedule & Rates

---
RATES & AVAILABILITY
For information on rates, availability and to book, drop us an email at bookings@bluewaterdivetravel.com or call us today at +1-310-915-6677 and let us help you plan your dream dive vacation!
Dive Information & Itineraries

---
Diving at Misool Resort, Raja Ampat in a nutshell
Raja Ampat, Indonesia, is home to the world's richest reefs and dive sites. Located at the heart of the Coral Triangle, the region sprawls over 4.6 million hectares (17,000 sq miles) and boasts the majority of the world's reef-building corals.
In an area the size of two football fields, scientists discovered more than six times as many coral species as live in the entire Caribbean Sea. Raja Ampat's reefs are home to over 700 species of mollusks and over 1,400 species of fish. Counted among those is the newly discovered 'walking' epaulette shark, commonly seen on night dives on Misool Resor's house reef.
Misool Resort Dive Sites
Their local dive sites are protected by their own 1,220 sq km (465 sq mi) Marine Protected Area and an 828 sq km No-Take Zone and that means that an area twice the of Singapore is a dedicated conservation area, and free from all fishing. Here are just a few of the most famous sites:
Nudi Rock - a small island in the Fiabacet chain, which looks an awful lot like a nudibranch from a distance. Just a quick 5-minute speedboat ride from the jetty, this site is a must for critter enthusiasts and macro photographers.
True to its name, you'll find a wide range of flamboyant nudibranchs lurking among the abundant soft corals. The sea fans are well populated with pygmy seahorses and cowries. Be sure to inspect the abundant crinoids for their color-coordinated arrowhead shrimp and clingfish.
When currents allow, this site is also popular for its pinnacles crowded with larger pelagics like Barracuda, Big Eyed Trevally, and the odd mature Grey Reef Shark. The sloping shallows of Nudi Rock are stunning for wide angle shots with exquisite colors and hard coral gardens.
Boo Windows - One of the most famous dive sites, named for its unique topography. The site is a small island about 15 minutes from the resort, with 2 swim-through 'windows' carved into it.
The South West face of this site is quite steep and exposed to current, so you are likely to see patrolling sharks as well as the elusive Wobbegong Shark - be sure to look under the massive table corals! When the currents are right, we'll move off towards a large pinnacle in the blue.
The pinnacle is often surrounded by pulsating schools of fusiliers and gangs of plate-sized Batfish. Heading back towards the Windows, notice how the sunlight filters through - it's like nothing else on earth! We'll follow the plateau of hard plate corals and look for Sweetlips hiding
underneath. Be sure to investigate the huge Barrel Sponges - their crevices often conceal Hairy Squat Lobsters.
Magic Mountain - This seamount is located about 20 minutes from the resort, and is a busy Manta ray cleaning station. The submerged pinnacle reaches up to about 7 meters, and you have a very good chance of seeing not one by TWO species of manta rays here - both the giant Oceanic birostris as well as the smaller reef manta, alfredi. Magic Mountain is also a nursery for White Tip Reef Sharks and a love nest for Napoleon Wrasse. Because this site is completely exposed to oceanic currents, you can expect to see large schools of pelagics in the blue.
Yillet - The huge island of Yillet stretches east to west about 15 minutes north of our resort island. This island used to be home to an itinerant shark finning camp, and we are pleased by the stunning resurgence of life on its surrounding reefs, including sharks.
One of Yillet's tiny satellite islands is particularly rich and topographically weird. The tiny island has been undercut by untold millennia of wave action, forming an umbrella over a sloping underwater plateau with numerous spooky overhangs and cavelets. Diving with a torch is highly recommended for this site - you'll want to illuminate the dark corners of this site to see all the critters, as well as the wild colors. Barramundi cod and Hawksbill Turtles frequent this site. We also suggest you keep a sharp eye on the blue, as huge schools of barracuda hover in formation.
Shore Diving - Misool Resort's House Reef is a shore dive, easily accessed at any time from either the end of the jetty, the Dive Centre, or the steps leading down from guests' Water Cottage accommodation. On a rising tide, jump off the end of the jetty and enjoy an easy drift North through the channel, which is exposed to variable current. Schooling horse-eyed jacks congregate under the pier, joined by massive schools of fusiliers and shoals of passing anchovies. Several very large groupers make their home in the depths under the jetty, and they often appear to inspect visitors to their reef. We regularly see large black tip reef sharks patrolling the deeper areas, as well as the occasional grey reef shark.
Read our Dive Travel Guide: Raja Ampat Diving
Dive Center Information

---
Misool Resort Dive Center Overview
Misool Resort's dive center is located in the North Lagoon, built on stilts overlooking the turquoise water. The dive center is spacious and airy and well-suited to professional photographers and videographers. You can expect to dive a wide variety of sites during your stay at Misool Resort. Their corner of southern Raja Ampat is particularly famous for its untouched reefs festooned with wildly colorful soft corals, expansive hard coral gardens, massive gorgonian sea fans, and rich reef life.
Diving Facilities & Services
50 sq meter wet area equipped with a massive workstation
Adjacent dry area furnished with comfortable lounge chairs, a small library, and a monitor for reviewing the day's images
120 sq meter veranda outside
4 dive boats
3 guided boat dives per day, as well as either a dusk dive or a night dive
variety of different dive packages
Free Nitrox to qualified divers
Other Information

---
Practical Information
Electricity: 220 volts; 110 V transformers available in the Dive Centre.
Time zone: UTC+09:00
Payment methods: Visa, Mastercard, or cash (Rupiah, USD, or Euros)
Underwater Gallery

---