Destination: Egypt
Brothers/Daedalus/Elphinstone and Southern/St. John & Daedalus (7 Nights) | From 143++/night

---
Red Sea Aggressor III Quick Pitch
The Red Sea Aggressor III is a 130-foot yacht with a spacious dive deck, built and powered for comfort, safety and stability. This is a great platform from which to explore the vibrant depths of the Red Sea.
Location
Operates from the Port Ghalib yacht marina and resort area.
Dive Overview
See Red Sea marine life, including a stunning variety of soft corals. Divers experience pristine visibility and fantastic personalized service.
[See: Red Sea Dive Travel Guide]
Accommodations
Types of Cabins, Amenities and Photos

---
Red Sea Aggressor III Accommodation Details
The Red Sea Aggressor III accommodates 22 passengers in 11 staterooms.
Deluxe Staterooms (# 1 - 7)
Two single beds (35" x 78" and 38" x 82"), porthole view, wardrobe, bathrobes, hairdryer, fresh towels, AC units and private ensuite bath.
Master Staterooms (# 8 - 10)
One queen bed (60" x 78"), port hole, wardrobe, bathrobes, hairdryer, fresh towels, AC units, private ensuite bath.
General Facilities

---

Red Sea Aggressor Boat Features
AC
Ensuite bathrooms
Entertainment system
Large sundeck with shading
Nitrox
Spacious lounge
Jacuzzi
Chaise lounges and deck chairs
Bar and restaurant
Complete photo/video center
Food & Drinks Aboard Red Sea Aggressor
The menu aboard is varied and plentiful, with a variety of Egyptian feasts and local cuisine. You will wake up to fresh fruits, hot entrees, cereals and juices. Lunches are buffet-style, featuring hot soups, homemade breads, salads and sandwiches and/or entrees. Dinners are chef prepared and served each evening and include salads, vegetables, seafood, beef or chicken with a fresh homemade dessert.
The Aggressor's selection includes fruit juices, soft drinks, iced water, iced tea, coffee, and a limited selection of local beer and wine, which are complimentary. We suggest you purchase your favorite liquor(s) from the duty-free shop at the airport prior to departing to Egypt.
Red Sea Aggressor Liveaboard Deck Plan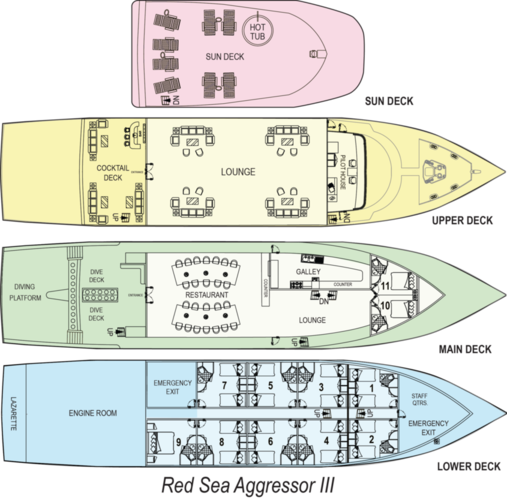 SCHEDULE, RATES & AVAILABILITY

---
Prices are in USD, per person. Port and park fees are not included.
RATES & AVAILABILITY
For more information on other departure dates, rates, and on availability email us at bookings@bluewaterdivetravel.com or call us at +1-310-915-6677 and we will gladly help you plan your dream dive vacation!
Dive Information & Destinations

---
Red Sea Dive Overview
Hammerheads, Dolphin, Soft Corals, abundant reef fish life
All dives from 2 skiffs that carry 10 divers each for quick access
Water temperature: 74 - 84F, 23 - 29C
5 dives per day, night diving when available
3mm wetsuit recommended in the summer and 5mm wetsuit in the winter
Northern Itinerary (Brothers & Deadalus Islands): Up to 22 dives Southern Itinerary: Up to 25 dives
Itinerary Overview
There are two 7-night itineraries offered: Brothers/Daedalus/Elphinstone itinerary and Southern/St. John & Daedalus itinerary.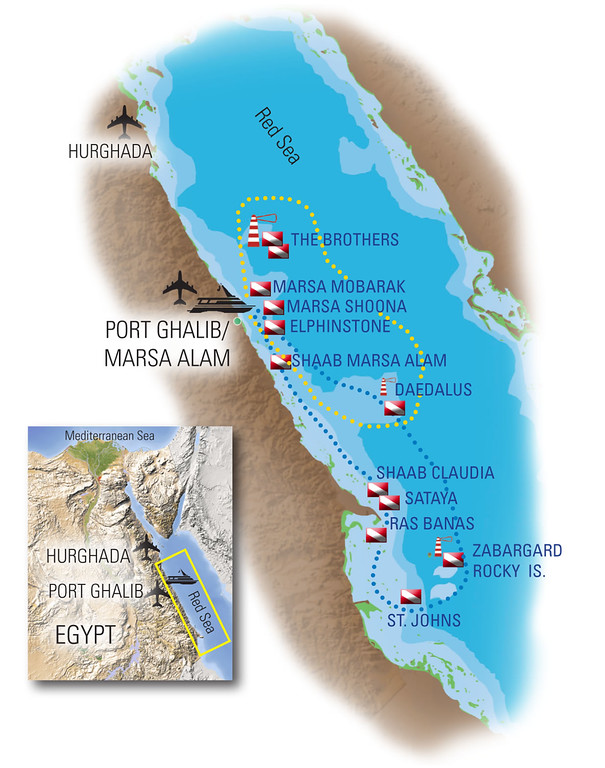 Brothers/Daedalus/Elphinstone Itinerary
Both island locations are in the middle of the Red Sea (9 Hours by motor yacht from the coast.)
They are pinnacle islands, meaning that below the surface, their walls plummet hundreds of feet vertically down, without any sandy beaches or shallow reefs around
Surrounded by open ocean, chances of spotting big game, such as rays, sharks, and other pelagic predators, are very high around the islands. Grey Reef Sharks, Thresher Sharks, and Hammerhead schools are residents. Oceanic whitetip at certain times of the year
2 x Wrecks on Big Brother (Aida and Numidia)
One night dive is offered on this itinerary as night diving is not offered at the Brothers, regulated by the Egyptian Government, however early dawn dives are offered each morning before breakfast
Southern/St. John & Daedalus Itinerary
Dives along the South of Egypt's Red Sea making Red Sea LiveAboard diving the only way to go
Sites like Sha'ab Claudia offer extensive reefs and coral gardens. Coral tunnels and caverns for divers to explore
Fury Shoal's offer more exposed reefs and wall dives that attract the pelagics. Reefs such as Sha'ab Mansour and Sataya, divers go deep on the walls to see schools of barracuda and big-eye trevally and sharks as well as further south to St. John's Reef which is known as world-class diving
Dolphin Reef at Sataya offers a coral lagoon where divers can spend one or two dives snorkeling with resident Spinner Dolphin pods
Great sheltered bays for night diving
[See: Red Sea Dive Travel Guide]
Other Information

---
Boat Specifications
Year built: 2014
Length: 130 feet
Beam: 26 feet
Speed: 10-12 knots
Passengers: 22
Number of cabins: 11
Number of bathrooms: 11
Crew: 12
Practical Information
Time Zone: GMT+2
Local Currency: EGP (Egyptian Pound)
Languages Spoken: Arabic, English
Electricity: 220v
Payment Onboard: Cash, AMEX, Visa or MasterCard credit card
Underwater Gallery

---