By admin | Date: 12 Feb' 2016
Galapagos Dive Report Feb 2016
Gordon Rocks, Galapagos Islands at dawn
The Galapagos were mind-blowing. Almost every dive was amazing. It was greatly beyond my expectations. I hope you can share this adventure with me some day, as I will be leading trips there each year. If are thinking about going and can't make my trip, please contact me at scott@bluewaterdivetravel.com as when you go, who you go with and what you do on the trip can greatly affect what you see.
We visited the Southern Islands, the far northern islands of Wolf / Darwin, and the colder Western Islands., doing 4 dives a day. All were amazing. The water was warmer than normal due to a strong El Nino, but the marine life was out in force and the hammerheads would come shallow IF you played your cards right and knew where/when to go and how to act.
Water temps in the Galapagos are highly variable, and I will be posting a separate article on water temps later today. I dived in a full 3mm, but that is not the norm and I expect water temps to cool over the next 2 to 3 months as NASA beleives that El Nino may have peaked.
I dived on the Galapagos Master / Deep Blue. The boat and crew were excellent, they really went out of their way to make sure we had a great trip, and I will be back on that boat. I did a ten night trip, which I do recommend over the 7-night trip. If you want to save some money and can travel in 2016, I can get you a very special deal (32% off) on a 7-night trip on many different dates if you contact me before March 1st.
For much of the trip, we did not see anyone else between us and the horizon, I have never before felt so isolated, it was amazing. Distances in the Galapagos are much larger than I imagined, it is quite a large area and islands that look small on a map are quite big.
Darwin and Wolf were incredible and definitely lived up to their reputation. I read that they have the largest biomass of sharks on the planet, I definitely believe it. We did not see a whale shark but the trip after our trip saw one, sightings early in the year are usually a little spotty.
What did I see in the Galapagos?
The real question should be, what didn't I see? We saw crazy numbers of hammerhead sharks, and a good number of Galapagos Sharks, Silky Sharks, and White-tips. There was a Port Jackson shark at Punta Vincente Roca. We also saw a few penguins and marine iguanas, schools of jacks and barracudas, a few yellowtail tuna which were an incredible sight, 4 manta rays, a couple giant school of mobula rays, a couple small schools of golden cownose rays, lots of eagle rays of various shapes and sizes, marbled rays, flightless cormorants, a couple of seahorses, a good number of sea lions and fur sea lions, several Mola mola (highlight of the trip!), and a LOT of turtles.
We did not see a whale shark, although they saw one on the trip after us. For someone trying to get good photos or video, I think the many advantages of the Jan - June season (better vis, warmer water, more sunshine, calmer seas) greatly outweigh the advantages of having a higher chance of a whale shark in the July - Dec timeframe.
Lenses used on the Galapagos trip
I used my Nikon 16-35mm F4 lens on almost every dive. This is equivalent to a 7-14mm or 9-18mm on a mirrorless camera, or a 10-24mm lens on a cropped sensor dSLR. I'd say 20% of my shots were at 16mm, 40% between 16 and 35mm, and 40% were at 35mm.
For land, I used my Nikon 16-35mm for wide-angle, my iPhone for video and panoramas, and my Nikon 200-400mm VR for telephoto. Most of my favorite shots were with the Nikon 200-400mm VR, usually at 400mm.

The author getting in close for a shot
Galapagos Land Tours
The best land tour was the giant tortoises, they were truly amazing to be around and that is an experience that I look forward to again. We did the tour in the afternoon, and we were blessed with perfect diffused light through a cloudy sky. We also did a walk along a rocky shore at North Seymour Island, where we got up close to frigate birds, land iguanas, sea lions and sally lightfoot crabs. Panga rides near the shore - which hopefully your trip leader will arrange, are also very productive for seeing blue-footed boobies, marine iguanas, and penguins.
The thing about the Galapagos that I didn't realize is most of the animals are seen from a boat or panga along the shore. Except for the tortoises, you won't be begging to "go on a land tour", the water is the place to be. For a non-diver going to the Galapagos, you definitely want to do a boat-based trip, not a land based trip.
Weather, Vis and Currents
We had warm water (thank you El Nino!), and perfect topside weather - calm seas, lots of sunny skies. This is one of the advantages of going on the Jan - June time period. In the second half of the year, there is less sun, less vis, and colder water - which means thicker wetsuits, less time in the water, and less comfortable divers.
Currents in the Galapagos are fairly strong, but not unmanageable. I think there were only two dives where I thought "this current is really way too strong". Because of the currents, you will want to use an SMB with a reel if you plan on not surfacing with your divemaster, maybe a reef hook, *definitely* a rash guard (or you will get painfully chafed) and an extra pair of gloves.
Ease of getting to the Galapagos
I actually consider the Galapagos an easy destination to get to, especially from North America. There are many flights to Quito or Guayaquil Ecuador, you need to simply fly to one of those two cities. From there, it is an easy 90 minute flight to the Galapagos, then a 5 minute car ride to the boat. The Galapagos is the only place in the world I've been to, where once to land on the plane, you are "there" and don't need additional travel. It was pretty awesome. Five minutes after getting off the plane, I literally saw sea lions and marine iguanas walking through town.
About the Galapagos Master
The Galapagos Master, formerly known as the Deep Blue, was a comfortable well layed out boat. Getting on and off the pangas was easy, and safety was always paramount. The guides and the rest of the crew were all trained well and did a great job. The crew knew the sites well and I felt they always put us in the water at the right place, very important on a trip like this. Engines, compressors, AC all worked great.
Every cabin had its own bathroom, shower and good quality air conditioner. I found the beds large, and there were no bunk beds, a plus. For food - we had meat, fish, soup, salad, fruit and veggies offered during every major meal. Coffee on the trip was great, and the bartender made an awesome margarita. I did an image & video review every day in the large lounge where they had comfortable couches and a large TV. There were also large hang out areas on the upper deck, and on the sundeck.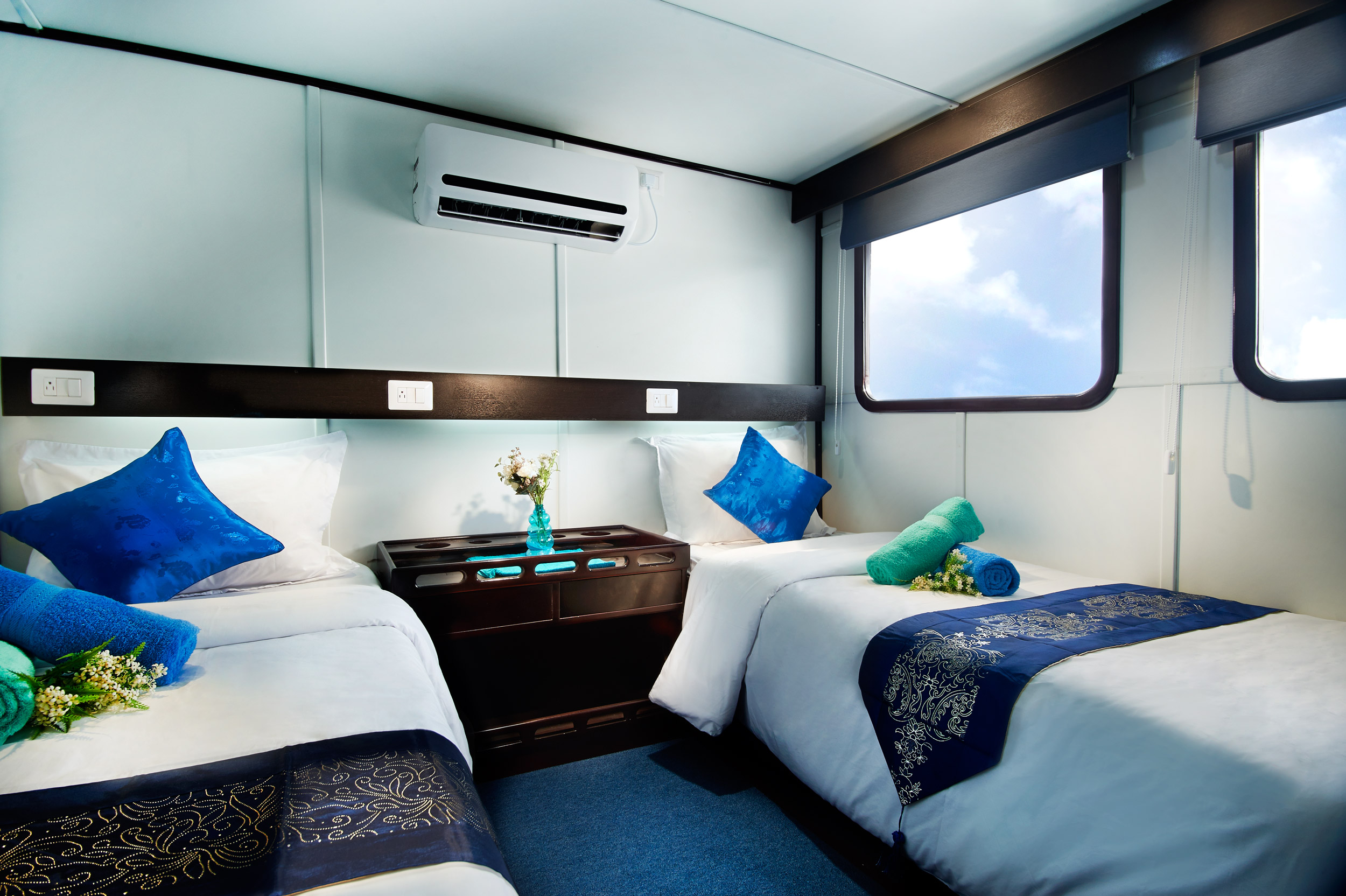 In Conclusion
This was one of the best two trips I've ever done in my life - the other was an Africa Safari. What makes the Galapagos special? The shear quantity of marine life, so many exotic animals you'll only see here. Hammerheads and Mola mola close and personal. Being the only boat in an area for dozens of miles. The Galapagos can be expensive, but it is definitely worth it in my opinion.
Amazing Underwater Video from our Galapagos dive trip
Watching in Full screen / 1080p HD recommended
Galapagos Feb 2016 Underwater Photos
All photos are from our February 2016 Galapagos trip

We saw several large manta rays on this trip, some making close passes

We saw many hammerhead sharks on our trip at Darwin and Wolf, and also at other sites, sometimes shallow.

Due to lots of hard work, we saw several Mola mola. Bluewater tries to work with all the guests to make sure they can get some good shots or video of a Mola mola.

Galapagos sharks, plentiful at Wolf & Darwin

Photographer with schooling barracuda

Lots of yellowfin tuna out there, they were a real highlight of the trip. They were not afraid to come close to you. These tuna followed me for several minutes up and down the water column, and were right by my dome.

Flightless cormorant, underwater

Moray eel

Galapagos shark. Saw quite a few of these guys, sometimes shallow. There are less shy than hammerheads.

Explosion of fish at Punta Vicente Roca

Silky Shark coming in close to check me out

Eagle ray making a turn, this one looks like a vampire

Galapagos tortoise

Schooling hammerheads, over my head. This was a very difficult shot for me to get, I was very happy after several "failed" attempts. I couldn't really attempt this shot during the first few dives because it can mess things up for other photographers. More details coming in an upcoming article!

Hundreds of mobula rays swimming by me, this was an incredible sight to see and I only had a few seconds to take a shot before they moved "out of range".

Hammerhead shark

Dolphin family swimming by. We saw dolphins from the boat, the panga, while snorkeling and while diving.

Male frigatebird in full mating display, trying to attract one of the females that fly overhead

Sea turtle with accompanying jacks, what a sight to see!

Red lipped batfish. This guy was deep. These guys can swim! I didn't bring a macro port, so I used my macro lens in a 4-inch glass dome.

Hammerhead closeup, showing the teeth. This shot is cropped.

Bird with the ocean behind it.

Dolphin jumping out of the water near Darwin's arch.

Marine Iguana.

Blue-footed Boobie, showing off its blue feet.

Penguin diving down. Many thanks to Michelle and Jeannie for helping me get this difficult shot! My initial technique failed a few times, but "teamwork" helped me refine it.
Read our Galapagos diving report Part 2 here