By admin | Date: 17 Aug' 2016
Galapagos Dive Report & Underwater Photo Essay
By Scott Gietler CLICK ON PHOTOS FOR LARGER VIEWS
The is part 2 of a 2-part Galapagos report. I wrote the first Galapagos trip report here, since then I've been back a second time. The Galapagos did not disappoint, in fact it was the best diving we had ever done in our life. Schooling hammerheads on most dives, mola mola, marina iguana, penguins, orcas, yellowfin tuna, mantas and whale sharks made every other dive spot in the world pale in comparison.
We are now complete Galapagos 'addicts' and will return again and again. Find out water temps, conditions, what marine life you see, and much more in our trip recap. This is a destination you truly must visit in your lifetime, while you can. We only recently discovered that Wolf & Darwin have the highest shark biomass of any location in the world, and you experience it on every dive there.
We ran several Galapagos dive trips this year, and they were truly a trip of a lifetime for the guests. Please enjoy these photos, and we hope you can join us on one of our 10 night Galapagos liveaboard trips in April 2017, Jan 2018 or May 2018.
All photos below were taken in 2017. You can easily see all of these sights on a single trip, except for seeing the Orcas underwater, which only happened on one of our trips.
Galapagos Water Temps
Water temps in the Galapagos vary from 60 degrees to 82 degrees. Wolf and Darwin are the warmest islands, while Punta Vicente Roca and Ferdandina are the coldest. The warmest waters are from Jan to May, the coolest are July to Nov. Divers generally bring a 5mm in the warm season, and a 7mm in the cold season, and they always bring a hooded vest. Darwin and Wolf can be comfortably dives in a 3mm wetsuit however, in the warmer months.
On the boat - the Galapagos Master
We use the Galapagos Master for our 10-night trips, formerly known as the "Deep Blue". The boat is large, spacious, and very comfortable. The dive deck is laid out nicely, and getting into the panga boats is quite easy. They have 2 panga boats, so you will have 8 guests and 1 dive guide on each boat, similar to the other Galapagos liveaboards. Food was good, plentiful, and served buffet style with excellent wait-service from the crew. There were always several choices for each meal, and guests with dietary restrictions were well taken care of.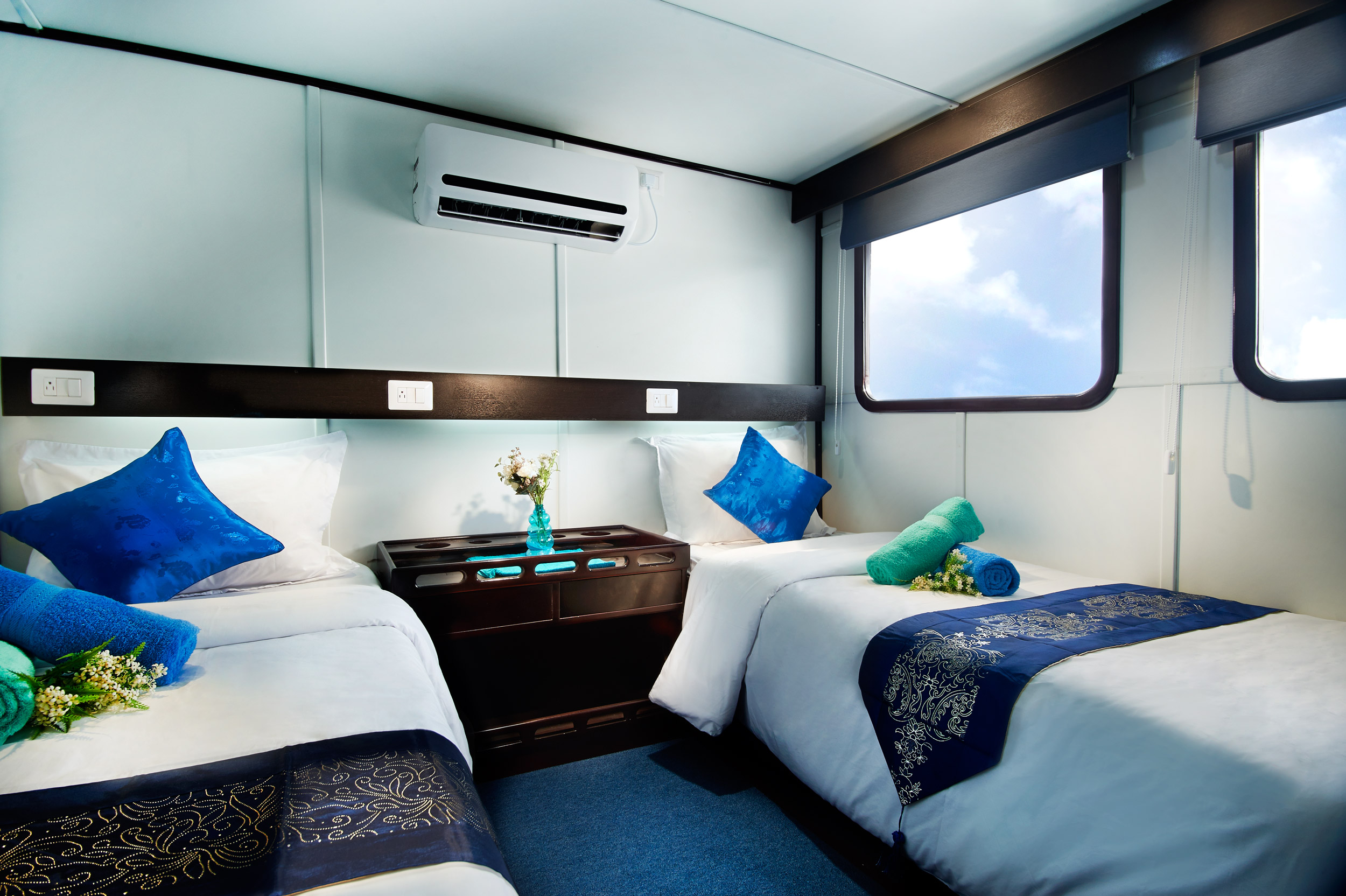 Comfy Cabin on the Galapagos Master
There are 4 lower deck and 4 upper deck cabins, all are similar in size, and offer beds large enough to comfortably sleep a 6ft tall person, unlike other boats we've been on! The main lounge is one of the nicest we've ever been in, very spacious with couches and high ceilings, it easily accommodates all 16 divers for lounging around, photo editing, dive briefings, and presentations.
TOPSIDE EXCURSIONS
The topside excursions were outstanding. On North Seymour Island, we saw numerous land iguanas, blue-footed boobies, sea lions, sally lightfoot crabs, and frigate-birds. It is also a great place to photograph behavior, as all of these animals can do interesting things, including dive-bombing your head from above if you are not careful.
We also arranged a land tour to see the Galapagos Tortoises. Bring both your wide-angle and telephoto lenses, as you will want to photograph a variety of compositions of these gentle giants.
The panga rides are also very productive, we get in the pangas to photograph orcas, Dolphins, Penguins, Blue-footed boobies, Red-footed boobies, and Marine Iguanas. Sometimes we will go in the panga "dry" to photograph the animals on land / on the surface, and sometimes in snorkel gear, ready to jump in at a moment's notice.
Marine Iguana, aka "Godzilla" looks up as a turtle swims in the background (LEFT) The marine iguanas enter the water twice a day, only for a few minutes to feed. Their powerful claws grip the surf-blasted rocks while they munch on algae. The only enter the water mid-day when the sun is the warmest. Up to 90% of Marine Iguanas can die during an El Nino, although they seemed to fare better this year.
Resident schooling Barracuda at Cabo Marshall (RIGHT), stacking on top of each other. They change formation depending on where the divers are.
Marina Iguana, taken with the Sony A7r II + 16-35mm lens by Kelli Dickinson (LEFT) and Marine iguanas swimming overhead (RIGHT), either finished eating or looking for a nice rock full of algae to much on. They are quite picky in choosing where they "descend" down to feed.
LEFT: Schooling Mobula Rays, another "once in a lifetime" sighting at Cabo Marshall. The mobula rays are quite shy, and can pass by at various depths, from 20ft to 100ft deep as they search for food.
RIGHT: Mola mola getting cleaned. We saw Mola mola on every trip, definitely on of the highlights of a Galapagos trip. The enjoy getting cleaned in only the coldest waters which is usually from 59 - 65, so bundle up. Deepwater too, around 100ft deep. They are shy and can suddenly bolt for any reason. The Mola mola we saw were on average about 10ft long, huge fish.
LEFT: Hammerhead sharks, photo by Ron Watkins. Hammerheads come in close like this to be cleaned.
RIGHT: Schooling hammerheads overhead. Darwin and Wolf have the largest shark biomass of anywhere on the planet. These islands are truly a special place. On most trips, you should see a good amount of hammerheads, on most dives. Depending on the day, they will change exactly where they are, but they always come shallow to get cleaned. Silky and Galapagos sharks are also common. They are also very shy, and do not like bubbles, so to get underneath them you must be very lucky, or hiding in an "I'm going to surprise all you hammerheads" position.
Swimming with Orcas at Darwin Island was a magical once in a lifetime experience for Ron Watkin's trip. Less hammerheads and other sharks were seen when the Orcas were around, and a different dive boat on a different day saw one eat a turtle. The islands are very remote, and on most of our trips we did see another dive boat nor any fishing boats at Wolf or Darwin, a truly special experience. Bluewater Photo & Travel schedules 10-night Galapagos trips, allowing us maximum time at Wolf and Darwin.
Whale shark at Darwin Island - always amazing. The whale sharks generally appear from June to December, when the water is colder and visibility is less. The circle the island and can be seem at the "platform". They are quite fast and you really have to swim to keep up with them. The ones at Darwin are also quite large.
Eagle rays are commonly seen at Wolf Island and Cousin's Rock, and often travel in small groups (LEFT). Schooling jacks from Darwin Island. Huge Yellowfin tuna often flew by at this spot, hunting for smaller fish. (RIGHT).
Wolf and Darwin truly lived up to their reputations. On all of our trips, every dive was special, whether it was snorkeling with dolphins, being surrounded by hammerheads, visiting Silky sharks under the boat, or having a yellowfin tuna visit you during a safety stop.
Land Iguana eating a cactus (LEFT) and Male frigatebird display (RIGHT) on North Seymour Island, by Kelli Dickinson
"Coldwater" scene of hundreds of sea fans at Punta Vicente Roca, with amazing visibility and very cold water. This is near where the Mola mola was seen, and the flightless cormorants
Newborn blue-booted boobie being cared for by its parents, on North Seymour Island (LEFT) and Galapagos Tortoises fighting for dominance, on private land on Santa Cruz Island (RIGHT). The tortoises are old, enormous in size, slow, and serious eaters.
Flightless Cormorant underwater. This bird is endemic to the Galapagos and is often seen at the colder, western dive sites. We saw them dive down to at least 70ft or 80ft.
Upcoming Galapagos Trips & PERSONAL TRIPS
We run numerous trips to the Galapagos and dozens of bucket list scuba diving destinations every year! See our full Scuba Diving Trips & Photo Workshops calendar to see our next trips!
If you can't make one of those trips, email us and we will book you on a personal trip with a low-price guarantee, with the best possible advice on where to go, when to go, and whether to do land or sea.
Read Part 1 of the trip report here.

Hammerheads come in close near cleaning stations. It is important to stay low, hide behind rocks, don't blow bubbles, and be on the edge of the group

We saw a lot of beautiful turtles on the trip

Orca whale up close