Destination: Thailand
Similan and Burma (6 to 18 nights) | From $308++/night

---
S/Y Diva Andaman Quick Pitch
The S/Y Diva Andaman offers luxury cruises through the Similan and Mergui Archipelago aboard a classic sailing yacht. This liveaboard has 7 staterooms accommodating up to 14 divers.
Location
The Similan-Richelieu itinerary starts and ends at Thap Lamu. The Mergui itinerary starts and ends at Ranong.
Dive Overview
The Thai islands are known for widely varied underwater terrain, friendly fish, and diverse marine life, with warm water throughout the year. Marine life includes soft and hard corals, fields of anemones, nudibranchs, harlequin shrimp, cuttlefish and seahorses, plus regular sightings of mantas, zebra sharks, and the legendary whale shark.
[See: Similan Islands Dive Travel, Myanmar Dive Travel Guide & Andaman Dive Travel Guide]
Check Out This Awesome Video of a Past Similan Islands + Richelieu Rock Trip aboard the Diva Andaman
Accommodations
Types of Cabins, Amenities and Photos

---
S/Y Diva Andaman Cabin Details
This liveaboard has 7 staterooms for up to 14 passengers: 4 double cabins, 1 triple cabin with double beds and a bunk, and 2 twin cabins. All cabins are equipped with ensuite bathrooms, air conditioning, LCD TVs and DVD players.
General Facilities

---
S/Y Diva Andaman Features
Spacious air-conditioned saloon with TV, Library, Sound System
200 sqm deck space & sun deck
Fine cuisine, all-inclusive
Indoor and outdoor dining
Free hot and cold beverages
Complimentary champagne
Camera station
2 large dive tenders & 4 kayaks
Complimentary toiletries
Thai massage
Complimentary activities
Nitrox (200 THB per fill)
Food & Drinks Aboard S/Y Diva Andaman
The meals aboard the Diva Andaman are all-inclusive and include a vast variety of fine Thai, Asian and international cuisine. A good selection of wine, beer, cocktails, liquors and cigars are also available to complete your evenings. Take a look at the sample menu and food below to have a good idea of how amazing the meals are aboard the Diva Andaman.
S/Y Dive Andaman Deck Plan
SUN DECK: The perfect place to dine and relax. Features an outdoor dining, ample lounge chairs and a kayak storage.
MAIN DECK: This is where you will spend most of your day. You will find the dive platform, saloon, galley, wheelhouse, foredeck & outdoor dining.
LOWER DECK: This is where all the passenger cabins are located. You will also find the crew cabins and engine room on this deck.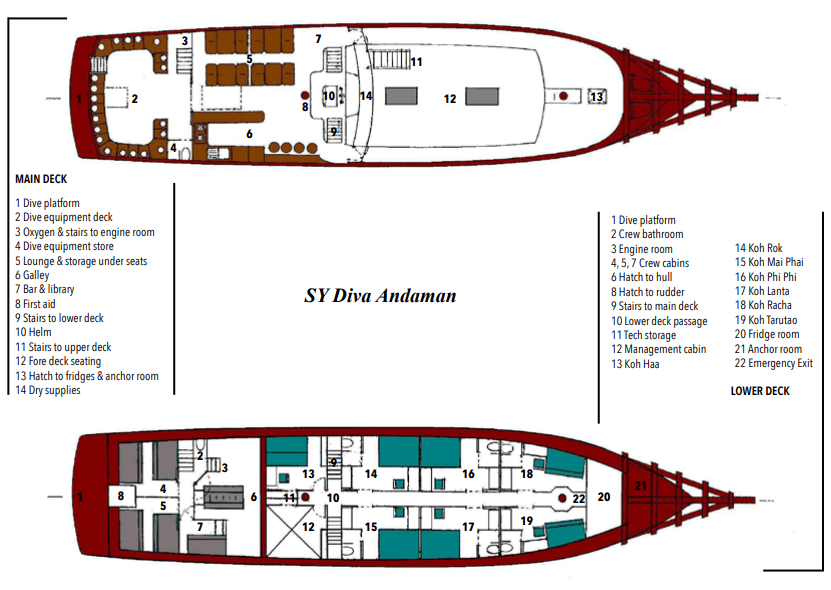 Schedule & Rates

---
Rates & Availability
For information on departure dates, rates, and availability email us at info@bluewaterdivetravel.com or call us at 310-915-6677 and we will gladly help you plan your dream dive vacation!
Dive Information & Itineraries

---
Similan - Richelieu (6 nights/5 days of diving/20 dives)
DAY 1 ~ NO DIVES
Departure from Thap Lamu, Phang Nga. Pickups begin around 14:00 from hotels around Phuket. We start in the south and head north to the airport and then off the island at Sarrasin Bridge. 16:00 Boarding at Thap Lamu Pier, north of Phuket. 18:00 Welcome Drink, Safety & Trip Briefing followed by Dinner on Board while sailing to the South Similans
DAY 2 ~ 4 DIVES
Diving the southern and central Similan Islands
DAY 3 ~ 4 DIVES
Diving the southern and north Similan Islands
DAY 4 ~ 4 DIVES
Diving the northern Similan Islands and Koh Bon
DAY 5 ~ 4 DIVES
Diving at Koh Bon and Koh Tachai
DAY 6 ~ 4 DIVES
Diving Richelieu Rock and Boonsong Wreck
DAYS 7 ~ NO DIVE
06:00 Breakfast on board. 08:00 Disembarking at Thap Lamu Pier near Khao Lak. Transfers to hotel or airport. You may fly today.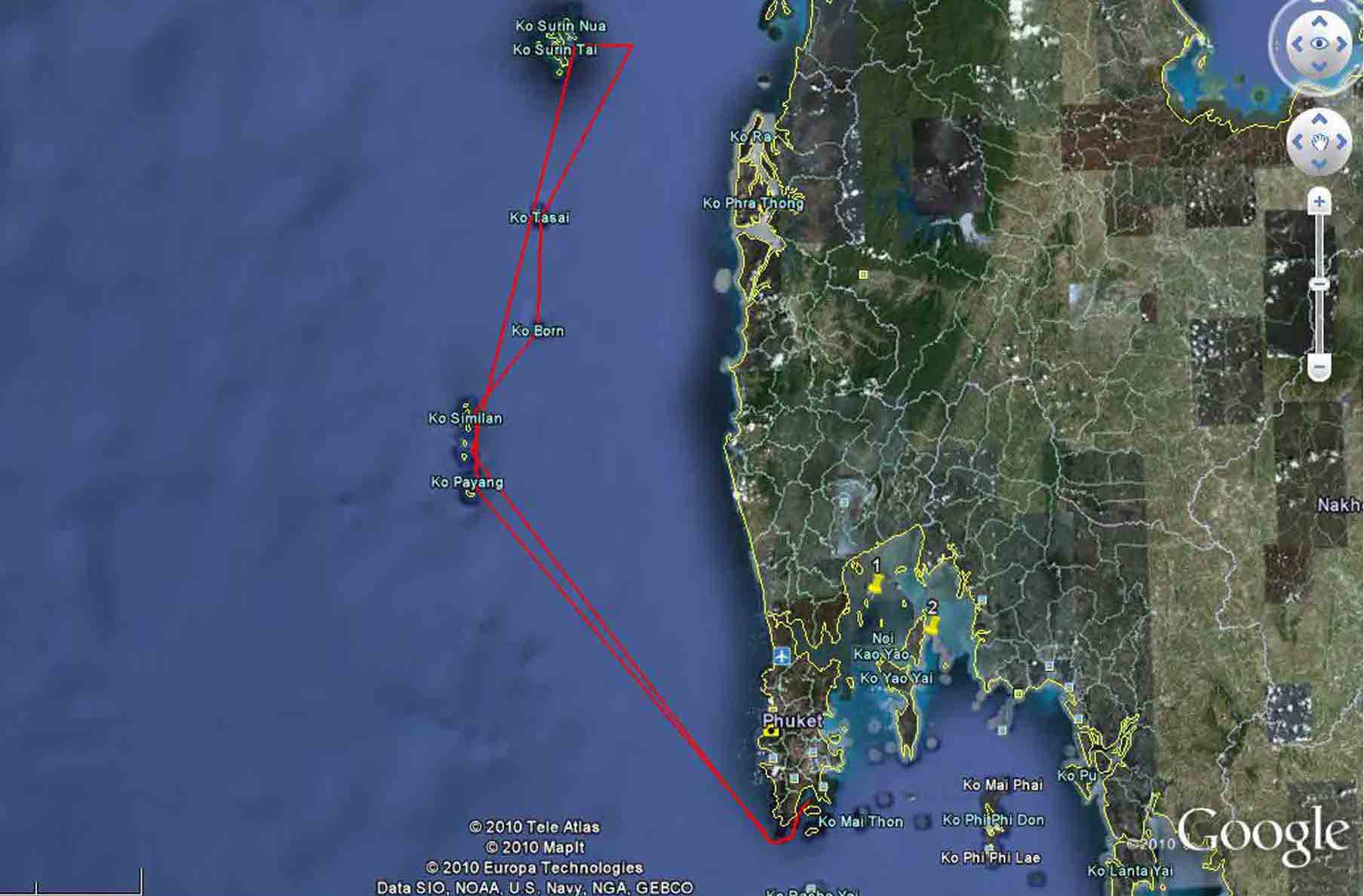 Burma - Myanmar - Mergui (6 nights/5 days of diving/20 dives)
DAY 1 ~ NO DIVES
08:00 Pickups from Phuket Hotels, 1,500 THB
10:00 Pick up from Phuket International (HKT), 1,500 THB
11:30 Pickups from Khao Lak area, 1,500 THB
14:00 to 15:30 Hotel pickups from Ranong areas
Transfer to Ranong Pier and boarding
19:00 Dinner on board while cruising to the Mergui Archipelago
DAY 2 ~ 4 DIVES
Diving all day at Hi Rock (Pineapple Island), Rocky Islands, and Three Islets. Depart for Black Rock.
DAY 3 ~ 4 DIVES
Diving all day at Black Rock. Depart for Burma Banks
DAY 4 ~ 4 DIVES
Diving all day at Burma Banks. Depart for Western Rocky.
DAY 5 ~ 4 DIVES
Diving at Fan Forest Pinnacle and Western Rocky Island.
DAY 6 ~ 4 DIVES
Four dives at Western Rocky Pinnacle or Northern Rocky. Depart for Thai border at Kawthuang/ Ranong. Arrive about 11PM, sleep in harbor.
DAY 7 ~ NO DIVE
07:00 An early breakfast during Burmese and Thai Immigration procedures, pack your bags, and be transported to Ranong for the bus ride back to Khao Lak or Phuket. You may fly today.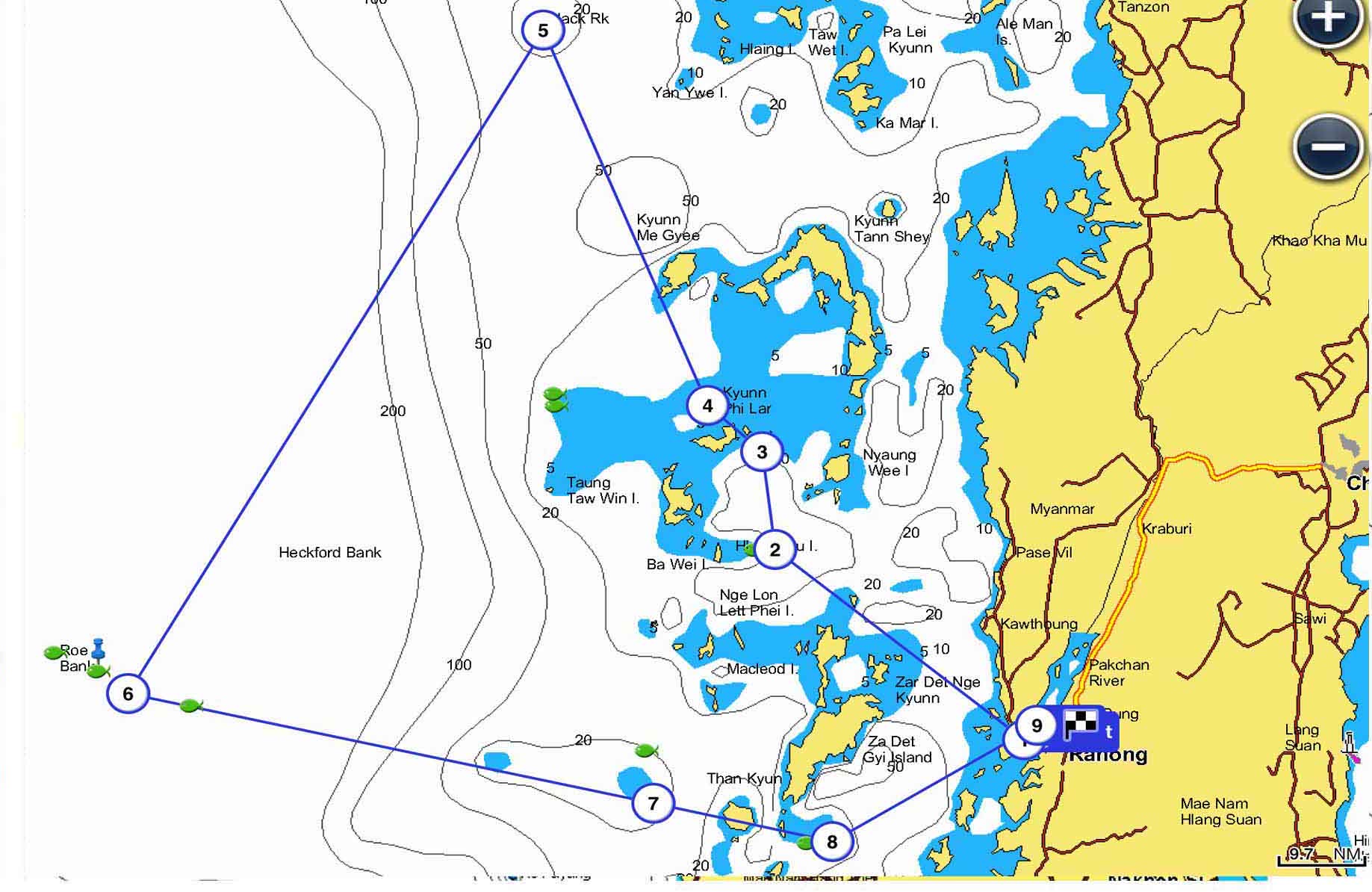 Other Information

---
Boat Specifications
Length: 35 m
Beam: 7 m
Type: Single hull
T: 2.30 m
Cruising Speed: 8 knots
Engine: 1x Marine Cummins 425 HP(KT19)
Sound-shielded generators: 2x Northern Lights 40 KVA(MT933)
Rigging: Gaff rig schooner (2 masts)
Gear Ratio: 3:1 - 4:1
Underwater Gallery

---
Coming Soon!