Destination: Thailand
Similan Islands, Koh Bon, Koh Tachai, Richelieu Rock and Surin Islands (3-5 Nights) | From $175++/night

---
MV Similan Explorer Quick Pitch
The Similan Explorer specializes in 4-5 night excursions through the Similan National Park. The perfect combination of affordability, comfort and quality.
Location
The boat departs out of Khao Lak. You can either be transferred there from Phuket, or take a longer bus from Bangkok to Phuket and request getting dropped off along the way.
Dive Overview
The Thai islands and the Andaman Sea are known for widely varied underwater terrain, friendly fish, and diverse marine life, with warm water throughout the year. Marine life includes soft and hard corals, fields of anemones, nudibranchs, harlequin shrimp, cuttlefish and seahorses, plus regular sightings of mantas, zebra sharks, and the legendary whale sharks.
[See: Similan Islands Travel Guide & Thailand Dive Travel Guide]
Accommodations
Types of Cabins, Amenities and Photos

---
MV Similan Explorer Accommodation Details
She accommodates up to 20 divers with eight air-conditioned cabins; two double bed cabins and four twin bed cabins. There are three bathrooms with hot showers on the boat (i.e. the bathrooms are down the hall and shared.
General Facilities

---
MV Similan Explorer Boat Features
AC
Sundeck with mattresses
Shaded social & dining area
Music system
Movie library
Outdoor saloon
MV Similan Explorer Dive Facilities
DIN Adaptors
Nitrox
Dive deck
Tenders for diving
Food & Drinks Aboard MV Similan Explorer
All-inclusive, with a variety of Thai, Asian, and international cuisine.
MV Similan Explorer Deck Plan
1 to 7: Dive platform, Deck showers, Gearing up area, Toilet/shower, Galley
8 to 14: Crew cabins, Quad Guest Cabins, Dinghy, Dining Area
15 to 21: Coffee Station, Double Bed Cabin, Wheelhouse, Sundeck, Life Raft
22 to 28: Nitrox, Shaded Area, Guest Twin Cabins, Benches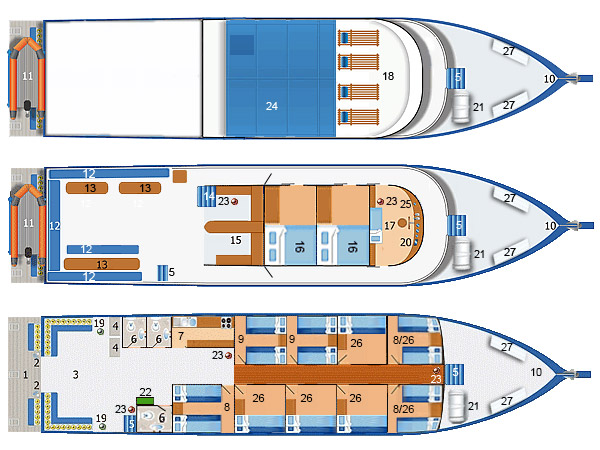 Schedule & Rates

---
Rates & Availability
For information on departure dates, rates, and availability email us at info@bluewaterdivetravel.com or call us at 310-915-6677 and we will gladly help you plan your dream dive vacation!
Dive Information & Destinations

---
Itinerary Overview
The MV Similan Explorer will be doing four day, four night and some five day liveaboard safaris and cruises from December through April each high season here in Phuket. These trips will visit the Similan Islands, Koh Bon, Koh Tachai, Richelieu Rock and Surin Islands.
Day 1 - Arrival at around 4:30pm, introduction to dive staff and crew. After getting settled in your cabins, you will be briefed on the rules and safety procedures on the boat and then dinner will be served. Departure from the dock is at 6:30pm.
Day 2 & 3 - Dives will be held at the Similian Islands before heading north to Kon Bon island, infamous for its Manta Rays. The boat then heads northwest to Koh Tachai, one of the best dive sites in Thailand.
Day 4 - One day of diving will be allotted for the Surin Islands. If the schedule permits, we may visit a Moken village (sea gypsies)/beach then Richelieu Rock.
Day 5 - Arrival at the Taplamu Pier between 2-4pm.

*

Their 3D/3N trips set aside one day each for the Similan Islands, Koh Bon and Koh Tachai, and Richelieu Rock.
daily liveaboard schedule
6am - Wake up, have a light breakfast with coffee and fresh fruits
7am - First dive, usually around 55 mins with a 5 min safety stop
11am - Second dive
1pm - Lunch is served
3pm - Third dive, snacks and drinks are available until the next dive
6-7pm - Fourth dive, the dusk or night dive
7-8pm - Dinner is served
Similan Islands
What to look for: Unusual granite formations, dramatic scenery, swim-throughs, large seafans, gorgeous beaches.
Wildlife includes monitor lizards, various snakes, squirrels, and bats, along with birds like Pacific reef egrets, Nicobar pigeons, Brahminy kites and white-breasted sea eagles.
Corals excellent; unbelievable variety of both hard and soft. Multicolored, some of the best old hard coral growth in the world. Well protected.
Many species of nudibranchs and other mollusks, colorful sponges and tunicates, as well as crustaceans like crabs, reef lobsters, and a wide variety of shrimp.
Fusiliers and surgeonfish are common, as are groupers, wrasses, at least four species of lionfish.
Home to a number of exotic, seldom seen fish, including frogfish, ghost pipefish, blue-spotted jawfish, firefish, and Andaman sweetlips.
Jacks, mackerel, and dogtooth tuna harass the ever-present thick schools of baitfish.
Reef type: Huge granite boulders, coral sloping walls, pinnacles, sandy areas. Sand blinding white, looks and feels like sugar.
Distance from Phuket: 55-60nm or 110-120km.
Visibility: Great, averaging 20 to 30m, on good days over 40m.
Koh Bon
What to look for: Hard corals are sparse but pretty. Soft corals are especially pretty as they are wildly-colored.
When the current is strong, the soft corals are full and bulbous. Sea fans are less common than they used to be, but still very pretty and healthy and multicolored.
Fish life is abundant, with schools of jacks and snappers charging through clouds of glassfish that hover around large fan corals and barrel sponges.
This is a favorite manta spot on the ridge and in the bay. On deeper dives, rays and leopard sharks are seen. Sometimes nurse sharks on the northern bommies.
If swell running, water cascades through an opening from the other side of the ridge, creating large clouds of bubbles that come surging down to greet you during your safety stop.
Reef type: Walls and a ridge on the main dive site. A pinnacle to the northwest of the ridge, not dived as often due to the depth from the surface to the top of the rock (18m).
The main ridge can be dived in almost any current and has plenty to keep you occupied for several dives.
Distance from Phuket: 75nm or 150km. About 12nm north of Island #9 in the Similans.
Visibility: Usually great, from 15 to 40m
Koh Tachai
What to look for: Can be fantastic or disappointing. Not to everyone's liking depending on what you see and how the current is. Either you love it or you hate it. Excellent growths of sea fans, whip corals, barrel sponges and other filter feeders, particularly in deeper areas. This is also a good area for leopard sharks and stingrays, as well as trumpetfish. Batfish will swim above the rock under the boat. Schooling fish are common, including dense mobs of snapper and chevron barracuda. On the main boulder where most people end up, not much coral. Manta cleaning station at certain times. Good deep dive if the current is not too strong, you swim well, and your guide knows the site.
Reef type: An underwater ridge runs along at 18-23m, with a southern and northern pinnacle. Most dive boats drop at the southern or biggest pinnacle. If the current is with you, you can swim along the ridge, but it's hard to find a shallow spot to do your safety stop.
Distance from Phuket: 95nm or 190km. About 20nm north-northwest of Koh Bon.
Visibility: Variable, from 5 to 30m.
Richelieu Rock
What to look for: Home for porcelain crabs, harlequin shrimp, other bizarre shrimp and at least four different varieties of clownfish. Tigertail seahorses are seen commonly. Nudibranchs numerous. Scorpion fish, snappers, and a number of eel species including giant, white-mouth, fimbriated, snowflake, bar-tail and zebra morays. Lionfish everywhere, often "schooling". Excellent coral, dense colonies of sea anemones in shades of green, beige and brilliant purple cover many of the shallower rock surfaces, soft corals come in many shades of red, purple and blue. Octopus and cuttlefish, the latter of which are often seen mating and laying eggs among the rocky ledges. Whale sharks, manta rays, guitar sharks, soft corals in a rainbow of colors, schooling pelagic fish. Everything
is possible here. This dive is like a box of chocolates; you never know what you're going to get.
Reef type: A series of pinnacles and peaks, starting at 40+m, ending just below the surface. One of the best dives in Thailand.
Distance from Phuket: 130nm or 260km. 9nm east of the Surin Islands.
Visibility: Extremely variable, from 2 to 40m! Visibility depends on tides and runoff from shore. It's closer to freshwater rivers than the Similan Islands, thus the water clarity is not as consistent. But here it's not about the vis, it's about the marine life.
Mu Koh Surin
What to look for: Surin is not as popular for diving as other places, but it's a popular spot for people to visit the Moken or often called "Sea Gypsies" or chao lay in Thai (considered by some to be derogatory).
Some divers very much enjoy the Surin Islands and there certainly is a big area to explore, including some pinnacles or piles of boulders completely submerged. There are also fast drift dives between Surin Nua and Surin Tai (north and south islands). Often the visibility is poor and there is a definite lack of fish around the islands.
However, probably the main reason that people do not dive these islands more often is probably due to lack of time. Most of the dive trips do become a little rushed since the boats are trying to cover a lot of area in four or five days; other more interesting areas get more attention from the dive staff. You may dive here if it's windy and Richelieu Rock gets blown out. Or, if you do a longer northern-only trip, and if the divemaster has a favorite "secret" dive or two, then you may spend some time here.
Turtle Ledges and Swift Passage are two of the more famous spots.
Surin has several beautiful small coves for anchoring and the topography is similar to many of the islands in Mergui in Myanmar. In fact, all of those islands you see from Surin to the north are in fact in Mergui.
Reef type: Rocks and boulders, sea fans, staghorn coral
Distance from Phuket: 60nm or 110km north of Mu Koh Similan National Park. 120nm or 215km north of Phuket.
Visibility: Variable, from 2 to 15m! Visibility depends on tides and runoff from shore. The islands get more rain than the Similans due to their proximity to shore. The islands are heavily forested so more vegetation washes into the water.
Other Information

---
Boat Specifications
LOA: 25.5m (84ft)
Cruising speed: 8 knots
Beam: 5.5m (18ft)
Maximum speed: 10 knots
Fuel: 9,000 liters
Number of guests: 20 persons
Water: 10,000 liters
Dinghy: 1 X 4.2 m with 40hp
Engines: Hino, 2 X 380 hp
Nitrox: No
Generators: 24 hours/day
Compressors: Bauer 2 X 190 liters/min.
Practical Information
Time Zone: UTC+10
Local Currency: THB (Thai Baht)
Electricity: 220 volts
Language Spoken: English, French, Spanish, Norwegian, Swedish, Portuguese, and Italian
More Photos

---