Destination: Thailand
Itineraries: Similan Islands, Koh Bon, Koh Tachai, and Richelieu Rock (4 Nights) | From $179++/night

---
MV Dolphin Queen Quick Pitch
The Dolphin Queen is a great budget-friendly option for exploring the Similan Islands. With short 4D/4N excursions, its a great way to quickly explore some of the best dive sites in a limited amount of time.
Dive Overview
The Thai islands and the Andaman Sea are known for widely varied underwater terrain, friendly fish, and diverse marine life, with warm water throughout the year. Marine life includes soft and hard corals, fields of anemones, nudibranchs, harlequin shrimp, cuttlefish and seahorses, plus regular sightings of mantas, zebra sharks, and the legendary whale sharks.
[See: Similan Islands Dive Travel Guide & Thailand Dive Travel Guide]


Check Out This Great Video from MV Dolphin Queen!
Accommodations
Types of Cabins, Amenities and Photos

---
MV Dolphin Queen Accommodation Details
The boat accommodates up to 24 divers with 3 standard quad cabins, 2 double bed cabins, and 1 twin bunk bed cabin on the main deck. There are also 2 deluxe bed cabins on the upper deck. All have airconditioning and windows. There are 3 communal showers onboard.
Main Deck Double Bed (LEFT) and Twin Bed Cabins (RIGHT)
MV Dolphin Queen Cabin Details
2 double bed cabins on middle deck
2 double bed cabins on lower deck
1 twin bed, two person cabin on lower deck
4 quad bed cabins for 4 persons on lower deck
General Facilities

---
MV Dolphin Queen Boat Features
AC
Sun deck with mattresse & hammocks
Masseuse
Camera rinse tanks
Shaded social & dining area
Music system
Movie library
Nitrox
MV Dolphin Queen Liveaboard Deck Plan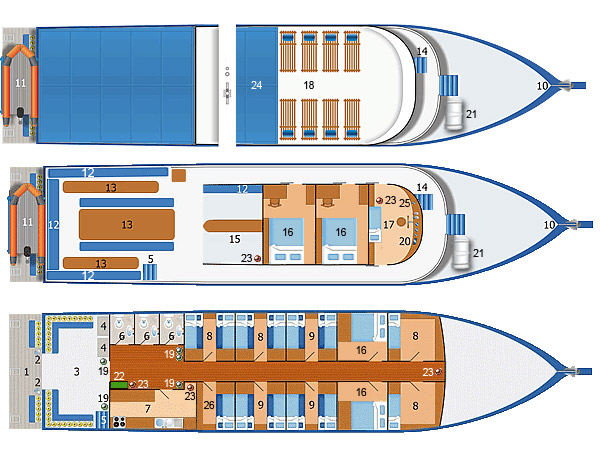 Schedule & Rates

---
Rates & Availability
For information on departure dates, rates, and availability email us at info@bluewaterdivetravel.com or call us at +1-310-915-6677 and we will gladly help you plan your dream dive vacation!
Dive Information & Destinations

---
Itinerary Overview
The MV Dolphin Queen will be doing 4 days / 4 nights to Similan, Koh Bon, Koh, Tachai, and Richelieu Rocks, and five-day liveaboard safaris and cruises from December through April each high season in Phuket.
Day 1 - Arrival at around 4:30pm, introduction to dive staff and crew. After getting settled in your cabins, you will be briefed on the rules and safety procedures on the boat and then dinner will be served. Departure from the dock is at 6:30pm.
Day 2 & 3 - Dives will be held at the Similian Islands before heading north to Kon Bon island, infamous for its Manta Rays. The boat then heads northwest to Koh Tachai, one of the best dive sites in Thailand, and proceeds to Richelieu Rock.
Day 4 - The MV Dolphin Queen returns to port between 2-4 pm
*Day 4 - Dives will be held at Koh Tachai or Koh Bon, stopping by the Boon Sung wreck on the way back)
*Day 5 - Arrival at the Taplamu pier is between 2-4pm
*only applicable to the 5-day liveaboard packages
Daily liveaboard schedule
6am - Wake up, have a light breakfast with coffee and fresh fruits.
7am - First dive, usually around 55 mins with a 5 min safety stop
11am - Second dive
1pm - Lunch is served
3pm - Third dive, snacks and drinks are available until the next dive
6-7pm - Fourth dive, the dusk or night dive
7-8pm - Dinner is served
Similan
Islands
What to look for: Unusual granite formations, dramatic scenery, swim-throughs, large seafans, gorgeous beaches. Wildlife includes monitor lizards, various snakes, squirrels, and bats, along with birds like Pacific reef egrets, Nicobar pigeons, Brahminy kites and white-breasted sea eagles. Corals excellent; unbelievable variety of both hard and soft. Multicolored, some of the best old hard coral growth in the world. Well protected. Many species of nudibranchs and other mollusks, colorful sponges and tunicates, as well as crustaceans like crabs, reef lobsters, and a wide variety of shrimp.
Fusiliers and surgeonfish are common, as are groupers, wrasses, at least four species of lionfish.
Home to a number of exotic, seldom seen fish, including frogfish, ghost pipefish, blue-spotted jawfish, firefish, and Andaman sweetlips.
Jacks, mackerel, and dogtooth tuna harass the ever-present thick schools of baitfish.
Reef type: Huge granite boulders, coral sloping walls, pinnacles, sandy areas. Sand blinding white, looks and feels like sugar.
Distance from Phuket: 55-60nm or 110-120km.
Visibility: Great, averaging 20 to 30m, on good days over 40m.
Koh Bon
What to look for: Hard corals are sparse but pretty. Soft corals are especially pretty as they are wildly-colored. When the current is strong, the soft corals are full and bulbous. Sea fans are less common than they used to be, but still very pretty and healthy and multicolored. Fish life is abundant, with schools of jacks and snappers charging through clouds of glassfish that hover around large fan corals and barrel sponges. This is a favorite manta spot on the ridge and in the bay. On deeper dives, rays and leopard sharks are seen. Sometimes nurse sharks on the northern bommies. If swell running, water cascades through an opening from the other side of the ridge, creating large clouds of bubbles that
come surging down to greet you during your safety stop.
Reef type: Walls and a ridge on the main dive site. A pinnacle to the northwest of the ridge, not dived as often due to the depth from the surface to the top of the rock (18m). The main ridge can be dived in almost any current and has plenty to keep you occupied for several dives.
Distance from Phuket: 75nm or 150km. About 12nm north of Island #9 in the Similans.
Visibility: Usually great, from 15 to 40m
Koh Tachai
What to look for: Can be fantastic or disappointing. Not to everyone's liking depending on what you see and how the current is.
Either you love it or you hate it. Excellent growths of sea fans, whip corals, barrel sponges and other filter feeders, particularly in deeper areas.
This is also a good area for leopard sharks and stingrays, as well as trumpetfish.
Batfish will swim above the rock under the boat.
Schooling fish are common, including dense mobs of snapper and chevron barracuda.
On the main boulder where most people end up, not much coral.
Manta cleaning station at certain times. Good deep dive if current is not too strong, you swim well, and your guide knows the site.
Reef type: An underwater ridge runs along at 18-23m, with a southern and northern pinnacle.
Most dive boats drop at the southern or biggest pinnacle.
If the current is with you, you can swim along the ridge, but it's hard to find a shallow spot to do your safety stop.
Distance from Phuket: 95nm or 190km. About 20nm north-northwest of Koh Bon.
Visibility: Variable, from 5 to 30m.
Richelieu Rock
What to look for: Home for porcelain crabs, harlequin shrimp, other bizarre shrimp and at least four different varieties of clownfish. Tigertail seahorses are seen commonly. Nudibranchs numerous. Scorpian fish, snappers, and a number of eel species including giant, white-mouth, fimbriated, snowflake, bar-tail and zebra morays.
Lionfish everywhere, often "schooling". Excellent coral, dense colonies of sea anemones in shades of green, beige and brilliant purple cover many of the shallower rock surfaces, soft corals come in many shades of red, purple and blue. Octopus and cuttlefish, the latter of which are often seen mating and laying eggs among the rocky ledges. Whale sharks, manta rays, guitar sharks, soft corals in a rainbow of colors, schooling pelagic fish.
Everything is possible here. This dive is like a box of chocolates; you never know what you're going to get.
Reef type: A series of pinnacles and peaks, starting at 40+m, ending just below the surface. One of the best dives in Thailand.
Distance from Phuket: 130nm or 260km. 9nm east of the Surin Islands.
Visibility: Extremely variable, from 2 to 40m! Visibility depends on tides and runoff from shore. It's closer to freshwater rivers than the Similan Islands, thus the water clarity is not as consistent. But here it's not about the vis, it's about the marine life.
Other Information

---
Boat Specifications
LOA: 25.5m (84ft)
Cruising speed: 8 knots
Beam: 5.5m (18ft)
Maximum speed: 10 knots
Fuel: 9,000 liters
Number of guests: 22 persons
Water: 10,000 liters + maker
Dinghy: 1 X 4.2 m with 40hp
Engines: Hino, 2 X 380 hp
Nitrox: Yes
Generators: 24 hours/day
Compressors: Bauer 2 X 190 liters/ min..
Underwater Gallery

---