Blue Spirit Galapagos, EcuadorLo
Galapagos Islands (7 Nights) | From $806++/night

---
Blue Spirit liveaboard overview
Blue Spirit is a first-grade liveaboard yacht offering week-long liveaboard trips to Galapagos Islands' top diving spots including Wolf and Darwin Islands. The Blue Spirit accommodates up to 16 divers in 10 en-suite 10 cabins.
Why You'll Like the Blue Spirit liveaboard
Nitrox available
Full board accommodation
Great itineraries
A wide variety of tailor-made programs
A passionate staff of multilingual guides
Dive Overview
The Blue Spirit operates out of Port of Seymour in Baltra (GPS), offering 8 day/7 night trips to Galapagos' top diving spots year-round.
The Galapagos is one of the world's best destinations for seeing large marine life native to warm and cold water climates. Dolphins, sea lions, sharks, penguins, turtles, marlin and large schools of fish are abundant. Divers can see silky sharks, Galapagos sharks, whale sharks, reef sharks, eels and manta rays.
Learn more about diving in Galapagos or see Blue Spirit's itinerary
Cabin information
Types of Cabins, Amenities, and Photos

---
BLUE SPIRIT CABIN DETAILS
Blue Spirit offers 10 air-conditioned cabins for up to 16 divers. Each cabin is equipped with a private bathroom (toilet, shower, washbasin, and vanity), locker and drawers, and safety box.
Upper deck: Cabins 7 and 8 have windows and one double lower berth, while Cabins 9 and 10 have windows and two single lower berths.
Lower deck cabins
Lower deck: Cabins 1 and 2 have portholes, one double lower berth and one single upper berth, while Cabins 3, 4, 5 and 6 have portholes and two single lower berths.
General Facilities

---
Blue Spirit Boat Features
Bar
Dining room
Entertainment lounge
Sundeck
Library
Blue Spirit Dive Facilities
Compressors
Nitrox Membrane System
Cressi diving equpments, including dive computers, air
Blue Spirit Liveaboard Deck Plan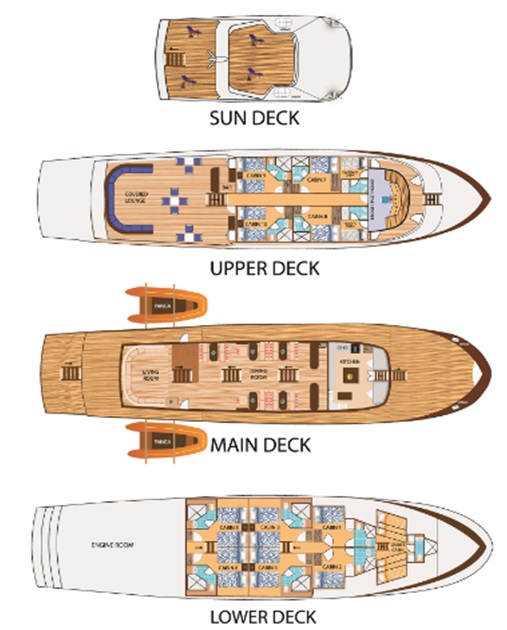 Schedule & Rates
Blue Spirit Schedule & Rates

---
Galapagos Rates
All rates are per person in USD.
Inclusions
Cabin with private facilities
All meals, water, coffee and tea
All excursions as mentioned in the itinerary with English speaking divemasters/naturalist guides, licensed by the National Park
Filled tanks, weights, weight belt, compressor
Up to four dives per day on 5.5 days for a 7-night cruise (night dives optional)
Land excursions
All transfers in Galapagos
Exclusions
Roundtrip flight to Galapagos Islands
Galapagos National Park entrance fee (USD 100 pp, subject to change)
Transit Control Card (USD 20 pp, subject to change)
Travel insurance and other items of personal nature
International airfare to Ecuador
Hyperbaric chamber fee ($35 p.p)
Gratuities to guides and crew
Purchases at the bar and store
Nitrox USD 150 per week (subject to change),
Dive gear equipment rentals
Camera equipment

Extra courses scheduled on board
Blue Spirit Dates & Availability
For more information on departure dates and on availability, email us at info@bluewaterdivetravel.com or call us at 310-915-6677 and we will gladly help you plan your dream dive vacation!
Dive Information & Destinations

---
Sample Itinerary - 8D/7N Dive Cruise
Day 1- Fly to the Galapagos Islands in the morning, departing from Quito or Guayaquil. Upon arrival, you'll be met by guides from Blue Spirit Galapagos, and they'll lead you to the bus that will take you to the Itabaca Channel. From there, you'll take a ferry to Santa Cruz Islands have the opportunity to see the well-known giant tortoises in their natural habitat, as well as the Tunnels, which are giant formations of lava. From there, you'll proceed to the yacht.
Day 2- You'll visit Marchena, which is an exceptional spot for diving. Here, you'll find some large schools of Galapagos sharks, Hammerhead sharks, dolphins, sea turtles, Moray and Garden eels, and different types of fish such as scorpionfish and red-lipped batfish.
Day 3 - is the day for Wolf Island, a sanctuary for abundant and diverse marine wildlife. Here you'll find frigate birds, boobies, marine iguanas, sea lions, Hammerheads, Whale and Galapagos sharks, dolphins, seals, rays and swallow-tailed gulls.
Day 4 - A visit to Darwin Island, considered to be one of the Seven Underwater Wonders of the World. You'll see the impressive stone formation, Darwin Arch, as well as an amazing variety of pelagic species, plus birds, whales, sea lions, sharks, and so much more.
Day 5 - Back to Wolf Island, this time to get a chance to see one of the coral reefs, with over 8 species of corals as well as the greatest diversity of tropical fish. And you won't want to miss seeing the birds on the cliffs of Wolf Island, either.
Day 6 - The plan for this day depends on the time of year. From January to May, We dive Marshall Cape, located on the Northeast side of Isabela Island, with its populations of giant mantra rays, mobulas, enormous schools of barracudas and flightless cormorants, which can be seen resting on the shores. From June to December we dive Douglas Cape in the morning to observe the marine iguanas feeding on algae underwater.
Day 7 - We will dive at Cousins Rock, a small islet with platforms full of black coral where it will be possible to see lots of barracudas, Salema, yellowtail surgeonfish, hammerhead and white-tipped reef sharks, lots of nudibranchs and frogfish. In the afternoon, we visit the iconic Galapagos site of Bartolome, Pinnacle Rock, where the unique Galapagos Penguins nest. You will climb a 600-m trail to the 114-m summit to appreciate the wonder of the surrounding islands and islets. The Green Sea Turtle, sea lions, and colorful fish schools can be seen here.
Day 8 - After breakfast, guests depart for Baltra Airport.
TYPICAL SCHEDULE
A day of diving aboard the Blue Spirit looks like the following:
06h30 First dive – Full breakfast
10h30 Dive
12h00 Lunch – 2 afternoon dives (depending on conditions and navigation time needed.)
19h00 Dinner
Diving Conditions
We recommend diving activity for advanced participants as you will have to deal with strong currents, reef and deep dives low visibility and special conditions on each diving spot.
Other Information

---
Boat Specifications
Type: Motor Yacht
Passengers: 16, accommodated in 10 cabins
Year: 2001
Next remodeling: Spring 2019
Length: 104 feet
Beam: 22 feet
Draft: 5 feet
Cruise Speed: 12 Knots
Crew: 9 members: Captain, Multilingual Naturalist Diver guides (1 for every 8 passengers), Engineer, International cook, Barman & waitress, Two sailors
Practical Information
Time Zone: UTC-6
Local Currency: USD (US Dollar)
Language Spoken: Spanish & English
Electricity: 110V
Payment Onboard: Cash
Underwater Gallery

---
Coming soon!