By Jacqui | Date: 16 Jan' 2023
GALAPAGOS ABOARD THE CALIPSO
BY BLUEWATER TRAVEL'S GROUP TRIP ADIVSOR GILLIAN FLAHERTY
Galapagos has been number one on my bucket list since I learned about Darwin and his finches at school. Even before I became a diver I was fascinated by the topside nature of these mysterious volcanic islands, and my interest only intensified once I had a ticket to explore the underwater world. And so I leaped at the opportunity to check out one of Bluewater Travel's Galapagos operators, Calipso, and to discover Galapagos from the comfort of the largest liveaboard in the area.
After nearly 48 hours of traveling from my base in the eastern Mediterranean, I arrived at San Cristobal Island just after lunch on embarkation day. I had taken the advice of Bluewater's travel team and transferred through Quito on mainland Ecuador, spending the night in an airport hotel. This gave me plenty of time the next morning to purchase the mandatory Ingala Transit Card and have my bags bio-scanned before checking in for the domestic flight to Galapagos. On arrival, I queued to pay the $100 National Park entrance fee, collected my bags, and then met our cruise director just outside Arrivals. I was impressed by how smoothly the process went; they are well set up for tourists in the Galapagos!
The Calipso embarks and disembarks on San Cristobal Island, and the airport is only a 5-minute ride from the jetty. On arrival in town, I couldn't believe all the sea lions just laying around on the seafront promenade and sunbathing on benches and steps. I also spotted my first marine iguana, warming up on a big chunk of volcanic rock. We were loaded with our luggage onto one of the Calipso's pangas and driven a couple of minutes out into the bay to board the boat.
The Boat
The Calipso is a spacious and airy liveaboard that underwent a complete refit in 2019. It takes a maximum of 16 divers but there were only 7 onboard for my trip so it felt even roomier! The large communal salon is straight off the dive deck and includes a lounge, dining area, and bar. It can comfortably sit all 16 guests in one sitting and there is a large TV available for briefings and presentations. There is also a coffee/tea station open all day, help-yourself snacks, and a battery charging area.
There are two guest cabins straight off the salon and the rest of the cabins are on the upper deck. My cabin was very modern with a full-length panoramic window down one side. The beds can be split into twins or a large double and there is storage space under the bed as well as decent hanging space with shelves. The bathrooms are all en suite and very well fitted out, with good storage under the sink, complimentary toiletries, and a large shower cubicle.
I was impressed with how well the dive deck was organized. There were 16 numbered dive stations with a locker under each one and corresponding hangers for wetsuits. The back deck had four hot showers and there was a freshwater rinse tank big enough for large camera rigs. The camera table was well equipped with an HP air supply and charging ports nearby.
The top deck of the boat had an outdoor dining area, sun loungers, and a jacuzzi. I was impressed by how spacious this boat felt. Even with a full complement of guests, this would be a very comfortable boat.
The crew onboard was excellent - friendly, attentive, helpful, and also very professional. They all had a good understanding of the dive deck and when and how to support the guests. Cabins were serviced at least twice every day and the salon was kept very clean and tidy. Although meals were, in theory, buffet-style, the barman regularly helped serve plates and drinks as needed.
The Diving
Where to start! From a marine-life perspective, the Galapagos didn't disappoint. We saw almost everything that was briefed, and far more than I was expecting. However, visibility wasn't great so some sightings felt fleeting at best. Visibility and big animal sightings do vary depending on the season, so it's important to decide what you want out of your trip and to book dates accordingly.
A typical dive day started at 6 am, with a light snack and dive brief before the first dive of the day. This was followed by breakfast and then the second dive at around 10 am. After lunch and a siesta, we dived twice more in the afternoon, aiming to finish before 5 pm to catch the daylight.
Dive briefs were extremely thorough and very useful. I felt that our safety was paramount and that all abilities in the group were considered. Every diver was issued a Nautilus Lifeline and SMB.
Kitting up was a breeze on the large dive deck, and there were several crew members available to assist where needed. We then boarded the panga, 8 divers to each one, and drove a few minutes to the dive site. Entries were a mixture of positive or negative entries depending on the site, and surface conditions varied from flat calm to a reasonable swell. This made getting back in the boat a bit challenging at some sites, especially as there was only one ladder. Back on the Calipso, steaming drinks and tasty snacks were waiting, along with hot showers and warm towels. This was especially welcome at the colder sites on the west side of the archipelago, where water temperatures dropped to 13C.
Images by Mark Strickland, from Bluewater Travel's 2022 Galapagos Underwater Photo Workshop

Day 1 - Isla Lobos
After introductions and safety briefings we did a check dive along the shallow breakwater at Isla Lobos. We had our first interaction with a playful juvenile sea lion and spotted plenty of reef fish.
Day 2 - Punta Carrion and Seymour, Santa Cruz
Only three dives were planned for day two to allow us time for the 18-hour overnight transit north to Wolf and Darwin Islands. We enjoyed relaxed reef dives in mild to medium currents that got us into the swing of things. There were plenty of large Galapagos sharks cruising the drop-off as well as a family of eagle rays holding station as if posing for the cameras.
Day 3 - Wolf Island
The most famous site in Galapagos, Wolf Island is known for its iconic schooling hammerhead sharks. Unfortunately, the visibility wasn't on our side, but we still caught glimpses of hammerheads in small groups of three or four. From our vantage point tucked into the reef, we could shelter from the brisk currents and watch the show unfolding out in the blue. There were also some great views of sharks passing above us, silhouetted against the sunlight.
Images by Mark B. Hatter, from Bluewater Travel's 2021 Galapagos Underwater Photo Workshop
Day 4 - Darwin Island
We did four dives at Darwin Island in a similar format to Wolf. Negative entry, drifting to a good vantage point, sheltering behind a rock, and enjoying the drama. Darwin yielded more hammerheads, Galapagos sharks, countless turtles, and moray eels sheltering in almost every crevice. The reefs were an abundance of color and life which were fascinating to drift over at the end of each dive.
Day 5 - Darwin & Wolf Islands
Each dive at Darwin and Wolf leaves you wanting more, and so a third day split between these spectacular sites was more than welcome. We were treated to a stunning swim past from a huge whale shark that circled around us for a second view. We also did a couple of shallow dives with the playful sea lion colony, pups whizzing around us in the water like torpedoes darting in and out of view.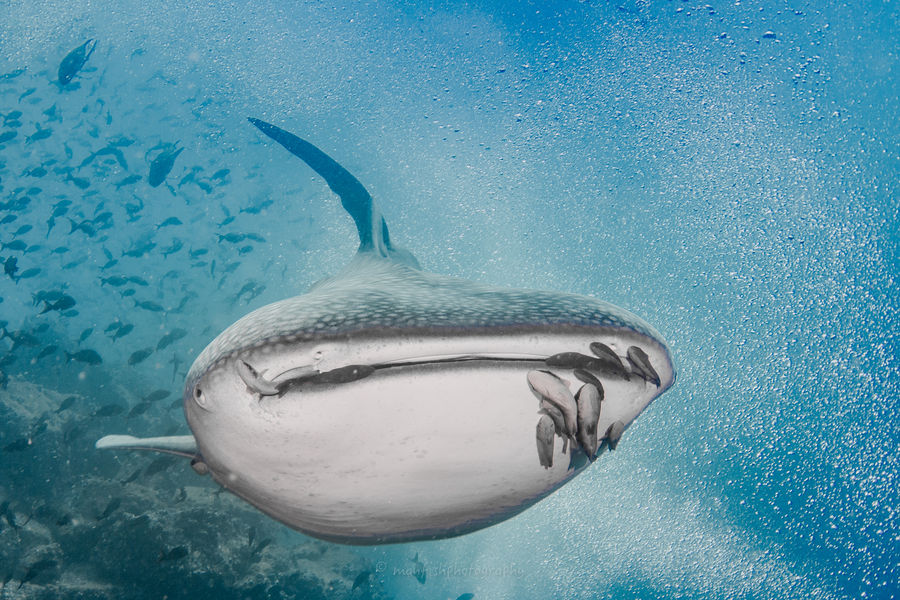 Images by Tommy Stylski, from Bluewater Travel's 2019 Galapagos Underwater Photo Workshop
Day 6 - Isabela, Fernandina
On the west side of the islands, the cold currents create a different marine ecosystem and some unique wildlife that's worth braving the chilly waters for. On our first dive, we spotted several red-lipped batfish, a Galapagos sea robin, a Galapagos bullhead shark, and two bat rays. The second dive was spent in the shallow sheltered waters frequented by marine iguanas; they seemed oblivious to our presence and were solely focused on chomping algae. Our final dive was with the aim of spotting a Mola mola and we saw no less than four! Mission complete!! The water was so cold at Fernandina that we all agreed to skip the final dive and enjoyed a panga ride around the bay to spot blue-footed boobies, flightless cormorants, and Galapagos penguins.
Day 7 - Cousins Rock, Santa Cruz
Our final two dives of the trip were at the isolated outcrop of Cousins Rock. Unique underwater topography lent a surreal feel to these dives, with an abundance of critters and macro subjects wedged into overhangs in the rock. Cousins Rock is a great place to spot mobula rays, however, our best sighting was a brief glimpse of one below us during the safety stop.
Diving in the Galapagos can be challenging, especially for inexperienced divers. Expect STRONG currents at some sites where the diving practice is to hold fast to the reef and tuck in behind a rock. There is also quite a bit of bluewater diving, both drifting and for safety stops. Surface conditions can be choppy and water temperatures can get pretty cold. But it's more than worth it to see such an amazing array of marine life.
Click Here to view a detailsed sample itinerary on the Calipso..
The Meals
While diving was, of course, the highlight of the trip, the food came a close second. Two onboard chefs prepared a fantastic range of Ecuadorian and international dishes which were both delicious and healthy.
Breakfast was a choice of eggs cooked to order, meats and cheeses, cereals, toast, and fresh juice. Lunch and dinner were buffet style; at least two choices, one being vegetarian, as well as salad, vegetables, and rice or potatoes. There was a cheese selection and dessert after every meal.
The boat has a coffee/tea station and fruit and snack bar available all the time. The bar is well stocked with spirits and wine, soft drinks, and a drinking water dispenser.
I felt there was less of a choice at mealtimes than on some other boats I've been on, however, there were only seven of us onboard so they may have reduced the menu accordingly. What was nice was that the food was very healthy - easy meals such as pizza or fries didn't feature.
Topside
The Galapagos Islands are reasonably undeveloped but can definitely cater to tourists. The main towns on San Cristobal and Santa Cruz are lined with countless t-shirt and souvenir shops and offer a variety of restaurants, bars, and coffee shops. Wildlife and nature tourism is the main topside draw, with visits to the giant tortoise reserves, bird colonies, and volcano crater walks all popular attractions. If you have some extra time, I would certainly suggest visiting some of the more outlying areas where the wildlife is exceptional.
Images by Mark B. Hatter, from Bluewater Travel's 2021 Galapagos Underwater Photo Workshop
What can I say! This was pegged to be a fantastic trip and it didn't disappoint. We were so well looked after on the Calipso and they knew exactly how to offer the best service and access the best diving. I will certainly plan to return to Galapagos in the future, maybe at a different time of year, but definitely on the Calipso.