Solitude one liveaboard, Palau & Philippines
Palau & Tubbataha, Visayas and Leyte (6-10 Nights) | From $440++/night

---
The Solitude One is a massive 52-meter (170-foot) liveaboard yacht offering 10 cabins for up to 22 divers. The Solitude One is known for its great accommodations, high standards of service, professional crew, and excellent diving in Palau and the Philippines. The vessel was purpose-built to incorporate smart design, functionality and comforts close to home.
Location
Solitude One cruises Palau between late September and March, and the Philippines (Tubbataha, Visayas and Leyte) between April and September.
Dive Overview
Palau: Sharks, mantas, eagle rays, jellyfish, turtles, huge schools of fish and, occasionally, whale sharks and whales. Also excellent for drift dives.
Philippines: Tubbataha hosts large marine animals such as sea turtles, manta rays, and a variety of sharks. In general, diving the Philippines means access to a wide assortment of marine environments, such as coastal reefs and steep walls and pinnacles.
[See: Palau Dive Travel Guide & Tubbataha Dive Travel Guide]
Accommodations
Types of Cabins, Amenities and Photos

---
Solitude One Accommodation Details
MV Solitude One boasts eleven (11) cabins, accommodating up to 24 guests. The cabins, meticulously crafted with a thoughtful blend of experience, practicality, and guest feedback, incorporate essential elements from the hospitality industry. The design process was guided by a profound understanding of the discerning divers' needs and desires, resulting in stylish and functional living spaces.
For taller guests, the assurance of ample headroom is provided in most guest areas. Furthermore, each cabin category features mattresses with a generous length of 190cm (6.2ft), ensuring a comfortable and rejuvenating experience for all guests.
Individual Air Conditioning System with Climate Control
Safe Deposit Box (additional can be provided if sharing is not appropriate)
Bath Robes
Face and Bath towels
Hair Dryer
Reading Light
Shower Foam, Shampoo (2-in-1)
Pillows (Extra pillows available)
Duvet (lighter blankets available)
Ample Hangers & Wardrobe Organisers
Flat-Screen LCD TV with USB Media Player function
Electrical Points conveniently located for gadgets
General Facilities

---
Jacuzzi & Sun deck
Dining table & Shower Area
Solitude One Boat Features
Media library
Lounge
Sundeck
Massage therapist
Reading Library with a Loan & Exchange Program
In-Room and lounge play-on-demand Audio-Video system with Entertainment Library, Card and Board Games
Self-Serve Snacks: Available 24 hours
Special Dietary Requests
Satellite Internet (surcharge)
Laundry (surcharge)
Camera Room
Solitude One Dive Facilities
Dive deck
Dive skiffs - PALAU: 2 x 11.5m (37ft) Fiberglass Purpose-Built Boats (one with Twin 200HP and the other Twin 150HP 4-stroke Outboard Engines); PALAU, PHILIPPINES and OCEAN CROSSINGS: 2 x 7.9m (26ft) Fiberglass Purpose-Built Boats (Each with 150HP 4-stroke Outboard Engines)
Support skiff - 1 x 8.3m (27ft) Fiberglass Monohull with single 60HP 4-Stroke
Air compressors: 3 x Bauer HP Compressor IK120 with Bauer B-Kool 680-s Air Cooler Filtered by P41 Centralized System
Nitrox membrane system
Enriched air nitrox diving - EANx 28 to 30% Only (This is to provide a more suitable M.O.D for dive sites)
Scuba cylinders - Aluminium 100cuft (19units), 80cuft (80 units), 63cuft (4 units), 40cuft (12 units) & 19cuft (4 units) with DIN Valves (Yoke Adapters available) - Twin Tanks Not Available, Side-Mount Friendly Solo Diving not allowed (even if certified)
Rebreather support or side mount diving
Dive equipment rental
Use of Nautilus Lifeline GPS/VHF radio
Dive guides - ratio 1 to 6 divers
Surface marker buoy (SMB), lead weights & belt
Food & Drinks Aboard Solitude One
Taking a lot of pride in the designs of a proper kitchen, choice of ingredients and the types of treats offered between meals and dives, you'll always be spoiled for choice. Meals are carefully planned and constructed to make sure all palates are taken into consideration. Great pride goes into the preparation of these meals and special diets are attended to, so they can look after you well. They make sure the pantry is well-stocked, a wide selection of beverages at your disposal, and there will always be something for the peckish, even in the wee hours of the morning The Bar serves a good selection of spirits, wines and beer, readily available to you at an additional cost.
Solitude One Liveaboard Deck Plan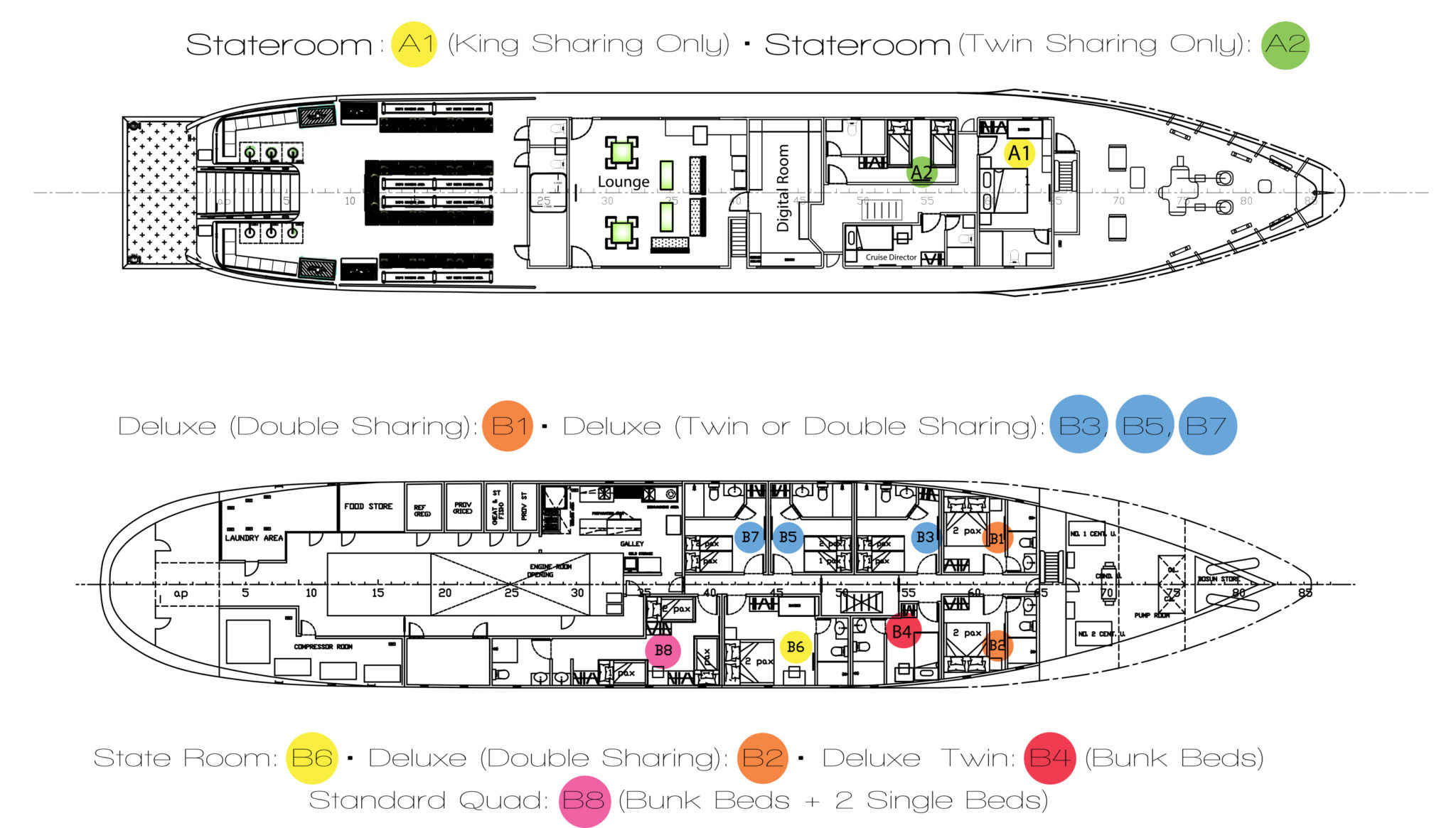 SCHEDULE, RATES & AVAILABILITY
Solitude One Schedule & Rates

---
Prices are in USD, per person and include VAT/GST. Marine park fees, diving permits, and environmental fee are not included.
[See also: Inclusions & Exclusions]
Inclusions
Accommodation onboard in the category of cabin of guests' chosen package on twin, double or quad sharing in quad cabin). Guests can check in from 1400hrs the day (Dinner Included); Check Out latest at 0900hrs on the day of the Cruise End-Date
Full-Board Meal Plan with in-between meal snacks and all non-alcoholic beverages
3 or 4 daily guided Boat Day-Dives (Including 1 Night Dive)
Return transfer to and from the local airport of the location and dates of the cruise embarkation/disembarkation (Pickup/Dropoff other than Airport , especially Manila is subject to additional charge)
Philippines VAT/GST
Philippines Exclusions
Pre and/or post cruise hotels, activities, international and domestic sea/air transportation
Marine Park Fees, Photography Permits, Diving Permits. I.e, Tubbataha Marine Park Fees (5000PHP per person)
International and Domestic Airport Departure Tax
Alcoholic Beverages, Gratuities, Scuba & Skin Diving Equipment, Enriched Air Nitrox
Palau Inclusions
Accommodation on-board in the category of cabin of guests' chosen package on twin/double (or quad sharing in quad cabin). Guests can check in from 1800hrs the day (Dinner Included); Check Out latest at 1700hrs on the day of the Cruise End-Date (No Dinner)
Full-Board Meal Plan with in-between meal snacks and all non-alcoholic beverages
3 or 4 daily guided Boat Day
Complimentary Milkyway, Rock Island & Jelly Fish Lake Tour on day of Disembarkation (unless closed to any visits by the authorities)
Return KOROR (Palau) Airport transfer to MV Solitude One (Pickup/Drop-off other than Airport is subject to additional charge)
Palau Exclusions
State Cabin/Room Tax (10USD per Day)
Koror State Diving Permit including Rock Island & Jellyfish Lake (USD100) for up-to-10 days OR Koror State Diving Permit excluding Jellyfish Lake & Rock Island (USD50) for up-to-10 days, Peleliu Diving Permit (USD30) for up-to-10 Days. Any other as imposed by the local authority outside of Koror and Peleliu States
Palau Pristine Paradise Environmental Fee (a.k.a Koror Airport Departure & Green Tax USD100)
If required, late check-out (disembarkation) with Dinner (75USD per person). Standard check-out time is 1800Hrs, late check-out will allow you to disembark latest at 0200Hrs the following date.
Alcoholic beverages, Gratuities, Scuba & Skin Diving Equipment, Enriched Air Nitrox
RATES & AVAILABILITY
For more information on rates and availability email us at info@bluewaterdivetravel.com or call us at +1-310-915-6677 and we will gladly help you plan your dream dive vacation!
Dive Information & Destinations

---
Palau Dive Sites
These dive sites are just the ones already known to the world, but it will give you an idea of what to expect before your trip there. If you spot a site that catches your eye, tell your cruise director, and if schedule and timing permit, they might just accede to your request! World Famous Dive Sites
The Republic of Palau is unrivaled as a diving destination. Situated between the Philippine Sea and northern Pacific Ocean. The striking limestone islands emerge from crystal clear azure waters and three ocean currents which converge in its waters, bring with them a dazzling array of marine life, affording even the most experienced diver and underwater photographer impressive diversity and exciting diving opportunities.
Palau presents visitors with magical blue holes, captivating wartime wrecks, pristine coral reefs, mysterious caves and tunnels, more than 60 vertical drop-offs to explore, and an astounding assortment of coral, fish and rare sea creatures. You can dive the same site again and again and have entirely different experiences each time.
Zone 1
01 Slaes Tunnel (Tunnel along the wall)
02 Ulong Channel (Channel with sandy bottom)
03 Shark City (Walls with flat plateau)
04-05 Blue Holes & Blue Corner (Cavern with four large shafts for entry)
06-07 New Drop Off (Walls with flat plateau)
08 German Channel (Channel with sandy bottom and sloping reefs on either side)
09-11 Peleliu Wall, Peleliu Cut, Peleliu Express (Walls with flat plateau)
Zone 2
12

Jake Seaplane (Wreck)

13

Chuyo Maru (Wreck)

14

Chandelier Cave (5 interconnecting caverns with air pockets)

15

Helmet Wreck or Depth Charge Wreck (Wreck)

16

Iro (Wreck)

17

Buoy 6 Wreck (Wreck)

18

Short Drop Off (Walls with flat plateau)

19

Zeke Float Plane (Wreck

)
Philippines - Tubbataha Reefs Natural Park
A renowned UNESCO World Heritage Site – and now an ASEAN Heritage Park – Tubbataha is well known for its stunning reefscapes, dizzying amount of reef life, and amazing visibility. Consisting of three reef areas: North Atoll, South Atoll, and the Jessie Beazley Reef, the 130,028-hectare protected marine area is situated in the middle of the Sulu Sea in the Palawan region of the Philippines. Its beautiful dive sites are mainly made up of walls and drop-offs – perfect for some big fish action.
Tubbataha is only accessible via liveaboard for a reason; there is virtually no land in sight no matter how far or hard you look at the horizon. In the North Atoll, however, there is a small sandbar that's home to the Ranger Station. This styrofoam-reinforced concrete structure houses the marine park rangers who patrol and protect the Tubbataha's waters to keep the dive destination as pristine as possible.
Best of all, to bring your dive vacation to a whole new level, as a guest you will get a chance to visit the Ranger Station to learn all about the conservation efforts behind the UNESCO World Heritage Site.
Marine animals aren't Tubbataha's only highlights; the place is also recognized as a sanctuary for seabirds. Two islets in the marine park support over 20,000 seabirds and serve as the main rookery as well as breeding ground of six seabird species. If you're a birding enthusiast, be sure to pack your binoculars.
Watch this awesome video to learn more about Tubbataha!
Other Information

---
Boat Specifications
Year built: 1979
Year renovated: 2013
Length: 52 meters (171 feet)
Beam: 8.6 meters (28 feet)
Draft: 5 meters (11 feet)
Hull: Steel Mono-Hull
Top speed: 14 knots
Cruising speed: 10 knots
Engines: Main 2698HP / Auxiliary Propulsion Engine
Maximum guests: 22
Number of cabins: 10
Number of bathrooms: 10
Tenders: 2 x 11.5m (37ft) Fiberglass Purpose-Built Boats (with Twin 150HP or 200HP 4-stroke Outboard Engines)
Water capacity: 50,000 liters
Fuel capacity: 150,000 liters (Diesel)
Freshwater maker: On-board water maker
Practical Information
Time Zone: UTC+9 (Palau), UTC+8 (Philippines)
Language Spoken: English & Spanish
Electricity: 200-240 V
Payment Onboard: Cash, Visa and Mastercard
Underwater Gallery

---
Palau:
Tubbataha: