Magic Oceans Dive Resort, Philippines
Candabong, 6311 Anda, Bohol, Philippines| Full-board + 2dives/day from $220++/person (Avg. for 7-night stay 5 days of diving)

---
Magic Oceans Dive Resort quick pitch
Magic Oceans Dive Resort in Anda, Bohol, is an eco dive resort divers from mid-March to mid-December every year. They're known for their knowledgeable dive staff and a pristine house reef for excellent shore diving.
Find out why Magic Resorts are one of our Preferred Partners in the Philippines.
Brief overview
No of Rooms: 16 bungalows for up to 35 divers
Dive Center: On-site.
Amenities: AC, ensuite bathrooms, wifi, bar, swimming pool, spa services, scattered terraces, etc.
Internet: Yes.
House Reef Diving: Yes
Nearest Airport: Bohol-Panglao International Airport
Distance to Dive Sites: 1-40 minutes.
Food & Drinks: The on-site restaurant offers a wide range of local dishes mixed with other Asian style and western food.
How to Get There
Situated on the east coast of Bohol, in a town called Anda. This location is in a more 'secluded' area of the Philippines which is really nice.
From Ninoy Aquino International Airport in Manila (MNL), you can take a quick flight to Bohol, Bohol–Panglao International Airport (TAG) directly. The resort can arrange for a transfer from there.
And from May 2, 2020, Philippine Airlines is resuming its direct flight from Los Angeles to Cebu, and guests can fly to Cebu and then take a quick ferry over to Bohol. The resort can arrange transfers from there as well.
Dive Overview
Anda has 15 kilometers of dive sites. There is muck diving, walls with big healthy coral, small caves, mangroves, etc. The marine life varies from macro to potential big things like passing whale sharks or mantas.
See also: Scuba Diving in Bohol, Philippines
Watch this awesome video to give you a great feel for what it would be like to stay at Magic Oceans Dive
Resort!
Accommodations
Types of Rooms, Amenities and Photos

---
Magic Oceans Dive Resort Room Overview
There are 16 deluxe bungalows/cottages located by the sea, surrounded by green tropical gardens. Inside your bungalow, you'll find modern native-style furniture including a king-size bed and a day bed which can be used as a sofa or an extra bed when needed.
There is a closet that houses a safe for your valuables; a fully stocked minibar and tea and coffee making facilities. The desk has good lighting so it is perfect for those that travel with camera gear or if you need to take five minutes to check in with work. The balconies are big yet cozy with bamboo seats and a towel rack and offer amazing views of the sea and land. The energy-saving air-conditioning is super-silent.
The bathrooms are spacious with a hot powerful shower. Amenities such as towels, soap, shampoo, and a hairdryer are provided. You will find plenty of room to store your toiletries. There is also a basket provided for the in-house laundry service. All rooms have additional towels for the pool and free unlimited mineral water.
Resort Facilities
Magic Ocean Dive Resort's Facilities

---
LEFT: Restaurant & RIGHT: Pool-side bungalows
Activities at Magic Oceans Dive Resort
Read more about our Best Scuba Diving Vacations.
Magic Oceans Dive Resort Features
Dive Center
Restaurant & Bar
Spacious Swimming Pool
Mahika Spa
Scattered Terraces
Ample sunbathing beds with parasols
Magic Oceans Dive Resort Food & Drinks
Wide range of freshly made dishes in a mixed Asian and Western-style
Bar with cocktails, beer, juices and more
DIVE Packages & Rates
Magic Oceans Dive Resort's Latest Dive Packages & Rates

---
2020/2021 RATES
Prices are in USD and valid until 31 March 2023.
DIVE PACKAGES
Dive packages are exclusive of dive equipment, inclusive tank, and weight. "Dive all you can" package is based on 3 to 4 boat dives per day and unlimited house reef diving.
| | |
| --- | --- |
| Package | Rate |
| 5 Dives | $238 |
| 10 Dives | $465 |
| 15 Dives | $683 |
| 20 Dives | $900 |
| Dive all you can package 5 days | $683 |
| Dive all you can package 10 days | $1,335 |
ACCOMMODATION RATES
All rates are quoted in USD and include breakfast.
| | |
| --- | --- |
| Option | Rate |
| Superior de lux Cottage Magic Oceans Bohol 1 person | $161 |
| Superior de lux Cottage Magic Oceans Bohol 2 persons | $177 |
| Extra bed, incl. breakfast | $44 |

MEAL PLANS
| | |
| --- | --- |
| Option | Rate |
| Magic Oceans half board (dinner) per person per day | $34 |
| Magic Oceans full board (lunch & dinner) per person per day | $53 |
Transfers
Car prices are per trip (maximum 4 persons), depending on luggage, excl ferry ticket. Van prices are per trip (maximum 7 persons), depending on luggage, excl ferry ticket.
| | | |
| --- | --- | --- |
| Transfer | Van | Car |
| Cebu airport - Magic Island Resort | $158 | $134 |
| Tagbilaran ferry port - Magic Oceans Resort | $144 | $120 |
| Bohol-Panglao airport – Magic Oceans | $166 | $142 |
| Cebu airport - Magic Oceans Resort excl. ferry ticket | $224 | $176 |
| Magic Island Resort - Magic Oceans resort excl. ferry ticket | $288 | $243 |
| Ferry ticket per person economy class | - | $28 |
| Ferry ticket per person business class | - | $49 |
LILA-BOHOL WHALE SHARK TRIP
Magic Oceans is one of the first resorts to offer diving and snorkeling in this area in a professional and responsible way.
ITINERARY
07:00 AM - Leave the resort after breakfast
08:00 AM - Arrive at the Whale Shark briefing area
08:30 AM - Gear up
09:00 AM - Get into the water for a shore dive/snorkel session
10:00 AM - Get back from the dive (or snorkeling session) and enjoy some refreshments
10:45 AM - Drive back to the resort, about a 1-hour drive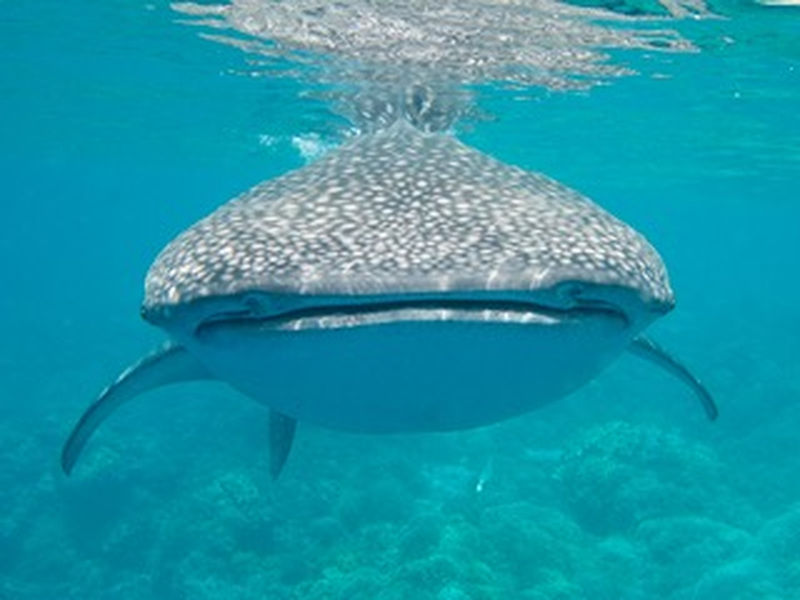 | | | |
| --- | --- | --- |
| Lila-Bohol Whale Shark Trip | 1 x diving | 1 x snorkeling |
| For 2 -3 persons | US $140 pp | US $104 pp |
| For 4-8 persons | US $110 pp | US $76 pp |
Mahika spa
The Mahika Spa offers guests the opportunity to enjoy Spa treatments in a serene, Japanese-inspired garden. This brand-new facility is perfect for non-divers on their holiday, but also an excellent addition for diving guests to relax and pamper themselves between/after their dives. Guests will be able to enjoy a massage in one of the massage suites that are set up for either individual or couple's treatment. Furthermore, guests are able to opt for manicure/pedicure treatments in the Foot Spa area, looking out over the garden whilst listening to the sounds of nature around you.
Finally, Mahika Spa offers a peaceful yoga terrace for those who enjoy some stretching and exercise. We also offer weekly Sunset Yoga sessions by the beach on Saturdays at 4:30 PM.
Give your body the rest and relaxation it deserves. Awaken your senses and delve into a different world with Mahika Spa's combination of light relaxation massages, exquisite aromas, soothing music and serene surroundings for a blissful and relaxing experience.
Massage Service
Rates

Foot & Body Massage

90 Minute Session

Hilot Massage
1,850
Swedish Massage
1,750

60 Minute Session

Hilot Massage
1,350
Swedish Massage
1,250
Shiatsu (Dry) Massage
1,250
Foot & Hand Reflexology
1,250

30 Minute Session

Back Massage
650
Head & Neck Massage
650
Special Couple Massage
Romantic Couple Massage (90 Minutes of Hilot Massage)
3,350

Special Aromatic Oil

90 Minute Session
150
60 Minute Session
100
30 Minute Session
50

Foot & Nail Spa

30 Minute Session
Regular Manicure
400
60 Minute Session
Regular Pedicure
800

90 Minute Session

Mani + Pedi Combo
1,100
Foot Scrub Therapy
900
120 Minute Session
Complete Package (Mani + Pedi + Foot Scrub)
1,950

Yoga

Rental
Yoga Mat
250
Weekly Class
Regular Yoga Class
950
Private Class
Private Session (max 2 persons)
3,000
Yoga Workshops
Email Us
Email Us
Can't find the information you need?
For more information on other packages, availability or any other inquiries, drop us an email at bookings@bluewaterdivetravel.com or call us at +1-310-915-6677 and we will gladly help you plan your dream dive vacation!
Dive Information & Itineraries

---
Bohol Dive Overview
Best Diving Season: January-May
Visibility: 50-65 ft
Water Temperature: 75-80
Skill Level: Any
Marine Life: Macro: pygmy seahorse, skeleton shrimp, nudibranch, etc. Big animals: whale sharks & thresher sharks. Pristine corals abound.
Recommended Wetsuit: 3 mm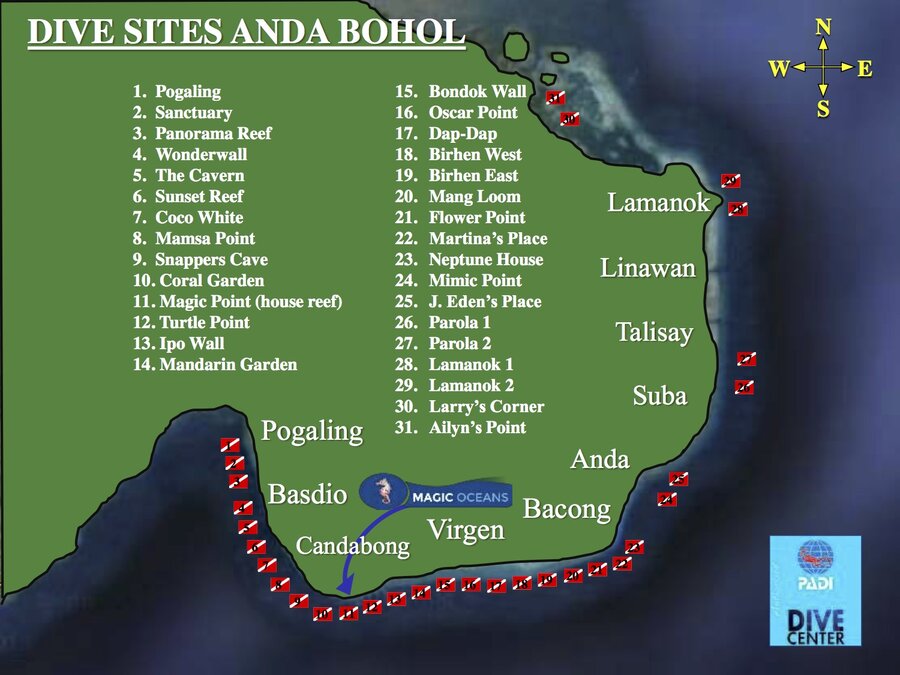 [Read More: Bohol Dive Travel Guide]
Dive Center Information

---
The dive center of Magic Oceans Dive Resort
Magic Resorts also operates a dive resort in Moalboal, on the island of Cebu where the Magic Island Dive Resort is located.
Underwater Gallery

---