DESTINATION: vanuatu
Erakor Lagoon, Port Vila, Vanuatu | From $136++/ppn based on double occupancy

---
erakor island resort QUICK PITCH
Experience authentic island life at the Erakor Island Resort in Vanuatu. Located only a few minutes from the mainland, this fabulous little island is the perfect place to enjoy a relaxing family holiday, a romantic getaway, or an adventure with friends.
QUICK INFORMATION
No of Rooms: 22
Dive Center: On-site
Amenities: AC, pool, restaurant, beach bar & cafe, salon & spa
WiFi: Yes
Nearest International Airport: Port Villa International Airport
Airport Shuttle: Yes, surcharge
HOW TO GET THERE
The Erakor Island Resort is located just a few minutes away, across the lagoon from Port Villa. Port Villa is the capital of Vanuatu and is a 3-hr flight from Australia and New Zealand. From the Port Villa airport, it is a 15-minute drive and a 4-minute ferry ride to the island. The resort offers its guests an airport transfer service.
DIVE OVERVIEW
Those lucky enough to scuba dive Vanuatu will be impressed by the range and variety of world-class dive sites, with diving suitable for all levels of diver and snorkeler. Sparkling turquoise lagoons bordered by lively reefs give way to steep drop-offs, large caves, and some great wrecks for both recreational and technical divers.
ACCOMMODATIONS
Types of Rooms, Amenities and Photos

---
erakor island resort ACCOMMODATION OVERVIEW
The Erakor Island Resort offers a total of 22 air-conditioned accommodations in 12 different accommodation types. From Garden Rooms to 4-Bedroom Beach Houses, the resort offers accommodations perfect for all, from small groups to large families.
Amenities
Air-conditioned
Ceiling Fans
Cots Available
Daily Room Service
Hairdryer
Iron/Ironing board
Linen and Towels Provided
Mini Fridge
Non-Smoking
Outdoor Setting
Room Service
Tea/Coffee Making
Wireless Internet
Insect Screens
Garden Room
The Garden Room is a great economical option, with its motel-style rooms. They are located along the middle of the island, less than 15m from the clear Vanuatu waters. The rooms come complete with an ensuite bathroom and tea & coffee-making facilities. There is also a large outdoor nakamal or gazebo area, perfect for guests to relax and enjoy the pink Erakor sunsets.
beachfront lagoon villa
Nestled along the eastern side of the island, the Beachfront Lagoon Villa offers the lovely ocean breeze and easy access to the crystal blue lagoon. The villa has an open-plan sleeping area that can easily accommodate a family or singles sharing. The private rear deck is also perfect for relaxing in the shade and enjoying island living.
BEACHFRONT deluxe spa VILLA
Offering easy access to the ocean, the spacious Beachfront Deluxe Spa Villas are literally just steps away from the glistening water. The villa's key feature is its spa bath big enough for two people to relax in while sipping a refreshing drink. Soak up the island life while gazing upon the mesmerizing Vanuatu lagoon.
honeymoon pool VILLA
Nestled further along the island, the Honeymoon Pool Villa features both an outdoor spa and plunge pool. The lounge area comes complete with cable TV and movies, while the timber deck holds the spa and a 2-person hammock.
deluxe HONEYMOON POOL VILLA
The Deluxe Honeymoon Pool Villa features a private plunge pool, bigger than the one featured in the Honeymoon Pool Villa. These villas offer a small world of paradise with their sun deck, daybed hut, and indoor/outdoor bathroom.
garden 2-bedroom
Ideal for families or a group of friends, the Garden 2-Bedroom is a motel-style economical option located halfway along the island. Less than 15m from the water, the rooms feature two separate bedrooms, a two-way bathroom, and a front patio area that looks straight to the water.
beachfront family loft villa
Located a few steps away from the water, the Beachfront Family Loft Villa is ideal for families or friends to share with a separate sleeping area upstairs.
sunset 3-bedroom VILLA
The Sunset 3-Bedroom Villa features 3 separate bedrooms with a main bathroom, plus an ensuite that is connected to the master bedroom. The living room is outfitted with a comfy lounge, cable TV, and a tea & coffee station. The breezy patio is perfect for viewing the lagoon and amazing Erakor sunsets. The villa comfortably accommodates up to 7 guests, ideal for families or friends to share.
tahlindi beach house 3-bedroom
The Tahlindi Beach House is located on the absolute beachfront in one of the best spots on the island. This new and spacious beachfront is perfect to share with 3 bedrooms, 2 bathrooms, an open plan kitchen and living area, a laundry area, and a lovely breezy deck. The accommodation has enough room for 2 families, 3 couples or a lot of singles.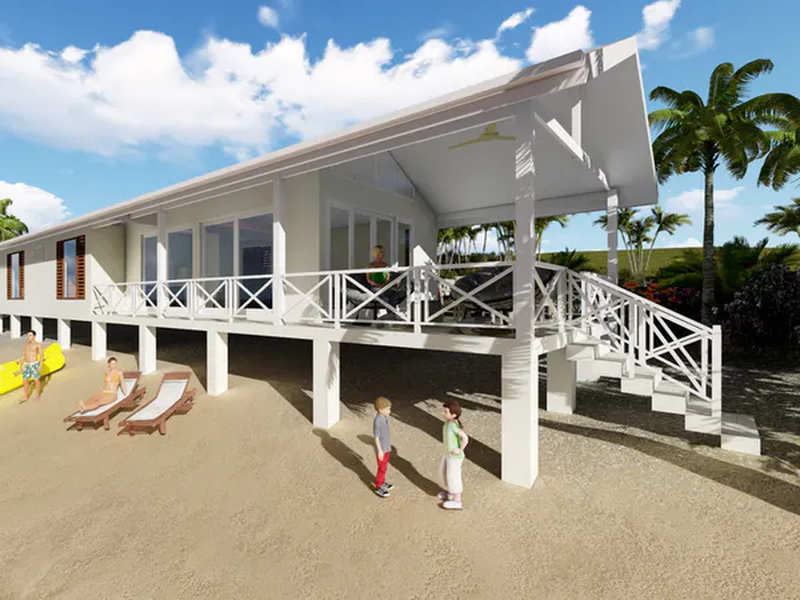 pandanus BEACH HOUSE 3-BEDROOM
The Pandanus Beach House is also located on the absolute beachfront, just a few steps from the blue water of the Vanuatu lagoon. The beach house has everything families or a group of friends would need. The 3 bedrooms come complete with ensuite bathrooms, the living area comes with a kitchen and laundry area, and the entertainment deck leads off onto the beach.
aqua BEACH HOUSE 4-BEDROOM
The Aqua Beach House is a beautiful 4-bedroom accommodation located right on the beachfront. Enjoy the blue sparkling water as well as the private beach. The beach house can accommodate up to 9 people, perfect for a larger group.
white sands BEACH HOUSE 4-BEDROOM
Located a few steps away from the Vanuatu lagoon, the White Sands Beach House features 4 bedrooms with ensuite bathrooms, a full kitchen, and a spacious living area. Ideal for a larger group, the beach house also has a breezy deck equipped with a BBQ.
RESORT FACILITIES

---
erakor island resort FEATURES
Air-conditioned Accommodations
Pool

Aqua on Erakor Overwater Restaurant

Calypso Beach Bar & Cafe
Chef's Selection Romance Dinner
Melanesian Feast & Fire Show
Beach Movies & All You Can Eat Pizza
Salon & Spa
erakor island resort FOOD & DRINKS
Guests can take their meals at the Aqua on Erakor Overwater Restaurant which is open from 7 AM daily. The restaurant offers a variety of dishes such as a succulent seafood platter, sizzling Vanuatu eye fillet steak, delicious desserts, and more. The Aqua Bar hosts Happy Hour every day so it is the perfect place for guests to relax and enjoy the sunset.
For light snacks or cocktails on the beach, the Calypso Beach Bar & Cafe is open every day to serve guests. Offering a variety of delicious rolls, wraps, and burgers, it is a favorite place for guests to stop by. Ice cream, ice blocks, and fresh tropical juices are also served.
The Chef's Selection Romance Dinner is perfect for spoiling your loved one with a special candlelit dinner on the beach or in a private overwater hut. The chef serves 3 specialty dishes suited to your favorite dishes along with a bottle of wine or bubbly.
Thursday Nights on Calypso Beach are for the Melanesian Feast & Fire Show. Feast on traditional dishes, meats, and island salads while being entertained by the music of the Ekasup local string band. Experience Vanuatu culture with activities such as custom dancing and trying the coconut shell of kava.
erakor island resort ACTIVITIES
Sailing
Snorkeling
Scuba Diving
Tanna Volcano Tour
Jungle Zipline
Horse Riding
Buggies - Off Road Adventure
Deep Sea Fishing
Custom Tours
PACKAGES & RATES

---
For information regarding rates, availability, and packages drop us an email at bookings@bluewaterdivetravel.com or call us at +1-310-915-6677 and we will gladly help you plan your dream dive vacation!
DIVE INFORMATION

---
DIVING vanuatu
Most dives take place from small speed boats that transport divers to the local lagoons and reefs several times each day. Some sites are so close to shore that divers can walk in from the beach. There are a few sites with running currents that require some experience.
marine life
Visibility is excellent in Vanuatu, and divers are often overwhelmed by the sheer volume of fish life swirling around the reefs. Beautiful gorgonians, a rainbow of colorful corals, and some fascinating underwater topography create a dramatic backdrop to the thousands of small reef fish constantly schooling in the shallower waters. Expect to see plenty of triggerfish, angelfish, batfish, and clownfish, as well as turtles and a few sharks at the outlying sites. Coral heads hide the more elusive species such as eels, octopus, and crustaceans, while rays can be seen in the sandy lagoons. Such a wealth of life attracts bigger game fish into the brisk currents of the outer reef walls, and bigeye tuna, barracuda, and jack are often spotted patrolling in the blue.
Vanuatu is also an excellent destination for divers looking to swim with dugongs. These shy mammals feed on seagrass close to shore and can be found throughout the archipelago. The chance to swim and snorkel with them is a fantastic and rare opportunity.
The islands' numerous wrecks also offer some great photo opportunities and hide a few less common marine creatures. Crocodile fish and scorpionfish lurk amongst the rusting superstructures, and many other species now call these huge artificial reefs home.
DIVE CENTER INFORMATION

---
erakor island resort DIVE CENTER OVERVIEW
Scuba diving, as well as other Erakor Island Resort activities, can be booked at the Tour Hut. The Tour Hut offers a variety of brochures on every tour, outing, and excursion; and the team of locals is more than happy to answer any questions you may have. The experienced team knows the best dive sites and can help you plan and organize which ones to visit.
OTHER INFORMATION

---
PRACTICAL INFORMATION
Local Currency:

Vanuatu Vatu (VT, VUV) - Australian Dollars (AUD) are also accepted in tourist areas

Electricity: 220-240V
Time zone: Vanuatu Standard Time (GMT+11)
Languages: Bislama, but English and French are widely spoken
UNDERWATER GALLERY

---