Destination: Indonesia
Komodo, Raja Ampat, Banda Sea, Maluku, Cenderawasih Bay & Lembeh (6-12 Nights) | From $368++/night

---
SMY Ondina Quick Pitch
The SMY Ondina offers safety, quality service, and the unique experience of travel aboard a classic Buginese schooner. Divers are secure and comfortable while exploring the Indonesian archipelago.
Location
Departures vary depending on itinerary preferences.
Dive Overview
Indonesia is a scuba diving gem, featuring volcanic geography, wrecks, and vibrant marine life. Ondina's expert staff meets divers' every need to ensure quality underwater and topside adventures.
[See: Komodo Dive Travel Guide, Raja Ampat Dive Travel Guide, Ambon & Alor Dive Travel Guide & Lembeh Dive Travel Guide]
Check Out This Great Video!
Accommodations
Types of Cabins, Amenities and Photos

---
SMY Ondina Accommodation Overview
8 Cabins for 16 divers maximum occupancy. 6 of them good for triple use, just in case, and 2 excellent for single occupancy all with ensuite freshwater shower, hand basin and toilet.
General Facilities

---
SMY Ondina Boat Features
A/C Dining Room
Open-air Dining Room
Big Kitchen with freezers and coolers
Hot Water showers and Toilet in Main Deck
60 m2 Sundeck with hand shower to refresh yourself, hammocks and shadow canvas for the warmest moments of the day
First Aids Room
Masseuse onboard (depending on routes)
Library, Music and Flat screen for DVDs
Tasty food, tea and coffee, snacks and fruits available at all times
SMY Ondina Dive Facilities
Generous Dive Galley for 16 divers with equipment. Designed by divers for divers
Fixed equipment positions for each diver during the trip
Diving Compressors under the deck
Equipment Room for rinsing equipment and wetsuits
Personal shelf for charging batteries and diving material for every diver
Big working tables to service properly your cameras
Air tanks to dry and clean your equipment
Rinsing deposits with sweet water and fully padded for better protection.
Charging stations with 220volt electricity 24hrs and 2 round pins EU Std sockets
Food & Drinks Aboard SMY Ondina
All-inclusive meals and snacks.
SMY Ondina Liveaboard Deck Plan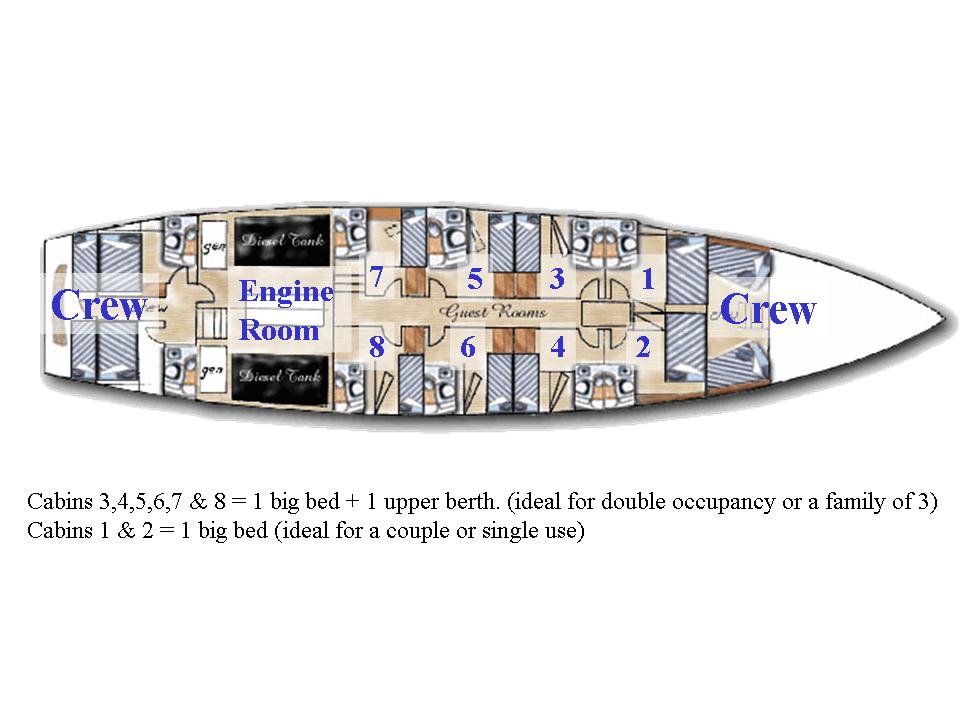 Schedule, Rates & Availability
The actual rates are based in EUR The starting price indicated above may vary based on the current exchange rate.

---
The prices shown below are per person in USD and do not include cruise fees. The pricing at the time of booking may vary depending on the latest EUR/USD exchange rate.
[See also: Inclusions & Exclusions]
Inclusions
Collaboration with reefs protection and helping local communities. SMY Ondina will use part of her incomes to encourage and actively collaborate with all local organizations promoting Nature Conservancy programmes and help for the local communities for improving their living standards.
Same number of nights as number of days in the cruise, you disembark in the morning of the last published date.
All transfers to/from airport or hotel to/from the SMY Ondina in the town of embarkation/disembarkation are included. In the routes starting or ending in Bitung, transfers to/from Manado are also included.
Full Board on board, Tea, Coffee, Snacks and 1 Soft Drink at lunch and Dinner.
Average of 3 or 4 dives per day, all in daytime or 2 or 3 day dives and 1 night dive unless weather conditions or long sailing distance do not permit it. First and Last Cruise days are excluded due to safety reasons and flight schedules. These dates we will dive accordingly.
Land Excursions when clearly specified in the cruise planning.
All Entrance Fees to Natural Parks
Diving tanks and weights for divers and snorkeling gear for non-divers
Additional complimentary services available onboard: Library, Music, First aids……
Exclusions
Any other way of transportation than SMY Ondina
Alcoholic drinks, tips & gratuities and any other onboard service not specified above like Massages, Equipment rental….etc
Any police or diving permit or touristic tax and harbour fees charged per passenger by any local authority, plus fuel increases. Please count on 200€/person for cruises starting or ending in Papua/Maluku and 100€/person or 150€/person for cruises in Komodo. This amount will be paid once onboard when requested by the Cruise Director.
RATES & AVAILABILITY
For more information on other departure dates, rates, and on availability email us at info@bluewaterdivetravel.com or call us at +1-310-915-6677 and we will gladly help you plan your dream dive vacation!
Dive Information & Destinations

---
Komodo Straits (Dragons: Bima – Labuhanbajo – Bima)
From Bima to Sabolan-Sebayor, thence to Rinca, Padar and Nusa Kode in the south of Komodo, Red Beach and the straits, Gili Lawa, Banta island and Sangiang. In the 6 nights onboard cruises we explore the warmer waters of the Northern part of the Komodo Straits and in the 5 nights onboard cruises, we concentrate in the cooler waters of the Southern part of the Straits. The 11 nights onboard cruises cover the whole National Park with a very short stopover in Labuhanbajo. The last cruise of the Komodo season extends sail towards the east to Maumere to dive the amazing Maumere Bay (see the routes Maumere – Ambon and Maumere – Sorong )
Raja Ampat (Paradise Birds: Sorong – Sorong)
Leaving from the port of Sorong, in the "Bird' s head peninsula", we will travel through the archipelago from the island of Waigeo in the north to Misool in the south. The area where we will sail holds the record for the biggest number of different species counted in a single dive. National Geographic compares the species found here with the ones that can be seen in Palau. The reefs of Raja Empat enjoy a healthy marine biodiversity with more than 400 species of coral having been discovered here. Besides the abundance of fauna, this region contains numerous wrecks of Japanese ships and aeroplanes from the terrible battles held during the Second World War in this area. All the ingredients for a perfect adventure!
In brief: From Sorong to the Dampier Straits and from there to Aljui Bay, West Waigeo. Next to Kawe-Wayag, on the Northern end of the group, and down to Fam. Way South to Misool and back to Dampier and Sorong.
Cenderawasih Bay (Whale Sharks and Wrecks: Biak – Biak, Biak – Manokwari, Manokwari – Biak)
For this route, we fly from Sorong to Manokwari or Biak where we will start sailing to explore the remote Cenderawasih Bay dive sites.
Because of its isolated location, this bay is protected from the Pacific currents which promote the gathering of certain endemic species. In Cenderawasih Bay we can encounter in the shallows species that normally live in deeper waters. We will also find a wide variety of corals. The good muck diving will keep the lovers of the tiny and strange critters busy, they will enjoy searching for pygmy seahorses, tiger prawns and frogfish among other species.
Those who like wrecks, in Cenderawasih Bay will be able to dive in several famous ships and planes, sunk during World War II. A great opportunity for easy wreck diving.
But the bay popularity comes from being one of the very few areas in the world where there can be found a resident colony of whale sharks, the largest fish in the Oceans. Actually, the whale shark is the star in this bay. Whale sharks come here in large numbers to feed on anchovies which congregate near the fishing platforms.
Raja Ampat- Lembeh Strait (Paradise Birds and Critters Galore: Sorong – Bitung)
From Raja Ampat to Lembeh, through Pulau Pisang, the Patintie Straits, the Goraici Group and the island of Tifore in Halmahera.
This route really enjoys the entire range of environments, from the best coral in Raja Ampat (ideal for wide-angle), schools, turtles and sharks in Halmahera (medium zoom) and muck diving in Lembeh, the best macro in the archipelago.
Maumere – Ambon (Volcanoes and Sultans: Maumere – Ambon)
From Maumere Bay to the straits of Alor from there sail north to the Banda islands through a string of isolated islands in the mysterious Banda sea and then Ambon island to explore its walls and the Ambon Bay, a real treasure for critter spotting, for some even better than Lembeh Strait.
Awesome walls, submerged hills facing the current and ridges full of coral. Currents that promote the presence of colorful soft corals and large gorgonians, schools of fish and big fish and outstanding muck diving in Maumere and Ambon.
Lembeh-Wakatobi (Critters Galore & Krisses: Bitung- Kendari o BauBau, The wild east of Sulawesi)
The north of the island with Bunaken Marine National Park is well known and heavily visited but the east coast is a real haven full of diving gems.
From Lembeh to Buyat Bay, Tanjung Flesko, Gorontalo, Banggai islands and Wakatobi.
In Lembeh, Hairball and Jahir, are 2 black sandy slopes well known by its variety of critters. The island of Pulau Racun in Buyat Bay is a beautiful coral garden with schools of fish and reef sharks. Batu Gong, is a hill covered with deep black coral and full of fish. Blue Corner in Wakatobi, is a hill formed by a reef of hard corals and barrel sponges with schools of fish and the occasional visiting of pelagics. Batu, Tetek, Vesuvius Reef and Outer Pinnacle are also some of the common dive sites in this itinerary.
Lembeh-Wakatobi (Critters Galore & Krisses: Bitung- Kendari o BauBau, The wild east of Sulawesi)
From Maumere Bay to the straits of Alor from there to the Banda islands through the string of islands in the Banda sea, then Koon island, Misool and Dampier straits in Raja Ampat.
Type of diving: Awesome walls, submerged hills facing the current and ridges full of coral. Currents that promote the presence of colorful soft corals and large gorgonians, schools of fish and big fish.
Other Information

---
Boat Specifications
Deck Length: 32 meters
Bean: 8,0 meters
Draft: 2,6 meters
Hull: Teak and Tropical woods
Engine: 400 HP Man Medium Duty
Sails: 400m2 surface
Cruising Speed: 9 Knots
Cabins: 6 Triple and 2 Double cabins all with ensuite freshwater shower, hand basin, toilet and Air Con. For 16 divers maximum capacity.
Electricity onboard: 220v all-around-the-clock. Three generators. Two round pins sockets Eu std.
Water: Watermaker plus 10 Tn deposits
Fuel tanks: 12 Tn = great autonomy
Practical Information
Time Zone: UTC+8 & UTC+9
Local Currency: IDR (Indonesian Rupiah)
Language Spoken: English & Indonesian
Electricity: 220 V
Payment Onboard: Cash (IDR, EUR, US$)
Underwater Gallery

---