Destination: Indonesia
Itineraries: Komodo, Raja Ampat, Banda Sea (7 nights) | From $408++/night

---
neptune one Quick Pitch
Neptune One Liveaboard is known for providing high-quality liveaboard diving experiences for both recreational and professional divers. The boat is equipped with modern facilities and amenities to ensure the comfort and safety of its passengers during their diving trips.
DIVE OVERVIEW
The diving experience in Raja Ampat is renowned for its remarkable variety, showcasing an abundance of medium to large-sized fish, excellent macro, and stunning hard and soft coral reefs, in addition to some muck and mangrove sites. Water temperatures typically remain around 89°F (31°C) throughout the year, which is so warm that a wetsuit may not even be necessary. Furthermore, the topside landscapes of the archipelago are equally breathtaking.
[See: Raja Ampat Dive Travel Guide]
Accommodations
Types of Cabins, Amenities and Photos

---
Neptune One Accommodation Details
Neptune One Liveaboard has a total of 8 cabins, consisting of 4 Deluxe Suites on the lower deck, 2 Deluxe Sea View cabins on the upper deck, and 2 Deluxe Sea View cabins with balconies on the upper deck. All cabins on Neptune One Liveaboard are air-conditioned and equipped with modern facilities and amenities to ensure the comfort and safety of its passengers during their diving trips.
The Deluxe Suites (4) on the lower deck are spacious and comfortable, with twin-size beds, en-suite bathrooms with two dressings, and large windows. These cabins offer a great deal of privacy and are an excellent option for travelers who prefer more space and comfort.
The Deluxe Sea View (2) cabins on the upper deck are luxurious and well-appointed, with en-suite bathrooms, two dressings, and king-size beds. These cabins offer stunning views of the surrounding sea and are a great choice for couples or travelers who value a great view.
Finally, the Deluxe Sea View with Balcony (2) on the upper deck is the most luxurious option, with private balconies, en-suite bathrooms, large dressing areas, and adjustable beds that can be converted into either king-size or twin-size beds. These cabins offer the ultimate comfort and luxury.
General Facilities

---

neptune One Boat Features
Sun deck
Outdoor lounge
Air-conditioned saloon
Audio & video entertainment
Laundry service
Warm water showers
Free satellite internet
Local & international crew
NEPTUNE ONE Dive FEATURES
Dive deck
Rinsing tanks
Outdoor showers
Camera station
Separate camera rinsing basin
Nitrox Bauer PE 320B
Nautilus Lifeline GPS
12L Tanks YOK/DIN
15L Tanks (Extra costs apply)
DIN adaptors
Diving towels
Food & Drinks Aboard Neptune One
Western cuisine
Chinese cuisine
Local cuisine
All day snacks
Buffet-style
Beer available
Wine available
Whiskey available
Soft drinks available
Reusable water bottles
Homemade cookes
All day coffee/tea
Chinese tea
Gluten free
neptune one Liveaboard Deck Plan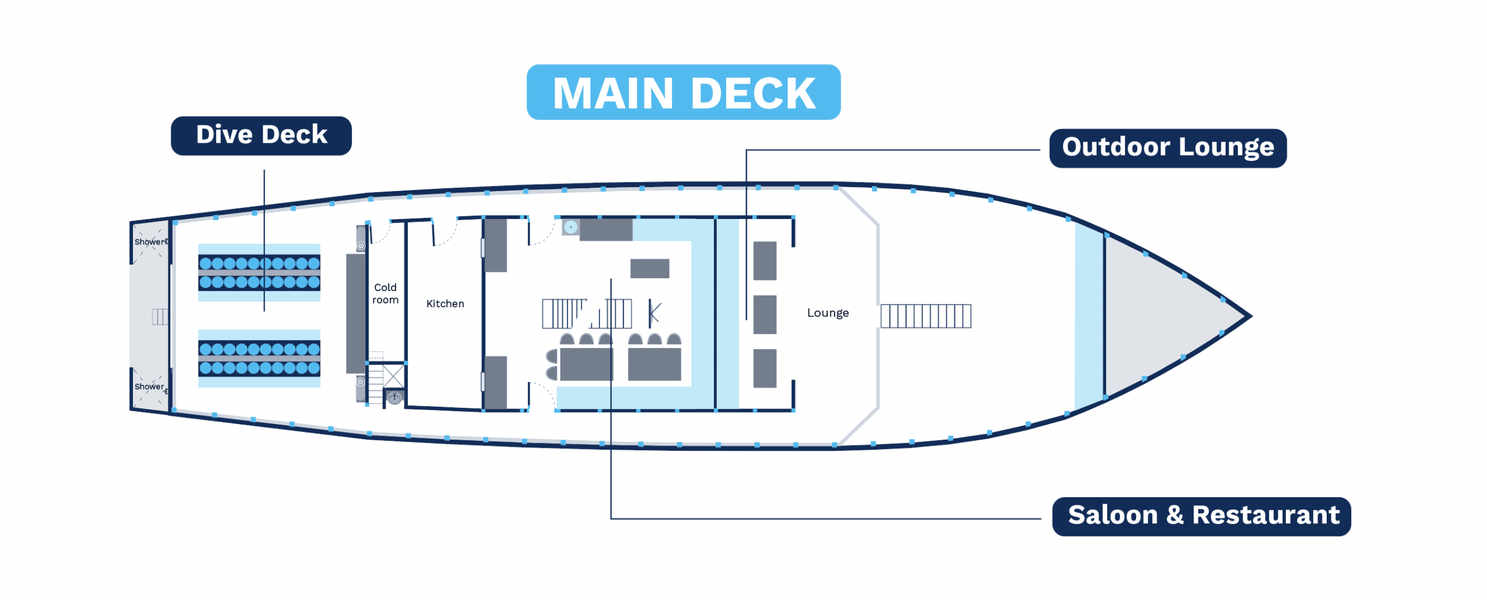 Schedule, Rates & Availability
Neptune One Schedule & Rates

---
Prices are in USD, per person and are based on the lowest-priced cabin. Port and park fees are not included.
[See also: Inclusions & Exclusions]
INCLUSIONS
Accommodations aboard the yacht

Standard liveaboard diving ( 3 or 4 dives per day )
Nautilus Lifeline Diver GPS
Dive guides ( 4 on 1 group ratios )
Hotel/airport transfers
Daily meals & snacks ( 3 main meals per day, one self service breakfast and specially prepared snacks )
Daily refreshments
Travel & visa assistance
EXCLUSIONS
Equipment rental
Night dive torches
Private dive guide
National Park Fees
Fuel Surcharges (if applied)
Gratuities
RATES & AVAILABILITY
For more information on rates and availability email us at info@bluewaterdivetravel.com or call us at +1-310-915-6677 and we will gladly help you plan your dream dive vacation!

DIVE INFORMATION & DESTINATIONS

---
banda sea itinerary
Our liveaboard brings you across the Ring of Fire and the Forgotten Islands, blessed with some of the finest diving experience in the Banda Sea.
We visit many different islands and a great variety of dive sites as Banda Sea provides an abundance of scuba diving possibilities. To make the experience unique, our itineraries mostly combine the Banda Sea with another great destination such as Raja Ampat, Alor, Triton Bay and Ambon.
Banda Sea is generally welcoming divers who are prepared for a mix of wide-angle and macro subjects. Famous for biodiversity, divers passionate of photography should be prepared for various underwater opportunities as in one day we can experience dive sites ideal for wide-angle as well as macrophotography
The highlight is without a doubt the migration of the Hammerhead Sharks. Our standard Liveaboard Banda Sea is Ambon-Ambon which takes us to the main dive sites such as Serua and Suanggi, where we have the highest chances to enjoy the large schooling of Hammerheads in Banda Sea.
For another great macro destination, check diving in Anilao.
komodo ITINERARY
Komodo offers some of the best diving experiences in the world and it is without a doubt on top of any diver's travel list.
That being said, Komodo also brings challenging underwater conditions with heavy and sometimes unexpected currents. It is therefore recommended that only experienced divers attempt liveaboard diving in Komodo.
For Liveaboard Komodo, Neptune One only accepts divers with minimum 25 logged dives and Advanced Open Water certified.
The Neptune One Liveaboard Komodo brings you an itinerary starting from Labuan Bajo and ending back to Labuan Bajo, visiting the popular dive sites in North, Central and South of the Komodo National Park. The dive plan consists of visiting all of the famous dive sites such as Batu Bolong, Crystal Rock or Castle Rock, however often water conditions will always be checked to ensure proper safety.
During all of our Komodo liveaboards, on two specific days we plan two of the most famous Komodo land tours:
– Visiting the famous view point on Padar island;
– Exploring Komodo or Rinca island for a chance to see the Komodo dragons
– Visiting the famous Pink Beach. On each day of the liveaboard Komodo we are performing a minimum of 3 dives with potential 4th night dive in certain areas where conditions allow.
raja ampat ITINERARY
Liveaboard Raja Ampat is world famous for its colorful corals with dense schools of colorful fish and encounters with wonderful critters. Lucky divers will see an astounding number of rare marine life species including Wobbegong Sharks, Manta Rays, Epaulette Sharks, Bobtail Squid, Whale Sharks, Pygmy Seahorses and thousands of colorful fish.
The best time to go diving by liveaboard Raja Ampat is from the months of October to April. During this period, divers will experience less rain than during the summer months. The seas are also relatively smoother, which makes the trip significantly more comfortable. Even more so, October to April are the best months for spotting the majestic Manta Rays in Raja Ampat.
Throughout our liveaboard Raja Ampat, depending on the itinerary, we will conduct specific land tours to some of the most famous spots in Raja Ampat, such as:
Jellyfish Lake
Love Lagoon
Raja Ampat View Point
There are three itineraries we have built to be able to explore the best Raja Ampat liveaboard:
North & Central
South & Central
North & South
Other Information

---
Boat Specifications
Year built: 2017
Length: 110 feet (33.5 meters)
Beam: 27 feet (8.33 meters)
Speed: 7 knots
Engine: 360 PK Yanmar
Passengers: 16
Number of cabins: 8
Number of bathrooms: 8
Tenders: 2
Fuel capacity: 8 tons
Water capacity: 10 tons
Watermaker: 6,000 litres per day
Practical Information
Time Zone: UTC+8 & UTC+9
Local Currency: IDR (Indonesian Rupiah)
Language Spoken: English, Indonesian & Chinese
Electricity: 220-volt
Payment Onboard: Cash, Credit/Debit Card
Underwater Gallery

---
Coming Soon!