Destination: Indonesia
Komodo, Raja Ampat, Alor, Halmahera and the Banda Islands (4-15 nights) | From $609++/night

---
fenides liveaboard Quick Pitch
Explore some of the most exciting and exotic areas of the Indonesian archipelago with the Fenides Liveaboard. This premium Phinsi diving liveaboard ensures maximum comfort as guests explore areas like Komodo and their signature route in West Komodo and East Sumbawa, Alor, Halmahera, Banda Sea and Raja Ampat. The vessel also offers a variety of leisure activities such as wake boarding, kayaking and much more.
Why You'll Like fenides liveaboard
Explore some of the most exotic, off the beaten track parts of the Indonesian archipelago
Truly a luxury diving liveaboard ensuring maximum comfort
Premium living and dining spaces
High-end equipment
Experienced team and dedicated crew
Dive Overview
Expect manta rays, sharks, gorgeous coral reefs, and impressive pelagic fish in Komodo National Park and Alor. Encounter incredible macro life and hammerhead sharks during the season in the Banda Sea. Amazing diverse hard corals, seagrass beds, mangroves, shallow reefs, drop-offs, muck, caves, black sand, white sand, new lava flow, and a lot of fish, in more shapes and sizes than anywhere else in the world, in West Papua.
[See: Raja Ampat Travel Guide, Komodo Dive Travel Guide, Lembeh Dive Travel Guide & Ambon & Alor Dive Travel Guide]
Accommodations
Types of Cabins, Amenities and Photos

---
fenides liveaboard accommodation overview
Fenides Liveaboard offers guests 5 spacious and very comfortable cabins. Guests can choose between the Luxury Master Cabin and Twin Cabins which are located on the Lower Deck and the Double Cabins, which are located on the Top Deck. The interior of the cabins has been designed and outfitted with materials of the best quality, with sheets made of the finest linen and stylish decor. The cabins are also fully airconditioned and contain a world-class TV and media system. The en-suite bathroom is also beautifully designed and spacious to ensure comfort.
General Facilities

---
fenides liveaboard Boat Features
2 Sundecks
Outdoor & indoor dining
Salon
Bar & outdoor shaded lounge area
TV, High-end Bose Sound System
Laundry
Massage service
Leisure activities such as surfing, kayaking, paddle surf, wakeboarding, fishing, beachside dining, and other activities
Dive Facilities
Dive deck
Climate-controlled camera room
Scubapro and Mares dive equipment
NITROX
2 Tender boats
BAUER Compressor
Food & Drinks Aboard fenides liveaboard
Fenides Liveaboard serves guests four meals a day - a micro breakfast in the early morning, the main breakfast, lunch, and dinner. An afternoon snack is also served. The micro breakfast is served before the first dive or activity with the main breakfast, which is usually a combination of eggs, cereal, fruit salads, and other local delights served afterward. Lunch is always served with a starter, a main meal, and small desserts, while dinner comes with multiple starters, the main selection, and desserts. The chefs aboard Fenides Liveaboard are open to food requests and will accommodate dietary restrictions.
fenides Liveaboard Deck Plan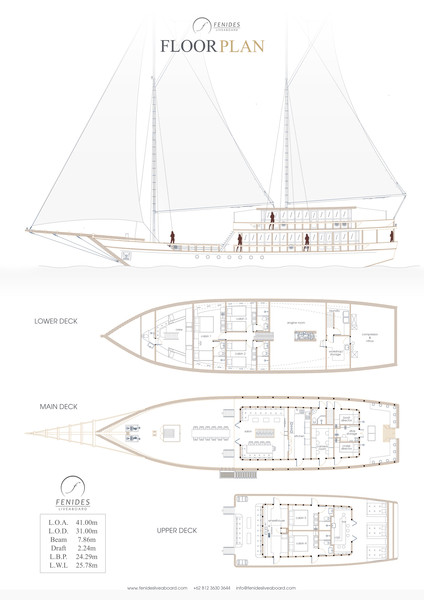 Schedule & Rates

---
Prices are in USD, per person and do not include park and port fees.
[See also: Inclusions & Exclusions]
Inclusions
Transfers to / from the airport or hotel at the location of the respective port of embarkation.

Accommodation on board in double bed or twin bed cabin with hot water shower, toilet and AC. • All-inclusive board services including onboard beverages

(exclusive all beverages in cans, containers and/or bottles)

Up to 4 accompanied dives per day (including one dawn or night dive, if location is suitable).

As a general rule, there is no diving on arrival and departure day.

Missed dives do not result in a reimbursement claim.

FREE NITROX

All offered land excursions

National Marine Park fees (only for full charter included)

Dive rental equipment (standard set; only for full charter included)
Exclusions
Dive rental equipment (for per cabin bookings not included)
National Marine park fees (for per cabin bookings not included)
Spirits and other alcoholic beverages as Beer and Wine
Diving lessons
Dive rental equipment
Purchase of merchandise or souvenirs on board
Crew gratuities
Cost for overweight luggage (international and national flights)
Dive and Travel - trip insurance (as DAN and travel guard) and/or medical insurance.
OTHER DATES & AVAILABILITY
For more information on other departure dates that are not listed above and on availability email us at info@bluewaterdivetravel.com or call us at +1-310-915-6677 and we will gladly help you plan your dream dive vacation!
Dive Information & Itineraries

---
Komodo Dive Overview
Diving is very varied from muck diving to whirlpools, critters to pelagic and schooling fish, crystal clear warm water to cooler, murkier rich in plankton soup. Currents can be strong. Dive guides generally check currents before entering the water. A reef hook can be helpful while watching fish life in the current. Expect black sand diving, colorful muck dive, dolphin & manta dive, challenging current dives, all in one location, colorful reef, sea apple, Komodo dragon trek, savannah scenery.
[Read More: Komodo Dive Travel Guide]
Komodo itinerary
Most days follow a schedule like this:
6:00 Wake up with hot tea and coffee fresh baked pastries
6:30 Dive 1 sunrise dive in before anyone else and sharing the dive site with only the fish!
8:00 Buffet-style continental breakfast with a wide selection of foods to suit every dietary requirement.
10:00 Dive 2 enjoy the full glory of the sun rays and clear water
12:00 Alacarte gourmet lunch served on the front deck dining area.
14:00 Dive 3 a chance to visit some lesser-known sites or get some macro photo sessions in.
16:30 Fresh snack food served and on some days afternoon beach or sunset hike.
18:30 Night dive photographer's dream catching all the macro life of our secret spots
20:00 Western fusion substantial dinner to keep you going through the night.
21:00 A chance to debrief and log the dives with the dive crew and your buddies as we go through our library of fish books, look back at the photos from the day on our media systems and say our good night's.
Inbetween all actives there are chances to take our sup boards or kayaks to the nearby beaches, wakeboard or wake ski, chill in your AC controlled cabin listening to music or watching movies on our entertainment systems, relax on the top deck lounge beds with panoramic views of the ocean or slump in our sofa with a nice book and hot chocolate.
Where we go on any two trips will never be the same weather conditions and tides will dictate our spots but on a full 8 night cruise, heading from rugged south of Komodo and Rinca with manta alley and cannibal rock all the way to the shark fill North with castle and crystal rock, is not a problem, it's our pleasure.
And don't forget the endemic Komodo dragons we see those too.
Alor dive Overview
Dive sites are very varied from clear water critter dives to drift and adrenalin dives with action. Currents can be strong especially between channels. Expect critters, unspoiled dive sites, drifts along the walls, clear and warm water, volcano sightseeing, unexpected encounters, and local products.
[Read More: Alor Dive Travel Guide]
alor Itinerary
A liveaboard on The Fenides promises you days filled with world-class diving at Eastern Indonesia's most spectacular dive locations. Premium living and dining spaces for maximum comfort, an exciting range of water sports, and beanbag lazing on castaway beaches await you.

'All around Alor' is a once-in-a-lifetime trip that offers you the chance to dive into Indonesia's best (and least-known) dive hotpots. Alor offers you a mix of the best diving anywhere in Indonesia. From Lembeh-style macro black-sand diving in Kalabahi, all the way to super-saturated colors and the best pelagic opportunities available anywhere in the Pantar strait, Alor has it all.

As if that's not enough, Alor's above-water landscape does not disappoint either! As Alor is relatively small, we can customize any given trip and the distances traveled aboard The Fenides tend to be small. As current can make for tricky sailing around Alor, it's not uncommon for us to anchor up in a protected bay near a couple of dive sites and use our speedboats to get to our dives. Also, currents here make it hard to predict which sites will be best to dive on any given day without seeing the conditions firsthand. Therefore, our experienced cruise director and dive team will choose the best dive sites for your trip once you are on board.

On a usual day, you can expect to enjoy the following schedule:

6:00 Rise and shine with hot tea, coffee, and freshly baked pastries.

6:30 Dive 1 at sunrise. Dive in before anyone else – it's just you and the fish!

8:00 Delicious buffet-style continental breakfast featuring a wide selection of food for every dietary requirement.

10:00 Dive 2. Enjoy the full glory of the sun's rays and pristine clear water.

12:00 A la carte gourmet lunch served on the front deck dining area.

14:00 Dive 3. An opportunity for you to visit some lesser-known sites or get some macro photo sessions in.

16:30 Delicious fresh snacks served – and, on some days, an afternoon beach session or sunset hike.

18:30 Night dive. A photographer's dream – a chance to catch the full range of macro life at our secret spots.

20:00 Delicious western-fusion dinner to keep you going through the night.

21:00 A chance to debrief and log your dives with the dive crew and your buddies as we go through our library of marine-life books, look back at the photos from the day, and say your good nights.

Between dives, you are welcome to paddle over to nearby beaches on our SUP boards, kayaks, wakeboard,

or water-ski. For the more relaxed options, chill in your full-AC cabin listening to music or watching movies on our entertainment systems, relax on the top-deck lounge beds with panoramic views of the ocean, or slump into our comfortable sofas with a good book and a hot chocolate!
Banda Sea
Banda Sea Dive Overview - This may not be the cruise destination for every diver, more for adventure divers and not for novice divers. Unexpected sightings can happen though they may not occur on every trip. This area changes and every trip is very different. Currents can be varied, depending on the moon phase. Especially in the bay of Ambon. Expect critters, unspoiled dive sites, wall drift dives, sea snakes, clear & warm water, volcanos, unexpected encounters, spice trek.
banda sea itinerary
Due to the Banda sea area being so vast, Fenides operates multiple different schedules and itineraries in the area over the course of the year. The following itinerary has been designed to access the most engaging locations across the Banda Sea and beyond, from the macro slopes of Ambon to the rich coral atolls of Raja Ampat.
A liveaboard on The Fenides promises you days filled with world-class diving at Eastern Indonesia's most spectacular dive locations. Premium living and dining spaces for maximum comfort, an exciting range of water sports, and beanbag lazing on castaway beaches await you.
"Below the Bandas" is the true tropical water exploration that divers worldwide crave. The Banda sea or spice islands itineraries combine world-class diving big fish diving, beyond belief critter hunting, and deep and rich terrestrial history. Running from Alor all the way to Ambon the Banda sea contains a ring of 100s of volcanic islands strategically spaced and jutting out from deep clear water. There is nowhere better in Indonesia for the chance to see large pelagic fish life and large numbers of sharks, combine that with some deep indo/Dutch history, old abandoned forts, nutmeg plantations, and local markets. Banda with The Fenides is a unique mix of diving, luxury, culture, and relaxation.
Day 1. Check-in on board Fenides takes place in the morning and you are welcomed on board with freshly baked pastries when pressed coffee when you arrive. After your welcome briefing and introduction to the boat, we will spend some time gearing up and preparing for our first dives of the trip. The first dives will spend in Ambon Bay. Ambon has several options for diving such as wreaks, caves, or doing some really interesting muck dives looking for rhinophias, frogfish (including the psychedelic frogfish), harlequin shrimps, and many other critters. We will do 2-day dives and a night dive on this first day then sail overnight to the Banda islands.
Day 2-3. The next two days will be spent around the Banda Islands. Many of the dive sites around the Bandas are wall dives, covered in massive gorgonians, soft corals, barrel sponges and some very interesting rock topographies. There are also dive sites with huge pinnacles covered in enormous groups of schooling pyramid butterflyfish, triggerfish and pelagic fishes such as tunas passing through. There are dives sites with spectacular hard coral reefs next to the volcano, and great black sand muck dives for an extra fix of macro critters. Heading slightly further out on our expeditions we might even be able to find some large pelagic action, with big sharks common in this area. We aim to complete a total of 7 dives in the Bandas.
It is also possible to experience a little bit of local culture and history from the Spice Islands as we will spend some time walking around the village of Banda Naira and visit one of many tourist attractions like the local museum or the Old Dutch fort, the old colonial governor's house, the local fish market, and a nutmeg plantation.
Day 4. Arriving early morning from an overnight sail from the Banda islands, Manuk, is an extinct volcano in the middle of the Banda Sea and, is one of the few places in Indonesia where there are huge aggregations of sea snakes, Chinese sea snakes, and banded sea kraits. Dives surrounded on all sides by sea snakes is a really unique experience. The black sandy slopes of the volcano are covered with hard coral reefs, ridges covered in gorgonians with thousands of fusiliers, and pelagic fishes such as mackerels, tunas, and wahoos passing through.
4 dives are planned for this wonderful location before heading north in the evening for Pulau Koon
Day 5. Pulau Koon is a small island on the southeast of Ceram, it is about halfway between Raja Ampat and the Banda Islands and the perfect place to stop and dive and rest. Walls covered in soft corals, and sandy slopes littered with coral bommies. This island is also home to large amounts of schooling fish and pelagics, barracudas, bigeye trevallies, red snappers, pompanos, batfish, and giant groupers are to name a few.
We plan for 3 dives and some beach time before an evening sail north to Misool
Day 6-7. The next 1 and half days will be around the islands of Misool. There are literally hundreds of dive sites in this area, so your cruise director will pick the best and most appropriate sites for the trip. However, it's worth noting the area is a heaven for wide-angle photographers and some of the healthiest and photogenic coral reefs in the world are located here. Above water is no let down either and you will have the chance to paddleboard through the coral atolls and discover the fantastic inner lagoons, crystal blue water, and endemic wild birdlife.
5 or 6 dives will be planned along with surface activities before an early afternoon and nighttime sail towards the Dampier strait.
Day 8-10. The last 2 days of diving will be spent around the Dampier Strait. This is the large channel between the island of Waigeo to the north and Batanta Island. Although it may be the last 2 days diving on this trip, its safe to say some of the best has been saved until last. The Dampier Strait is known for the famous of diving, from giant mantas at manta sandy, to mangroves and beautiful reefs at cape Kri. Many pinnacles and sea mounts covered in schooling fish can also be found in this area. It is also a great location for critters and macro subjects, with several species of pygmy seahorses, and there are also several jetties to do some great and different night dives.
8 dives are planned to end the trip on a real high note and whet your appetite for the next trip on Fenides "all around raja"
Day 11. The last day will be spent sailing to Sorong and packing up saying farewells. Check-out time will be early afternoon where we will arrange transfers to the airport or your hotel.
For the reverse trip, Sorong – Ambon the route is exactly the same. The first days diving around Dampier, and last days in and around Ambon harbor. So the dive locations will be a complete reverse of the above itinerary.
raja ampat
Raja Ampat diving is characterized by its mindblowing diversity, featuring a plethora of medium to large size fish, good macro, and great hard and soft coral reefs, along with some muck and mangrove sites. The water temperatures hover at around 89°F (31°C) year-round--so warm that a wetsuit is hardly needed. The archipelago's topside scenery is also stunning.
[Read More: Raja Ampat Dive Travel Guide]
raja ampat Itinerary
With Approximately 34 dives in 11 days exploring Raja Ampat with Fenides is a once-in-a-lifetime trip. We will cover all the most engaging locations Raja Ampat has to offer with chances for explorations and countless above-water activities. The views point looking out over the bird's head seascape is not to be missed. Please note that any trip plan is subject to change based on the currents, waves, and weather in the region... Strong currents, for example, may mean that the exact location and/or timing of the planned dives may have to be altered on safety grounds and to suit the local conditions... It is always possible to discuss and agree on an alternative itinerary following consultation with the Captain, Cruise Director, and fellow Guests...
Day 1 - We will pick you up either at your hotel or Sorong airport and take you to the harbor where our crew will welcome you onboard. Following refreshments and a short tour of the ship, you will be briefed on safety, the diving operations, and life onboard. We will set sail at approximately 11 am (or when the last guest has boarded) and cruise through Sele Strait to reach the East of Misool, navigation of approximately 12 hours. This will allow time for you to get acquainted with the ship, set up your dive gear & cameras and to meet
and socialize with the other guests and friendly crew. During this cruise period, we will aim to stop at a remote island area for a late afternoon check dive to get you ready for the next day's full diving schedule
Day 2 – 5 is spent in Misool Island are which is one of the largest islands in the Raja Ampat archipelago. With its crystal clear turquoise sea-waters and visually breath-taking maze of limestone pinnacles that jut sharply out of the sea, Misool keeps us occupied for days. This large area is grouped into smaller island chains which provide unique and wonderful diving experiences for multiple days.
Day 6 – Penemu experiences some of the strongest currents coming directly out of the Dampier Strait. These currents bring rich nutrient-filled waters right to Penemu's shores and it is immediately obvious once seeing the island from underwater. We will arrive in Penemu early morning on our way north from Misool. We will do 4 dives here before heading off in the evening towards Waigeo.
Day 7 – Dampier Straight (west Waigeo). Continuing our trip north towards Wayag. We will arrive early morning near the islands of Waigeo. During our day in this area, we will have the chance to do some exploration dives as there are many many islets and small bays here yet to be discovered!
Day 8 – Wayag is the northernmost marine protected area in the Birds Head Peninsula and we will arrive here and at our mooring position late in the evening. Waking up early ready for a full day exploring the limestone cliffs covered in trees and vines and the diverse dive sites from high adrenaline drift dives to leisurely swim-throughs covered in hard corals Wayag will not disappoint. There are at least 11 named dive sites in this area and many more yet undiscovered but whichever sites we cover on our 3 dive day you will not be disappointed.
Day 9 and 10 Dampier Straight and gam. After heading back from Wayag we will stop back in the central area of the Dampier straight for some more favorite and famous diving to end the trip. This area houses world renowned dive sites like "Blue Magic", "Cape Kri", "Manta Sandy" and "Manta ridge" there is no better way to end a trip through Raja's magical waters than to chill with graceful rays and swim around in a fish soup!
Day 11 – Sail back to Sorong. On our last day, we will not be doing any diving as we cruise back to Sorong but the rooftop bar will be stocked ready and the dive guides will be ready to give detailed rundowns of what we saw for logbooks and picture sharing. After a farewell lunch and debriefing customers leave the boat with memories that will last a lifetime!
Other Information

---
Boat Specifications
Type: Displacement Hull
Length: 41.0 m
Length of deck: 31.0 m
Beam: 7.7 m
Draft: 2.0 m
Engine: Yanmar Marine 6HA2M WDT (298kw/405hp)
Propeller: Newton 4-blade 110cm diameter
Maximum speed: 10 knots
Cruising speed: 9 knots
Fuel Capacity: 6 liters
Freshwater Capacity: 2 liters
Generators: 2x Yanmar 33kva
Navigation: Garmin GPS and Radar
Communication: VHF, SSB, Satellite
Compressor: Bauer
Nitrox: CompAir
Tenders: 2 RIB, console steering, Yamaha 50 hp
Practical Information
Time Zone: GMT +8 and GMT +9
Local Currency: IDR (Indonesian Rupiah)
Language Spoken: Indonesian & English
Payment Onboard: Cash, Visa & Mastercard
Underwater Gallery

---