By bettyr | Date: 29 Nov' 2021
FRENCH POLYNESIA 2021 RECAP
WORDS & PICTURES BY TIM YEO
Camera equipment used: Sony a6400, 10-18mm, and Ikelite housing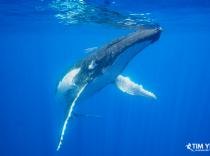 With the rise of the Delta variant in the summer of 2021, French Polynesia went into lockdown right as humpback whale season kicked into high gear in August. Luckily for us, the quarantine restrictions eased a week before our scheduled arrival, so we all gleefully completed our PCR tests and boarded an 8.5-hour direct redeye flight from Los Angeles to Tahiti.
SWIMMING WITH HUMPBACK WHALES IN MOOREA
Between July and November every year, humpback whales congregate around the waters of Moorea to rest and raise young calves. This is one of the best times and destinations to get in the water and interact with mother humpback whales and their inquisitive babies.
Humpback whales have four behaviors: feeding, resting, moving, and socializing. The whales do their feeding in Antarctica, as those waters are rich with krill. The whales then migrate to Moorea to give birth and teach survival techniques to their newborns. The best interactions with humpback whales are when they are in resting mode. The mother humpback rests about 30 feet underwater and surfaces roughly every 20 minutes to breathe. Being a baby, the calf must surface every 2-3 minutes to breathe. After each surface break, the calf heads back down to join its mother. Like most babies, the calves are quite inquisitive and often approach snorkelers in the water.
The topside show that humpback whales put on is just as exciting with whales displaying all sorts of behaviors like partial and full breaching, as well as fin and tail slapping.
In between swimming with whales, we headed to several spots around Moorea to snorkel with blacktip reef sharks and stingrays.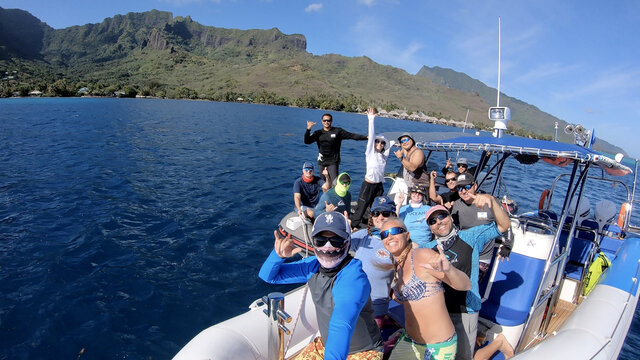 DIVING IN MOOREA
Scuba diving is a not-to-be-missed experience while visiting Moorea. Visibility is generally excellent, and divers are greeted by tons of turtles swimming around healthy coral reefs.
DIVING IN RANGIROA
Diving in Rangiroa is centered around the world-famous Tiputa Pass. Although it has only "one" dive site, that one site makes for many varied dives, depending on the tides and time of day. Divers can dive the reefs outside the pass, dive the blue, or dive the pass during incoming or outgoing tides. Each dive presents a different experience with distinct marine life.
However, the one marine mammal that steals the show in Rangiroa is the resident pod of bottlenose dolphins. They seek out divers and actively interact with them.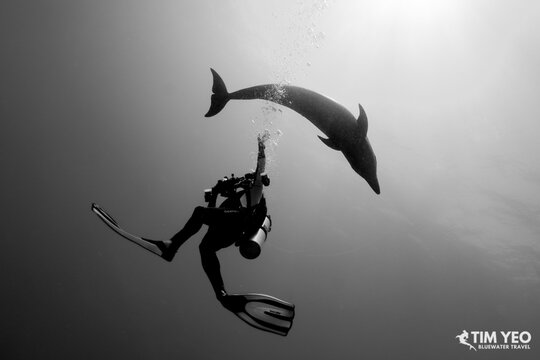 Not to be outdone, the sharks in Rangiroa also show up en masse as well.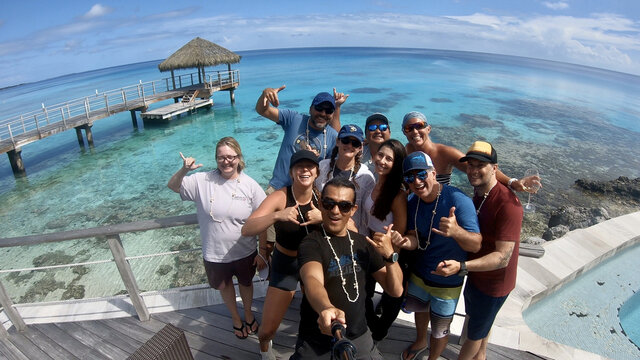 DIVING IN FAKARAVA
Arguably having some of the best diving in French Polynesia, the remote island of Fakarava supports an immense number of sharks. Diving in Fakarava is centered on two passes: the north pass and the south pass. We choose to dive the south pass, which is consistently packed with grey reef sharks offering high adrenaline dives.
Divers can either drift along the pass or hook onto rock and enjoy the shark show.
However, it is not all about the sharks in Fakarava. There are also eagle rays, and the coral reefs are very healthy and support a wide variety of marine life.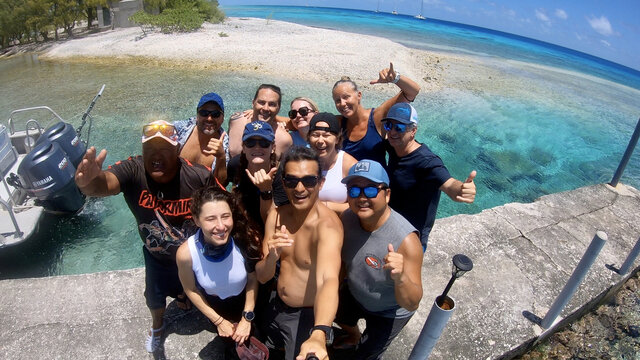 Overall, it was a magical two weeks filled with big animal encounters, beautiful tropical islands, and sparkling turquoise waters.
---
Join us on our next trips to Moorea:
Moorea Aug/Sep 2022 (7N) | Aug 27 - Sep 3, 2022 |Trip Leader: Erik Lukas | From $2,995
Moorea Aug/Sep 2022 (7N) | Sep 3 - 10, 2022 |Trip Leader: Erik Lukas | From $2,995
Moorea Aug/Sep 2022 (7N) |Sep 10 - 17, 2022 |Trip Leader: Mark Strickland | From $2,995
Moorea Aug/Sep 2022 (7N) | Sep 17 - 24, 2022 |Trip Leader: Tommy Stylski | From $2,995
---