By Jacqui | Date: 08 Mar' 2023
RAJA AMPAT 2023 Trip Recap
AN UNDERWATER PHOTO WORKSHOP BY BLUEWATER TRAVEL
Words & images by trip leader Nirupam Nigam
It's a well-known "secret" amongst scuba divers that the best diving in the world is found in the Indonesian archipelago of Raja Ampat. Unbeknownst to the general public, the region consists of thousands of limestone islands covered in emerald vegetation. Each round knob protrudes from aquamarine water, resembling ancient turtle spirits of an undiscovered age. Their random splatter creates narrow channels of water and swift currents – the engine behind lush coral reefs harboring the world's most prolific marine biodiversity. Raja Ampat is home to over 600 species of hard coral and 1700 species of reef fish. With so many species in one place, only those with the shortest attention spans will be able to see everything Raja Ampat has to offer on a given dive.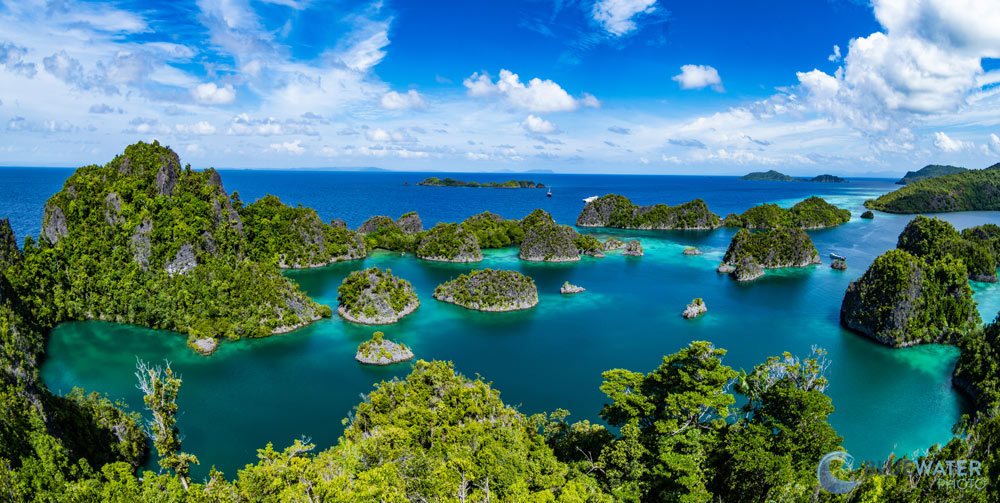 This patchwork of karst islands drives Raja Ampat's marine biodiversity
The trek to reach Raja adds to the mystique and allure of the destination. Having recently dealt with post-pandemic baggage mishaps, I opted to take the safer and less taxing four-day journey to Raja Ampat, along with a few of our guests. After a short layover in Tokyo, we met up at the FM7 hotel in Jakarta for a day and a half of rest. The hotel's accommodations were sleek and affordable, and our first taste of Indonesian cuisine was included in an extravagant buffet breakfast. With not much else to do in Jakarta, we decided to get our first 'dive experience' at the Jakarta Aquarium.
(Left) Tasteful Decor at FM7. (Right) Hanging Out at the Jakarta Aquarium.
Early the next morning, we boarded a domestic flight on Garuda Airlines headed for Sorong – the gateway to Raja Ampat. We spent the day lounging at the Swiss-Belhotel Sorong, prepping our photo equipment and eavesdropping on other divers as the halls filled with stories of legendary dives.
***Protip: Garuda Airlines will allow you to carry a free 23 kg bag of dive gear, as long as there is only dive gear in the bag (they do check!). Carry on weight limits aren't checked quite as often.
DAY 1: SORONG TO MISOOL
After a night's sleep and a proper adjustment to the new timezone, it was time to meet the rest of our group and settle into our home for the next 10 days – the Aurora. At 11 am we were quickly whisked away to the harbor and boarded two small wooden dive tenders; foreshadowing the days of diving ahead. As we traversed the industrial marina and arrived at our vessel, I was astounded by the craftsmanship of this traditional Indonesian Pinisi. The boat was made almost entirely of teak by the family of one of the crewmembers. You could see how much care was put into each timber. And likewise, the crew put as much care into making us feel at home by greeting everyone with a cold drink - a relief in muggy the tropical heat. As everyone mingled and began to set up their cameras and dive gear, the Aurora began its journey to the outer reaches of Raja Ampat – the Misool Marine Reserve.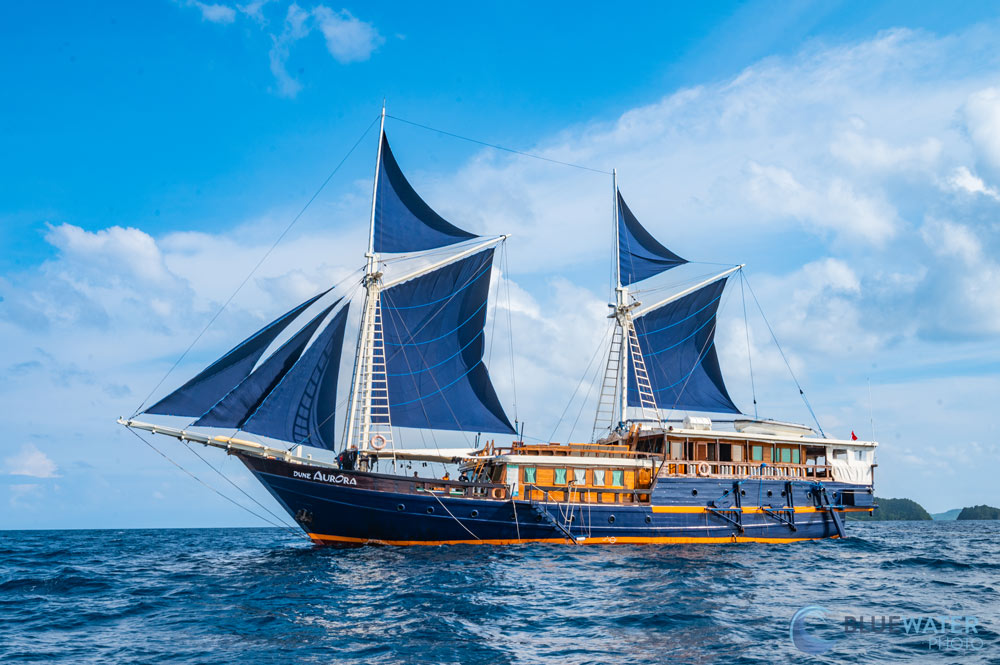 Day 2 – 4: Misool Marine Reserve
Although Sorong had heavy cloud cover, the skies began to clear as we reached Misool and woke up for our first dive. We were already surrounded by the characteristic karst islands of Raja Ampat, and the air was almost electric with excitement. Unlike many itineraries that begin in central Raja, weather conditions made it better for us to start with Misool, which offers the best of what Raja Ampat has to offer.
Misool is known for currents that result in prolific schools of fish and huge, rainbow-colored soft corals. Although our check-out dive was current-free, we were immediately greeted by a hungry hawksbill sea turtle munching on sponges. Almost everyone on the boat got to take a photo, as it did not seem to care at all about the divers.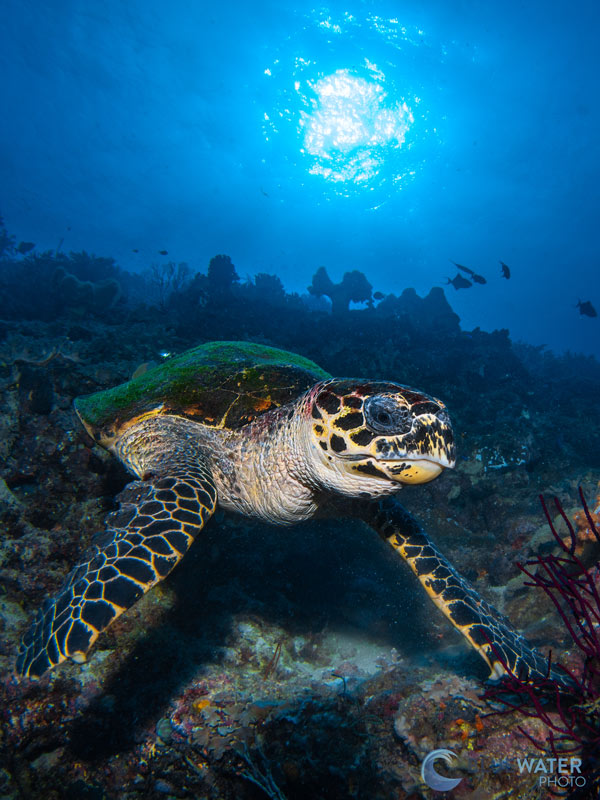 The diving progressively improved throughout the day. We had our first experience of seeing colorful soft corals and sea fans on a brisk drift dive at Boo Window. It can be challenging to capture good photos when the current is moving you swiftly through so many incredible opportunities! The third dive at Nudi Rock was a beautiful pinnacle where some divers in our group witnessed mating octopuses surrounded by coral groupers. We wrapped up the day with an easy night dive and successfully crossed off a bucket list item for many: spotting a walking shark.
The Photoworkshop
Although the schedule had us diving 2-3 times during the day with one night dive, we still found time for an hour long daily photoworkshop! As with most photoworkshops, we had a large range of photo and video shooters – from first time shooters to seasoned videographers to normal divers! Having a diverse group and set of experiences makes it easier for everyone to learn from eachother. As with all workshops I've led, I certainly picked up a thing or two! Topics during the workshop included lightroom, macro, wide angle, video, and even a special session on over-under photography. I was testing out the new Sony A7R V camera in an Ikelite housing with new Ikelite DS 230 strobes. There are a lot of great underwater housing options for the Sony A7R V - so be sure to check them out at Bluewater Photo! My wide angle lens of choice was the Canon 8-15mm fisheye with the Sigma MC-11 adapter, and my macro lens of choice was the Sony 90mm macro. Other popular cameras on this trip included the Sony A1, GoPro Hero 11, Canon R5, Nikon Z6, Sony A7R IV, Nikon D850, and Sony A6300.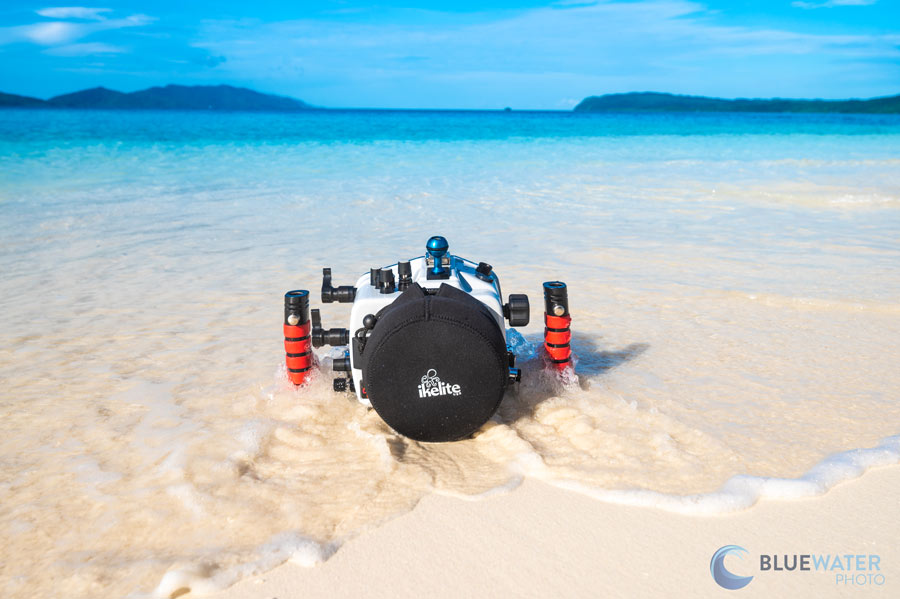 MISOOL CONTINUED
Our second day in Misool was the highlight of the trip for many. Guillaume, our cruise director, managed to squeeze us on the schedule for two incredible back-to-back dives at Four Kings. Four Kings is a seamount in the middle of the sea with pinnacles of soft corals, sponges, crinoids, and tons of reef fish. The currents bring in larger schools of trevallies, grey reef sharks, fusiliers, and more! It's hard to describe the feeling of being surrounded by so many different colorful species that you can't keep track of any one thing. You just have to take it in and enjoy your time in the water. We ended the day with a nice drift dive and more walking sharks, nudies, and shrimps on the night dive.
Just when we thought it couldn't get better, we woke up on our third day for a dive at Magic Mountain. Though we did not see the mantas that frequent the area, this seamount in the middle of the ocean was teaming with fish life – especially juvenile fish at the top of the reef. A huge school of batfish greeted divers while they were cleaned by cleaner wrasse. A large napoleon wrasse was quite curious of divers but just a little too far away for a good photo! We ended our morning with a couple of high current dives and took a brief intermission to explore a secluded beach in Misool. At the beach, about a dozen juvenile blacktip reef sharks circled us as half the group brought out a cooler and the other half had a go at some over under photos of the sharks.
Day four was a travel day so we did two final dives at three sisters and Goa Farondi. Dozens of blue dragon nudies dotted the wall of three sisters and many were lucky enough to witness a school of bumphead parrotfish. With the clouds clearing up, we hopped in the tenders to take a tour of a beautiful lagoon. Shallow turquoise water threaded through high peaks and made us feel as if we had entered a tropical maze. A few brave souls had the courage to climb into a cave before we made our way to Batanta.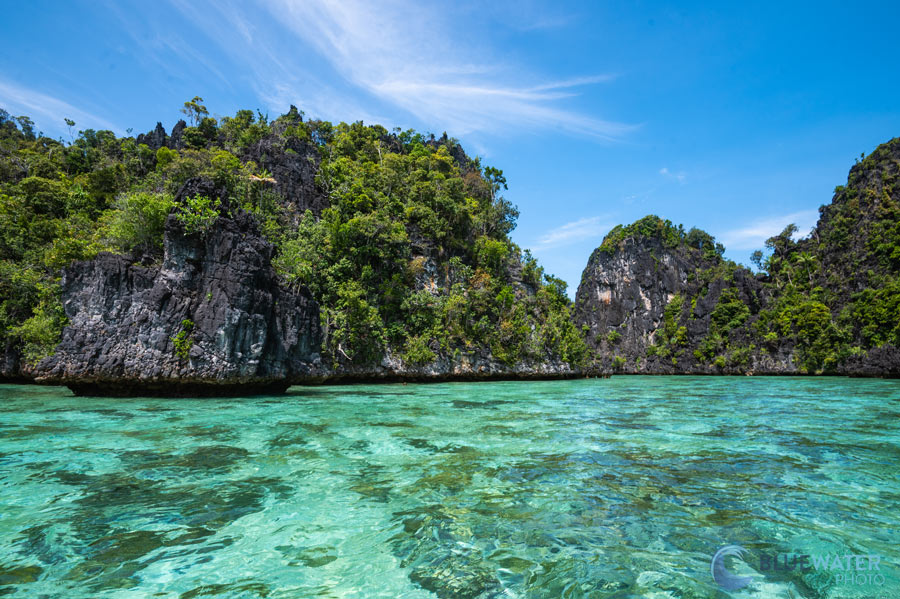 Days 5 & 6: Batanta Island
As luck would have it, the weather began to pick up as we made our way back north towards central Raja Ampat. Unfortunately high winds and occasional rain meant we had to change our itinerary and stay an extra day in Batanta. While Batanta is not the crème-de-la-crème of Raja Ampat, it has wonderful muck diving and a very good chance of seeing mantas. In fact, we saw about six mantas between three dives at Dayang! At first the mantas were a little shy and stayed on the cleaning station. Us divers got low to the bottom and waited for a manta to venture outside the circle of the cleaning station. But soon we realized that if we continued down the reef and acted "natural", the mantas would come close to greet us! Many divers had the opportunity to photograph them up close.
When we weren't diving with the Mantas, we were in the black-sand muck, looking for the strangest critters we could find. The critters were endless! It was hard to find time to photograph them all. We got to see shaun the sheep nudis, mantis shrimp, wire coral shrimp, wire coral gobies, and dozens more nudis and assorted crustaceans.
(Left) A tiny shaun the sheep photographed by Andrew McCain with a Canon EOS R5 camera, Canon RF100mm macro lens, and a Kraken +13 macro lens. This image won our friendly underwater photo contest! (Right) A manta near the cleaning station at Batanta.
Day 7: Fam Islands
The Fam Islands have everything one would expect from Raja Ampat. Our dives here were some of the best I've ever dived. We began the morning with an easy drift through the Keruo Channel, passing hard coral gardens as we went. Little reef fish were like jewels simmering in the water by the thousands. After breakfast, we made our way to the legendary Melissa's garden- and it did not disappoint! I could not believe just how many fish were weaving their way through huge, healthy stands of hard coral. Schools of surgeonfish, jacks, and sweetlips intermingled and hooked photographers like fish to worms. The reef truly felt like it was alive and breathing. After lunch the skies began to clear and we made our way up the famous Playnemo view point. While the stairs were steep, it was a short walk with a very rewarding view of the beautiful karst topography. We took our mandatory group photos, and hopped back in the water for round II at Melissa's garden!
Day 8 & 9: Dampier Strait
On day 8, we woke up in the Dampier Strait – home to wobbegongs, sweetlips, and hard coral. We began the day at the village of Sawanderek. Many in the group felt that this was another favorite, with shallow rays of light, wobbegongs, sweetlips, and giant clams! Cape Kri was an enjoyable dive to follow an easy morning. Though the currents were stronger, the group was greeted by a feisty blue-ringed octopus. The afternoon was full of wobbegongs swimming along the reef. After the dive, we visited the village of Sapokren. And in the evening, we had the best muck dive of the trip with flamboyant cuttlefish, seahorses, and reef squid!
(Left & Center) Sweetlips photographed at Cape Kri by Eliel Alfon. (Right) A tasseled wobbegong by Andrew McCain.
A video of a wobbegong shark captured by Dan Guerrero using a Sony A1 camera in a Sea & Sea universal housing
On our final day, the currents picked up, but we managed to have two nice dives amongst the hard coral and wobbegongs. As the cloudy weather of Sorong came back to join us, we felt that it was the perfect time to pack our bags, ride into port, and make our journeys home after an unforgettable week of diving.
JOIN OUR NEXT RAJA AMPAT UNDERWATER PHOTO WORKSHOP:
NOVEMBER 26 - DECEMBER 7, 2023
7-nights from $6,683