Destination: Indonesia
Raja Ampat, Komodo, Banda Sea, Alor, Cendrawasih Bay (8-14 Nights) | From $337++/night

---
MSY Seahorse Quick Pitch
The MSY Seahorse is a newly-refurbished 33m (108 ft) Phinisi-style liveaboard boat, run by Wallacea Dive Cruises, the company behind the reputable MV Ambai. She offers various interesting itineraries to dive Raja Ampat, Komodo, Banda Sea, and other top dive destinations in Indonesia.
Why you'll like MSY Seahorse?
Operator with 16 years experience diving and cruising Indonesia
4:1 diver-to-guide ratio
Lots of experience diving various areas in Indonesia (since 2002)
Sea view cabins available (main deck)
Very spacious dive deck and dedicated camera room
Free nitrox for nitrox-certified divers
Excellent itineraries year-round
Location
The Seahorse liveaboard safaris normally depart from Sorong (sometimes Manokwari) in West Papua or from Ambon.

Dive Overview
Indonesia is a scuba diving gem, featuring volcanic geography, wrecks, and vibrant marine life.
[See: Komodo, Raja Ampat, & Ambon & Alor Dive Travel Guides]
Check Out This Great Video!
Accommodations
Types of Cabins, Amenities and Photos

---
MSY Seahorse Accommodation Overview
There are 8 cabins for up to 16 divers aboard the Seahorse, with 2 different cabin types to choose from, twin or double bed cabins. The cabins are located across the main and lower decks. The Main Deck Cabins are equipped with two sizeable windows offering a sea view. These cabins are just one step away from the boat's spacious camera room.
Cabins 7 and 8, located on the main deck, are sea-view double bed cabins.
There are six lower-deck cabins. Cabins 1 and 3 to 6 are equipped with twin beds and have portholes.
Cabin 2 features a queen-sized double bed as well as a single twin-sized bed.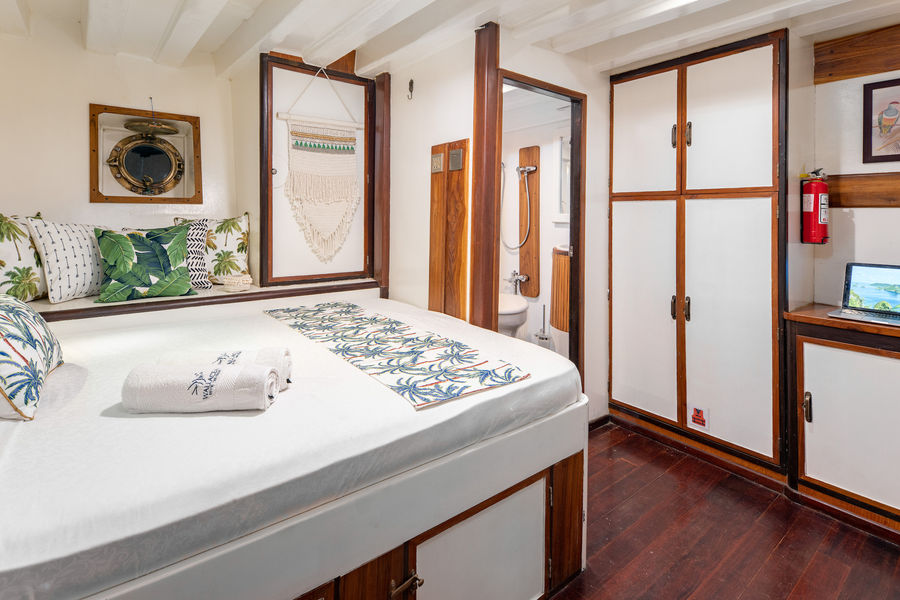 General Facilities

---
MSY Seahorse Boat Features
A/C dining room
Laundry
Small Library
Open and shaded sundeck with sun chairs
A/C saloon on main deck
MSY Seahorse Dive Facilities
Dive deck
Fresh hot water shower
Nitrox
3 dive tenders
Camera rinse tank
Table for cameras
Food & Drinks Aboard MSY Seahorse
All-inclusive meals and snacks. Hailing from a long tradition of big family homecooked meals in Spain, MSY Seahorse takes pride in offering you a delicious menu with the carefully selected & professional chef on board the Seahorse.
MSY Seahorse Liveaboard Deck Plan

Schedule, Rates & Availability
The actual rates are based in EUR. The starting price indicated above may vary based on the current exchange rate.

---
The prices shown below are per person in USD and do not include port & park fees. The pricing at the time of booking may vary depending on the latest EUR/USD exchange rate.
[See also: Inclusions & Exclusions]
Inclusions
All the dives guided. 3 day dives + night dive when possible. No dive on the arrival day

except in komodo, 1 dive on the last day of cruise, no dive on the check out day.

3 guided dives/day + night dives in the Banda Sea & Ring of Fire cruises
3 guided dives/day + night dives for full charter (if required)
Aluminum 80 CF diving tank, diving weights, weight belts.
NITROX FILLS for certified divers
All meals and snacks on board. Drinking water, hot drinks (The, coffee, milk, chocolate),

soft drinks

Airport-boat –Airport transfers at cruise departure and arrival location.
Exclusions
Dive insurance – MANDATORY we recommend Divers Alert Network (DAN)

International and domestic flights

Harbor Fees and park or preserved area entry fees, local diving taxes.

Beers, wines and liquors

Diving equipment rental

Massage service

Aluminum 100 cf dive tank

Int'l & Indonesian domestic flights and/or transit hotel

Visa entry fee (if any)

Tips on board recommended but not mandatory (5% to 10% of published rates)

Occupancy of "double bed cabins with sea view" (60 €/cabin/night)

Single occupancy

Fuel surcharge

in case of noticeable increase in the fuel prices

Park, anchorage, port and distance fees*
*Distance Fees are applicable for cruises departing in 2021 and onwards.
Sorong - Sorong Ultimate: 50€/pax, From/to Ambon – Kaimana - Saumlaki: 75€/pax, Any cruise during 13 nights and more: 100€/pax
RATES & AVAILABILITY
For more information on other departure dates, rates, and on availability email us at info@bluewaterdivetravel.com or call us at +1-310-915-6677 and we will gladly help you plan your dream dive vacation!
Dive Information & Destinations

---
Watch this video of a MSY Seahorse expedition to Raja Ampat
Itineraries
Note: The sample itineraries and number of dives are subject to change due to weather conditions and other unforeseeable factors.
KOMODO ITINERARY
Day 1: A briefing, introduction, and ship orientation take place before departing the harbor. The vessel then departs for the first dive site for a check-out dive.
Day 2: Komodo National Park offers a wide variety of dives: pelagic dives with sharks in strong currents, gentle drift dives, wall dives (colorful drop-offs, monumental boulders, seamounts, pinnacles, and sandy slopes) and macro dives.
There are 3 dives in the northernmost part of the park, two highlight action dives of the park, rocks with prolific fish life. At the of day, we ascend a mount to admire the sunset and the magnificence of Komodo mountains.
Day 3: There are 4 dives in the north area with its clear and warm waters. Dives here depends greatly on the tides, as some of them must be dived at a certain stage of the tide. Sites offered are Batu Bolong (a rock with prolific fish life including reef sharks, napoleon wrasses, giant trevallies, etc), Batu Mandi, Tatawa Besar (a drift dive with the best soft corals of the park), Tatawa Kecil, and Siaba.
Day 4: There are 4 dives as the vessel heads north to the Island of Padar, where the first two dives of the day are scheduled, at 3 Sisters (complexes of three pinnacles, rich in critters and fish life) and Pilarsteen. Afterwards, we cross the channel again to do the third dive in Pantai Merah. A night dive will be offered on this day. There will be an opportunity as well for a short walk on the island from the Pantai Merah beach.
Day 5: The vessel will cross the channel between Komodo and Rinca at dawn. The first dive of the day will be in South Rinca, at the famous cannibal rock, where there is a great abundance of critters (frogfish, Coleman shrimps and zebra crabs on fire urchins, rare nudibranchs, leaf fishes, sea apples), on a reef well covered with soft corals. The second dive will be at yellow wall, with its incredible colors of soft corals, feather stars, green and yellow tubastrea corals, followed by an afternoon dive and night dive on Torpedo, an interesting muck dive site. We can generally see the Komodos dragons on the beach in this area.
Day 6: There will be a morning dive in the West of Komodo, before going further south where you will dive Manta Alley, a famous dive site for its Manta cleaning station. After two dives on Manta alley, there will be a night dive on the coast.
Day 7: There are 4 dives planned for the day, one morning dive in Banta Island (Tanjung Rusa or GPS point), then the two following dives as well as a night dive on the west coast of Komodo island, after which we anchor in the magnificent bay of Loh Srikaya.
Day 8: There are 2 dives scheduled for the morning, depending on guest flight schedules and the 24-hour requirement before flying.
Day 9: Last day of the cruise. Farewell and group pictures. Disembarkation and assistance for check-in at Labuanbajo Airport.
Komodo itinerary map
Raja Ampat (ultimate) Itinerary
Day 1: Guest reception at Sorong airport, check-in, welcome drink, briefing, departure in the early afternoon. Depending on the weather forecast, the tour will start either in the south or the north. Overnight navigation through Sele Strait to reach the east of Misool. Arrival in the early morning.
Days 2-4: Misool. There are 3 fantastic dives spots at Misool: No contest, Love potion, and 3 Rocks. Here you'll find rocks with vertical walls and fantastic coverage of soft corals, a lot of fishes with schools of Platax, aggregations of snappers, bump head parrotfishes. The vessel will anchor in a hidden lagoon, and guests are brought via dinghy to other lagoons.
Then the vessel goes to Misool South East, for diving at Boo Rocks with 2 large openings in the rock that completely pierce the island from the surface to 5 meters deep, Fiabacet, and Fantasea, where divers will see an explosion of colors and fish density. In the evening there's a dinner on the beach of a small island. At Misool east there are dives in Misool, Yellit Kecil, a great wall with excellent fans and soft corals, rock tank, Nudi rock. Overnight navigation to Penemu and Fam Islands.
Day 5: At Penemu North, there are great aggregations of fishes (barracudas, fusiliers, bannerfish). At Galaxy, there is a great reef with excellent fish life, an excellent site for its hard corals. Navigation to Aljui Bay.
Days 6-7: Dampier Strait. After an early morning dive at Mayhem, a submerged reef, we enter Aljui Bay, which has 20 long indented kilometers on the western side of Waigeo. There are 2 dives in the bay (Wofoh and Intersection ), as well as one of the best night dives of Raja Ampat under the pier of a pearl farm there. And then 2 more dives in Aljui bay, in Aljui 1 and the Channel. The trip may also include a short visit to the pearl farm if their work schedule allows it.
Day 8: Wayag | Kawe. At Kawe Island we dive Black Rock and Eagle Rock, followed by a night dive. Night navigation to Dampier strait.
Days 9-10: Dampier Strait. A first morning dive at Citrus at the entrance of the Dampier strait, a channel with sloping sides covered with soft corals and a reliable manta ray congregation at manta sandy. We also dive Cape Kri, where there is one of the largest concentrations of big fish in northern Raja Ampat; schools of trevally, barracudas, bannerfish, and sweetlips, followed by a night dive
We also do 2 other famous and fabulous dives in the Dampier Strait—Chicken Reef and Sardine Reef. Then the boat will sail to Sorong, where it will arrive in the evening.
Day 11: Breakfast, Check-out according to guests' flight schedule. Transfer to the airport, check-in assistance.

Raja Ampat itinerary map
Raja Ampat - Banda Sea Itinerary Overview
Day 1: Reception at Sorong airport according to guest arrival flight. Transfer to the boat, installation on board, briefing. Departure in the afternoon.
Day 2: Diving in two famous and fabulous dives in the Dampier Strait—Chicken Reef and Sardine Reef. The boat will then sail to Misool, where it will arrive the next morning.
Days 3-5: MISOOL EAST. Diving the area of Balbulol, namely Pet Rock, Candy Store, and Andiamo. Also Three Rocks, a marvelous small pass between two rocks, lined with sea fans and whip corals. Caves and Wall and No Contest are the two other dives of the day, but there are other possibilities according to current and visibility. In the evening, we enter a lagoon and go to visit another lagoon hidden deep in the rocks, followed by a night dive outside of the lagoon. We reach the southeast of Misool at midday. Two dives in the area of Yellet and Boo. Batu Kecil is an excellent dive, a pinnacle reef system with great soft corals and dense fish life. Boo Point East is another soft coral-rich dive, where you can observe schools of batfishes, turtles and napoleon wrasses. We finish with a night dive at Yellit Kecil.
Day 6: KOON ISLAND. An incredible reef with walls, slopes, overhangs, caves, huge sponges, also named Too Many Fishes, is really one of the best dive sites for fish life in Indonesia. Macro life is also pretty good with leaf fishes, eels and others. Departure in the evening, after a night dive.
Day 7: BANDA ISLANDS. Diving Banda Islands, with its Lava flow dive. After the last eruption in 1988, corals regrowth boosted by minerals here is impressive. After a second dive in Batu Kapal, seeing pinnacles covered with sea fans and sponges, the afternoon will be dedicated to some shore visits: the fort and some spices plantations, followed by a night dive.
Day 8: SUANGGI ISLAND. Diving, Suanggi Island, guests get the opportunity to see pelagics—with sharks, Manta rays and a profusion of life. Two dives in this area before sailing to Banda Neira where we arrive with the sunset for a mandarin fish dive.
Day 9: NUSA LAUT. 3 dives close to Ameth village. Excellent coral reef with large Acropora stands, schools of fishes, lot of life.
Day 10: AMBON BAY. Diving Ambon Bay with its plentiful critters and muck diving, exploring a Dutch shipwreck, Twilight zone (a muck dive site) and Aviation jetty with frogfish, devil fish, Coleman's shrimp, and many other critters.
Day 11: Breakfast, Check-out according to guests' flight schedule. Transfer to the airport, check-in assistance.


Raja Ampat-Banda Sea itinerary map
Raja Ampat - Triton Bay Itinerary Overview
DAY 1: Welcome and pick up at Kaimana Airport or local hotel, then check-in at the vessel. Departure by at midday, passing by Bitsari Bay in the afternoon.
Day 2-3: TRITON BAY. Diving Triton Bay you'll see black coral forests, sweetlips, groupers, and other fish, soft corals, other critters, and hopefully, the whale sharks near the fishing platforms. There's also an optional short excursion with the dinghies in the early morning to see the beaches, lagoons, and birds of the area. During the night, navigation to Momong.
Day 4: MOMONG. Land excursion in the jungle looking for tree kangaroos. On the way back, guests will bathe in a waterfall falling right into the sea. 2 dives in this area which is pretty good for critters, followed by a night dive. Night navigation to Kurkap.
Day 5: Three dives in all are scheduled for Kurkap.
Day 6: Four dives are scheduled for Manuk and Banda Neira.
Day 7: Two dives are scheduled for Koon, followed by navigation to Misool. There is one dive scheduled in South East Misool, at the Boo area.
Days 8-10: Four dives are scheduled in South Misool, at the Pelee area. There are also four dives set for Misool, in the Fiabacet area. And then three dives in Misool East, at the Daram Islands. Navigation to Dampier Strait.
Day 11-12: Diving Dampier Strait at Manta Sandy, Cape Kri, Sardine Reef (tides allowing). We'll also have an early morning short trek to see the Bird of Paradise, followed by one dive and then guests will spend one part of the afternoon on the beach of Mioskon.
Day 13: Disembarkation after breakfast. Transfer to Sorong airport.
Raja Ampat-Triton Bay itinerary map
Banda Sea - Triton Bay Sample Itinerary
Day 1: Guests will be picked up at Kaimana Airport, then brought to the vessel. Check-out dive later in the day.
Day 2: There are 4 dives scheduled for Triton Bay, where there are schools of fish, black corals, and incredible soft corals, abundant macro.
Day 3: Early morning excursion with the dinghies into small sea channels entering the forest. 3 more dives in the area.
Day 4: Morning excursion in the rainforest, where we may see tree kangaroos. There is a beautiful waterfall dropping directly into the sea. 4 dives scheduled.
Day 5: There are 2 dives scheduled on the small islands of Nusaulang, followed by 2 dives in Momong.
Day 6: Diving Koon, a very fishy corner with a lot of fishes, including giant groupers, schools of batfish, schools of jacks, and possibly hammerheads. Three dives scheduled.
Day 7: Diving Manuk. There are 3 dives plus a night dive on this volcanic island. One of the highlights is the abundance of sea snakes. Hammerheads also frequently spotted during this season.
Day 8: There are four dives in around the legendary Banda islands. Walls, crystal clear water, a lot of fishes.
Day 9: Two dives at Suanggi and two more dives Nusa Laut.
Day 10: Two morning dives at Ambon, where the macro diving is great, followed by a Farewell Party on the vessel later in the day.
Day 11: Breakfast, check-out and airport check-in.


Banda Sea -Triton Bay itinerary map
Other Information

---
Boat Specifications
Year Built: 2005
Year Refurbished: 2018
Length: 33 m (108 ft)
Beam: 8.5 m (28 ft)
Draft: 3.5 m (11.5 ft)
Construction Material: Wooden ship, Type Pinisi
Displacement: 220 tons
Engines: M.A.N. 2866 LXE Marine Turbo Diesel 400 HP
Speed: 8-9 knots
Range: 3,000 nautical miles
Tenders: Two 6.5 meter Aluminium boats equipped with 100 HP & 150 HP Yamaha 4 strokes engines, VHF radios, and depth sounders
Generators: 1 x Mitsubishi 40 KVA 220-380 v, 1 x Mitsubishi 60 KVA 220-380 v, 1 x Yanmar 22 KVA 220-380 v
Water Tank: 11,000 liters of freshwater storage, 6,000 liters per day water maker
Fuel Tank: 20 tons
Displacement: 177 tons
Compressors: 2x Bauer Mariner HP breathing air compressors, 1x CompAir Low-pressure Screw Compressors with membrane for NITROX
Safety: 3 x 12 man self-inflatable lift-rafts, smoke detectors in all cabins, 2 emergency oxygen units
Scuba Gear: Rental diving gear from Seemannsub & Oceanic
Scuba Tanks: 32 tanks 12 L + 6 tanks 15 L available (supplement applied). DIN & INT valves both available
Electronics: EPIRB emergency locator, Sat-phone, FM & SW Radio, 4 VHF and SSB Radio, E.P.I.R.B., Furuno 90 NM radar, 2 x GPS w/plotter depth-sounder Furuno
Maximum guests: 16
Number of crews: 12 crews + 4 dive masters
Practical Information
Time Zone: UTC+8 & UTC+9
Local Currency: IDR (Indonesian Rupiah)
Language Spoken: English, Spanish & Indonesian
Electricity: 220 V
Underwater Gallery

---
Coming Soon!