By bettyr | Date: 02 Feb' 2022
Sulawesi, Indonesia Trip Recap
Words and Pictures by Tim Yeo
Camera Equipment Used: Sony a6400, Ikelite Housing, 10-18mm for wide-angle and 50mm for macro, and dual Sea&Sea YS-D2J strobes
Friday, Jan 7
After a couple of days of worrying about our covid test, we all returned negative results and were excited to board our flight to Manado, Indonesia for our much anticipated liveaboard trip. Upon arrival in Indonesia, we did another PCR test at the airport before going through immigration. Between the on-arrival covid test, vaccination validation check, quarantine location approval, immigration counter, and customs inspection, we made it out of the airport considerably fast.
It was a 90-minute drive from the international airport in Manado to the third-largest Indonesian port in the city of Bitung to board the MSY Seahorse, our home for the next 12 nights. We were elated to be on our first liveaboard in Indonesia in over two years!
Saturday, Jan 8
Because of the high winds this week, the captain and the cruise director decided to change the cruise itinerary. Instead of sailing east to Halmahera where there would be a long crossing in exposed seas, we would instead explore the North Sulawesi coast south of Lembeh Straits and then head down to the Togean Islands and Central Sulawesi.
As such, this was a bespoke itinerary and a largely unexplored area of Indonesia. We were all excited to spend the next week and a half diving pristine dive sites.
Since we were the only dive liveaboard operating in the area, and possibly in the whole of Indonesia, we could be flexible with dive times. We lazily got up at 6:30 am, set up our dive gear, and did a checkout dive in Lembeh Straits, one of the best muck diving destinations in the world.
We did three day dives and one night dive in Lembeh Straits to start the trip. Lembeh Straits lived up to its reputation and we saw pygmy seahorse, mimic octopus, blue ring octopus, hairy frogfish, flamboyant cuttlefish, pygmy squid, pygmy cuttlefish, and many different species of nudibranchs. There were also pretty reefs with beautiful fishes like the endemic Banggai cardinalfish and the colorful and interactive mandarinfish. A massive reef cuttlefish spent a good amount of time showing us its ability to change shape and color.
Before and after each dive, divers were served a tray of flavored water or fresh fruit juice. Clean towels were also provided after every dive allowing divers to dry themselves after rinsing off under one of two showers located at the dive deck. Fresh camera towels were always available at each station in the camera room in case a change of lens or battery was required between dives.
Divers motored to the dive sites on a large, comfortable, and stable aluminum dive boat. The crew brought all our dive gear from the liveaboard and set it into our dive station on the smaller dive boat, meaning we only had to walk onto the dive boat and sit by our station. There were also individual cooler bags for each camera setup so cameras were not banging against each other on the way to and from the dive site. This was a nice luxury that all the photographers appreciated.
Sunday, Jan 9
We woke up this morning and there were no other boats around us. We were anchored in a bay in Tanjung Flesco, surrounded by mountains, lush greenery, and beautiful blue water. Another three day dives and a night dive were planned for today. Switching it up a gear, we jumped into sites of beautiful reefs with large sponges, gorgonian fans, and massive gatherings of acroporal and table coral. The biodiversity of both coral and fish life was vast.
The food on the Seahorse was a mix of local Indonesian and western cuisine. There were local dishes like curry ayam, ketupat, pisang goreng, bubur ayam, and rendang, and international dishes such as salads, fried chicken, calamari, crepes, pizza, and spaghetti to suit everyone's palate.
Dinner always ended with a delectable dessert like crème brûlée, tiramisu, or chocolate lava cake made by the pastry chef.
After dinner each night, our cruise director Marco would bring up maps on the TV and show us where we were anchored and where we were headed to the next day. He would also tell us about the dives we should expect the following day so we could start preparing our cameras for wide-angle or macro photography.
Monday, Jan 10
Today's dives in the Bolsel area were absolutely gorgeous. We did two wide-angle dives and two macro dives. There were comparisons to Fiji and the Red Sea after the reef dives due to the colorful soft coral reefs and the amount of marine life. Endless schools of bright anthias were swarming the reefs and surrounding divers at many points on the dives. On the macro dives, the guides found many sought-after critters like skeleton shrimp and hairy shrimp.
With water temps between 82F and 85F, some of us wore shorts and a rash guard or a 3mm wetsuit and were comfortable during the dives. Our dives were also not limited to 50 or 60 minutes and we were averaging 60 or 70-minute dives which were awesome.
Tuesday, Jan 11
We stayed in Bolsel for another four dives today. For the first two dives, we motored about an hour to hit a couple of drift dives that had white tip reef sharks, schooling barracuda, and a school of jacks. We hooked into the reef and simply enjoyed the marine life swarming all around us.
Then we motored a couple more hours for the next two dives. Because half the group were photographers and half weren't, the third dive site had opportunities for both and we split the divers accordingly. This was perfect for photographers so we could do a lens change for two dives and get in some macro photography, while the non-photographers could enjoy more of the beautiful pristine reef and larger marine life.
Wednesday, Jan 12
Waking up with great anticipation, this morning we had whale sharks planned for the first dive of the day. We motored further west down the coast to a village in Gorontalo where fishermen have turned to throwing shrimp heads into the water to attract whale sharks to the delight of local snorkelers and divers. They do not feed the whales sharks but instead use a combination of splashing and a little food to keep the whale sharks in the vicinity and interested.
Barely 50 yards from shore, we jumped into the water and there were two whale sharks with us. They took turns coming to the fishermen to investigate while the other whale shark took off into the deep. Some of us opted to dive with them while others chose to snorkel, and some did both! With no other snorkelers or divers around, we could spend as much time as we wanted with the two whale sharks and everyone had some awesome close interactions with the largest fish in the world. Below the whale sharks, there was also a bicycle graveyard in 20 feet of water.
After about 90 minutes in the water, we headed back to the boat for breakfast and continued the day with another two dives. Today was a three-dive day because of the extended time with whale sharks in the morning, and also because we had a 13-hour crossing south to Una-Una Island where we will stay for 2 days of diving.
Thursday, Jan 13
Una-Una is the westernmost island that forms the Togean Islands in the Gulf of Tomini in Central Sulawesi. The first two dives were at a deep plateau where a massive school of barracuda is known to hang out. As promised, we managed to swim with them on both dives. Since this site is also subject to current, our dive profile was to head down to the reef 60 to 80 feet deep, hook in, and enjoy the show. When the school of barracuda momentarily swam off, we were entertained by schools of yellow-striped snappers and thousands of colorful anthias dancing around on the reef.
The third dive was at a site called Fishomania which was a very apt name, and the night dive was a macro dive at the local village jetty.
Friday, Jan 14
Because this was a unique itinerary that is not often offered, it had been a few years since our cruise director had done the dives that he had planned for today. So he called up a friend who guides with a local dive shop and hired him for the day to tap his knowledge. The local dive guide would be our dive guide today and we did another three more awesome day dives and another fantastic night dive.
Throughout the trip, we talked about ocean conservation in Indonesia and how healthy and diverse the reefs are that we were diving. Unfortunately, because of the remoteness of the area and the unpopularity of the region for dive liveaboards compared to other parts of Indonesia like Komodo and Raja Ampat, dynamite fishing is still a problem in these isolated areas.
Dynamite fishing uses homemade explosives in plastic or glass bottles with either an electronic trigger or fuse. After the bomb goes off, one fisherman dives down to pick up fish that have sunk to the bottom of the reef while another picks up fish floating on the surface. This is a very dangerous profession as many dynamite fishermen have lost fingers or limbs, and a local bomb maker lost his life several years back. Dynamite fishing is illegal in Indonesia.
Education, conservation, and enforcement efforts are untaken by local dive operations and conservation groups and they have seen success where they operate, as we learned from the head of a local conservation group when she gave us a short presentation.
Saturday, Jan 15
This morning we dived a WWII American bomber B24 Liberator plane. She took off for a reconnaissance trip on May 3, 1945, and crashed in 60 feet of water in a calm bay after an engine fire. The plane is 55 feet long and has a wingspan of 70 feet. All 11 crew members survived the crash. Today she sits upright with one propellor still intact, one of her landing gears down, and the two machine guns behind the cockpit and the one machine gun at the back of the plane still in good condition.
The second dive was along a ridge where we were surprised by a half dozen blacktip reef sharks, a couple of white tip reef sharks, and three large grey reef sharks swimming around the reef. On the third dive, we decided to do the same dive site again because it was so good.
Sunday, Jan 16
Today we were at Pulo Dua which is near three villages and where the Seahorse's sister resort Tompotika is located. We did three dives in the area around pinnacles filled with soft coral and lots of anthias, redtooth triggerfish, pyramid butterflyfish, and longfin bannerfish.
Our dinner tonight was on a small deserted island where the crew transformed the remote beach into a gorgeous dining area lit by a full moon and candlelight. They welcomed us onto the beach with local songs and we were treated to an array of food including chicken satay and a whole fish barbequed right on the beach.
After dinner, a large bonfire was lit and a dance party ensued until it was time to head back to the boat to make the long crossing back to Tanjung Flesco.
Monday, Jan 17
After a rough night with the boat rocking for the early part of the morning, we awoke the next morning to much calmer seas. We were informed that the captain made the call in the middle of the night to turn around and seek shelter back in Pulo Dua and start the crossing again in the early morning after the winds had calmed down.
Because of the time lost due to the rough seas, we would be skipping a day of diving today and instead head back to Lembeh Straits for our penultimate day of diving. After nine straight days of diving, we all took this opportunity to catch up on sleep, edit photos, and just have a lazy day in general. After dinner, everyone gathered in the dining room and we all had a really fun time playing board games late into the night.
Tuesday, Jan 18
Today was our last day of diving and we were excited to end the trip with four dives in Lembeh Straits. We all got swabbed for our pre-departure covid test right on the dive deck after the first dive and it was very organized and easy. Results would be ready the next day before our flight home. On the final day of diving, we all got pictures of critters from our wishlist that we had missed on day one of diving in Lembeh Straits. What a way to round off a wonderful dive adventure!
Wednesday, Jan 19
Today was goodbye day, and we were all sad to leave our liveaboard home and family for the past 12 nights. Checking in at the Manado airport took a little time but it was overall an easy process.
Everyone had a fantastic time with excellent diving, a nice boat, delicious food, and unparalleled service. Thank you to the crew of the MSY Seahorse, and we can't wait to come back for another trip soon!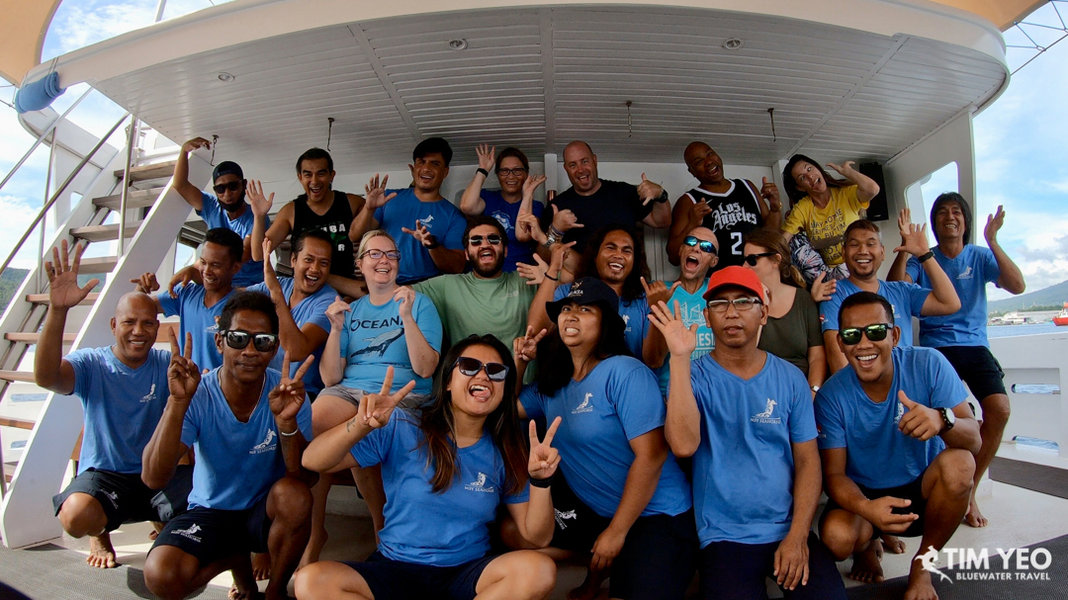 ---
Join our upcoming trips:
Halmahera Liveaboard Open Boat Exclusive May 2022
Lembeh Underwater Photo Workshop September 2023
---