Destination: Indonesia
Sebayur Island Komodo, Labuan Bajo, Labuan Bajo, Indonesia 86754 | Full-board + 2 dives from $273++/ppn.

---
Komodo Resort & Diving Club Quick Pitch
Komodo Resort is located in Labuan Bajo, Sebayur Island, an hour's boat ride from the Komodo Dragon Tour on Rinca Island. Surrounded by the sea, the resort boasts a private beach area and on-site diving and snorkeling opportunities. Komodo Resort offers unlimited world-class reef diving and high-end services to passionate divers and their families.
Quick Information
No of Rooms: 20
Dive Center: On-site.
Amenities: Air Conditioning, Refrigerator in room, Minibar, free internet
Wi-Fi: Free WiFi is available in public areas
Nearest Airport: Komodo Airport
Airport shuttle: Yes
How to Get There
There are several options to get to Labuan Bajo from Bali. By air there are 4 airlines connecting Labuan Bajo (Flores) to Denpasar (Bali) and Kupang (Timor): Merpati, Trans Nusa and Sky Aviation fly every day and Lion Air flies three times a week. By bus and ferry traveling two days and two nights through Lombok and Sumbawa. The buses start every day from the Ubung terminal in Denpasar. By sea with Pelni, the national shipping company that sails every 15 days from Benoa and Makassar to Labuan Bajo. The resort offers airport transfers. Contact us for more info.
Dive Overview
Komodo National Park can almost be considered two different destinations. While close to one another geographically, these areas are often worlds apart in terms of conditions. On the north side, the water is generally warm and sparkling blue, as you might expect in such tropical latitudes. In the south, however, upwelling currents deliver chilly, nutrient-rich waters from great depths, creating perfect conditions for plankton growth. Divers returning from Komodo generally have stories of mantas, lots of schooling fish, reef sharks, turtles, a cornucopia of macro subjects and some "brisk" currents.
Check Out This Great Video!
Accommodations
Types of Rooms, Amenities and Photos

---
Komodo Resort Room Overview
The sixteen seafront bungalows are made in teak wood from local controlled plantations. With private bathroom, terrace and garden, all the units are surrounded by the nature of a desert island, just few meters away from the beach and from our spectacular and pristine house reef. All rooms have hot water, fan, 24 hours electric power, minibar, safety box and air conditioning system.
Starting from June 2018, there are 2 new different kinds of accommodations beside the Deluxe bungalows: 2 Junior Suites, and 2 Grand View. The suites are bigger than the bungalows, and offer the same comforts like fan, A/C, minibar, power and hot water 24h.
More than the bungalows, these rooms offer a sofa area in the living/bedroom with a panoramic windowed wall, a spacious bathroom, and an 18 square meters seafront terrace. On request the sofas can become single extra beds cm 90x200
The suites are in a 2 floors building, with the Junior Suites on the lower floor (Max 4 guests with 2 extra beds), and Sebayur View on the upper floor (Max 3 Guests with 1 extra bed).
Resort Facilities

---
Komodo Resort Features
Restaurant
Beach bar
Spa
Gym
Free Wi-Fi
Air conditioning system
Free Breakfast
Room Service
Free Parking
Babysitting
Komodo Resort Food & Drinks
Indonesian, Italian and international cuisine with fresh products from organic cultures and fish
Daily homemade bread and pasta at dinner and pastries and cakes at breakfast
A wide selection of spirits and wines
Komodo Resort Activities
Diving
Snorkeling
Komodo Park Tours
Packages & Rates
The actual rates are based in IDR. The starting price indicated above may vary based on the current exchange rate.

---
2019-2020 Komodo Resort Rates
Prices are in Indonesian Rupiah (IDR) and can change without prior notice. Valid from 16 February 2019 - 15 February 2020
Full Board Accommodation
Include 3 meals, drinking water, coffee and tea. Minimum 3 nights stay.
| | | |
| --- | --- | --- |
| Accommodation | Rate | Availability |
| Bungalow DELUXE In Double (per person per night) | IDR 5,880,000 | |
| Bungalow DELUXE In Single (per person per night) | IDR 4,880,000 | |
| Additional Third Bed (Bungalow Deluxe) | IDR 2,040,000 | |
| Sebayur Grand View Double (per room per night) | IDR 7,638,000 | |
| Sebayur Grand View additional bed (per room per night) | IDR 2,040,000 | Email us |
| Sebayur Grand Beach Double (per room per night) | IDR 7,638,000 | Email us |
| Sebayur Grand Beach additional 3rd bed (per room per night) | IDR 2,040,000 | Email us |
| Sebayur Grand Beach additional 4th bed (per room per night) | IDR 1,262,000 | Email us |
| CHILDREN REDUCTION (0 Up To 2 Yo | IDR 470,000 | Email us |
Dive Rates
Option

Info

100cuf Air Tanks

Nitrox

From Check Dive Up To 6 Dives

80cuf Air Tanks And Weights Included, Gear Not Included. Per dive

IDR 705,000

7-13 Dives

80cuf Air Tanks And Weights Included, Gear Not Included. Per dive

IDR 655,000

14+ Dives

80cuf Air Tanks And Weights Included, Gear Not Included. Per dive

IDR 604,000

EXTRAS (price per tank)

1-7 Dives

Per tank

IDR 75,000

IDR 84,000

8-14 Dives

Per tank

IDR 60,000

IDR 67,000

15+ Dives

Per tank

IDR 30,000

IDR 50,000

Additional Cost For Private Guide

Per Dive

IDR 840,000

Private Guided Dive Excursion

Per Dive, Per Person. Min. 2 People

IDR 2,100,000
Can't Find the Information You Need?
Can't find the information you need? Drop us an email at info@bluewaterdivetravel.com or call us today at 310-915-6677 and let us help you plan your dream dive vacation!
Dive Information & Itineraries

---
Komodo Dive Overview
Visibility often isn't great, but most divers agree that the trade-off is well worthwhile, as this living planktonic "soup" supports an incredibly diverse and healthy marine life community. Underwater terrain is quite similar between north and south Komodo, typically consisting of drop-offs, pinnacles, fringing reefs and shallow coral gardens. Divers returning from Komodo generally have stories of mantas, lots of schooling fish, reef sharks, turtles, a cornucopia of macro subjects and some "brisk" currents. Because of the currents, Komodo is generally not suitable for beginners.
Komodo Dive Sites
On a diving trip from Sebayur, we can dive the sites of the North Komodo area: Sebayur, Castle and Crystal Rock, The Cauldron, Golden Passage, Batu Bolong, Manta Point, Tatawa Besar and Kecil, Pulau Tengah, to name a few wonderful places to dive.
Sebayur Central - Starting from the mooring, we head westward on the sandy bottom inhabited by a colony of garden eels. Sloping down towards the west, we will find at 25 meters depth some rocks covered by corals and visited by many fishes. Swimming towards the west along the slope on our right side, we reach a point where the slope becomes steeper and forms a wall covered by gorgonians, crinoids, sponges. Here we can easily find colorful flatworms, nudibranchs, crocodile fishes, groopers lobsters, trigoni maculate and medium-size tridacnas tridacne. Sometimes a sea eagle or a shark passes by. We make our safety stop on the coral garden in front of the rocky side of Sebayur.
Sebayur West - The dive starts at 50-60 meters from the coast near the western tip of Sebayur Kecil, going down along the slope until we reach 15-18 meters, where a sandy saddle joins the platform of Sebayur Kecil to the cliff. We turn clockwise around the corner of the cliff and go east reaching a depth of 28 – 30 m along a beautiful wall covered by Alcyonaria, swimming among schools of fusiliers and surgeonfish. This is the area of Sebayur Kecil where it is easier to spot big fishes, like sharks, trevallies, sea eagles and mantas. Going further east, at the end of the cliff, we will head to the slope which is about 15 meters away. We go east along the slope and end the dive with a safety stop not far from the rocks of central Sebayur. This dive is not possible during the moon changes, when the currents are strong.
Crystal Rock - At about 300 meters from the Castle rock, there is Crystal rock, whose tip is exposed at low tide. Similarly to Castle Rock, the current at Crystal rock can be very strong. Nevertheless, a better shelter is found in the shade of the big rock. Besides the same fish species populating also Castle rock, there is a beautiful coral garden rich in fan corals on the Southwest side. In no current condition, we suggest starting the dive at 22-24m on the on the saddle connecting the main rock to a big pinnacle covered by fan corals. From there you can dive down to 27-30m to look for pygmeus seahorses on the fan corals. After having swum around a smaller pinnacle at about 22 meters, you will head to the main rock on its western side. From here we will go up, by reaching the main rock eastern side and you will make the safety stop at about 12 meters depth.
Castle Rock - At Castle rock the current can be very strong. We recommend that only very experienced divers visit this site in strong current condition.
Several pinnacles rising from a shelf 20-24 meters deep and reaching almost the surface up to 4 meters deep, offer an unforgettable view. Among the pinnacles, huge schools of fusiliers and surgeonfishes attract Giant and Jack trevallies, Spanish mackerels and sometimes dolphins. White tip and black tip sharks patrol the area, which is often visited by eagle and manta rays. Most divers wish to come back here again and again. The visibility is excellent.
The Cauldron - Usually a drift diving along the channel between Gili Lawa Laut and Gili Lawa Darat. With the high tide, we start from the south-eastern side of the channel and we cross it swimming among corals and school of fishes. On the other side of the channel, we will drift up on the edge of the cauldron. Once entered the cauldron we will dive down to the bottom watching the wall covered by corals and crinoids. Inside the cauldron, you will enjoy the amazing view of sharks and big pelagic fishes whirling round.We will go up along the northern side of the wall, we will be drift a bit longer to end up behind the western tip of Gili Lawat Laut where the boat will be waiting. Great snorkeling, but suitable for expert swimmers, due to the strong currents.
Golden Passage - This dive site is the channel that separates Gili Lawa Darat from Komodo Island. It's a surprising drift dive better to be done in rising tide when the current pushes east to west. Get into the water in the shallow eastern bay and follow the current. The coral garden is beautiful and deeper you get more life you'll find there waiting for you. You will cross the channel about 20 meters deep surrounded by amazing landscapes always changing and fishes. Schools of sweet lips, trevally, reefs white and black tip sharks. Lots of turtles. In few occasion, we met giant manta ray and dolphins. The dive ends at the opposite side of the channel where divers can enjoy the bright corals during the safety stop. The dive with opposite tide still very nice and the site is very suitable for snorkelers especially in the shallow waters of the bays.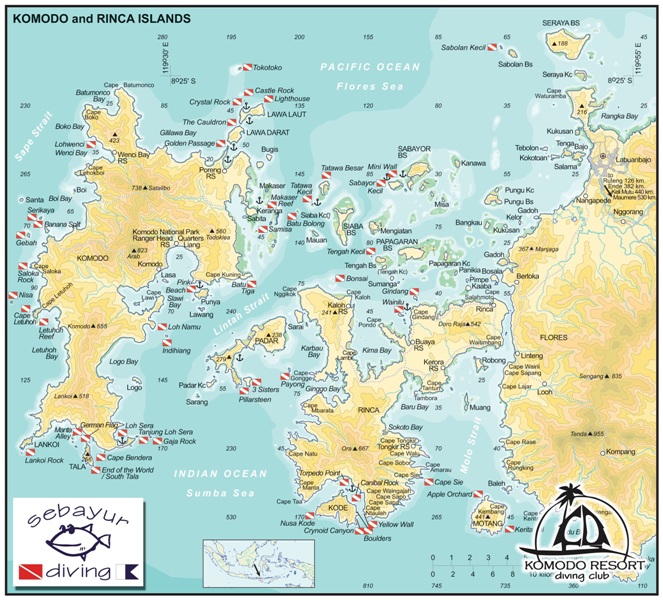 [Read More: Komodo Dive Travel Guide]
Dive Center Information

---
Komodo Resort & Diving Club Overview
Komodo Resort Hotel and Diving is a PADI Diving Resort; the Sebayur Diving Centre offers courses up to Pro Level in English, Italian, French, Spanish and Indonesian. The daily tours are operated with two strong wooden boats of 13 and 14,5 meters of length, built for the purpose, with a stern platform and a total transport capacity of 25 divers, the cruising speed is 9 knots. The center owns 25 brand new full equipment Mares and 100 aluminum 12 lt tanks.
Other Information

---
Practical Information
Electricity: 220 volts
Time zone: GMT +8
Accept credit card?: Yes, Visa & Mastercard
Underwater Gallery

---