Destination: Papua New Guinea
Lissenung Island, Kavieng, Papua New Guinea | Room rate from $132/night

---
Lissenung Island Resort Quick Pitch
Lissenung Island Resort offers eco-friendly bungalows on a private tropical island surrounded by world-class diving.
Quick Information
No of Rooms: 4 bungalows
Dive Center: On-site
Amenities: Private verandahs, camera tables, wifi, many non-dive activities and more
WiFi: Yes, Free
Nearest International Airport: Jacksons International Airport (Port Moresby)
How to Get There
Situated just 2 degrees south of the Equator, with the Pacific Ocean to the north and the Bismarck Sea in the south. Lissenung Island Resort is a fast 20-minute boat ride from Kavieng, the capital of New Ireland Province. The town is reached with a 1.5-hour flight from Port Moresby, which is Papua New Guinea's International Airport.
Dive Overview
Healthy reefs with colorful fish & critters.
[Read More: Papua New Guinea Dive Travel Guide]
Accommodations
Types of Rooms, Amenities and Photos

---
Lissenung Island Resort Accommodation Overview
The four bungalows are spread out over the island, giving guests plenty of privacy. Three of the bungalows house two rooms, each with its own ensuite bathroom. The last bungalow is also houses two rooms, but they share one bathroom, which is located between the two rooms and is accessible from the verandah. As the island is only 350 x 80m (450 x 110yd), all bungalows are ocean-front.
There is now on-demand hot water in all bathrooms. All rooms have ceiling fans, fly-screens, mosquito nets, a large desk (for photographers to work on their cameras) and cupboard space.
After the diving, you can relax in the comfortable chairs on your own verandah. The 24-hour electricity supply in each room allows re-charging the batteries to your camera and other electronic equipment. Free WiFi access on the island offers guests the opportunity to stay in touch with friends and family either through e-mail or Skype.
Resort Facilities

---

Lissenung Island Resort Features
Large common area with comfortable chairs and tables
On-site meals and bar, beer and wine available (BYOB okay)
Fresh seafood and local fruits and vegetables
Special dietary needs at request
In-room camera station
Experienced and knowledgeable dive guides
Lissenung Island Resort Food & Drinks
The main house offers comfortable chairs on a sandy floor and it is here where cold drinks and delicious meals, prepared by our experienced cook, await you. Fresh seafood, such as fish, crabs and crayfish (lobster) feature high on a menu where set meals are served, rather than actually giving out a menu to choose from. Special dietary requirements are catered for on request. Wine, beer and soft drinks can be purchased. Spirits are extremely hard to buy anywhere in PNG, so guests are welcome to bring their own duty-free spirits (there are plenty of mixers).
Lissenung Island Resort Activities
Diving
Surfing
Fishing
Kitesurfing
Land tours
Snorkeling
Village tours
Package & Rates
Lissenung Island Resort Rates

---
Jump to:
Accommodation Rates
Accommodation rates include all meals (breakfast, lunch and dinner). Rates are in PGK (Papua New Guinean Kina) and per person per night. Minimum age for guests is 12 years. Prices are valid until March 31, 2021 and are subject to change without notice.
| | |
| --- | --- |
| Room | Rates |
| Budget single, (share facilities), incl. meals | PGK 490 |
| Standard Single, ensuite bathroom, incl. meals | PGK 630 |
| Budget double/twin, (share facilities), incl. meals | PGK 450 |
| Standard double/twin, ensuite bathroom, incl. meals | PGK490 |
| Return Airport Transfers | PGK 120 |
Diving Rates
Dives include boat trips, tanks, weights, dive guide and beverages/snacks on board. Divers staying on Lissenung Island have the opportunity to do free shore diving on our house reef during daytime hours (until 6 pm).
| | |
| --- | --- |
| Dive | Rates |
| 1 boat dive per day | PGK 260 |
| 2 boat dives per day | PGK 430 |
| 3 boat dives per day | PGK 560 |
| Night Dive (house reef, without guide) | PGK 75 |
| Night Dive (house reef, with guide) | PGK 112 |
| Environment & Safety Fee | PGK 20/day |
| Gear Hire | PGK 65/day |
Can't Find the Information You Need?
Can't find the information you need? Drop us an email at bookings@bluewaterdivetravel.com or call us at 310-915-6677 and we will gladly help you plan your dream dive vacation!
Dive Information

---
Dive Overview
It is the unique location of the tiny little islands between the open South Pacific Ocean and the Bismarck Sea that has created an underwater wonderland.
The change of tides can produce some strong currents, which flush clear waters from the deep sea over the abundant reefs and through tiny passages. It is during those currents that the pelagic action is happening and you can expect to see sharks, tunas, mackerels, huge schools of jacks and barracudas and with some luck schooling Eagle Rays and Mobula Rays. However, the diving is very varied and also includes wall, wreck and muck diving and ensures that every diver leaves the island a happy diver!
Our local dive guides are experts in picking the right dive spots at the right time. PADI dive courses from Open Water through to Divemaster are offered in English, German, Dutch and Japanese. Lissenung is a fully recognized member of the PADI International Resort Association and a PADI Go ECO Operator.
Last but not least, there is a great bonus feature: Located just off the beach is a fantastic house reef where you can do free shore diving while staying at Lissenung Island Resort and when booking morning boat dives! Interesting for day dives (for free as many as you like before 6 pm) as well as night dives (night dives are guided on request and will be charged locally). Over 175 different species of fish can be found just here – this is more than in the whole Caribbean!
Diving here is year-round, with January to March subject to sudden rain squalls and thunderstorms. Typically tropical, these storms are often replaced by blue skies that return as quickly as they departed. Best months are usually April to June and September through to December.
Sample Dive Sites
Albatross Passage: At an incoming tide, this narrow passage is like fish soup. Eagle Rays, white tip, black tip and grey reef sharks, big tuna, jacks, barracudas and even sometimes mobula rays can be seen here. And if you've had enough of all the big stuff, just turned towards the wall, beautifully over-grown with fan coral, black coral, sponges as well as little creatures such as nudibranchs, leaf scorpionfish and pygmy seahorse. In the right conditions, Albatross Passage is the best dive in the Kavieng area and a must for every visiting diver. Depth: 12 – 30m/40 – 99ft.
'Pete' Floatplanes: A total of three of these Japanese reconnaissance planes have been found so far. Discovered by local fishermen, they now make for awesome dive sites. The pictures on the right are from the 'Deep Pete', near Nusa Island. Little critters, as well as schools of batfish, barracudas, jacks, soldierfish and snapper, ensure that this slightly shorter dive (due to the depth of 40m/132ft) is one not to be forgotten! Depth: 18 & 40m/60 & 132ft
Ral Island: This tiny island in the South Pacific is surrounded by a beautiful coral garden. With no currents, this is a gentle and relaxing dive, and due to its shallow depth (max 15m/50ft), perfect as third dive of the day or following the 'Deep Pete'. Alternatively, you can dive the sandy slope to the west of the island and search for little critters such as decorator crabs, seahorses, pipefish, nudibranchs & flatworms, frogfish and sometimes even mimic octopus! It's a great much dive and before you know it, it's time to ascend. Depth: 5 – 15m/17 – 50ft
Bermuda Drop: The colorful coral wall slopes from 3m/10ft down to 25m/80ft, then drops off vertical until out of sight. At about 18m/60ft is a big overhang, in about 14m/45ft sits a giant clam, plus there are lots of nudibranchs, flatworms, the odd leaf scorpionfish, crocodilefish, moray eels and flame file shells.
Baudisson Bay: This is a vertical wall rising from 800m (2400ft) up to the surface and it has lots of swim-throughs and crevices. Grey Reef Sharks and Whitetip Sharks are seen here on almost every dive, but the real attraction at this spot is the big variety of nudibranchs and other small stuff.
Echuca Patch: This is a large ridge rising from 45m (150ft) to within 12m (40ft) of the surface and is situated in the open ocean just outside Kavieng. A Korean fishing boat, the 'Der Yang', lies on its starboard side close to this ridge, in about 31 meters of water. This point is a magnet for Barracudas and Jacks. Depth: 12 – 31m/40 – 103ft.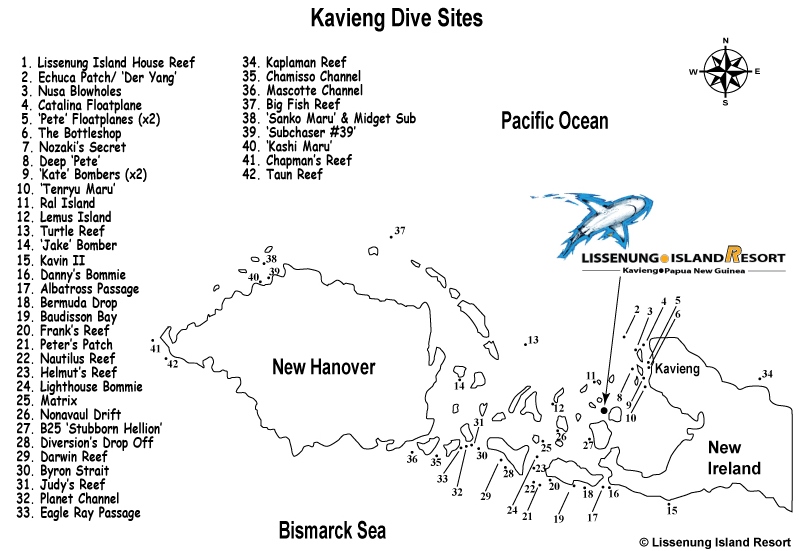 Dive Center Information

---
Lissenung Island Resort Dive Center Overview
Lissenung's fully serviced dive shop includes two compressors (2 x 260l/m), 50 aluminum tanks (8, 9 & 11l) and 12 full sets of Scubapro-Uwatec rental equipment. PADI dive courses from Open Water right through to Divemaster are available, as well as a number of specialty courses. The resort's three dive boats will have you at any of the dive sites within 20–30 minutes. The larger dive boat Andiamo is a 26ft fiberglass boat with twin 140HP 4-stroke Suzuki outboard engines and can comfortably carry 10 divers, 2 dive guides and the skipper. There are also two smaller dive boats, Raven and Carola. A DAN oxygen unit for emergency situations is on board all boats and our dive staff are trained in its use.
Other Information

---
Practical Information
Electricity: 240V
Time Zone: UTC+10
Languages: English, German & Dutch
Local Currency: PGK (Papua New Guinean Kina)
Accept credit card?: Yes, Visa & MasterCard
Underwater Gallery

---