Destination: Antarctica
Antarctica (9-34 Nights) | From $662++/night

---
M/V Plancius Quick Pitch
This Oceanwide Expeditions ice-strengthened vessel offers safety and comfort for adventure seekers traveling into Antarctica. With the highest ice-class notation, it is ideal for exploring remote locations and navigating through ice, while maintaining high standards of guest service and amenities.
Location
Trips depart from Ushuaia, on the island of Tiera del Fuego in Argentina.
Dive Overview
Antarctica offers a unique and thrilling polar diving experience as one of the last grand and remote areas of wilderness on earth. Divers get to take part in the pioneering exploration of these isolated waters, viewing stunning ice formations, glaciers, and some of the globe's most rarely seen wildlife.
[See: Antarctica Dive Travel Guide]
Check Out This Great Video!
Accommodations
Types of Cabins, Amenities and Photos

---
M/V Plancius Accommodation Overview
M/V "Plancius" accommodates 108 passengers in 52 passenger cabins with private toilet and shower in 4 quadruple porthole cabins, 11 twin porthole cabins, 25 twin cabins with window and 2 twin deluxe cabins (ca. 12,5 square meters), and 10 twin superior cabins (ca. 21 square meters). All cabins offer lower berths (one queen-size bed in the superior cabins and two single beds in the twin cabins), except for the 4 quadruple cabins (for 4 persons in 2x upper and lower beds), and 2 triple cabins (1 bunk bed plus 1 lower bed).
General Facilities

---
M/V Plancius Boat Features
Restaurant/lecture room on deck 3
Spacious observation lounge (with bar) on deck 5 with large windows, offering full panorama view
Large open deck spaces (with full walk-around possibilities on deck 4)
10 Mark V zodiacs, including 40 HP 4-stroke outboard engines and 2 gangways on the starboard side
M/V Plancius Dive Facilities & Features
Compressor: Onboard, there are a Bauer compressor (200 liters), 35 steel bottles of 12 liters each, 200 bar, with DIN and Yoke adaptable connections and two separate outlets
Weights: You will be provided with hard led weights and a belt
Zodiacs with strong outboard motors
Dive Buddy system
1-2 days per day (depending on the weather)
8 divers per dive guide
Maximum number of diving passengers: 24
M/V Plancius Liveaboard Deck Plan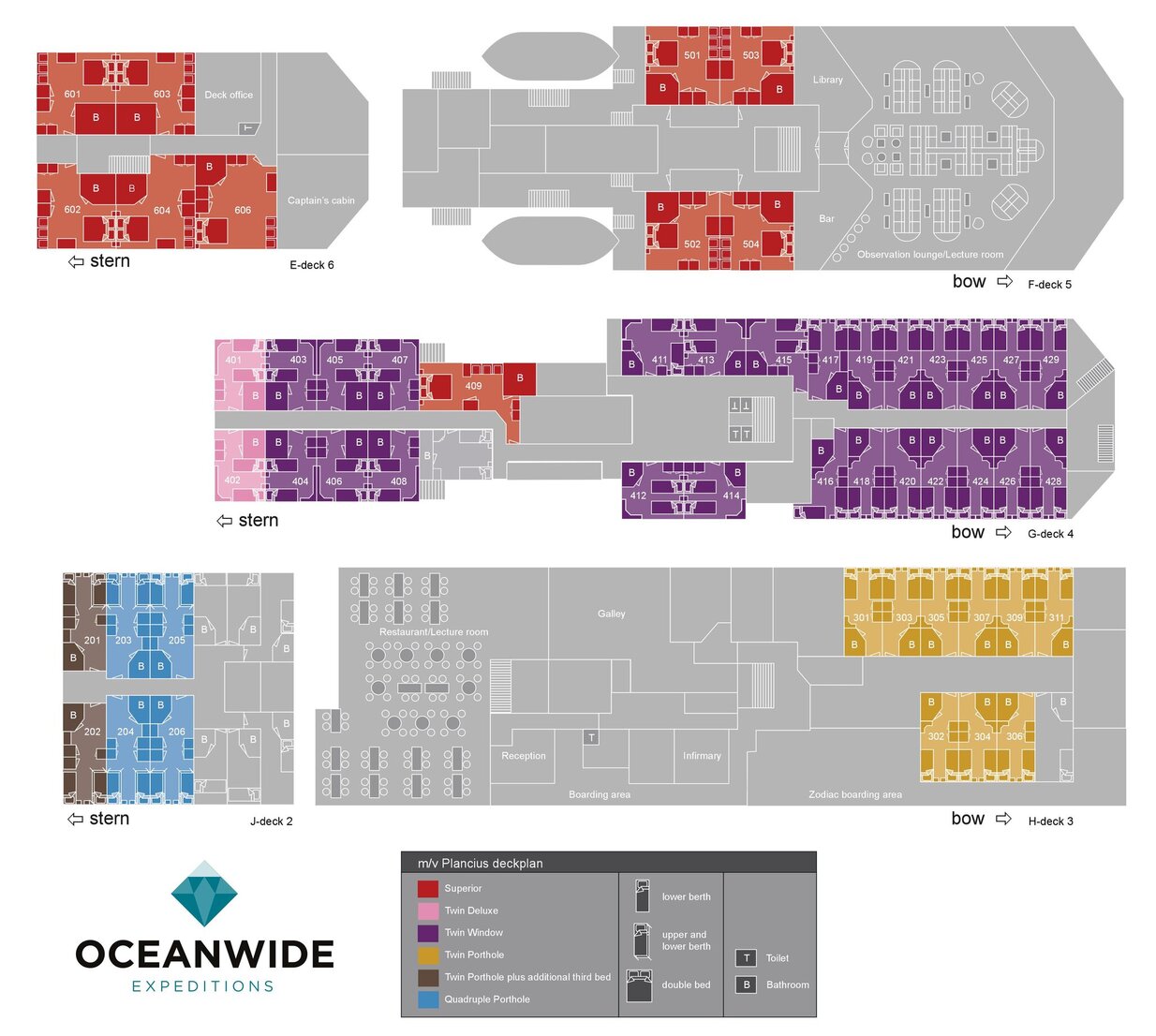 Schedule & Rates
M/V Plancius Schedule & Rates

---
Prices are in USD, per person and are based on the lowest priced cabin. Port and park fees are not included.
[See also: Inclusions & Exclusions]
Inclusions
Voyage aboard the indicated vessel as indicated in the itinerary
All meals throughout the voyage aboard the ship including snacks, coffee and tea
All shore excursions and activities throughout the voyage by Zodiac
Program of lectures by noted naturalists and leadership by experienced expedition staff
Free use of rubber boots and snowshoes
Luggage transfer from pick-up point to the vessel on the day of embarkation, in Ushuaia
Luggage transfer from drop off point, group transfers at disembarkation
Pre-scheduled group transfer from the vessel to the airport in Ushuaia (directly after disembarkation)
All miscellaneous service taxes and port charges throughout the program
Comprehensive pre-departure material
Exclusions
Any airfare, whether on scheduled or charter flights
Pre- and post- land arrangements
Transfers to/from the vessel outside Spitsbergen
Transfers to the vessel in Ushuaia and Ascension and from the vessel in Ascension and Praia
Passport and visa expenses
Government arrival and departure taxes
Meals ashore
Baggage, cancellation and personal insurance (which is mandatory)
Excess baggage charges and all items of a personal nature such as laundry, bar, beverage charges and telecommunication charges
Customary gratuity at the end of the voyages for stewards and other service personnel aboard
Important Note
All rates are quoted per person in USD, based on twin occupancy.
Other Dates & Availability
For more information on other departure dates that are not listed above and on availability email us at info@bluewaterdivetravel.com or call us at +1-310-915-6677 and we will gladly help you plan your dream dive vacation!
Dive Information & Destinations

---
Marine Life
During the Antarctic dive expedition, you may observe penguins from under the surface as well as leopard seals. The Falkland Islands are rich in krill (which is consumed by many species) and therefore interesting for finding marine wildlife. The dive sites will vary from shallow ice diving, diving along a wall, from a beach, or from the zodiac. The maximum depth is around 20 meters / 60 feet. The combination of sunlight and the often extraordinary formations of ice causes an overwhelming, everchanging specter of colors, with a fantastic variety of shades and brilliance. While snorkeling or diving along the ice-floes, you will be amazed and never forget these deep blue colors. Diving in Antarctica does not only offer ice, but also interesting marine life, such as kelp walls, sea snails, crabs, sea butterflies, various Antarctic fish, shrubby horse-tails, jelly-fishes, sea hedgehogs, starfishes, krill, and giant isopods. You may have the possibility to snorkel or dive with Fur seals, Leopard seals, and Penguins.
Experience & Qualification - These voyages are not for beginners, you'll have to be a very experienced diver and must be familiar with cold water diving and dry suit diving (at least 30 drysuit dives in 4°C or below). Before departure, you will have to show an internationally accepted diving certificate and diver's logbook, (you must include copies when completing your diver's personal information form). The first dive of the trip will be a 'check' dive to try out your gear and weights and for our Dive Team Leader to see if all individual divers have enough experience to dive in the Antarctic waters.
Polar Circle - Antarctic Peninsula
This Polar Circle and Antarctic Peninsula cruise passes through waters traveled by Humpback, Minke and Fin whales. Anchoring in various spots around the region, the expedition offers the chance to hike and dive in the iceberg-heavy waters.
Antarctic Peninsula - Basecamp Plancius
The 12-day Antarctic Peninsula Basecamp Plancius cruise offers you a myriad of ways to explore and enjoy the Antarctic Region. This expedition allows you to hike, snowshoe, kayak, go mountaineering, and even camp out under the Southern Polar skies.
Atlantic Odyssey, incl. Antarctic Peninsula
The Atlantic Odyssey is a birdwatcher's delight as we cross paths with the migratory routes of species such as the Arctic Tern & the Long-tailed Skua. We visit some of the most remote islands in the world while crossing the Atlantic and the Equator.
Falkland Islands - South Georgia - Antarctic Peninsula
All (sub-)Antarctic highlights in one voyage, with spectacular landing sites on the Falkland Islands and encounters with black-browed albatrosses and rockhopper penguins. You'll have the chance to meet at least six different penguin species. You'll explore the transition from the sub-Antarctic to the Antarctic Polar Region, experiencing how the drop in temperature can make a huge impact on the colors of the surrounding landscapes; from the warmer tones of the sub-Antarctic side to the icy rugged beauty of the true Antarctic.
Witness how those few degrees of difference in the transition zone can make the difference between an animal or plant species choosing to live on one side of the Antarctic Convergence (the Polar Front) or the other.
This cruise includes also four days on South Georgia, probably the most beautiful place on earth. Be prepared for ten thousands of king penguins and their chicks, elephant seals, wandering albatrosses and Gentoo penguins and great historical sites including the trails of British Polar explorer Ernest Shackleton. We plan a visit to Orcadas station on South Orkney Islands and If the ice permits we will sail into the Weddell Sea through the ice-clogged Antarctic Sound. Huge tabular icebergs will announce our arrival to the eastern side of the Antarctic Peninsula.
Antarctic Peninsula
This Antarctic Peninsula is known as the "Classic Antarctic" route. Meet the great stars of the Antarctic, the penguins, found in the thousands in a variety of curious species. Investigate one of the most pristine regions left on Earth with the chance to have live encounters with spouting whales, resting seals, and the penguins who may very well decide to investigate you. Anchoring in various spots around the region, the expedition offers the chance to hike, kayak, and camp under the Antarctic sky.
Other Information

---
Boat Specifications
Length: 89 meters (293 feet)
Breadth: 14.5 meters (47 feet)
Draft: 5 meters (16 feet)
Ice class: 1D (Plancius has a Lloyds class notation 100A1 Passenger ship, Ice Class 1D at a draught of 5 meters)
Displacement: 3211 tonnes
Propulsion: 3x Diesel-Electric
Speed: 10.5 knots average cruising speed
Passengers: 108 in 52 cabins
Staff & crew: 46
Practical Information
Language Spoken: English
Electricity: 220v, 60Hz
Payment Onboard: Credit card (Visa or MasterCard) or cash (Euro or Dollar)
Underwater Gallery

---