Destination: TONGA
Faleloa, Foa Island, Ha'apai, Kingdom of Tonga | Breakfast + 2 dives from $240/ppn

---
Matafonua Lodge Quick Pitch
Located 400 meters from its sister property, the Sandy Beach Resort, the Matafonua Lodge is the ulitmate holiday destination. During their stay, guests can enjoy the peace and tranquility of deserted beaches while exploring uninhabited islands and the incredible snorkeling and diving. The resort also takes great efforts in sustainability; it is built to be as environmentally friendly as possible.
Quick Information
No of Rooms: 10
Dive Center: On-site
Amenities: Restaurant and bar, Free activities (kayaks, skin diving, etc.)
WiFi: Yes, free
Nearest International Airport: Nuku'Alofa Airport
Airport shuttle: Yes
How to Get There
Guests can take an international flight to Nuku'alofa, the capital on Tongatapu Island. Direct flights from Auckland, Sydney and Fiji are also available. From there, it is a short taxi ride, which can be arranged by the resort, to their domestic airline Real Tonga. Alternatively, guests can take the local ferry at Nuku'alofa which usually departs on Monday night and arrives at Ha'apai the next morning. However, since the ferry has no fixed schedule, it is advisable to leave plenty of excess time if you go that route.
Dive Overview
Tonga is home to magnificent lagoons and reefs that are perfect for diving. This is one of only a few places in the world where you can swim with humpback whales and witness their mating/rearing behavior. From July to October, the humpback whales pass through the islands, where they mate and give birth before heading off to their Artic feeding grounds. Manta Rays, Eagle Rays and other shark species can also be seen in the area.
Accommodations
Types of Rooms, Amenities and Photos

---
Matafonua lodge Room Overview
The Matafonua Lodge offers two types of Pacific-style fales, the Double Fales or the Family Fales. The Double Fales can be configured with a king-sized bed or two single beds. Meanwhile, the Family Fales have two rooms that can be configured with one king bed and two single beds, two king beds, or four single beds. Guests also have the option to request for a baby crib or a pullout bed. All fales contain a terrace and are located on the beachfront. Each fale is fully equipped with electric lights as well as power points for charging devices.

Resort Facilities

---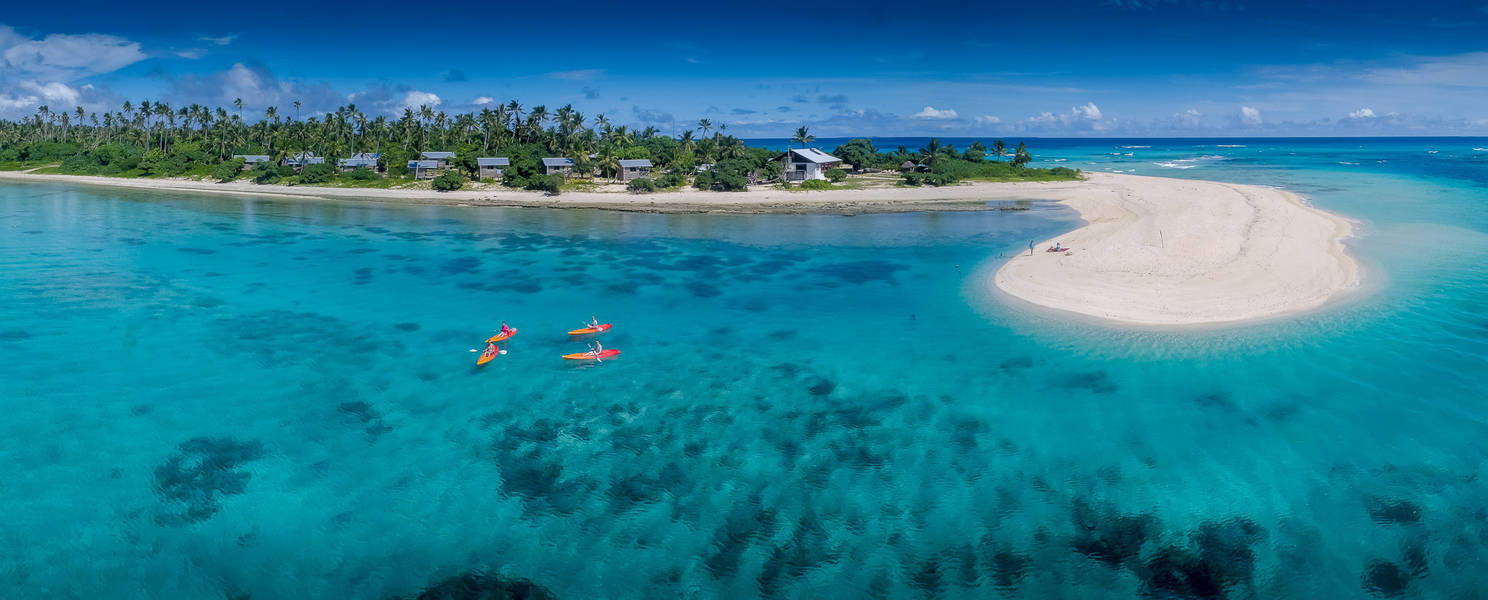 matafonua lodge Features
matafonua lodge Food & Drinks
Open daily at 7:30am, the restaurant at the Matafonua serves a buffet continental breakfast, available until 9:30am, as well as menu items that are available all day. The all-day menu consists of pizzas, burgers, wraps, salads, sandwiches, fresh baked pies and pastries. The restaurant also offers additional choices that are posted daily on the menu board for the evening meals. The restaurant is more than happy to accomodate any dietary needs or requests, regularly catering to gluten free, vegetarian, and vegan guests.
matafonua lodge Activities
Snorkeling and Scuba Diving
Kiteboarding,

Stand Up Paddle Boarding,

Kayaking Rentals

Whale Swimming
Bush and Reef Walk
Horse Riding
Free Diving
Sailing
Fishing
Houmale'eia Petroglyphs
Ha'ano Cultural Tour
Packages & Rates
Matafonua Lodge Rates

---
Dive Packages
Rates are in USD and include boat, tanks, weights, & refreshments.
| | |
| --- | --- |
| Packages | Rates |
| 1 Diving day (2 dives) | US$ 125 |
All room rates are in USD, per night, and include a continental breakfast and the 15% government taxes. Check-in is at 1pm, while check-out is at 10am. Early check-in / late check-out is also available by arrangement. If a family fale is booked then the 'per fale' price applies for the first two persons and you need to add the following for each extra person.
Accommodation

Low Season (April 1 - July 14, October 16 - March 31)

High Season (July 15 - October 15)

Single, Double or Twin-share - per Fale
US$ 115
US$ 125
Adult per extra person (Family Fale)
US$ 35
Child per extra person (Family Fale)
US$ 20
Dive courses rATES
Dive Courses

Rates

PADI Open Water Diver (Includes: All theory and confined water sessions, 4 open water dives,
certification, log book, online Open Water Dive Manual & equipment rental.)
US$ 570
PADI Open Water Diver –E-Learning (Includes: Theory review, confined water sessions, 4 open water dives,
certification, log book and equipment rental.
STUDENTS MUST COMPLETE PADI E-LEARNING COURSE ONLINE PRIOR TO ARRIVAL)
US$ 425
PADI Advanced Diver (Includes: All theory and confined water sessions, 5 open water dives, equipment
rental, certification and online manual.)
US$ 425
Discover Scuba (Includes: 1 Theory lesson, 1 Confined water session, 1 Open water Dive
(Maximum of 12 metres) & all equipment. Second dive offered, same day,
same trip US$65.)
US$ 150
whale watching/swimming rates
All rates are in USD and include snorkel hire, lunch & refreshments. Valid from July to October.
| | |
| --- | --- |
| Packages | Rates |
| Resort Guests | US$ 185 |
| Outside Guests | US$ 195 |
Can't find the information you need?
Dive Information

---
Tonga DIVE OVERVIEW
South of Samoa, Tonga is comprised of 169 islands and stretching over a distance of around 800 kilometers. Located in the South Pacific Ocean, Tonga is around a third of the way between New Zealand and Hawaii. Tonga is one of only a few places in the world where you can swim with humpback whales. They pass through the islands from July to October, and they come to mate and give birth before setting off for their Arctic feeding grounds. Divers who visit Tonga can also see Manta Rays, Eagle Rays, multiple shark species, and many other diverse marine life.
Tonga's dive sites can be divided into three areas: Tongatapu, the Ha'apai Group, and the Vava'u Group. Tongatapu is known for its magnificent lagoons and reefs. This area contains 5 marine reserves and 2 islands parks which are protected by government legislation. The Ha'apai Group is known for its reef breathtaking geography, which includes caves, caverns, and tunnels, along with colorful coral gardens. The Vava'u Group is where divers can go to experience exciting drift dives along walls and drop-offs. The Clan MacWilliam, a wreck of a copra steamer, can also be found here.
Tonga's year-round temperatures range from 75˚F (25˚C) to 84˚F (29˚C). With this tropical climate, divers are comfortable in 3mm to 5mm suits. December to May is considered the warm season with temperatures averaging 75˚F (24˚C). May to December is the cool season with temperatures around 69˚F (21˚C).
Dive Center Information

---
matafonua lodge Dive Center Overview
Beach dives are offered by the resort from TOP $100. They also offer a full range of dive courses and a one day dive experience for the non-qualified diver. The Matafonua Lodge Dive Center offers guests the opportunities to board a dive boat just a few meters from your Fale and easily depart for one of the numerous nearby reefs and coral gardens. With a newly remodeled dive boat complete with new engines and larger fuel tanks, divers can access remote dive sites like the rarely-visited pinnacles in Northern Ha'apai. Diving in Tonga has never been this exciting.
Other Information

---
Practical Information
Electricity: 240 volts and 50HZ
Time zone: GMT + 13
Languages: English
Underwater Gallery

---