By bettyr | Date: 28 Dec' 2021
CROCS & CENOTES TRIP REPORT August 2021
By Mark Strickland
Traveling south along Mexico's Yucatan Peninsula by minivan for most of the day, we were all excited about the experiences that lay ahead. Unlike typical dive travel, our Bluewater group itinerary encompassed a trio of very different but equally enticing diving and snorkeling adventures, each with its own special attractions. All were well off the beaten path, starting with a series of healthy fringing reefs along a remote stretch of the southern Yucatan, followed by several days photographing American crocodiles at a remote offshore mangrove forest, and finally heading inland to explore some of the many limestone caverns and caves that form a huge underground labyrinth in this region.
Most of our first day consisted of a long drive south along the Caribbean coast of the Yucatan, including a stop to explore the ancient Mayan ruins of Muyil, as well as a late lunch at a small-town restaurant. After that, however, there are scant signs of civilization, just a narrow two-lane road through a densely vegetated landscape that eventually becomes mangrove forest and finally reveals a welcome sight – the open sea. We had arrived at the modest hotel and dive center at a tiny fishing village called Xcalak that would be our base over the next few days.
Our first diving day was spent exploring local reefs at three different sites. Each had its own special highlights, but all were exceptionally healthy spur-and-groove reefs, with numerous swim-throughs and narrow passages providing fascinating topography. These same crevices and overhangs are also favorite haunts of schools of tarpon – each roughly 4 feet long and covered with huge, highly reflective scales that make them appear chrome-plated. We also encountered a wide variety of reef fish small and large, ranging from colorful wrasses and butterflyfish to barracuda and Nassau grouper; even a spotted eagle ray made a brief appearance. And, while we never saw them underwater, both bottlenose dolphins and several manatees were sighted at the surface at our second and third dive sites. In between each dive, we returned to the hotel to regroup, get a bit to eat, and prepare for the next dive. All in all a great day of diving and an auspicious start to our Yucatan adventure.
Early the next morning we left most of our luggage behind and set out for one of our main objectives on this trip – the UNESCO Biosphere reserve known as Chinchorro Bank, which is the largest coral reef system in Mexico. Roughly 35 nautical miles from shore, Chinchorro is a huge, largely pristine reef system, comprising about 310 square miles, larger than the island of Cozumel. Most of it consists of shallow coral reefs as well as three small, low-lying mangrove islets, including Isla Centro, where we would be based for the next three days and two nights. Our accommodations were about as rustic as it comes – a small wooden shack on a raised platform over shallow water, similar to a handful of other such shacks that are used by local fishermen who are permitted to harvest a limited amount of fish, lobster, and conch.
During the two-hour crossing to Chinchorro, we watched as the low-lying coastline slipped over the horizon and the water color changed from the aqua hues of the shallow reef to the deep blue of the open sea. Depending on sea conditions, it can be a rough ride, but the weather gods must have been in a good mood, as it was relatively smooth. Adding to the experience, we not only had bottlenose dolphins leaping in our wake but enjoyed a rare encounter with probably 30 or more melon-headed whales that seemed genuinely excited to see us, as they leaped and frolicked around the boat.
Each of our days at Chinchorro included one scuba dive, allowing us to explore a series of healthy sloping reefs at the edge of the sloping drop-off, where the scenery included a wide assortment of hard corals and gorgonians, as well as impressive clusters of yellow tube sponges. Colorful reef fish were everywhere, with a particular abundance of French and queen angelfish, rock beauties, snappers, triggerfish, and schools of grunts hovering near the reef, as clouds of damselfish and creole wrasse darted about in mid-water. A glance under the many coral overhangs revealed some of the shyer reef residents, such as brilliantly hued fairy and black-capped basslets, along with occasional spiny lobsters and moray eels. Several very "friendly" nurse sharks accompanied us throughout the dive, no doubt attracted to the lionfish that our divemaster, Louis, was spearing whenever he had the chance. This was done for several reasons, partly to help keep the invasive species under control, but also to attract the crocodiles, which were our main reason for visiting Chinchorro.
Considered slightly less dangerous than their Indo-Pacific relatives, these impressive reptiles still command a healthy respect and are also apex predators known to prey on almost anything that wanders into their territory. While their normal diet includes fish, lobsters, and seabirds, they have also been responsible for a number of attacks on humans, a fact that we kept firmly in mind whenever we were in their presence. Ranging from south Florida to northern South America, they typically inhabit coastal habitats of brackish and saltwater such as lagoons, rivers, and mangrove swamps. Truly formidable predators, males can reach lengths up to 15–18 feet.
Naturally, being in the water with such animals is not to be taken lightly, and should never be attempted without expert supervision. Reassuringly, Louis and his team have eight years of experience managing such interactions and have never had an accident. Their strict safety procedures include a thorough briefing and a maximum 2:1 guest/guide ratio with additional spotters on the surface. Louis held a sturdy wooden pole whenever he was in the water, using it to deter the croc if necessary. We were also warned to refrain from touching the animals, avoid fast movements, and never turn our backs on them… duh!
Life at the shack, playfully referred to as "Chateau Matraca" (named for the local fisherman who built it), was quite primitive; by the third day, most of us were yearning for the comforts of our air-conditioned rooms onshore. With very limited electricity, no running water, and only hammocks for sleeping, creature comforts were all but absent. That said, the food was good, and we were surrounded by nature, with a constant parade of fish passing below us, frigate birds soaring above, and unobstructed views of sunrise, sunset, and the night sky. At least for the few days, we were there, it was a great experience.
Our first day turned out to be unremarkable when it came to the crocs, as the two that showed up were very shy, and despite vigorous efforts to bait them, they refused to approach within photo range. Fortunately, we had a real "player" show up the next morning, a very calm individual that looked to be about 8-9 feet in length. It stuck around all morning, giving everyone plenty of time in the water and ample photo ops. When the croc finally left, we grabbed a quick lunch and headed out for a reef dive, returning in the late afternoon. By then another croc had made an appearance, entertaining us until the 6:00 pm curfew for in-water activities.
Despite having already captured plenty of croc photos, we were all eager for one more try on day three but awoke to darkening skies and reports of a tropical storm bearing down on the region. We did manage to squeeze in a quick reef dive, but by the time we returned to the shack, the wind had picked up, thunder was rumbling, and it was obviously time to pack up. After an initial downpour, the rain eased up enough to load the boat and get underway, and we were soon heading for shore. The two-hour crossing was uneventful, and while we had hoped for a bit more time at Chinchorro, we were all happy to be back to the comforts of our rooms at the hotel.
The next day saw us packing bags for the long road trip back to civilization, this time to the beach resort of Playa Del Carmen. There are good ocean diving options in this area, but our focus for the remainder of the trip would be inland, as we explored several of the world-renowned freshwater caverns known as Cenotes. This entire region sits on a base of porous limestone, which over time has been eroded by rainfall and groundwater to create an incredible network of underground caverns, caves, tunnels, and chambers, all of which are filled with crystal-clear freshwater. For me, such diving will never replace the color and diversity of a tropical reef, but it is nonetheless an incredible sight to behold, and definitely belongs among the world's most amazing natural wonders.
After being briefed by our very experienced and professional local divemasters, we loaded up several pickup trucks and headed down the highway, eventually turning onto a windy dirt road surrounded by dense brush. A mile or so from the main highway, we pulled up to our first dive site, a large sinkhole known as The Pit, an exceptionally scenic dive and also the deepest of all the cenotes, bottoming out at 390 feet. The tropical storm that had chased us away from Chinchorro a couple of days ago had since become a hurricane, passing over the upper Yucatan the previous day, so the parking lot and even parts of the cenote were covered with lots of downed branches, and lingering squalls still caused rapid weather changes from rainy to sunny then raining again. We'd been concerned that runoff might also affect the underwater visibility, but fortunately, that was not the case.
While not as cold as similar caverns in Florida, the 77-degree water made me glad I brought a thicker wetsuit, without which I would definitely have been chilly.
At the start of our descent, the water clarity initially looked less than ideal, as there was a blurry effect caused by the mixing of rainwater and that of the aquifer, which must have been slightly different temperatures. Once below this layer, however, the visibility opened up to some of the clearest water I've ever seen. As we descended, the water once again became blurry, this time due to the interface between fresh water above and saltwater below. Then, as we approached a depth of 100 feet, we encountered a different kind of halocline, this time caused by a layer of hydrogen sulfide that's produced by decomposing vegetation, creating an eerie effect, as if we were hovering above a layer of smoke. Completing the unusual visual effect, a dead tree protruded from the haze, looking as if it had emerged from a mysterious chamber of middle earth. Slowly making our way back toward the surface, we revisited some of the features we'd seen on the descent, including some impressive stalactites and many intriguing ledges and tunnels.
The next two dives were at another nearby sinkhole known as Dos Ojos (Two Eyes). At this large cenote, which is popular with snorkelers as well as divers, there are two major openings ("eyes"), each of which spills shafts of sunlight into the inner chambers. Visibility here was nothing less than stunning, and I'm sure exceeded 300 feet. Actually, during the briefing, our guide explained that this incredible water clarity has been measured by scientists using a laser system, and was documented to be over 200 METERS… no wonder it looks so clear!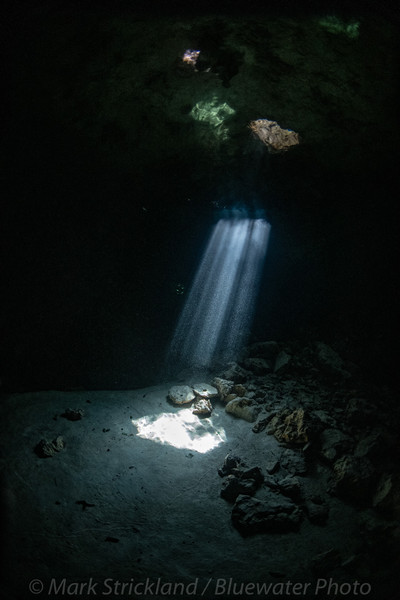 Our two dives at Dos Ojos followed different routes, both marked by permanently fixed guidelines that the guides insist be followed, both for safety and to minimize human impact on fragile ecosystems and formations. All the cenotes feature really interesting topography, but this system was especially impressive, with hundreds of fragile stalactites & stalagmites, some of which connect into pillars that run ceiling-to-floor. Not being cave certified, we stayed out of the extensive cave systems, but still found areas of total darkness in the caverns, interspersed with shafts of sunlight from openings large and small. Slowly making our way along the marked route, we watched as the topography changed constantly, transitioning from narrow, winding corridors to large, open caverns, occasionally with views of the entrance as we followed the meandering guideline on each dive. In general, there was little evidence of underwater life, but on the second dive, we did encounter a catfish and several large freshwater shrimp, and at one point we also surfaced inside an air-filled chamber populated by hundreds of bats!
On our last diving day, we once again found ourselves in pickup trucks rather than boats, winding along a dirt road surrounded by dense, low-lying forest. Like most of the cenotes, today's site, "Dreamscape", lies on private property, the owners of which have built some basic amenities around the sinkhole, including toilets, tables for gearing up, sturdy stairs leading down to water's edge, and a pulley system for lowering and raising equipment. Unlike the very popular sites, we dived the day before, we were fortunate to have Dreamscape all to ourselves. Initially, the visibility was disappointing, but once we entered the overhead environment, it opened right up to the crystal clear conditions that we'd enjoyed on previous dives. Similar to Dos Ojos, Dreamscape also allows for two different dives at the same location, the routes being designated by permanently installed guidelines that zig-zag around the perimeter of the site. Once again, the topography was fascinating and visually stunning, with by far the most impressive stalactites, stalagmites, and pillars of any site that we dived. Unlike the previous sites, however, the depth here never exceeded 20 feet, so bottom time and gas supply were virtually unlimited.
As we arranged our dive and camera gear to dry after our last dive, it seemed strange that we never dealt with a rinse tank. Then again, why bother, as we'd just been diving in some of the purest freshwater to be found anywhere! Like all good adventures, we were sad to see this one come to a close, but I think we all enjoyed the wide variety of dive sites, experiences, and photo ops. Speaking for myself, I would love to do it again… bring it on!