Destination: Indonesia
Bangka Island, Indonesia | Full-board + 2 dives from $159/ppn

---
Murex Dive Resort Bangka Quick Pitch
Situated on a palm-fringed white sand beach, Murex Bangka offers a true Robinson Crusoe style experience. Drift away in a hammock while listening to the waves lapping on the shore, swim or snorkel in the crystal clear waters in front of the resort, explore the ocean by paddle-board or enjoy a sun-downer while watching the glowing sunset over the ocean.
Quick Information
No of Rooms: 16
Dive Center: On-site
Amenities: Air Conditioning, hot showers
Internet: Wi-Fi in public areas
Babysitting service: Yes
Nearest Airport: Manado Airport
Airport shuttle: Yes
How to Get There
Sam Ratulangi International Airport (also called Manado International Airport) is the nearest entry point and receives flights from all major Indonesian cities including Bali and Jakarta as well as international flights from Singapore. Murex Bangka offers airport pickups in private air-conditioned vehicles - it is around90 minutes to the local harbor and then 20 minutes by boat to the resort.
Dive Overview
Bangka is a beautiful lush island and one of Indonesia's most famous dive areas. The House Reef right in front of the Resort is amazing; snorkeling and diving there is a must!
[Read More: Manado & Bunaken Dive Travel Guide]
Check Out This Great Video!
Accommodations
Types of Rooms, Amenities and Photos

---
Murex Bangka Room Overview
Murex Bangka offers a choice of charming and comfortable, traditionally styled timber bungalows, larger duplex rooms, which have adjoining doors and are perfect for families, as well as deluxe ocean view cottages located on the hillside which offer comfortable indoor living and large verandas with built-in day beds. Rooms have en-suite hot-water bathrooms, air conditioning throughout the night, and either king-size or twin beds. Whichever room you stay in you'll be on the beach and just steps away from the crystal clear water. Accommodation is on a full board basis with buffet-style Asian, Western and Indonesian cuisine. Murex Bangka is the only resort on Bangka Island able to offer hot water, en-suite showers, and air conditioning. Power operates in the rooms from 5 pm – 7 am and additionally in the restaurant and camera room during lunchtime hours.
Room Amenities
Spacious verandah
Private open-air shower
Hotel-style rooms include indoor shower
Air conditioning (between 5 pm-7 am)
Large desks with seating
Hot water showers
Armoire
King or twin beds with mosquito nets
Complimentary drinking water
Resort Facilities

---
Murex Bangka Features
Restaurant and dining
Designated camera room with personal preparation areas, plug sockets, bright lighting, and air conditioning
Beach loungers
Beach hammocks
Massage service
Indoor and outdoor dining spaces
Flat-screen television for viewing marine life presentations and underwater videography
Stand-up paddle-boards
Beach barbecues
Free Wi-Fi available in the restaurant area but signal strength is not guaranteed due to remote location
Murex Bangka Food & Drinks
Murex Bangka offers buffet-style dining which combines a tantalizing mix of International and Asian flavors using fresh local ingredients. The team of western trained chefs is able to cater to special dietary requirements upon request. Bangka Island may be remote but the flavors delivered by the chefs are definitely not. Selection of wines and local beer are available.
Murex Bangka Activities
Diving
Snorkeling
Minahasa Highland Tour
Tangkoko National Park Tour
Tasik Oki
Minahasan Cuisine Cooking Class
North Sulawesi Mangrove Tour
North Sulawesi White Water Rafting
Massage, Pedicure, and Manicure
Packages & Rates
Murex Dive Resort Bangka Rates

---
Jump to:
Accommodation Rates: 2021 - 2022
Accommodation Rates 2021
Rates are in USD and are per adult, per night. Valid until 31 March 2022.
Cottage

Occupancy

1 – 10 Nights

11th night onwards

Ocean Front Cottage

Double/Twin

$95.00

$85.50

Single

$125.00

$112.50

Extra Bed

$80.00

$72.00

Deluxe Ocean View Cottage

Double/Twin

$115.00

$103.50

Single

$150.00

$136.70

Extra Bed

$98.00

$88.20
ACCOMMODATION RATES 2022
Rates are in USD and are per adult, per night. Valid until 31 March 2023. Contact us for Long Stay Rates (11 nights and above.)
| | | | |
| --- | --- | --- | --- |
| Accommodation | Double | Single | Extra Bed |
| Ocean Front Cottage | $100 | $140 | $80 |
| Deluxe Hillside Cottage | $120 | $160 | $98 |
Inclusions
Breakfast, lunch & dinner
Afternoon snacks
Free flow mineral water
Free flow brewed coffee & tea
Wi-Fi
Welcome drink & fruit platter
All taxes (for 2022 rates only)
Dive Rates 2021
Each diving day includes one free self-guided house-reef dive. Private guide fee is an addition to normal dive rate. Private boat services include private guide, dives are additional. Rates valid until 31 March 2022.
| | | |
| --- | --- | --- |
| Dive | 1-12 Dives | 13+ Dives |
| Guided Boat Dives per dive with Air | $50 | $45 |
| Guided Boat Dives per dive with Nitrox | $56 | $51 |
| Night Dive Surcharge | $16 | $16 |
DIVE RATES 2022
Each diving day includes one free self-guided house-reef dive. Private guide fee is an addition to normal dive rate. Private boat services include private guide, dives are additional. Rates valid until 31 March 2023.
| | |
| --- | --- |
| Dive | Rates |
| Guided Boat Dives per dive with Air | $55 |
| Guided Boat Dives per dive with Nitrox | $62 |
| Night Dive Surcharge | $16 |
Passport to Paradise Package
Passport to Paradise is a unique diving experience that allows you to explore three distinct diving destinations in one trip. You'll have 150 dive sites to choose from and with seamless boat diving transfers from resort to resort there's no gear packing, no wasted transfer days, just relax, enjoy and dive. Contact us for more details.
Transfer Rates
Transfer

Price/person

PASSPORT TO PARADISE

Incl. airport transfers, boat transfers between resorts and 2 guided AIR dives during each boat transfer

$425

MUREX MANADO & MUREX BANGKA COMBINATION

Incl. airport transfers, boat transfer between resorts and 2 guided AIR dives during boat transfer

$250

MUREX BANGKA & LEMBEH RESORT COMBINATION

Incl. airport transfers, boat transfer between resorts and 2 guided AIR dives during boat transfer

$250

MUREX MANADO & LEMBEH RESORT COMBINATION

Incl. airport transfers, boat transfer between resorts and 2 guided AIR dives during boat transfer (MINIMUM 4 PERSONS)

$250

ROUND TRIP AIRPORT - MUREX MANADO

$20

ROUND TRIP AIRPORT - MUREX BANGKA (only available during 08.00 - 16.00)

$80

OUTSIDE HOURS SURCHARGE (between 17:00 - 8:00)

$10
Can't Find the Information You Need?
Can't find the information you need? Drop us an email at bookings@bluewaterdivetravel.com or call us today at +1-310-915-6677 and let us help you plan your dream dive vacation!
Dive Information & Itineraries

---
Bangka Dive Overview
As the first operator to dive the sites around Bangka Island, Murex has been exploring the area since 1990 so you can rest assured that you will be diving with experienced and professional dive guides throughout your stay. Not only do the Dive Guides have thousands of dives experience in the region, they also undergo intensive training programs, which include marine biology and underwater photography training to ensure that you receive the best underwater experience possible. Just like you, diving is their passion.
Safety is a high priority and all Murex boats are equipped with emergency oxygen, full first aid kits, and communications devices. All staff are also trained in rescue and emergency procedures.
From arrival in the resort, you won't need to lift a bag or carry or wash your gear as the dive guides strive to anticipate your every need. Dive Guides also check the conditions each day and plan accordingly to take you to the best sites at the right time. Your diving program can be tailored to suit your needs with options for single dives, double dive trips, or full-day excursions with lunch served on the boat.
The kaleidoscopic reefs and pinnacles for which Bangka is so famous are right on your doorstep. Year-round warm water combined with good visibility makes Bangka suitable for all levels of divers and for those who enjoy something more challenging there are also some exhilarating drift diving sites. Highlights of diving in Bangka include an explosion of colorful soft corals, three species of pygmy seahorses, schooling fish, reef sharks, eagle rays, dugongs, passing pelagics, and a plethora of other critters including numerous nudibranch species, soft coral crabs, ghost pipefish and a variety of frogfish, crustacean and cephalopod species.
Murex Bangka House Reef is just a step off the beach and with a white sand bottom, colorful corals, and lots of fish it's not only a great dive site but also an excellent spot for snorkeling.
Tailor-made packages are available as are night dives, day trips to Bunaken and the Lembeh Strait, PADI courses, snorkeling, land tours, and combination packages with Murex Manado, Lembeh Resort, or take a Passport to Paradise and visit all 3.
Bangka Dive Sites
Here are some of the dive sites in Bangka. Feel free to ask us if you would like to know more about these and other dive sites.
Batu Goso (Bangka Island) - Batu Goso consists of a series of steep pinnacles rising up from the ocean just off Bangka Island. There are two drift dives in this area, starting at opposite ends of pinnacles, around and through coral-covered pinnacles with a moderate slope beneath them. As you approach the site, waves can be seen crashing against the pinnacles, sending the whitewater everywhere. The dive ranges from 5-35m and there can be a strong current present.
There is enough topography to allow divers to 'eddy out' of currents and watch the abundance of marine life around them. Highlights include: White Tip & Black Tip Sharks, Turtles & Groupers, Yellow, green and red soft corals.
Sahaung (Bangka Island) - Sahaung also consists of a series of underwater boulders and pinnacles that barely break the surface of the ocean. There are two dives in this area on separate pinnacles. These pinnacles consist of a continuously sloping bottom with several shelves as you descend. The dives range from 5 – 35 m. There can be strong currents and surge at shallower depths.
Highlights include Big table coral, often with White Tip Reef Sharks resting under them; An abundance of green and purple soft coral; and A multitude of fish including Jack, Dog Tooth Tuna, Barracuda, Red Tooth Triggerfish, and a huge school of Blue Striped Snappers.
Batu Mandi (Sulawesi Mainland) - This dive is located just opposite of Bangka Island off the northern tip of Sulawesi, off the shore of Pulisan. This dive is a series of underwater pinnacles rising from a sandy bottom. This is a shallower dive ranging from 5 to 25m. Besides the abundance of hard and soft corals and numerous reef fish, some of the highlights are: Pygmy Sea Horses; Cuttle Fish; and Giant and Warty Frog Fish.
Batu Pendeta (Sulawesi Mainland) - Located east of Batu Mandi and with vegetation similar to Sahaung. This is an advanced dive because of the strong current that can occur here and the depth of the dive. Dropping down in the blue you will have to dive straight down to 25m, where the reef starts. This site consists of several large submerged rocks with one pinnacle up out of the water, situated on a reef plateau about 15 meters deep. There is a drop-off with canyons where you can 'eddy out' of the current and observe many Sweetlips, Dogtooth Tuna, Jacks, and Sharks.
Sabora (Bangka Island) - Located just around the corner of the resort, this coral slope offers a huge variety of fish and critters. A resident school of Blue Stripe Snappers welcomes you when you go down. Between the corals lives a whole array of Nudibranchs, and your dive guide will show you several types of Pygmy Seahorses. You will spend your safety stop looking at huge sea fans scattered across the reef slope. Night dives in particular are very good here.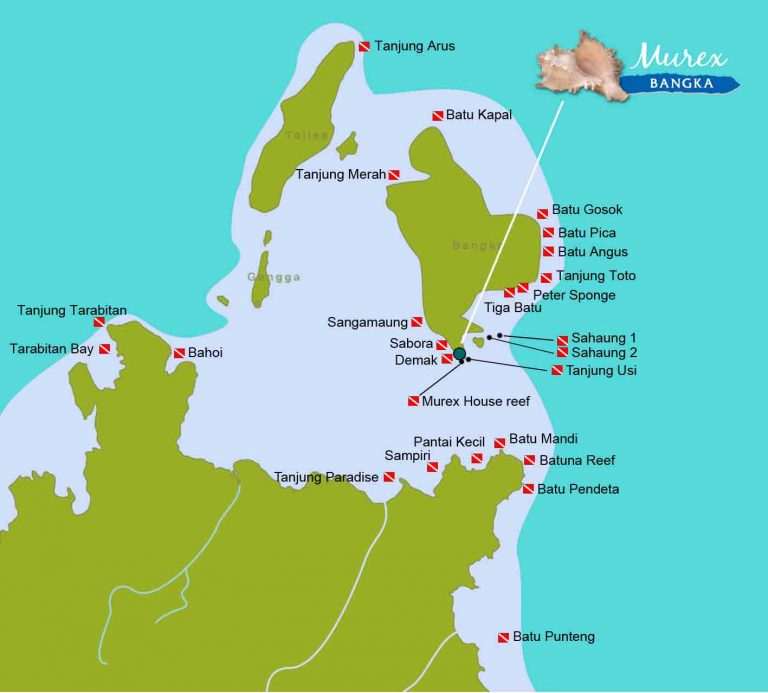 Passport to Paradise
Diving three distinct destinations in North Sulawesi (Bunaken – Bangka –Lembeh) couldn't be easier than with a Passport to Paradise. Imagine seeing all of the highlights of the area with no missed diving days and the added opportunity to dive in areas which no one else visits. Passport to Paradise is a unique diving experience and the only one of its kind in Indonesia. Are you ready?
Let us transfer you between Murex Bangka, Murex Manado & Lembeh Resort on spacious, purpose-made dive boats, all you need to think about is having a great time relaxing and diving or snorkeling along the way. By taking a Passport to Paradise, you'll explore all of North Sulawesi's hot spots and see the areas incredible underwater diversity, from the pristine walls of the Bunaken Marine Park to the kaleidoscopic colored reefs around Bangka Island and the world's highest concentration of rare and unusual critters in the Lembeh Strait.
Traveling from resort to resort is seamless and stress-free. You just get on the boat in the morning to go diving and finish up in your next destination –what could be simpler? You won't need to worry about transfers, you just carry on diving and the rest is left to us. We understand that this is your holiday and we want to make sure that it is everything you dreamed of.
You'll explore Bunaken Marine Park which is home to some of Indonesia's best wall diving sites and so many turtles that
you'll lose count, Bangka Island which offers such an explosion of color it will leave you spellbound and the Lembeh Strait which has the undisputed best muck diving in the world.
Why limit yourself to one destination when it is so easy and effortless to enjoy all three? You'll never need to carry your gear or change your tanks as our professional dive crew will do it all for you. All you need to do is explore, discover, dive, and relax!
Please note that safety is a priority and all boats are equipped with emergency oxygen, full first aid kits and communications devices. All Murex staff are regularly trained in emergency procedures.
Dive Center Information

---
Murex Bangka Dive Center Overview
Murex Bangka is a PADI facility. Murex dive center is also an Aqua Lung partner center and offers full dive equipment rentals. The equipment rinsing/drying facilities are only steps from the boat. Charging stations are powered between 5 pm and 9 am.
Diving Facilities & Services
Full dive equipment rentals.
Equipment rinsing/drying facilities only steps from the boat
Charging stations
Dive courses
The boats are spacious, covered, and all have an onboard toilet
English speaking dive crew
Other Information

---
Practical Information
Time zone: GMT+8:00
Language: English, Indonesian, Dutch, German and French
Electricity: 220V
Payment methods: Visa or MasterCard, Indonesian Rupiah, Euro or US Dollar
Underwater Gallery

---