Destination: Egypt
North Safari, South Safari, Great Island Tour & Sinai Safari (7 Nights) | From 149++/night

---
m/y amelia discovery Quick Pitch
Designed to offer the diver maximum comfort, the M/Y Amelia Discovery does not disappoint. Guests can enjoy the spacious sundecks, various entertainments systems, and luxurious accommodations as they explore some of the best diving in the world. Managed by the Discovery Divers, the M/Y Amelia Discovery offers guests an unforgettable experience with unique itineraries designed by a team of experienced professionals.
You may also want to check out the sister vessel M/Y Samira Discovery.
Location
M/Y Amelia Discovery operates from Port Ghalib and offers guests free transfers from/to the Hurghada International Airport (HRG) or Marsa Alam International Airport (RMF) on Saturdays, the first and last days of the trip.
Dive Overview
See Red Sea marine life, including a stunning variety of soft corals. Divers experience pristine visibility and fantastic personalized service.
[See: Red Sea Dive Travel Guide]
Accommodations
Types of Cabins, Amenities and Photos

---
m/y Amelia Discovery Accommodation Details
The M/Y Amelia Discovery can comfortably accommodate up to 20 guests in 10 double cabins. Six of the cabins are located on the lower deck and are configured with side-by-side beds. The remaining 4 cabins are located on the higher deck; 2 of which contain side-by-side beds with the other containing 2 double beds. All cabins are fully airconditioned and come complete with an en-suite bathroom.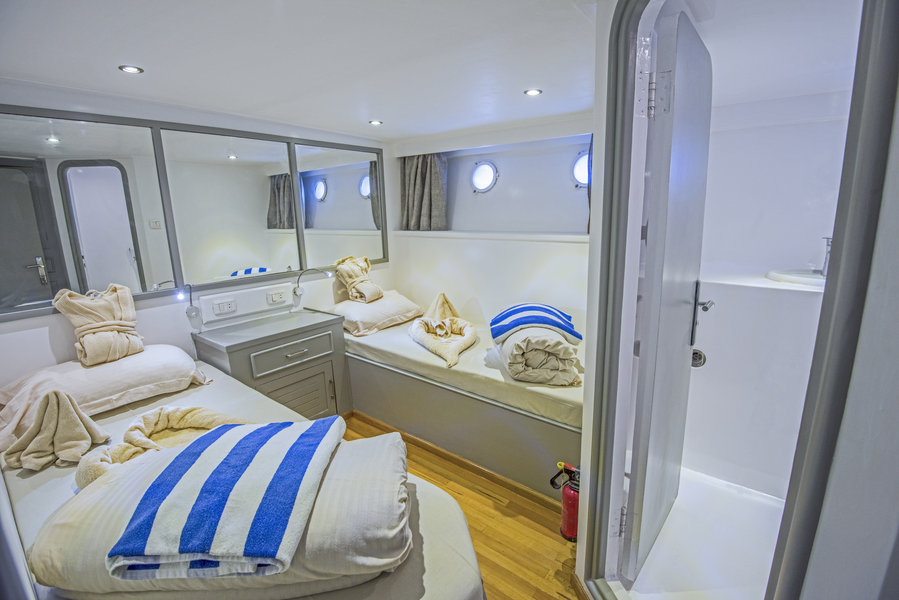 General Facilities

---




M/Y AMELIA DISCOVERY Boat Features
Spacious sun deck
Leisure deck
Observation deck
Spacious indoor salon
Outdoor dining area
BBQ Area
Audio and video entertainment
Library
Bar
Outside showers
Camera Station
Camera room with table and charging point
Food & Drinks Aboard M/Y AMELIA DISCOVERY
All meals are provided by the Discovery staff and served buffet-style. Guests can choose among a variety of Western and local cuisine, with vegetarian options. Snacks are available all day, and the soft drinks are served free of charge, For guests who want something a little stronger, beer is also available as well as a selection of fine wines.
SCHEDULE, RATES & AVAILABILITY

---
Prices are in USD, per person. Port and park fees are not included.
RATES & AVAILABILITY
For more information on other departure dates, rates, and on availability email us at bookings@bluewaterdivetravel.com or call us at +1-310-915-6677 and we will gladly help you plan your dream dive vacation!
Dive Information & Destinations

---
Red Sea Dive Overview
Hammerheads, Dolphin, Soft Corals, abundant reef fish life
All dives from 2 skiffs that carry 10 divers each for quick access
Water temperature: 74 - 84F, 23 - 29C
5 dives per day, night diving when available
3mm wetsuit recommended in the summer and 5mm wetsuit in the winter
Northern Itinerary (Brothers & Deadalus Islands): Up to 22 dives Southern Itinerary: Up to 25 dives
north safari
This Red Sea diving safari offers a mixed itinerary of wreck diving and reef diving. You will visit the most impressive wrecks in the Northern Red Sea, as well as stunning reef diving.
This cruise has something for everyone. Starting from Hurghada and sailing north gives a perfect combination of reef diving and wreck diving. The famous horseshoe-shaped reef of Shaab El Erg is a perfect example of the reefs on offer on this cruise with its beautiful hard coral garden and the chance to see dolphins. Abu Nuhas has four well-known wrecks: Giannis D, Carnatic, the lentil wreck, and the tile wreck, all offering spectacular dives and plenty of fish life.
Night dives can be superb in this area Gubal Island offers protected anchoring for the night. A small wreck at 8-10 meters makes for a spectacular night dive with lionfish, scorpionfish, and its resident giant moray eel.
Here are some of the dive sites included in this itinerary:
Dunraven: The wreck of this 72 m long English steamer lies at the southern point of Shaab Mahmoud, amongst the series of shallow reefs and lagoons. Sunk in 1876 on its way from Bombay to England carrying a cargo of spices and timber, her hull lies upside down at a maximum depth of 29m. Completely covered in corals, the wreck has become home to a wide variety of marine life including glass fish, morays, groupers, goatfish, and napoleon.
Sha'ab Abu Nuhas: This great reef, also known as the "ships graveyard", emerges two miles to the north of Shedwan Island at the mouth of the Strait of Gobal. On the seabed of the surrounding area lie no fewer than seven sunken ships from different eras. It is often only possible to dive the wrecks from a zodiac due to the heavy sea swells. On the sheltered south side of the reef are two beautiful ergs known as Yellow Fish Reef. These make an excellent night dive.
Giannis D: This large Greek freighter hit the reef in1983 and slowly sank over six weeks. The wreck is split into two sections, lying at a maximum depth of 28 meters. The stern section is the most impressive because it can be entered through the many entry and exit points, although it can be disorientating due to the angle at which the wreck lies. The engine room is full of glassfish, and it is possible to observe all sorts of fish swimming by snappers, jacks, eagle rays, and sharks.
Carnatic: The Carnatic was a splendid 90-meter long sail and engine steamer launched by P&O in 1862. Carrying a cargo of wine and "London soda water" in distinctive oval bottles, it was sailing the Indies route with a destination of Bombay. It struck the reef in 1869 and remained aground a number of hours before sinking. She lies on one side with the stern at 24 meters and the bow at 16 meters. The decking of the hull has fallen away exposing blackened support structures that are now draped in hard and soft corals. The very photogenic wreck is now home to a number of morays, large grouper, and octopus.
Rosalie Moller: This dive should only be done by more experienced divers due to the strong currents, the greater depth she lies at, and the often reduced visibility. Sunk just two days after the Thistlegorm by German bombers, she was carrying coal to Alexandria. The wreck is in excellent condition and is now covered with magnificent hard and soft corals, and is the home to a multitude of fish. This 108-meter long vessel lies upright at a bottom depth of 50 meters (keel) and 39 meters (bow) with the top of the mast rising to 17 meters. This wreck can only be dived in favorable weather conditions.
Shaab Umm Usk: This large horseshoe-shaped reef forms a shallow lagoon where you will sometimes find a pod of playful bottlenose dolphins. At either point, you will find good shallow diving on coral gardens, and further around the southern reef exterior, you will find a steep wall sloping down to 40+m.
south safari
This cruise starts with a short sail to Ras Shona and Marsa Mubarak which are situated close to the Port of Marsa Ghalib and perfect for that first check dive.
Marsa Mubarak offers an underwater experience of marine life such as crocodile fish, stonefish moral eels, and maybe a passing turtle.
You can often find some of the smaller coral reef fish hiding in the hard coral formations.
Here are some of the dive sites included in this itinerary:
Another part of these seven reefs is Shaab Naba, a popular overnight location due to the close proximity to Elphinstone Reef. It offers a fabulous night dive and you are sure to see some lionfish.
At Fury Shoals, dive Shaab Claude with its famous cave system which makes an excellent swim-through dive, perfect for spotting moray eels and red sea bannerfish. There are huge porite corals and moving off the reef you may see a White Tip Reef shark or turtle pass by. Abu Galawa Soraya has a fantastic coral garden and on one dive you may encounter a wreck of a private sailing boat, packed with glassfish.
Wadi Gamal, with its flowing banks of hard yellow and green soft coral, has resident angel and butterflyfish, and in the right season, huge schools of placid jack and tuna visit the area.
Further north, you will pass by Shaab Sharm, with its wall dives and White Tip Reef sharks. Oceanic White Tips and Silky Sharks can sometimes be found in the blue and turtles often visit the Southside.
Samadai (Dolphin House) is a shallow turquoise water lagoon where a large pod of spinner dolphins live. In 2004, the Egyptian government made this reef a Marine Park to protect the dolphins. The western tip provides a large group of pinnacles rising to the surface from a carpet of seagrass, populated by schools of reef fish.
Elphinstone Reef has sheer walls plunging steeply into the blue, decorated with soft corals, sponges gorgonians, and fans. Sharks feed here on the abundant fish population and the southern plateau is home to white-tip reef sharks.
great island tour
The Brother Islands are the pinnacles of two undersea mountains rising from the depths of the abyss and are located about 60 miles offshore. Part of the Marine Park Islands National Park, these islands offer stunning wall diving, with the walls being covered in soft corals and forests of gorgonians, creating a kaleidoscope of ever-changing colors. They attract a diverse array of marine species and large pelagics. Large tuna, Jacks, and Snappers cruise in the blue, accompanied by occasional Hammerheads, Silvertips, Silky and Oceanic White Tip Sharks, and Mantas. Even the rare Thresher Shark can be found here. Sightings of the Grey Reef Shark are almost guaranteed on the North and South Plateaux of Small Brother.
For the wreck diver, the wrecks of the Aida II, an Egyptian supply vessel, and the Numidia, a cargo ship, lie on the walls of the Big Brother. Both are covered in a rich growth of soft and hard corals. Marine life includes a family of Napoleon Wrasse and Grey Reef Sharks.
Daedalus Reef, part of the Marine Park, is a large, oval reef with a lighthouse and is the furthest offshore reef in the Egyptian Red Sea. Its deep walls and drop-offs offer some of the most spectacular diving in the Red Sea. Daedalus has mountainous, pristine, hard coral formations. There is also a strong chance of spotting schooling Hammerheads, Grey Reef Sharks, and Oceanic White Tip Sharks.
Further south are the spectacular overhangs and deep walls of Rocky Island and the abundance of soft coral and spectacular coral pinnacles at Zabargad. St John's is a beautiful reef system which lies approx. 40km north of the Sudanese border and 20km South of Zabargad.
St Johns is a vast collection of small reefs offering some of the most remote and rewarding diving in the Red Sea. Habili Ali offers giant gorgonians and black corals whilst Grey Reef, Silvertip, and schools of Hammerhead sharks might be found on the west side. Habili Gafaar is a mass of soft corals teaming with shoals of Snappers, Butterfly Fish, and Barracudas. Mantas, Oceanic White Tip, Grey Reef, and Silvertip Sharks can be seen in the blue. Gota Kebir is a massive reef, famous for its tunnels and the south plateau where Jacks and Barracudas can be seen and the occasional manta. The tunnels are ideal for novice cave divers.
Gota Soraya is rated as possibly one of the best wall dives in the Red Sea, with overhangs and cracks in the reef wall full of GlassFish and Sweepers and an abundance of corals, Grey Reef, Silvertip, Oceanic White Tip, and Hammerheads.
At Fury Shoal, dive Shaab Claude and its famous swim-throughs and huge porite corals. White Tip Reef sharks and an anemone and clownfish settlement can be seen a little off the reef to the South. Abu Galawa Soraya has a fantastic coral garden and a wreck of a private sailing boat packed with glassfish.
Wadi Gamal, with its flowing banks of hard yellow and green soft coral, resident angel and butterflyfish, and in the right season huge schools of placid jack and tuna visit the area.
Further north, you will pass by Shab Sharm, with its wall dives and White Tip Reef Sharks. Oceanic White Tips and Silky Sharks can sometimes be found in the blue and turtles often visit the Southside.
Elphinstone Reef has sheer walls plunging steeply into the blue, decorated with soft corals, sponges gorgonians, and fans. Sharks feed here on the abundant fish population and the southern plateau is home to Oceanic White Tip sharks.
sinai safari (North and Straights of Tiran)
Enjoy the excitement of diving the Southern tip of the Sinai and savor the backdrop of a mountainous desert landscape whilst discovering the hidden magical beauty beneath the waves where nature, by contrast, has provided a spectacular display of colorful coral reefs and an array of tropical fish life.
Here are some of the dive sites included in this itinerary:
Jackson Reef: Most northerly of the reefs of Tiran and the northern limit of day boats from Sharm El Sheikh. The wreck of the "Lara" lies at the northern end. There is superb wall diving along its entire perimeter, with numerous buttresses and gullies. Sightings of sharks, turtles, and other big fish are not uncommon and you will find a huge diversity of different corals and sponges as well as clouds of triggerfish, masked puffers, and bannerfish. At this point, you may be lucky and spot a Hammerhead in summer.
Thomas Reef: Between Gordon and Woodhouse reefs lies a smaller round reef with walls plunging deep and fully covered with soft coral, gorgonians, and colorful fish life. It is almost possible to circumnavigate this reef in one dive. The east wall plunges dramatically to great depths with a mass of brightly colored soft corals. The west wall is darker with overhangs and caves but is a great drift dive with sightings of Trevally and Tuna in the blue and schooling reef fish close to the reef.
Ras Nasrani: This site can be accessed by four-wheel-drive vehicles as well as boats. The reef drops from the shallow bays to a wall down to 60m+ with many caves and overhangs. The best diving is among the big coral heads (or ergs) in the shallow areas. A good spot for Spanish dancers and cone shells in the sandy gullies.
White Knight: The reef wall drops away to a sandy plateau at about 13m, at the center is a gully with swim-throughs at 10m and 35m. There is an eel garden to the north. This sheltered site is home to triggerfish, groupers, and the occasional manta.
The Gardens: Really three "gardens" near, middle, and far. The most seaward of the gardens (far), is a colorful fringing reef with a slope to 25m and dotted with small "ergs" At the top of the drop off there is a few pinnacle frequently visited by pelagics. Glass fish caves are in the reef wall at 12m. "Near" garden is just a few minutes from Naama Bay and is a great spot for a night dive with a sandy ledge sloping away to 25m. Look out for flashlight fish at night and napoleons, blue-spotted stingrays, and the odd grey reef shark in daylight hours.
Pinkys Wall: The wall here seems bottomless, drift dive along the reef which is richly covered in soft corals. To the south is a sandy slope from where richly covered coral heads emerge before becoming a shear bottomless wall once again.
Paradise: Northern side of Ras Umm Sidd wall, fully decorated ergs rise from a gentle slope, home to schools of glassfish against a colorful background of soft corals.
Ras Umm Sidd: The south side of the headland offers a superb gorgonian forest on the drop-off. The plateau is bursting with life and swarms of reef fish. The possibility of spotting whale sharks or manta exists at the corner.
Ras Mohammed: Really several dive sites Ras Mohammed has earned itself a reputation as one of the top dive sites in the world, here at the tip of the Sinai where the vast bodies of water the Gulf of Suez and the Gulf of Aqaba meet has created an ecosystem like no other and wall diving at its very best.
Jackfish Alley: The white patch on the cliff is a good marker for this site, usually done as a drift dive there are some interesting caves at 5m usually full of glassfish. As you move south you find two ergs again covered with glassfish, this is a great spot for photographers. Further south is a coral garden and the sandy gulley, which gives this, sites its name. Stingrays can be found resting in the sand as well as white tip sharks. In late summer beware of Titan triggerfish guarding their nests.
Shark Observatory: The site is not aptly named as it is not noted for its shark sightings, however, it is a fantastic dive. Beneath the towering cliffs that continue below the surface to disappear into the deep abyss, the wall is covered with soft coral and honeycombed with numerous gullies and canyons that are home to hoards of glassfish and hatchet fish herded by red mouth grouper. An overhang, fringed with sea fans at 10m, is a great place to watch the Trevallies, Jacks, and Turtles passing in the blue. At the southern end, Anemone city is worth a visit.
[See: Red Sea Dive Travel Guide]
Other Information

---
Boat Specifications
Year built: 2005, completely refitted 2011 and 2017
Length: 32m
Beam: 7.5m
Water: 10T freshwater plus 4T per day desalination unit
Engines: 2 x 500 HP MAN
Generators: 1x110kw, 1x60kw
Compressors: 2 x Bauer Mariner 200 lt/min
Tanks: 25 x 12L aluminum tanks
Zodiacs: 2 x 5.25 m zodiacs with 40 HP outboard engines
Nitrox: Nitrox membrane filling system
Communication: VHF Radio, DSC (area I and II), Satellite EPIRB
Navigation Equipment: Radar, GPS, echo sounder, and compass
Passengers: 20
Number of cabins: 10
Practical Information
Time Zone: GMT+2
Local Currency: EGP (Egyptian Pound)
Languages Spoken: Arabic, English
Electricity: 220V
Payment Onboard: Cash (Euro, Dollar, English Pound, Egyptian Pound)
Underwater Gallery

---
Coming Soon!