Destination: Galapagos
Galapagos Islands (7-14 Nights) | From $656++/night

---
Nortada Quick Pitch
Built in France by Naval Builder Guy Couach, Nortada is a completely rebuilt and refit private live-aboard charter boat for small groups of up to 8 divers. The boat started operations as a scuba diving live-aboard vessel for private charters in the Galapagos Islands in February 2015.
Dive Overview
The Galapagos Islands are an epic destination for divers in search of big animals like hammerheads and other sharks, mantas, turtles and sea lions. There's also prolific schooling fish and endemic species like marine iguanas, giant tortoises, flightless cormorants and penguins, all in an isolated and unique environment.
[See: Galapagos Dive Travel Guide]
Accommodations
Types of Cabins, Amenities and Photos

---
Nortada Cabin Overview
Nortada offers four lower deck, fully air-conditioned cabins with two single lower berths, private heads, lockers, and drawers. The boat also features an extended occupancy option of up to 12 people. The additional guests can be accommodated in the four full-size upper berths available in every one of the four cabins.
General Facilities

---
Nortada Boat Features
Flybridge
Dive platform with ample benches, outside showers, camera tables, and rebreather rinsing facilities
Air-conditioned dining Room and lounge
Sundeck
Galley
Nortada Dive Facilities
Dive platform with ample benches, outside showers, camera tables, and rebreather rinsing facilities
Two 15 foot inflatable tenders with 25HP outboard engines takes fully equipped divers to and from the dive site
All divers are provided with a Nautilus Lifeline bi-directional VHF/DSC marine radio with GPS, dive alert and DSMB
A complete toolkit and a selection of solid lead weights and trim soft pouches available for all divers
20 Nitrox compatible aluminum 80 cu ft / 12-liter cylinders filled by one of the twin Nuvair LP/HP Compressors
Two Nuvair nitrox analyzers available on board
Nortada Liveaboard Deck Plan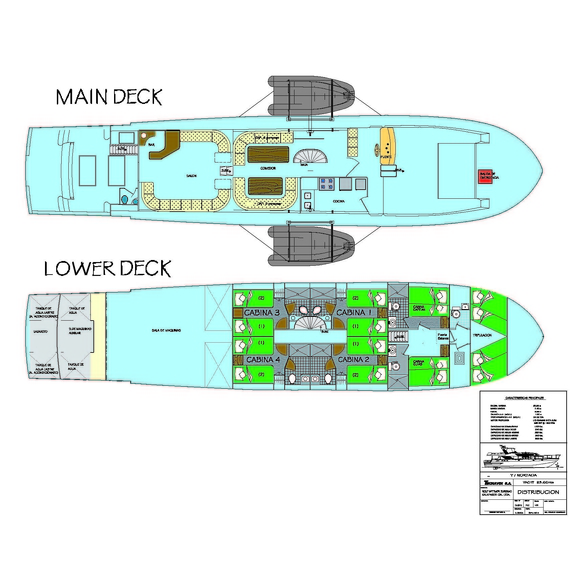 Schedule, Rates & Availability
Nortada Schedule & Rates

---
RATES & AVAILABILITY
For more information on other departure dates, rates, and on availability email us at info@bluewaterdivetravel.com or call us at +1-310-915-6677 and we will gladly help you plan your dream dive vacation!
Dive Information & Itineraries

---
Itinerary Overview
The revised itinerary of Nortada offers the ability to do at least 20 dives per week. It features the world-famous Wolf and Darwin, plus the exciting addition of the top three dive sites in the north-west region of the archipelago. Isabela and Fernandina dive sites are where Flightless Cormorants, Galapagos Penguins, Marine Iguanas, and several other endemic species, along with Manta Rays, Mola-Mola and different types of Baleen Whales, are usually sighted.
Standard 8 Day / 7 Night Wolf and Darwin Itinerary
Friday: Santa Cruz area
AM: Meeting at Puerto Ayora Pier
PM: Check dive in Puerto Ayora
Saturday: Baltra and Santiago area AM: Baltra N/E or
Punta Carrion (SC)
PM: Cousin Rock (SC)
Sunday: Wolf Island
AM: Shark Bay / Landslide (SC)
PM: La Ventana Islet / La Banana (SC)
Monday: Darwin Island
AM: Darwin's Arch / El Arenal (SC)
PM: Darwin's Arch / El Arenal (SC)
Tuesday: Wolf Island
AM: Shark Bay / Landslide (SC)
PM: La Ventana Islet / La Banana (SC)
Wednesday: West Isabela area
AM: Pta. Vicente Roca (SC/SN/PR)
PM: Cape Douglas (SC)
Thursday: East Isabela area
AM: Cape Marshall / Manta Ray City (SC) or Roca Blanca (SC)
Friday: Santa Cruz & Baltra area
AM: Charles Darwin Research Station (CA)
PM: Departure
*SC (Scuba Diving), SN (Snorkeling),
PR (Panga Ride), CA (Walking – Land Visit)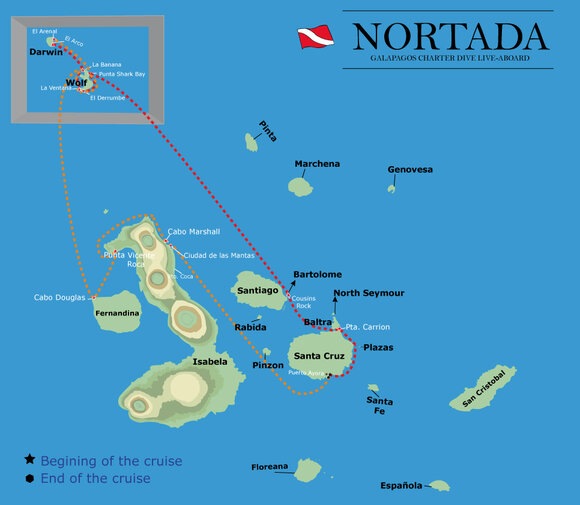 Other Information

---
Boat Specifications
Year built: 2008
Year renovated: 2014
Length: 85 feet / 25.9 mts
Beam: 18 feet / 5.4 mts
Draft: 5 feet / 1.5 mts
Cruising Speed: 12 knots
Engines: Twin CUMMINS 6CTA8.3-M 255 HP main engines
Compressors: twin Nuvair LP/HP Compressors
Maximum guests: 8-12
Number of cabins: 4
Tenders: 2 15 feet Nautica Inflatable boats with 25 HP four stroke outboard engines
Practical Information
Time Zone: UTC-6
Local Currency: USD (US Dollar)
Language Spoken: Spanish & English
Electricity: 110-120V
Payment Onboard: Cash, Visa, MasterCard, Traveller Checks
Underwater Gallery

---