Destination: Micronesia
Truk Lagoon & Bikini Atoll (7-14 Nights) | From $360++/night

---
pacific Master liveaboard Quick Pitch
The Pacific Master, formerly the Solomons PNG Master, is a custom-designed liveaboard yacht that can accommodate up to 20 guests in its 12 spacious and comfortable cabins. This steel yacht was designed with the diver in mind to ensure only the best holiday diving experiences on Truk Lagoon dive safaris.
Location
For Truk Lagoon trips, The Truk Master embarks and disembarks at Chuuk International Airport on Weno Island, while for Bikini Atoll trips the ship departs from Kwajalein/Ebeye Island, Marshall Islands.
Dive Overview
Truk is famous for its world-class wreck diving with over 60 wrecks compressed into a coral reef lagoon. Most wrecks are covered with soft coral which makes the dives amazing. The beautiful colorful corals attract a variety of tropical fish to the dive sites. The diving conditions are generally great all year round with warm waters, good visibility, and low currents.
[See: Truk Dive Travel Guide]
Accommodations
Types of Cabins, Amenities and Photos

---
pacific Master Cabin Overview
There are 12 cabins accommodating 20 divers. Guests may choose between the Premium Double Cabin, the Classic Twin/Double Cabin, The Classic Twin Cabin, the Standard Twin Cabin, and the Standard Single Cabin. All cabins are fully air-conditioned and come with an ensuite bathroom complete with bathrobes and extra towels.
General Facilities

---
Pacific Master Boat Features
Indoor lounge
Plasma screen
Library & music
Indoor dining area
Personal item storage
Camera table
Charging station
Upper deck outdoor shaded area
Sundeck (un-shaded)
Cushioned loungers
pacific Master Dive Facilities
Dive deck with toilets, freshwater showers & freshwater rinse bins for equipment
Each station has ample storage for your equipment above and below your station
Two ladders access the dive platform to provide easy access to and from the water
Scuba equipment rental: Aqualung/ScubaPro
Tech diving friendly
Re-breather friendly
Food & Drinks Aboard pacific Master
All-inclusive western & local food served in buffet style. A selection of wines and beer are available.
Full board: 3 meals plus snacks
Fresh coffee: Free
Black & herbal teas: free
Carbonated soft drinks: From $2
Fruit juices: Free
Beer: From $5
Wines & spirits: Prices vary
pacific Master Deck Plan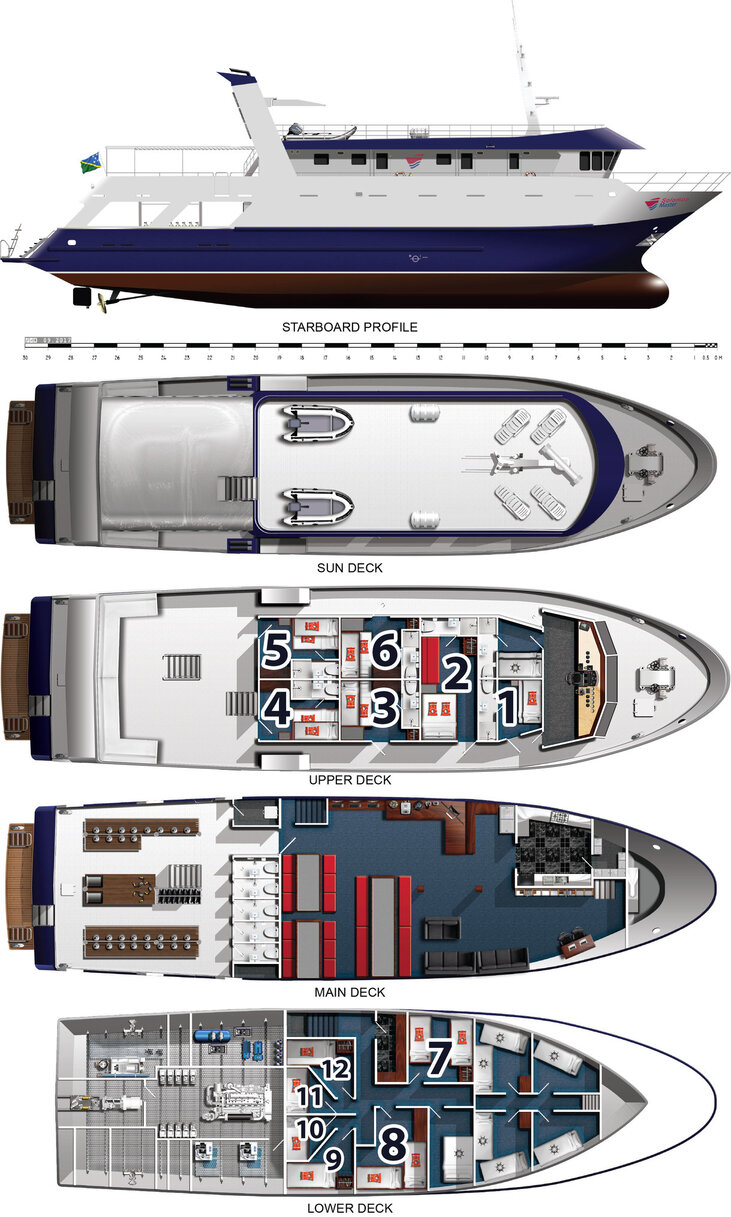 Schedule, Rates & Availability
Pacific Master Schedule & Rates

---
Prices are in USD, per person and do not include park and port fees, and taxes.
[See also: Inclusions & Exclusions]
Inclusions
Accommodation, based on 2 sharing, including towels, linen, a/c, and en-suite bathroom.
Full board basis including 3 meals and snacks, drinking water, tea, and coffee
Diving and dive guides
Deck Towels
Land excursions
Transfer to/from the airport
Exclusions
International and domestic flights
Alcoholic beverages beer, wine, and spirits are available
Travel and dive insurance (compulsory)
Scuba equipment rental
Nitrox fills up to 32%
Mandatory: Applicable Port & Park fees and Taxes
RATES & AVAILABILITY
For more information on other departure dates, rates, and on availability email us at info@bluewaterdivetravel.com or call us at +1-310-915-6677 and we will gladly help you plan your dream dive vacation!
Dive Information & Itineraries

---
Truk Lagoon Itinerary (7 & 10 Nights)
Truk is best known for its world-class wreck diving and with over 60 wrecks, from supply vessels (Maru) to planes and a submarine, tightly packed into a coral reef lagoon. It is easy to appreciate why divers travel to this area time and time again. During WWII, the Japanese fleet used Truk as one of their main staging points for attacks on the allied forces but in 1944 the American-led "Operation Hailstone" surprised the fleet resulting in the plethora of dive sites which we can see there today. There are many excellent coral pinnacles and deep channels with schooling pelagics too!
On a typical day, they offer up to 4 day dives, however, the 4th day dive may be substituted for a night dive when the boat is anchored within the lagoon. A 7-night itinerary provides for between 18-20 dives, whilst during the 10-night itineraries, up to 30 dives will be possible.
The diving day aboard the Truk Master is scheduled as follows:
> Light Breakfast followed by a briefing and Dive 1
> Full Breakfast, relaxation period, briefing and Dive 2
> Lunch, relaxation period, briefing, and Dive 3
> Snack relaxation period, briefing, and Dive 4, where possible.
> Dinner
Bikini, Republic of the Marshall Islands Itinerary
Bikini Atoll is part of the Republic of the Marshall Islands, which covers nearly 1 million square miles of idyllic emerald-green coral atolls, surrounded by the crystal-blue waters of the Pacific. A one of a kind diving paradise, as it features not only beautiful reefs, corals, and wonderful marine life. Above all, it is the final resting place for some of the most significant warships in history. Bikini Lagoon is the first UNESCO World Heritage site for the Marshall archipelago and is undisputedly ranked first on any serious wreck divers' bucket list. This is well justified; nowhere else on earth will you be able to dive into such a unique collection of historic battleships, cruisers, as well as the world-famous USS Saratoga aircraft carrier with its 270m (888ft.) flight deck.
As most wrecks at Bikini Atoll are beyond recreational depth limits, this itinerary is recommended only for technical divers with previous wreck experience. Your Cruise Director will schedule min. 2 dives per day. The diving day has a typical schedule as follows:
> Breakfast followed by a briefing & Dive 1
> Lunch, relaxation followed by briefing & Dive 2
> Snack, relaxation,
> Dinner
Other Information

---
BOAT SPECIFICATIONS
Built: 2004
Length: 30 meters
Breadth: 8 metres
Draft: 3 meters
Construction material: Steel
Engines: 1800 HP MTU; 2000 vl2 engine
Cruising speed: 11 knots
Generators: 2 x 150kw
Water storage: 30 liters
Cabins: 12
Number of guests: 20
Number of crew: 13 (including dive team, skipper, boat crew, and chefs)
PRACTICAL INFORMATION
Time Zone: UTC+10 (PNG) & UTC+11 (Solomons)
Local Currency: PGK (Papua New Guinean Kina) & SBD (Solomon Islands Dollar)
Language Spoken: English
Payment Onboard: Cash (USD or AUD), Visa and Master card
Underwater Gallery

---