Philippine siren, Philippines
Liveaboard Trips to Malapascua, The Visayas, Tubbataha (6-13 Nights) | From $420++/night

---
The Philippine Siren is a beautiful 40-meter (131-foot) Phinisi-style liveaboard yacht with great itineraries covering Philippines' top diving spots in the Visayas and Tubbataha Reefs Natural Park. The boat features spacious and modern cabins, plenty of space on the main deck with dedicated areas to store and share underwater photography equipment, and exceptional chef-prepared meals.
Location
Departures from Cebu (Mactan), Puerto Princessa, or Moalboal.
Dive Overview
Diving the Philippines means access to a wide assortment of marine environments, such as coastal reefs and steep walls and pinnacles. The S/Y Philippine Siren places divers amongst beautiful corals and a plethora of wildlife. Whale sharks frequent many of the dive sites.
Some of the highlights for the Visayas & Malapascua itineraries are hard and soft coral formations, muck diving, whale sharks in Oslob, thresher sharks in Malapascua and the famous sardine run in Moalboal. While the vibrant hard corals growing on pinnacles and steep walls, and frequent sightings of reef sharks, rays and whale sharks are present for the Tubbataha itineraries.
[See: Cebu & Bohol Dive Travel Guide, Malapascua Dive Travel Guide, & Tubbataha Dive Travel Guide]
Check Out This Awesome Video!
Accommodations
Types of Cabins, Amenities and Photos

---
S/Y Philippine Siren Cabin Details
The Philippine Siren has 8 staterooms that accommodate up to 16 divers. There are two types of cabins: Double Master Cabins and Twin Master Cabins.
S/Y Philippine Siren Cabin Amenities
Individual aircon control
Personal audio/video system
Ensuite bathroom with hot water
Overhead reading lights
Lockable safety box
Cupboards for personal items
Bath & hand towels, Bathrobe, Shower gel
General Facilities

---
S/Y Philippine Siren Boat Features
Aircon lounge/cocktail bar
Comfortable lounge sofas
42″ Flatscreen TV
Library of movies, books & games
Covered outdoor dining
All meals served buffet style
Self-service drinks & snacks
Sundeck (8 cushioned loungers)
2 high powered RIBs
Laundry service
Massage (available 3 hours/day)
Yacht boutique (Equipment/Merchandise)
Kayak usage (Free of charge except for arrival/departure days)
S/Y Philippine Siren Dive Facilities
Shaded dive deck
Individual dive stations
Personal storage drawers
12l Alu-Tanks, weights & belt
SMB (Safety Sausages) (Free of charge for the duration of the trip)
Numbered Towel – Diving/Deck use
Diving courses (charges apply)
Food & Drinks Aboard S/Y Philippine Siren
Each meal is served buffet style in the rear deck dining area. Hot breakfast and eggs cooked to order start the day, lunches offer at least 2 choices of chicken, fish or red meat with salads and vegetable accompaniment. Evening meals consist of 3 courses: soup, entree, dessert. A choice of 2-3 entrees and a selection of side dishes are available with some evenings following a theme, to include Filipino specialties.
Each trip offers a freshly prepared BBQ. Fresh fruit, snacks, and cookies are available throughout the day. A wide selection of carbonated soft drinks (coke, coke light, sprite, tonic, soda) and fruit juices are available. Freshly brewed coffee, black and herbal teas and hot chocolate are also available free of charge. Wines and spirits are also available and additional charges apply.
S/Y Philippine Siren Deck Plan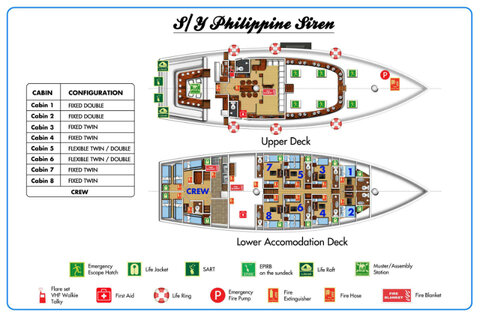 SCHEDULE, RATES & AVAILABILITY
S/Y Philippine Siren Schedule & Rates

---
Prices are in USD, per person and do not include park and port fees, and taxes.
See also: Inclusions & Exclusions
Inclusions
Local transfers from/to the airport
Meals & drinks
Exclusions
International & domestic flights
Torch and dive computer rental (6 USD/ day)
Mandatory: Marine park and port fees & taxes (prices vary)
Important note
Optional extras, Marine Park, Port fees and taxes payable on board the S/Y Philippine Siren are priced in USD. They accept cash payment in USD, Euro, GBP, AAU$ or Philippine Peso (PhP) as well as all major credit cards (excepting Amex). All credit card transactions will be billed in Philippine Peso dependent on the exchange rate at the time of your trip and an admin fee of 3% will be applied.
RATES & AVAILABILITY
For more information on rates and availability email us at info@bluewaterdivetravel.com or call us at +1-310-915-6677 and we will gladly help you plan your dream dive vacation!
Dive Information & Itineraries

---
Malapascua (June – February, 10 & 12 Nights)
Combine all the favorites from the Southern Visayas itinerary with a 2-day extension in Malapascua Island for thresher sharks, wrecks and more! 10-night and 12-night trips start in Mactan and culminate in Malapascua or vice versa. When divers think of Malapascua they immediately think about thresher sharks and with almost guaranteed daily sightings on Monad Shoal, it's not surprising. But there is more to Malapascua than just the threshers, especially when it's combined with the rest that the Visayas has to offer.
MONAD SHOAL, MALAPASCUA ISLAND - Is one of the few dive spots in the World where the shy pelagic thresher sharks may be seen on a daily basis. Divers rest at approximately 25m (90ft) on the sandy bottom to watch the sharks approach and be cleaned. Other visitors to the shoal include manta, devil and eagle rays. Diving with Nitrox is recommended to enjoy extended bottom time.
WHITE TIP ALLEY, GATO ISLAND - As the name suggests provides an almost guaranteed sighting of white tip reef sharks that enjoy their rest on the sand tucked under rocks and coral bommies. Other species found here include scorpion fish and seahorses. Pygmy seahorses may also be found too as well as whip coral shrimps which cling to the colorful whip corals adorning the overhangs of the island."
DONA MARILYN, MALAPASCUA WRECKS - Lying on her starboard side at a depth of 32m (110ft) this 100m (300ft) long passenger ferry is now a haven for marble and blue spotted stingrays and home to schools of sweetlips. Covered with corals and the remains of fishing nets she gives an eerie vibe to divers – not least because of the many people who lost their lives during her sinking more than 20 years ago. Guarding the wreckage is a resident giant moray eel and also commonly seen are large scorpionfish, lionfish and cuttlefish. Minimum depth 18m (60ft)
Visayas (June – February, 6 & 10 Nights)
The Visayas region is home to some of the best diving in the Philippines, with its nutrient-rich water supporting a variety of eco-systems & a wide diversity of marine life. Sites range from steep coral covered walls to gentle sloping reefs and muck diving hotspots. During the tour, we visit and dive the islands of Cebu, Cabilao, Panglao, Balicasag and Pescador. Along with Apo Island marine sanctuary and critter hot spot Dauin. Your Cruise Director will schedule up to 4 dives per day; 3 day dives and either a sunset or a night dive. A typical diving day is scheduled as follows:
Light Breakfast followed by a briefing & Dive 1
Full Breakfast, relaxation followed by briefing & Dive 2
Lunch, relaxation followed by briefing & Dive 3
Snack
Briefing for Sunset or Night dive (no Night dives: strong currents)
Dinner
Tubbataha (February – June, 6 & 13 Nights)
The reefs of Tubbataha consist of vertical walls or near drop off's rising out of great depths where hammerheads, thresher sharks and whale sharks can be seen. The shallow reef tops are teeming with colorful reef fish whilst at many dive sites stingrays, spiny lobsters, immature manta rays and turtles are found. Your Cruise Director will schedule up to 4 dives per day; 3 day dives and either a sunset or a night dive. A typical diving day is scheduled as follows:
Light Breakfast followed by a briefing & Dive 1
Full Breakfast, relaxation followed by briefing & Dive 2
Lunch, relaxation followed by briefing & Dive 3
Snack
Briefing for Sunset or Night dive (no night dives in Tubbataha: due to strong currents!)
Dinner
Watch this awesome video to learn more about Tubbataha
Other Information

---
Boat Specifications
Built: 2013
Length: 40 meters
Breadth: 9.7 meters
Draft: 3 meters
Construction Material: Ironwood
Engines: Marinized Nissan RH-10, Mitsubishi 6D-22
Max Speed: 10 knots
Generators: 3 x Yanmar
Water Storage: 16 tonnes
Practical Information
Time Zone: GMT+8
Local Currency: PHP (Philippine Peso)
Language Spoken: English and Tagalog
Electricity: 220v or 110v
Payment Onboard: Cash & credit card
Underwater Gallery

---