Destination: Palau
Ngerkebesang Meyuns, Koror, 96940, Palau | Room + breakfast only + 2 dives from $191++/ppn

---
Rose Garden Resort Quick Pitch
Featuring beautiful views and a great location for diving, Rose Garden provides a serene vacation atmosphere.
Quick Information
No of Rooms: 20
Dive Center: Off-site
Amenities: AC, ensuite bathrooms, restaurant, bar, coffee shop, laundry facilities, car parking
WiFi: Yes, free
Nearest International Airport: Palau International Airport
Airport shuttle: Yes, free
How to Get There
Rose Garden Resort is located about 20 minutes away from the airport and 5 minutes away from downtown Koror, Palau. The resort offers free airport shuttle service.
Dive Overview
Palau offers epic diving along a breathtaking archipelago with underwater highlights including Jellyfish Lake, World War II wrecks, and stunning wildlife.
Accommodations
Types of Rooms, Amenities and Photos

---
Rose Garden Resort Accommodation Overview
There are a total of 20 rooms at Rose Garden. They are simple in design but built for your comfort. Each room has a great view of the Malakal Lagoon and the surrounding islands.
Resort Facilities

---
Rose Garden Resort Features
Restaurant & bar
Cafe/coffee shop
Air conditioning
Flat screen TV
Telephone
Hot water pot
Ensuite baths with hot water
Car parking
Laundry facilities
Non-smoking rooms/floors
Internet/wireless available on site
Mobile phone reception
Photocopier
Safe at reception
Arrival/departure point transfers (free of charge)
Free shuttle service to and from Downtown Koror daily on schedule
Room service
Daily housekeeping
Laundry/ironing
24-hour security guard
Complimentary coffee/tea and water daily upon check-in
Rose Garden Resort Food & Drinks
The on-site restaurant, Rose Garden Bar and Grill, offers a variety of cuisines and dishes at affordable prices.
Packages & Rates
Rose Garden Resort Rates

---
RATES & AVAILABILITY
For more information on rates, availability and to book, drop us an email at bookings@bluewaterdivetravel.com or call us today at 310-915-6677. We will gladly help you plan your dream vacation!
Dive Information

---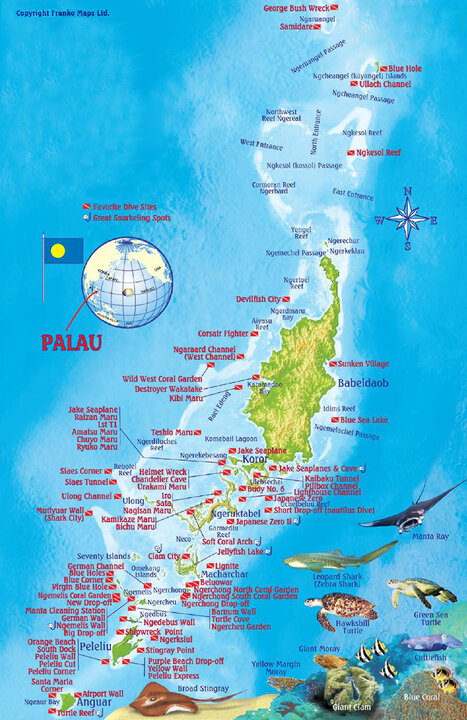 Dive Overview
Palau is considered one of the world's premier dive destinations, with dozens of dive sites in a rare variety: walls with fascinating coral formations, reef corners where the currents attract sharks, rays and schooling fish, channels and other sandy bottom sites, tunnels, holes, caves and caverns, and plenty of WWII freighter and plane wrecks! From macro to mantas, Palau has it all!
Although Palau is considered an advanced dive destination due to frequent currents and depths, there are plenty of easy dive sites for beginners, or for those who wish to become a diver!
Most dive sites are located about 45 minutes from the dive center, offering the guests picture-perfect scenic boat rides through the mushroom-like Rock Islands. Surface intervals and lunch breaks are normally spent on either a virgin white sand beach with wild green vegetation, equipped with cozy seating benches and toilet facilities, or on top of snorkeling sites with stunning shallow reef plateaus.
Dive Center Information

---
Rose Garden Resort Dive Center Overview
Guests at the Rose Garden Resort dive with Sam's Tours or Fish 'n Fins Palau.
Other Information

---
Practical Information
Time zone: UTC+9
Languages: Chinese, Filipino & English
Accept Credit Cards?: Yes, Visa, MasterCard & JCB cards
Underwater Gallery

---