Destination: Mexico
Price Varies p.p.p.n

---
Yucatek Divers Playa del Carmen Quick Pitch
Yucatek Divers is a PADI 5 Star Gold Palm operation that offers a highly personalized, friendly service.
Yucatek Divers Playa del Carmen Features
Highly personalized dive service
Dive training
Kids club
Gear rentals
Boats equipped with oxygen, first aid, and a sunshade
Pricing
Starts at $80 per person per day depending on dives sites. Dive & stay packages are available. Contact us for more information.
How to Get There
Flying to Cancun (CUN) is easy thanks to all the visiting tourists. From Cancun, it's a 45-minute drive to Playa Del Carmen. Yucatek Divers is located downtown Playa Del Carmen.
Dive Overview
A range of unique dive adventures are offered including excursions to the renowned Cenotes and many varied ocean dive sites throughout Playa del Carmen and Cozumel. Whale shark tours run June - mid-September.
Accommodations
Types of Rooms, Amenities and Photos

---
Paraiso Azul's Hotel Casa de Gopala Overview
Casa de Gopala has 16 unusually large spacious rooms. Rooms are bright and airy with 10' / 3 meter high ceilings, large arched windows and ceiling fans for maximum ventilation. Rooms with air conditioner and cable TV also are available. All rooms are double and are furnished with two matrimonial size beds and a refrigerator. All rooms have private bathrooms that have been completely remodeled with new ceramic tile and fixtures. A security box is installed in each room. A terrace area outside every room is furnished with table and chairs and is the perfect place to just sit back and relax.
Mimi del Mar Hotel Overview
At Mimi del Mar Hotel, you will relax and enjoy your vacation. Hotel rooms are nice and clean, some with ocean view, amenities, bilingual staff, swimming pool, restaurant for breakfast and lunch, shopping, restaurants and nightlife nearby, nearby parking, and more.
Dive Information

---
Ocean Diving
In Playa del Carmen you will enjoy diving on colorful reefs and wrecks teeming with fish. We specialize in small groups and offer diving the way you like it. With Yucatek Divers you will never feel crowded or hurried. Our PADI Dive Instructors are knowledgeable about the reefs and aquatic life to be sure that you have a safe and enjoyable experience. Underwater photographers will find the perfect conditions to suit them.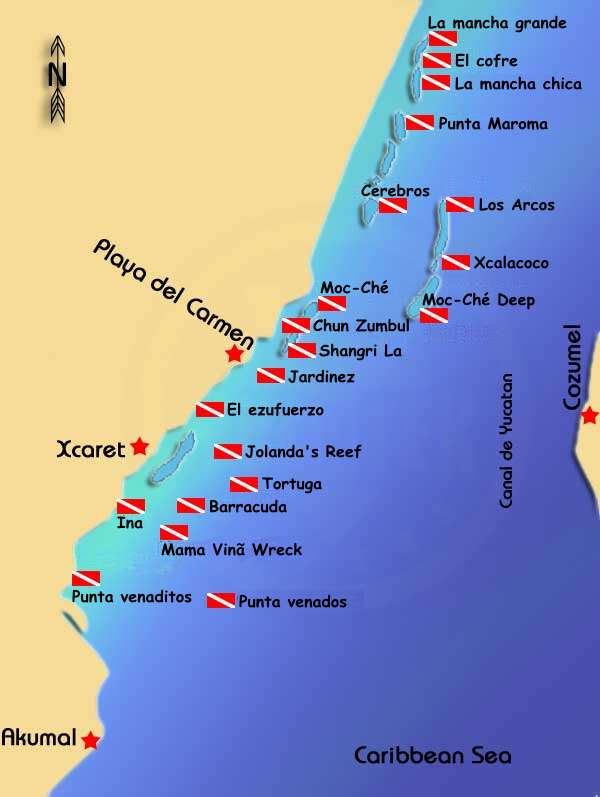 Cenote Diving
The cenotes, which are distributed in the jungle like pearls, are the doors to an incredible underwater world, providing the best cave and cavern diving imaginable. With water as clear as air the visibility is unbelievable as the diver glides through a color-filled fantasy world. The gentle current and mild water temperature (about 75F / 24C) create a perfect underwater environment for divers of all experience levels which offers endless opportunities for spectacular underwater photography. Yucatek Divers provides the highest quality equipment and professional training required to ensure the ultimate diving experience.
Unlike cave diving, which demands advanced technical training and highly specialized gear, cavern diving requires only an Open Water certification. Guided by an experienced cave diver, you will venture up to 180' / 60 meters into the caverns staying within sight of daylight.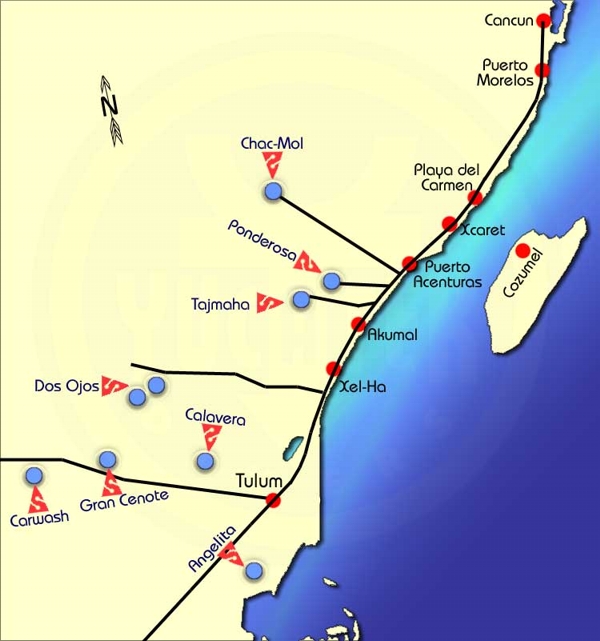 Packages & Rates
Yucatek Divers Packages, Details and Rates

---
Ocean Diving
| | |
| --- | --- |
| Option | Rate |
| 2 Tank Dive | US$ 85 |
| 1 Tank Dive | US$ 65 |
| Night Dive (minimum 5 pax) | US$ 70 |
| 2 Tank Dive (post-DSD) | US$ 95 |
| 1 Tank Dive (post-DSD) | US$ 70 |
| 2 Tank Cozumel | US$ 100 + ferry, taxi and park fee |
Cenote Diving
| | |
| --- | --- |
| Option | Rate |
| 2 Tank Cavern Dive | US$ 130 + entrance fee |
| 1 Cave dive with double tank | US$ 175 + entrance fee |
| 2 Cave dives with 1 double tank | US$ 200 + entrance fee |
| 2 Cave dives with 2 double tanks | US$ 230 + entrance fee |
Dive Packages
| | |
| --- | --- |
| Option | Rate |
| Tortuga 2x2 Tank Ocean, 1x2 Tank Cenote | US$ 285 + cenote entrance fee |
| Palancar 1x2 Tank Ocean, 1x2 Tank Cozumel, 1x2 Tank Cenote | US$ 315 + ferry and park + cenote entrance fee |
| Yucatek 3x2 Tank Ocean, 1x2 Tank Cozumel, 1x2 Tank Cenote | US$ 465 + ferry and park + cenote entrance fee |
| Selva 3x2 Tank Ocean, 2x2 Tank Cenote | US$ 465 + cenote entrance fee |
| Pro 2x2 Tank Ocean, 3x2 Tank Cenote | US$ 505 + cenote entrance fee |
Rates & Availability
For more information on rates, availability and to book, drop us an email at info@bluewaterdivetravel.com or call us today at 310-915-6677. We will gladly help you plan your dream vacation!
Other Information

---
Practical Information
Local Currency: MXN (Mexican Peso)
International Airport: Cancun International Airport
Language: Spanish & English
Time Zone: UTC-6
Electricity: 110 V
Underwater Gallery

---