Destination: Caribbean
British Virgin Islands (6 Nights) | From $499/night

---
Cuan Law Quick Pitch
At 105' long and 44' wide, Cuan Law is the largest trimaran in the world and can accommodate up to 20 guests in her 10 spacious staterooms. Cuan Law is one of the most luxurious boutique liveaboards in the Caribbean with queen size bed accommodations and private baths in each cabin. Meals, snacks, beverages, and a fully stocked bar are included. In addition to the luxury accommodations and excellent diving, the Cuan Law offers numerous shore excursions allowing you to take in the stunning landscapes of the British Virgin Islands.
Why You'll Like the Cuan Law
World's largest liveaboard trimaran
Dive wrecks like the RMS Rhone, Chikuzen or Pearl Harbor ship Kodiak Queen
Spacious staterooms
Fine dining chef and fully stocked bar
Lush green landscapes
Location
The Cuan Law departs weekly from Tortola, British Virgin Islands.
Dive Overview
The dive sites of the British Islands can accommodate all levels of scuba divers — even beginners because the waters are especially calm. The British Virgin Islands are home to over 100 dives sites including reefs, pinnacles, and some of the best wreck dives in the world including the RMS Rhone, a 310' British Mail Ship that sunk in 1867, the Chikuzen, and the most recent wreck the Kodiak Queen that has a large kraken on the deck. There are a number of other wrecks besides these, including one site with 4 different wrecks.
[See: British Virgin Islands Dive Travel Guide]
Accommodations
Types of Cabins, Amenities and Photos

---
Cuan Law Cabin Overview
This luxury liveaboard is 28 meters long very fast and can accommodate groups up to 20 passengers in 10 en-suite cabins.
General Facilities

---
Cuan Law Boat Features
Nitrox Available
Double and Twin Cabins Available
Indoor Salon
Sun Deck
Air Conditioned Salon & Cabins
Wifi Available (Intermittent)
Non-Diver Friendly
Shaded Deck
Daily Housekeeping
Library
Bar
Warm Water Showers
Onboard Kayaks, Hobie Cats, Wake Boards & Water Skis
Fish ID Books & Diving Books
Child-Friendly


CUAN LAW liveaboard deck plan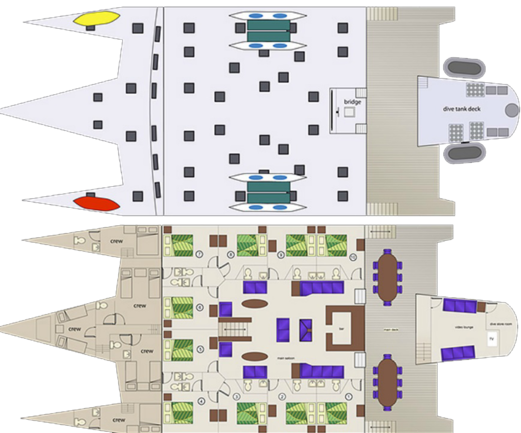 Food & Drinks Aboard Cuan Law
The chefs are extremely educated culinary masters and offer a wide variety of cuisines for guests to enjoy. They know that scuba divers work up a large appetite. You'll do more than fuel your scuba tummies with these delectable dishes!
Schedule, Rates & Availability
Cuan Law Schedule & Rates

---
Prices are in USD, per person and include all local taxes & fees.
[See also: Inclusions & Exclusions]
Inclusions
Accommodations
All meals and snacks
All beverages including full bar
Use of water toys
Shore excursions and eco adventures
Tanks and weightbelts
Local taxes and fees
Exclusions
Transfers to and from the dock
Personal diving equipment (rentals available)
Spending money ashore. On occasion, we may stop at a beach with shops or bars.
Tip for crew, customary is 15% of trip value
RATES & AVAILABILITY
For more information on other departure dates, rates, and on availability email us at info@bluewaterdivetravel.com or call us at +1-310-915-6677 and we will gladly help you plan your dream dive vacation!
Dive Information & Itineraries

---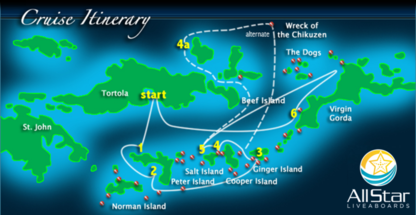 BVI Dive Overview
We have over 100 dive sites in the British Virgin Islands! This a small selection of the 100 plus dive sites we may visit upon your cruise on the diving liveaboard Cuan Law! The British Virgin Islands are known for some of the best shipwreck dives in the world including the shipwreck RMS Rhone and the shipwreck Chikuzen.
Scuba Diving on the CUAN LAW is a breeze- and you'll handle your tanks as little as possible. There are at least two instructors among the crew who will take your BC and regulator set on day one and set up your gear for you. All diving is down from dive tenders. For each dive, you'll approach the dive tank deck and slip into your gear. A short walk to the inflatable speedboat and you are off! Personal gear (masks, etc) is stored in your own bin which is beneath the seating in the aft deck so it is well out of the way during the day. We offer 63, 80 and 100 size tanks and fill with 3,000 psi so you always have a full tank.
On our dive charters, we can offer as many as three dives a day and one night dive daily. Friday, we offer two dives before the beach BBQ. Nitrox is available for a fee of 10.00 per dive or 120.00 for the week.
Water temperatures in the BVI's range from 78-82 (25c -28c) year round so plan accordingly for wetsuit coverage. Everyone is different but a light wetsuit may be desirable when diving 3 to 4 times per day! We have two rinse tanks and a freshwater shower hose on the back deck.
Dive Sites
RMS RHONE - 10-65 feet (3-20 M). Considered one of the world's best shipwreck dives, the RHONE, a commissioned Royal mail steamship, sunk during a hurricane way back in 1867. She broke into two parts when the boiler was washed over by cold ocean water and exploded. The stern sank in just 35 feet while the bow drifted and sank a bit deeper in 80 feet. She rests on the bottom off Salt Island. We dedicate a day of diving this amazing wreck as there is so much to see. There are areas that are penetrable where you can still see parts of the boat clearly- even silverware!
Angelfish Reef - 20-45 feet (6-14 M). This site is great for both macro and wide-angle photographs. There is a maze of rocky canyons and ridges for you to explore. You'll typically see turtles, sharks, eels and huge lobsters! On the smaller side, keep your eyes peeled for shrimp, anemones and many crustaceans.
The Aquarium - 15-30 feet (5-9 M). Near the Baths is a reef in shallow water that boasts pillar coral formations surrounded by schools of French grunts, eels tucked under ledges and a lot of sea life in a small area. Take your time and use your full tank to enjoy the underwater network of grottos and dens filled with fish!
Brown Pants - 10-40 feet (3-12 M). Many years ago, when Annie and Duncan Muirhead were running Misty Law, the first live-aboard in the BVI, they were exploring this point as a possible dive site. Several large bull sharks rounded a corner and chased them back to their boat, and the site was named. There is a point that rises from the flat, barren seafloor and the water is extremely clear here. Look for turtles and eagle rays on your way down out in the blue, then head towards the cliffs where you will find lots of fish in each of the canyons. One canyon has a large open cave for you to explore- the light shines down to reveal all the bright colors of the sponges that grow here.
Wreck of the Chikuzen BVI - 40-75 feet (12-23 M). The Chikuzen was a refrigerator vessel from Korea that was based in St Maarten and was there to service the Japanese fishing fleets. Another hurricane came thru in 1981 and since the ship was decrepit, the owners thought it was a good way to scuttle it and get rid of the old junk pile. So they set it on fire and let it go adrift! Unfortunately, she floated towards the Marina Cay area and fearing the safety of both people and the boats, they called in help from neighboring islands to tow it out to sea. The flaming vessel was towed awhile before the line broke. It finally sunk 7 miles off Tortola to the northwest. The shipwreck is too far for landbased dive operators to visit, but the Cuan Law can visit it regularly. She rests in 75 feet of water far from any reef and attracts a great variety of pelagic and reef fish. Her starboard rail reaches 50 feet and can be entered through open hatches.
Kodiak Queen - Dive with a kraken - The Kodiak Queen was one of 5 ships to survive the attack on Pearl Harbour. It was prepared as a dive site with a kraken above deck by Richard Branson and sunk in April 2016.
sample itinerary
Itineraries are weather dependent and tailored to the best diving available for each trip.
At time of final confirmation, we can adjust this itinerary to include more shore excursions and less diving based on the group's wishes.
Sunday: 12:00noon board and depart port immediately.
Lunch, safety briefing and check out dive with staff. 1-night dive today.
Monday through Thursday: 2-3 daytime dives and 1 night dive per day/night.
As we sail the BVI, we stop to enjoy islands along the way to enjoy the local flavor.
Friday: 2 daytime dives and beach BBQ picnic near The Baths on Virgin Gorda. This stop includes time to explore.
Saturday: Return to Tortola. Disembark vessel by 10:00am.
Other Information

---
Boat Specifications
Year built: 1988
Length: 105 feet
Beam: 44 feet
Displacement: 75 tons with fuel and water
Rig: Equal masted staysail schooner
Working sail area: 5,200 sq. feet
Mast height: 103 feet
Engines: Twin 210 hp Caterpillar diesels to drive two feathering propellers
Generators: Twin Caterpillar 60 KWA
Speed under power: 8-10 knots
Speed under sail: 6-14 knots
Air fills: Two electric Mako compressors of 18 cfm capacity and full Nitrox capability
Maximum guests: 20
Number of cabins: 10
Number of bathrooms: 10
Number of crews: 4
Tenders: 2 RIB 21 foot with Yamaha 115 HP
Practical Information
Time Zone: UTC-4
Local Currency: USD (US Dollar)
Language Spoken: English
Electricity: 110V
Payment Onboard: Cash, Visa or MasterCard
Underwater Gallery

---