Destination: Indonesia
Rarandam Kecil, Lembeh, North Sulawesi, 95526 Bitung | Full-board + 3 dives from $127++/ppn

---
D'Lagoon Dive Resort (Daniels Lagoon) is a laid back dive resort located within a short boat ride away to Lembeh's top dive spots. Its small size, with only 5 rooms, makes the atmosphere more intimate and friendlier. They offer comfortable rooms with windows facing the beautiful lagoon. Air-conditioned rooms are available.
Quick Information
No of Rooms: 5
Dive Center: On site
Amenities: AC, restaurant, massage, laundry, room service, Nitrox, camera room
WiFi: Yes
Nearest International Airport: Sam Ratulangi Airport (MDC)
Airport Shuttle: Yes, surcharge
How to Get There
Sam Ratulangi Airport is a 2-hour drive from D'Lagoon Dive Resort. Airport shuttle service can be arranged on request.
Dive Overview
Lembeh Strait is believed by many to be the world's place best muck diving and macro photography. Lembeh has an impressive density and diversity of weird, wonderful and rare critters.
D'Lagoon is superbly situated within proximity to almost all of the Lembeh's dive sites are nearby. They offer up to 4 boat dives a day with a maximum of 4 divers per dive guide.
Accommodations
Types of Rooms, Amenities and Photos

---
SEAVIEW DELUXE COTTAGES

Our new Seaview Deluxe Cottages each has a spacious room with a direct view of the beautiful emerald green lagoon either from your bed or the terrace. Each cottage is equipped with an Air-Conditioning, a hot and cold dispenser, a large bathroom with a freshwater hot shower complete with bath amenities, a Western standard toilet and last but the least a large mirror with stylish stone sinks.
GARDEN VIEW SUPERIOR ROOMS

Our Garden View Superior rooms are also complete with air-conditioning, each has its own stylish bathroom with Western Standard toilet and hot shower, a large mirror with stylish stone sink and a terrace facing the garden.
Resort Facilities

---

D'Lagoon Dive Resort Features
Restaurant
Sundeck
Massage service
Tour desk
Laundry
D'Lagoon Dive Resort Food & Drinks
The restaurant is on the side of the beach with a small pond in the middle to make you feel comfortable and enjoy the breeze while having your meals. Let their local chefs surprised you with the local recipes dishes and if you have special dietary requirements, it can be discussed to ensure your meals are exactly as you require.
D'Lagoon Dive Resort Activities
Diving
Snorkeling
Private beach
Tours
Package & Rates
D'Lagoon Dive Resort Lembeh Rates

---
Dive Packages
Rates are per person in IDR. All diving in the package are day dives.
Nights

Dives

Superior With Fan

Superior With Air-Con

Deluxe

4

6

Rp5,850,000

Rp6,250,000

Rp7,650,000

8

Rp7,000,000

Rp7,400,000

Rp8,800,000

5

9

Rp8,175,000

Rp8,675,000

Rp10,425,000

11

Rp9,325,000

Rp9,825,000

Rp11,575,000

6

12

Rp10,300,000

Rp11,100,000

Rp13,200,000

13

Rp11,775,000

Rp11,675,000

Rp13,775,000

7

15

Rp12,825,000

Rp13,525,000

Rp15,975,000

16

Rp13,400,000

Rp14,100,000

Rp16,550,000

8

17

Rp14,575,000

Rp15,375,000

Rp18,175,000

18

Rp15,150,000

Rp15,950,000

Rp18,750,000

9

19

Rp16,325,000

Rp17,225,000

Rp20,375,000

21

Rp17,475,000

Rp18,375,000

Rp21,525,000

10

22

Rp18,650,000

Rp19,650,000

Rp23,150,000

24

Rp19,800,000

Rp20,800,000

Rp24,300,000
Inclusions
Room
Full Board Meal Plan (breakfast, lunch,dinner, afternoon complimentary meal)
Free flow water, coffee, tea
Day dives
Dive boat
Dive guide
Weight+belt, tanks
Exclusions
Nitrox fills
Mandarin dive, night dive, black water dive
Transfers
Diving equipments
Single occupancy surcharge: Standard with Fan/Air-Con IDR 150,000; Deluxe IDR 250,000
Extra dive during day time IDR 500,000
Can't find the information you need?
Drop us an email at bookings@bluewaterdivetravel.com or call us at +1-310-915-6677 and we will gladly help you plan your dream dive vacation!
Dive Information

---
Diving in Lembeh Strait
The Lembeh Strait in North Sulawesi is world famous for its wonderful, photogenic underwater critters. In fact the Strait is only a long and narrow strip that separates the mainland from the Lembeh island. But look closer and dive into its blue waters and discover a completely different world filled with fascinating and most colorful tropical underwater life that is loved for its wide range of small critters.
Administratively part of the municipality of Bitung, the harbor town of Manado, capital of the province of North Sulawesi, the Lembeh Strait stretches 16 km long and is only 1.2 kilometers wide, yet in these narrow waters no less than 88 diving spots have been discovered.
Dive sites here go to a depth of between 15 to 25 meters. There are hardly any currents, and throughout the year the waters remain a warm 24 to 30 degrees Centigrades only. Its visibility is not too clear reaching between 4 meters to 20 meters only when one happens to be lucky, since its floor is sandy, and there are few corals.
Strangely enough, this area is habitat to giant fish that are found almost nowhere else on earth. But among professional divers, the Lembeh Strait is better known as the "Best muck-diving site in the world".
Its unique eco-system has made this the home of nudibranch, flamboyant squid, mimic octopus to furry frogfish. Their exceptional beauty has made these creatures rare subjects for underwater photographers. For this reason marine photographers the Lembeh Strait is also known as "the Mecca of Macro Photography".
Aside from this natural wonder, from its surface, the Lembeh Strait remains used as a harbor for local transport, fishery, marine industry, tourism and as a natural laboratory.
Dive Center Information

---
D'LAGOON DIVE RESORT DIVE CENTER OVERVIEW
D'Lagoon runs a well-equipped on-site dive center with experienced, helpful and friendly dive staff. Safety is a top priority for them, and they will make sure that your diving holiday is a wonderful one. For optimal comfort and safety, there won't be more than 4 divers per dive guide.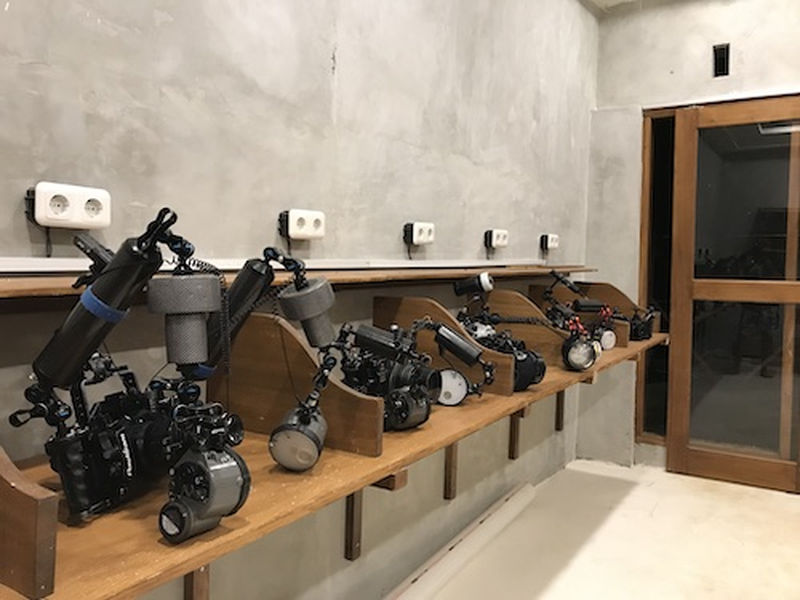 Other Information

---
Practical Information
Electricity: 220V
Time zone: UTC+8
Languages: Indonesian, English & Japanese
Accept Credit Cards?: Yes, Mastercard and VISA
Underwater Images

---