Destination: Caribbean
Price Varies p.p.p.n

---
Eco Dive - Grenada Quick Pitch
With sites and amenities to suit every type of diver, Eco Dive provides access to beautiful Caribbean waters with a huge abundance of colorful and diverse marine life.
Eco Dive Features
Equipment rental
Sailing excursions
Snorkeling excursions
Trekking excursions
Nitrox
PADI scuba diving training
Pricing
Varies, depending on the type of package & accommodation. Contact us for more information.
Location
Situated on Grand Anse Beach at Coyaba Beach Resort in Grenada.
Dive Overview
Grenada offers warm Caribbean waters and a variety of dive sites to suit every scuba level. Eco Dive Grenada places special emphasis on environmental preservation while ensuring that divers experience a memorable and relaxing dive vacation.
Accommodations
Types of Rooms, Amenities and Photos

---
Coyaba Beach Resort
Enjoy Coyaba's ambiance of intimacy, with full amenities for the classic Caribbean vacation. The remarkable design theme exemplifies centuries ago Amerindian life, all combined to make Coyaba one of a kind among Grenadian resorts.
SeaBreeze Hotel
For affordable and conveniently located apartments minutes on from the beach in Grand Anse. Great for students, families and adventure seeking vacation makers. This is a great property for groups, students, individuals and families. Excellent access to the bus system and only steps from Grand Anse Beach.
Siesta Hotel
Envelop yourself in tropical delight at this small family run hotel. Siesta Hotel in Grand Anse is ideal for those on a budget who want to relax and immerse themselves in this lovely tropical island. Ten-minute walk and the view suddenly unfolds as you enter the stunning 2.5-mile expanse of the Grand Anse Beach.
Dive Information

---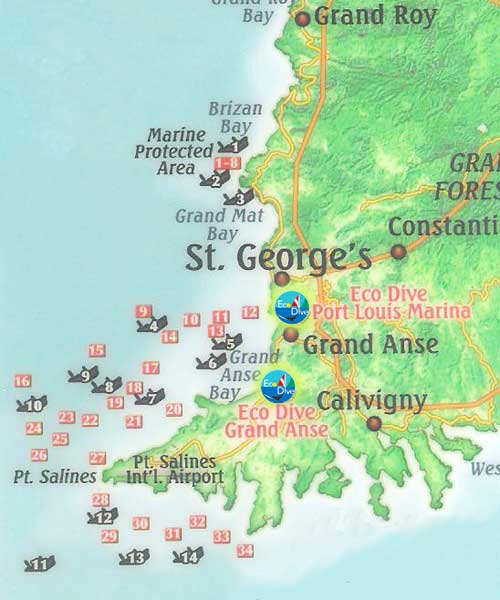 Dive Sites
BIANCA C WRECK
Dive Profile: 90′ – 130′ / 28m – 41m.
Known as the 'Titanic of the Caribbean', the Bianca C is the Caribbean's largest wreck, and Grenada's most famous dive. After mysteriously catching fire in St George's harbor in 1961, this 600′ luxury liner was towed out to sea where she sank, settling upright in 160 feet of water. The normal dive profile ranges from 90′, where the fully intact bow section looms into view, down to her mid-section, where divers may float around in her huge, on-deck swimming pool. Other fascinating features include the elegant staircase to the upper promenade, the cargo hold and the ship's massive, toppled funnel. After four decades under water, the Bianca C is encrusted with a beautiful tapestry of hard and soft corals, and is home to barracuda, spotted eagle rays and schools of jacks. The Bianca C dive is truly an awe-inspiring experience, but due to the depth and the possibility of strong currents, it is only suitable for confident divers, and a checkout dive will normally be required.
KING MITCH WRECK
Dive Profile: 90′ – 110′ / 28m – 34m
Located eight miles off Grenada's Atlantic coast, this advanced wreck dive is subject to rough surface conditions and ocean currents. Lying on its side, this 150′ long, converted WWII minesweeper attracts a variety of sharks, Atlantic spadefish, and schools of toothy barracuda. Dozens of schooling eagle rays have been seen here.
SHAKE'EM WRECK
Dive Profile: 70′ – 100′ / 22m – 31m.
An intermediate wreck dive in the calm waters off Quarantine Point, Shake Em is a 180′ freighter that capsized suddenly when her load shifted during a storm. This abrupt demise left her instruments, furniture, equipment and cargo intact, creating a rare and fascinating underwater spectacle. Divers may float up the spiral staircase in the ship's tower to the pilot house; explore her massive deck machinery; glide along the length of her upright hull, or float through the open cargo hold, still laden with gigantic bags of cement. The wreck supports an abundance of underwater life, including black gorgonians, white hydroids, a rainbow of sponges, and an occasional green moray eel.
VERONICA L WRECK
Dive Profile: 20′ – 40′ / 6m – 12m
This 120′ cargo barge makes an easy, fun wreck dive. The Veronica's vast hold is open and empty, home to swirling clouds of small fry and shy, big-eyed squirrelfish. Her coral-encrusted deck machinery includes an anchor windlass on the bow and a freight crane aft, its 20′ arm extending sideways. Trumpetfish, hovering vertically, disguise themselves as stanchions, while a grotesquely frilled frogfish squats on deck, perfectly camouflaged. Detailed inspection of the upright hull reveals delicate banded coral shrimp offering cleaning service to reef fish. After exploring the wreck, the dive continues along a beautiful, shallow section of Boss reef.
QUARTER WRECK
Dive Profile: 30′ – 60′ / 9m – 19m.
This easy wreck dive tours the stern section of a huge cargo vessel. After sinking in St. George's harbor, the 300′ freighter was cut into four pieces for removal: This section was accidentally dropped over the beautiful reef off Grande Anse beach. The ship's massive propeller, rudder, engine room, deck fittings and pilothouse make for interesting exploration.
** National Marine Protected Area (MPA) **
DRAGON BAY
Dive Profile: 25′ – 90′ / 8m – 28m.
This Grenada Marine Park site is ideal for snorkelers, beginners, and advanced divers alike. Beginning over the sands of Dragon Bay, the dive descends along a steep slope which stretches south towards Molinere Point. Sand channels and deep fissures punctuate the angular volcanic rock in the shallows, while over the edge, hard corals, gorgonians and tufts of black coral cling to the wall. Fish life is abundant, including grouper, French angelfish, chromis, and spotted moray eels.
FLAMINGO BAY
Dive Profile: 20′ – 90′ / 6m – 28m.
Part of the Grenada Marine Park, this wall dive offers dramatically abundant fish life: Blue clouds of chromis glide along the slope, where big-eyed squirrelfish and shy jackknife fish hide in crannies. Creole wrasse, parrot fish and butterfly fish abound. Grouper, jacks and rays lurk toward the bottom of the wall, which is encrusted with whip coral, colorful sponges and sea fans. Snorkeling is also excellent in Flamingo Bay's protected, shallow reefs.
GRAND MAL
Dive Profile: 60′ – 80′ / 19m – 25m.
Just north of St. George's harbor, this popular drift dive follows the sinuous profile of a delightfully serpentine wall. Punctuated by pinnacles, canyons and sand chutes, this underwater labyrinth is populated by lobster, rays and angelfish. Purple fans, lush gorgonians and spindly sea whips accent the Byzantine sea-scape.
HAPPY VALLEY
Dive Profile: 20′ – 90′ / 6m – 28m.
Considered one of Grenada's prettiest sites, this wall dive begins in a shallow forest of brown coral and continues down a shelving slope covered in gorgonians. Tropical fish swirl like colorful confetti around towering formations of pillar coral. Amidst this stunning flora and fauna rests an ancient Admiralty anchor, a souvenir of Grenada's maritime history. When the tide is running, Happy Valley becomes a pleasant drift dive to Dragon Bay in a gentle, southerly current.
MOLINERE REEF / BUCCANEER WRECK
Dive Profile: 20′ – 90′ / 6m – 28m.
This Grenada Marine Park site offers excellent snorkeling as well as intriguing wall and wreck diving. Sea plumes, sea rods and a colorful mosaic of hard and soft corals thrive in the shallow patch reefs. Above the sloping wall hover red banded parrotfish, defensive damselfish and reclusive jawfish. Lying on her side near the base of the wall is the
wreck of the Buccaneer, a 42ft steel schooner. Experienced divers may enter her stripped hull, now festooned with a variety of black coral trees and home to graceful angelfish.
BOSS REEF
Dive Profile: 20′ – 80′ / 6m – 25m.
This extensive reef begins just outside St. George's harbor and continues for six miles south-west towards Point Saline. Its gently sloping topography is carpeted in patches of finger and pillar corals, branching sea rods, sea whips, and forests of soft brown coral trees. Large shoals of blue Creole wrasse flit through this "other-worldly" landscape. Caribbean lobsters peek out from canyons and crevices, while stingrays, conch and octopus lurk in the sand patches that dot this reef.
SHARK REEF
Dive Profile: 25′ – 65′ / 8m – 20m
An advanced drift dive just off Grenada's south shore, Shark Reef is exposed to the Atlantic, and is therefore subject to strong currents – which attract abundant pelagic life. Southern stingrays, juvenile and adult nurse sharks, spotted eagle rays and turtles ride the swift current or rest on the seafloor. Lobsters, crabs, sea stars, queen conch and other mollusks cling to coral mounds or ply the sand patches. Grouper, yellowtail snapper and other open-water fish hunts amongst streaming sea whips, sea rods, and a giraffe-shaped pillar coral.
VALLEY OF THE WHALES
Dive Profile: 50′ – 70′ / 16m – 22m.
Named after a rare sighting of a whale and her calf, this gentle drift dive explores an enchanting underwater garden where mounds of patch reef and stands of pillar coral contrast with sandy canyon floors. Shoals of grunts, yellow chromis, and Spanish hogfish abound.
WHIBBLE REEF
Dive Profile: 60′ – 100′ / 19m – 31m. This advanced drift dive explores a sloping sand wall that descends sharply to 170′. Schools of jack, rainbow runners and wrasse flit about large brain coral formations, while Caribbean lobster and an occasional sleeping shark shelter in overhangs. Turtles, eagle rays and barracuda are regular visitors to this enchanting reef.
NIGHT DIVES
Dive Profile: 20′ – 60′ / 6m – 19m.
For a dramatic change of scenery, we return to our favorite shallow reefs after sundown. Here, the changing of the guard brings out fascinating night feeders: Gnarled crabs, roving lobster, wide-eyed puffer fish, and the extraordinary octopus, who pulsates, contorts and changes color in real time. Parrotfish sleep in hollows, wrapped in filmy 'blankets' of their own making. Coral formations appear strangely lurid as eerie light beams pierce the dark water, which sparkles with clouds of phosphorescent plankton. Underwater lights are provided for night dives.
KAHANEE REEF
Dive Profile: 30′ – 50′ / 9m – 16m.
This delightful dive reveals one of the most beautiful underwater gardens in the Caribbean. Its undulating patch reef alternates glades of alabaster sand with brilliantly colored thickets of hard and soft coral, including lacy purple fans, a rainbow of sponges, impressive domes of brain coral and orange sea whips up to 8′ long. Lobsters, spotted morays and sleeping nurse sharks populate this submarine Garden of Eden.
NORTHERN EXPOSURE
Dive Profile: 40′ – 75′ / 12m – 23m.
This relaxing dive over an undulating reef reveals thriving communities of colorful soft and stony coral. Beautiful gardens of flower, brain and sheet coral are accented by iridescent azure vase sponges and lacy, wafting sea fans. Overlapping plate formations of star coral tower like stacks of enormous pancakes. Schools of barracuda, Atlantic spadefish, and an occasional turtle patrol this underwater paradise.
PURPLE RAIN
Dive Profile: 20′ – 70′ / 6m – 22m. On this exciting drift dive, divers 'fly' in a steady 2-knot current through a constant 'rain' of violet Creole wrasse. Angelfish, queen triggerfish, grunts, trunkfish and filefish swirl through this Caribbean kaleidoscope. Rays, turtles and schooling barracuda often visit this thriving reef, which is covered with giant sponges of every colour.
WINDMILL SHALLOWS
Dive Profile: 60′ – 130′ / 19m – 41m.
This intermediate drift dive follows a narrow ridge of gorgeous reef, which slopes seaward to a 140′ depth before dropping off into a midnight-blue abyss. The slopes are adorned with lush gorgonians, brilliant sponges and several historic Admiralty anchors, their broken chains dripping with coral. The upwelling tidal currents attract larger sea life, and sightings of rays, turtles, barracuda and various sharks are common.
ISLE DE RONDE DAY TRIP
Dive Profile: 20′ – 90′ / 6m – 28m.
This full-day adventure combines offshore sightseeing, a beach picnic and two advanced dives on some of the most spectacular reefs in the Caribbean. A boat ride up Grenada's protected western shoreline provides wonderful views of the island's steep mountains, fishing villages, emerald green rainforests and palm-fringed beaches. Just off the north coast, the craggy pinnacle of Isle De Rhonde juts out of the open Atlantic. Isolated and untouched by development, fishing or run-off, this archipelago's marine life is prolific and stunning. Superb visibility typically exceeds 100 feet, and turtles, large pelagics and green moray eels are common. Dramatic underwater topography includes breathtaking drop-offs over 'bottomless' vertical walls, coral-encrusted canyons – and even a swim-through cave which opens to an underground cavern decorated with stalactites and quartz crystals. Underwater rumbling and popping noises are often heard, produced by 'Kick Em Jenny,' the Caribbean's most active submarine volcano, just 2 miles west. This unforgettable Isle De Rhonde expedition requires settled weather conditions as well as a minimum number of participants. Dive sites include Diamond Rock, Frigate Rock, Big Blue and Face of the Devil.
Daily Schedule
Morning 2 tank dive 9 am
Afternoon 1-tank dive 1:30 pm
1 Site & 2 Site Snorkeling Trips available
PADI Courses start daily
Packages & Rates
Eco Dive - Grenada Packages and Rates

---
Certified Diver Dive Packages
All prices quoted are per person in USD.
| | | |
| --- | --- | --- |
| Option | With personal BCD/Reg | With Equipment Rental |
| Refresher | $30 | $30 |
| 1 Tank Dive | $60 | $78 |
| 2 Tank Dive | $110 | $136 |
| 3 Dive Package | $165 | $185 |
| 4 Dive Package | $215 | $255 |
| 5 Dive Package | $265 | $315 |
| 6 Dive Package | $315 | $375 |
| 7 Dive Package | $370 | $430 |
| 8 Dive Package | $420 | $500 |
| 9 Dive Package | $475 | $555 |
| 10 Dive Package | $495 | $595 |
| Equipment Rental – per day (BCD, Regulator, & fins/mask/snk/wetsuit as needed) | $20 | - |
| Additional Dives 11+ | $47 | $55 |
| 20 Dive Package | $940 | $1140 |
| Night Dive – Shore Dive | $55 | $65 |
| Night Dive – Boat Dive | $75 | $85 |
PADI Beginner Diving Programs
All course prices include PADI materials, certification where applicable, equipment rental and VAT.
Beginner PADI Courses

# Dives

Timeline

Minimum Age

Rate

Discover Scuba Diving (DSD)

a.k.a. Resort Dive

1

1/2 day

10

$120

Repeat DSD / Repeat Resort Dive

1

2.5 hrs

10

$85

Bubblemaker

pool only

2 hrs

8

$60

Scuba Diver Certification Course

2

2-3 days

10

$350

Open Water Diver Certification Course

4

3-4 days

10

$530

Open Water Diver – Referral

4

2 days

10

$335

Open Water Diver w/ eLearning

4

2-3 days

10

$499
PADI Advanced Training Courses
All course prices include PADI materials, certification where applicable, equipment rental and VAT.
| | | | | |
| --- | --- | --- | --- | --- |
| PADI Courses | # Dives | Timeline | Minimum Age | Rate |
| Re-Activate | 0 | 1.5 hrs | 12 | $85 |
| Adventure Diver Certification Course | 3 | 1-2 days | 12 | $280 |
| Advanced Open Water Certification | 5 | 2-3 days | 12 | $380 |
| Advanced Open Water w/ eLearning | 5 | 2-3 days | 12 | $380 |
| Rescue Diver Certification Course | in water training | 2-3 days | 12 | $455 |
| Rescue Diver w/ eLearning | in water training | 2 days | 12 | $455 |
| Emergency First Response – CPR | 0 | 1 day | 12 | $150 |
| Divemaster | – | 4 weeks | 18 | $1,200 |
Dive & Stay Packages with Coyoba
Contact us for available Dive & Stay Packages.
Rates & Availability
For more information on rates, availability and to book, drop us an email at info@bluewaterdivetravel.com or call us today at 310-915-6677. We will gladly help you plan your dream vacation!
Other Information

---
Practical Information
Local Currency: XCD (Eastern Caribbean Dollar)
International Airport: Maurice Bishop International Airport
Language: English
Time Zone: UTC-4
Electricity: 220-240V
Underwater Gallery

---