Destination: Indonesia
Price Varies p.p.p.n

---
Eco Divers Manado Quick Pitch
Eco Divers at Mercure Manado Tateli Beach Resort is based on the highest levels of comfort, value, safety and environmental responsibility. The Resort has earned a reputation for offering an outstanding holiday experience being set in an unspoiled location away from the crowds. Dive with Eco Divers and you're guaranteed a unique and memorable holiday experience.
Eco Divers Manado is a sister operation of White Sands Beach Resort Lembeh and Dive Into Raja Ampat.
Eco Divers Manado Features
Purpose built boats fitted with jump gates & stainless steel ladders
Oxygen & First Aid onboard
GPS, mobile phone, life jackets, life rings, navigation lights
Shaded salon with comfortable seating, sundeck, toilets & showers, fresh towels
Maximum 12 divers per boat, maximum 4 divers per guide
Free snacks, fruit, unlimited tea and coffee throughout the day
Snorkelers / boat-sitters also catered to
Resort camera room with storage and battery charging
Pricing
Varies, depending on the type of package and the type of accommodations. Contact us for more information.
How to Get There
Via Singapore - The most direct way to reach Manado is via Singapore. Singapore Airlines offers reasonable rates from most European, North American and Asian cities. Singapore to Manado is on SilkAir, Singapore Air's regional wing, with four direct flights per week (Monday, Wednesday, Friday and Saturday). During summer months a fifth weekly flight can be added.
Flight time from Singapore to Manado is 3 hours and 20 minutes and many of the overnight flights from Europe and North American arrive early enough in Singapore to connect with the flight to Manado, with just a short transit (flights from Singapore to Manado depart at 9.25 in the morning).
Via Jakarta and Denpasar/Bali - There are daily flights to Jakarta and Bali from many European and American cities. From there to Manado there are sometimes direct flights and sometimes a short stop is required, Garuda Indonesia, Lion Air and several other airlines connect Manado with those airports, please check with your booking agent about flight details and prices.
Dive Overview
Manado: A focus on reefs and macro for shrimps, crabs, cephalopods, nudibranchs and other abundant critters in the reefs and sand. Bunaken: Lots of butterflyfish, triggerfish and the most fun, turtles. The shallows are filled with small fish rising in and out of the coral that will make you want more than a 3-minute safety stop.
Accommodations
Types of Rooms, Amenities and Photos

---
Accommodation Overview
The Mercure Manado Tateli Beach Resort is part of the Accor Group, synonymous with high service and quality, and offers an idyllic setting with tropical gardens, expansive private beach, marina and located just 10 km from Manado. This international 4 stars resort is set in a lovely location right on the ocean's edge. As one of the finest in Manado, you will have a fabulous choice of rooms and facilities and delicious cuisine. You can choose from a selection of rooms from Superior to Suites and all are spacious and offer luxury and comfort. Each has a wide bed, large bathroom and terrace. air-con, mini bar, tea and coffee facilities, hot water, IDD phone, free WiFi, hairdryer, safe and toiletries. Electrical sockets carry 220V and require double pin plugs.
Dive Information

---
Manado & Bunaken Dive Overview
Bunaken National Park consists of five islands: Bunaken, Manado Tua, Siladen, Montehage, and Nain, as well as a part of the North Sulawesi mainland.
Bunaken National Park yields excellent visibility and is a favorite location for some excellent drift dives where you can watch schools of coral fish in all shapes and sizes and colors, as you glide by the huge sea fans and impressive sponges. Schools of barracudas and jacks, green sea turtles and reef sharks, sea snakes and napoleon wrasses are among the resident inhabitants of these steep coral walls fringing the Islands. Diving in and around Bunaken is mostly, but not only, wall diving and drift diving, it includes several beautiful coral slopes. Bunaken offers superb opportunities for both macro and wide-angle photography, as well as underwater videography.
Manado Tua, the fascinating cone-shaped volcanic island, features steep slopes on land covered with coconut palms and even steeper vertical drop-offs under water. Siladen Islands offers huge fields of hard coral in addition to their classic wall dives.
Here you find the prettiest and most pristine coral, as well as many nudibranchs and other macro life. The impressive overhanging walls are a breathtaking experience to dive, packed as they are with life, whilst the shallows provide some of the best snorkeling. In the many indents, caves and outcroppings of the walls, you often find reef sharks and other big fish, making this a preferred area for deep diving.
Night diving on the mainland dive sites is a thrilling adventure with a whole new array of creatures rarely seen during daytime and beautiful colors when the tentacles of the coral are out at night to catch plankton – yet another world to explore!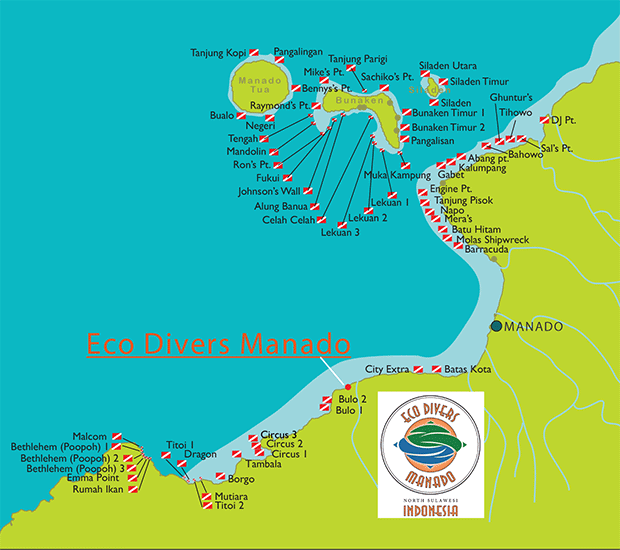 Packages & Rates
Eco Divers Manado Packages, Details and Rates

---
Rates & Availability
For more information on rates, availability and to book, drop us an email at info@bluewaterdivetravel.com or call us today at 310-915-6677. We will gladly help you plan your dream vacation!
Other Information

---
Practical Information
Payment methods: Cash or credit card (Visa, Mastercard)
International Airport: Sam Ratulangi International Airport
Language: Indonesian & English
Time Zone: GMT+8
Electricity: 220-240 V/50 Hz
Underwater Gallery

---