By AgnesA | Date: 12 Aug' 2020
There's a good chance that regular visitors to Mexico's Yucatan peninsula will have dived with Pro Dive International at some time or another. As one of the leading dive operators in Mexico and the Dominican Republic, Pro Dive International is located in over a dozen 4 and 5* resorts around the Caribbean, offering tailor-made world-class dive and snorkel experiences alongside stay and dive packages at coveted resorts.
From humble beginnings in a single dive resort in 2003, Pro Dive International has grown into one of the premier dive and snorkel operators in the Caribbean. With their excellent safety standards, attention to detail, and experienced staff, Bluewater Travel is confident that our customers will enjoy the ultimate dive experience when booked through Pro Dive International. This is why they are one of our Preferred Partners and an excellent choice for dive travel to Mexico and the Dominican Republic.
LOCATIONS
Cozumel
Taking full advantage of Cozumel's excellent year-round dive scene, Pro Dive International can be found at the all-inclusive resorts of Allegro Cozumel 4*, Occidental Cozumel 5*, and Melia Cozumel Golf 5*, as well as The Westin Cozumel 5*.
Known throughout the Caribbean for its easy drift dives along stunning walls festooned in colorful corals, the island of Cozumel is an awesome destination for all levels of diver and snorkeler. Shallow lagoons with lively coral gardens decorate the north and south ends of the island offering perfect conditions for snorkelers and novice divers, while deeper walls and drop-offs provide thrilling diving for more experienced visitors. Located on the Mesoamerican Barrier Reef, the marine life here is as good as anywhere in the Caribbean, with over 45 sites offering year-round encounters with all manner of tropical fish, turtles, sharks, and pelagic species.
Riviera Maya
Spread along the fascinating Riveria Maya on Mexico's Caribbean coast, Pro Dive International is based at the all-inclusive resorts of Allegro Playacar 4*, Occidental at Xcaret Destination 5*, and Dreams Puerto Aventuras 4*, as well as the Catalonia resorts of Riviera Maya & Yucatan Beach 4*, Royal Tulum 5*, Playa Maroma 5*, and Costa Mujeres All Suites 5*, and finally the adults-only Royal Hideaway Playacar 5*.
Best known for its freshwater cenotes, the Riviera Maya offers some of the best cavern and cave diving in the world. The region's karst limestone topography is riddled with interconnecting sinkholes, shrouded in vegetation, and many with collapsed ceilings where the sunlight filters through to the gloomy waters below. Diving or snorkeling in this environment is a fascinating and truly breathtaking experience.
The Riviera Maya also offers some excellent reef diving and a large variety of unique marine creatures not found anywhere else. It is possible to dive with bull sharks from Playa del Carmen between December and March, and this is also the optimum season for swimming with sailfish during their annual migration along the coast of Isla Mujeres. Keeping up with the fastest fish in the ocean might seem like an impossible task, but watching them corral their prey into baitballs and dart in to snatch a meal is an exciting experience and well worth the wait. During the summer months of June through to September, whale sharks frequent the coastal waters of the Riviera Maya, and swimming and snorkeling with them is top of many travelers' wish list. Sightings of whale sharks are almost guaranteed, in fact, Pro Dive International offers a 'free repeat trip' should they not be seen.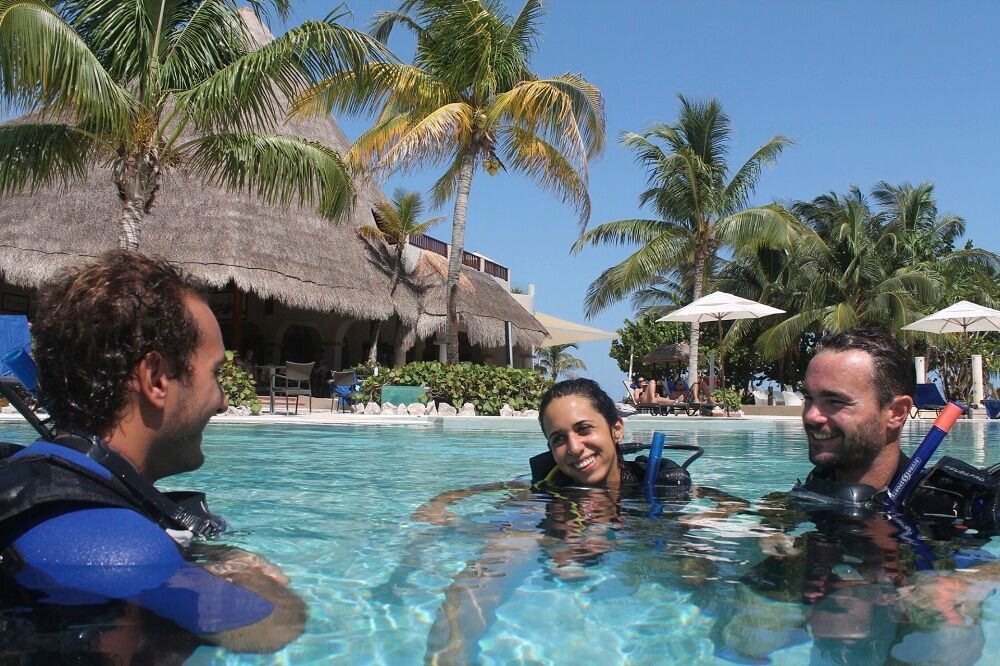 Dominican Republic
With new operations in the Dominican Republic, Pro Dive International can now be found at the all-inclusive Catalonia resorts of Gran Dominicus 4* and the adults-only Royal La Romana 5*, both located in Bayahibe.
Boasting a wide range of marine environments and some exciting fish life, diving in the Dominican Republic is enticingly varied. The south of the island offers calm, clear waters with little to no current making it perfect for beginners and snorkelers, while stunning coral reefs, mangroves, and deep wrecks and caves provide a challenge for advanced divers. The full array of Caribbean reef life can be spotted around the island's tropical waters with a variety of pelagic species, rays, turtles, and dolphins, as well as trumpetfish, butterflyfish, porcupinefish, and numerous other reef dwellers.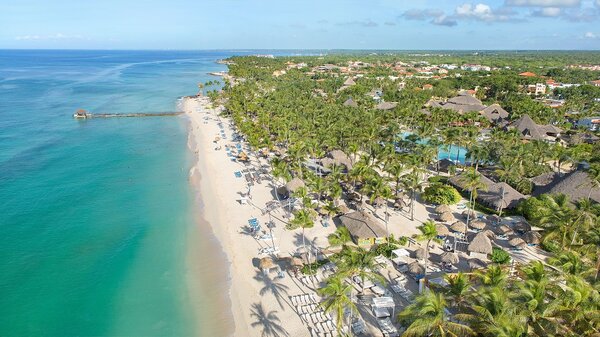 FACILITIES & SERVICES
With in-house facilities conveniently based on the beach of each resort, Pro Dive International offers the full gamut of dive and snorkel experiences. From try dives and beginner courses through to cavern and cave diving, technical training, and encounters with some of the world's most exciting marine creatures, there is an activity suitable for everyone. Each center prides itself in offering a fully inclusive experience all under one roof, with a multilingual instructor and reservations team providing in-house excursions, transfers, and catering to guests' every need. Pro Dive International is one of the leading Instructor Trainer and GoPro training facilities in the Caribbean, with a long list of awards and accolades to its name.
As an environmental advocate, Pro Dive International is perfectly placed to protect and champion for marine conservation causes. With numerous awards, and partnering several global conservation organizations, Pro Dive International prides itself on its green initiatives, sustainability, and socially responsible practices.
So whether you are looking for an exclusive, bespoke dive package or a family-friendly vacation, Pro Dive International has it covered. As one of Bluewater Travels Preferred Partners, we are confident that once you have dived with them, you will never use anyone else.