Destination: Philippines
Washington Street, District 3, Dauin, Dumaguete, Philippines 6217 | Room + breakfast only + 2 dives from $92++/ppn

---
Pura Vida Resort Dauin Quick Pitch
"Pura Vida" means "Pure Life" – And that's exactly what you will feel during your stay with them. The spacious beach resort is located in Dauin about 15 km south of Dumaguete City on Negros Island and was opened end of 2004. The facility is built from divers for divers and is under Swiss Management. The close proximity to Apo Island, one of the highlights for divers in the Visayas plus the outstanding macro diving close to the resort, let a divers dream come true.
Quick Information
No of Rooms: 31
Dive Center: On-site
Amenities: hot and cold shower, air-condition, TV, minibar
Internet: Wi-Fi in public areas
Nearest Airport: Dumaguete Airport (45 minutes by car)
Babysitting service: Yes
Airport shuttle: Yes, surcharge
How to Get There
There are a few different ways on how you can reach Pura Vida Dauin. They offer airport transfer service to the resort at PHP 1200.
1ST OPTION: CAR/FERRY/CAR
From Cebu Int'l Airport to Liloan, Santander pier: 3.5 hours by car
From Liloan, Santander Pier to Sibulan, Negros: 30 minutes by ferry
From Sibulan, Negros to Pura Vida Beach Resort: 1 hour by car
2ND OPTION: FAST FERRY – FROM CEBU PIER/CAR
From Cebu pier to Dumaguete pier: 5 hours by fast ferry
From Dumaguete pier to Pura Vida Beach Resort: 30 minutes by car
3RD OPTION: CAR
From Dumaguete Airport to Pura Vida Beach Resort: 1 hour by car
Dive Overview
Beside the wild nature on Negros and a "caramel" brown beach in Dauin, every diver has the chance for a varied dive holiday. Dauin offers next to a multifaceted house reef, impressive corals (Apo Island) as well as world-class muck diving. Each diver has the chance to find a personal favorite dive spot.
[Read More: Dumaguete Dive Travel Guide]
Check Out This Great Video!
Accommodations
Types of Rooms, Amenities and Photos

---
Suite Room
The 2 Suite Rooms are located on the first floor of 2 two-story buildings. The spacious terraces are equipped with a small bar including a Mini Bar refrigerator as well as 2 sunbeds which offer a nice view over the tropical garden towards the pool and sea. Each Suite has a living room furnished with a beautiful set of one double and two single sofa chairs and a table made of high-quality bamboo. A King size bed, a flat-screen TV as well as a split air con to cool down the Suite to your preferred temperature will ensure you a good rest during the night.
Deluxe Room
12 Deluxe Rooms are located in double bungalow style houses which are placed around the pool area and up to the beach front. Each Deluxe room is equipped with a split air con, flat screen TV and a Mini Bar refrigerator. 10 of the 12 rooms are furnished with 2 comfortable single beds which can also be set up as a matrimonial bed while the remaining 2 rooms are equipped with one queen-size bed. Passed the walk-in dressing room comfortable bathrooms will offer a nice hot shower after a beautiful day of diving.
Family Room Dolphin
The Dolphin Family room is the largest room in Pura Vida featuring one (1) queen size bed and two (2) single beds with a small partition in between. The room is on the ground floor underneath the Suite and is therefore also wheelchair accessible. A natively furnished terrace offers a soothing garden view. The room comes with split-type air-conditioning, mini-bar refrigerator, in-room safe, complimentary water carafe, complimentary coffee and tea making facility, and flat screen cable TV. The bathroom features hot & cold shower and can be accessed from both sleeping areas.
Family Room Hammerhead
The Hammerhead family room features two twin beds which can be arranged into two matrimonial beds. Outside you can relax and enjoy a glass of wine at the large veranda with a view of the garden. The room is equipped with quiet split-type air-conditioning, mini-bar refrigerator, in-room safe, hot & cold shower and indoor bar with bar stools whereas the veranda is furnished with comfortable sofas, chairs, and tables.
Family Room Moorish Idol-Bluering
The Moorish Idol & Blue Ring Octopus Family room are 2 identical rooms with a connecting door in between. Moorish Idol is equipped with two (2) single beds whereas the Blue ring octopus features a queen sized bed. Each room has its own bathroom with hot & cold shower, air-conditioning, and a restful veranda facing the quiet garden and spa. This room is perfect for families who want to be close but still enjoy some privacy.
Standard Garden Rooms
The 10 standard air-con bamboo cottages a located on the rear portion of the resort. All rooms come with a balcony offering a nice view over the beautiful garden in the center. The two single beds can be arranged into one matrimonial bed but there are also 3 standard rooms with a King size double bed. Furthermore, a small cable TV, mini-bar refrigerator, in-room safe, and a coffee & tea making facility can be found in each room. All bathrooms are tiled and feature hot & cold shower for your convenience.
Resort Facilities

---
Pura Vida Resort Dauin Features
Wifi internet at public places
Restaurant at the beach overlooking the ocean
Beach bar
On-site dive center operated by Sea Explorers
Spa Center
Gym & fitness center
Pura Vida Resort Dauin Food & Drinks
A wide range of food from local dishes through a variety of Asian and European cuisines at the restaurant
A huge variety of tropical drinks, fresh fruit juices and shakes, fresh coconuts as well as finger foods and snacks at the bar
Pura Vida Resort Dauin Activities
Diving
Vida Fit - Fitness Center & Gym
Multi-purpose conference hall that accommodates up to 120 people for formal meetings, conferences, teambuilding and other occasions
Malabo falls & hot springs
ATV – Extreme tours
Malatapay Wednesday Market
Twin Lakes (full day)
Balanan Lake (full day)
Packages & Rates
The actual rates are based in PHP. The starting price indicated above may vary based on the current exchange rate.

---
room Rates
Prices are per room, including breakfast. Length of stay, number of destinations and itinerary are flexible.
| | |
| --- | --- |
| Accommodation type | Rate |
| Garden Front Rooms | ₱4,600.00 |
| Deluxe Aircon | ₱5,900.00 |
| Superior / Family aircon | ₱8,900.00 |
| Suite | ₱9,000.00 |
| Extra bed (if available) | ₱1,500.00 |
| Extra mattress (if available) | ₱1,200.00 |
Diving with Sea Explorers Philippines
Rates include tanks, weights, guide and boat rides. Does NOT include sanctuary fees and special day trips.
Number of dives (pre-booked & paid)

4

5

10

20

3-6 days

7+ days

valid in all Sea Explorers Dive Centers

₱8,000.00

₱9,500.00

₱18,500.00

₱36,000.00

₱6,300/day

₱5,670/day

Every additional dive over 20 dives will be charged PHP 1,750
Number of dives (paid on the spot)

4

5

10

20

3-6 days

7+ days

valid in all Sea Explorers Dive Centers

$180

$215

$410

$800

$140/day

$126/day

Every additional dive over 20 dives will be charged US$39 per dive.
[See: Sea Explorers Package & Rates]
Can't Find the Information You Need?
Can't find the information you need? Drop us an email at bookings@bluewaterdivetravel.com or call us today at 310-915-6677 and let us help you plan your dream dive vacation!
Dive Information & Itineraries

---
Dive Overview
Diving is possible all year around
Temperature: Water 26-30°C / Air 25-33°C
3-5mm wetsuit is recommended
Maximum depth up to 40m
Pura Vida Resort Dauin Dive Sites
Here are some of the most popular dive sites in Dauin. Feel free to ask us if you would like to know more about these and other dive sites.
Pura Vida Housereef
Located just in front of the resort is the Pura Vida house reef. What used to be an underwater "sahara" has now become a small oasis for marine life. This artificial reef consists of several wrecks, interesting concrete blocks, and a steel pyramid were lionfish, sea-horses, stingrays, snappers, and batfish are at home. Sometimes rare species are also found here. This site is also suitable for night diving.
Luca Sanctuary
The closest sanctuary to the resort is the Luca sanctuary which is accessible by a short walk. Here we have a great combination of sand and beautiful coral blocks that make this site very interesting. You can see several stingrays, snappers, eels, morays, groupers, different kind of frogfish, as well as colorful shrimps, and anemonefish. It is an excellent dive site to start your underwater adventure.
Car wreck
Another great dive site for macro lovers, is the Carwreck. In this sandy area, you can find robust ghost pipefish, unique crabs, sea moths, moray eels, and other interesting creatures. Two Carwrecks are located between 24-28 meters, surrounded by concrete pipes and steel boxes. This makes it a perfect hideout for many creatures. The sand slopes may seem lifeless, but you may be surprised by the creatures that can be found there. Flash-lights and Nitrox are recommended.
Sarah's Place
One of the oldest Sanctuaries in the area, Sarah's place is made out of old truck tires which over the years transformed into a beautiful reef. Schools of yellow snappers, frogfish, nudibranchs and Seahorses are commonly seen. The maximum depth is around 26m.
Banka wreck
Just around the corner is a special treat waiting for you: Seahorses, ghost pipefish, sea moths and frogfish are not uncommon in this sandy area. Down the sand slope at 28m to 30m rests an old Philippine made outrigger boat also known as the banka wreck. Although there is not much coral life to see, you will be surprised with the unique marine diversity that is living there. The perfect site for macro lovers, photographers, advanced and nitrox divers.
Bonnet's Corner
Named after our very own Crew member, Bonnet's corner is a dive site only for the macro enthusiasts. The site consists of sand alone, and no corals. However, in this site, some of the most unique creatures have been spotted, such as mimic octopus, wonderpus, blue-ring, and mototi octopus. Other creatures such as flamboyant cuttlefish, snake eels, and frogfish can also be seen there if you are lucky.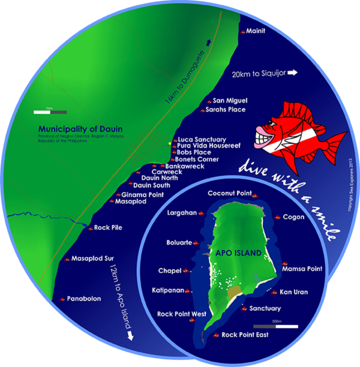 [Read More: Dumaguete Dive Travel Guide]
Dive Center Information

---
Sea Explorers Overview
The SEA EXPLORERS PADI 5* CDC Dive Center is located inside the Pura Vida Beach and Dive Resort. They offer a very well equipped facility with our own office, small retail shop, air-conditioned classroom and three storerooms for the guest's equipment directly on the beach. Regular IDC (Instructor Development Courses) are being offered several times a year.
Diving Facilities & Services
Fun dives in small groups with personal service
Orientation & check-up dives for guests who haven't dived for a long time or for the first time in tropical waters
Full range of PADI courses
Island Hopping available
Dive Safaris with their own safari boat
Modern & well-maintained rental equipment & absolutely pure air
Oxygen equipment, Emergency communication on boats
Small groups, up to 4 divers per guide
Max. 4 dives can be offered per day
Nitrox up to 32% (surcharge applies)
Other Information

---
Practical Information
Languages: English, Tagalog, French, German, Dutch
Electricity: 220 v
Time zone: GMT/UTC +08:00
Payment: Cash or credit card
Underwater Gallery

---
Coming soon!