Destination: Indonesia
Raja Ampat, Komodo, Banda Sea, Triton Bay, Sulawesi & Halmahera (3-12 Nights) | From $482++/night

---
teman liveaboard Quick Pitch
The Teman Liveaboard is a luxurious and well-equipped boat that specializes in scuba diving and leisure cruises throughout the Indonesian archipelago. Built entirely in wood in 2017 in Sulawesi, the 36-meter long boat offers a unique and charming way to explore the gems of Indonesia.
Dive Overview
Scuba diving in Indonesia is simply a must for any avid diver. Hosting over
25% of the world's fish species, as well as over
72% of the worldwide coral species
, Indonesia is often cited as the world's epicenter of biodiversity with the
greatest marine life variety
ever recorded on earth, alongside the
Philippines
and a small number of other Coral Triangle destinations.
Whether you're into macro critters, big animals, beautiful corals, or thrilling drift dives; luxury resorts and liveaboards, or budget lodges; Indonesia has it all.
[See: Raja Ampat Dive Travel Guide, Komodo Dive Travel Guide and Bali Dive Travel Guide]
Accommodations
Types of Cabins, Amenities and Photos

---
teman liveaboard Overview
The boat features 5 fully equipped cabins that can accommodate up to 12 guests, making it perfect for families or small groups of friends. Each cabin is named after a different Indonesian island or region and is uniquely designed to offer a comfortable and relaxing stay. Each cabin also comes with an ensuite bathroom, air conditioning, and ample storage space for guests' belongings.
The Sulawesi Cabin is located at the rear of the boat and is the most popular room available. It features a queen size double bed and a large window that provides a stunning view of the surrounding area. The room has access to a private bathroom and is equipped with air conditioning to keep you cool during your stay.
The Celebes and Seram Cabins are located in the heart of the boat and are the largest rooms available. They feature a queen size double bed and a single bed, as well as a desk and plenty of storage space for your belongings. The cabins are designed with a roof window that can be opened for extra brightness and to enjoy the beautiful views.
The Banda and Flores Cabins are located in the front of the boat and are spacious enough to accommodate an extra bed if needed. These cabins come equipped with storage space, air conditioning, and a private bathroom.
General Facilities

---
teman liveaboard Boat Features
Sundeck with bean bags
Large lounge area with beds and puffs
Spacious dining room
Dive deck
teman liveaboard DIVE FACILITIES
Spacious dive deck
Ample camera storage and charging area
Outside shower and toilet

20x12 liter aluminium tanks

4x15 liter aluminum tanks
10 sets of ScubaPro equipment; BCD model T-One and regulator model MK2
A selection of 3mm long wetsuits, open heel fins with booties and a variety of masks
food & drinks aboard teman liveaboard
The Teman Liveaboard offers a range of delicious and freshly prepared meals to ensure that you are well-fed and energized throughout your diving and leisure activities. The onboard chef prepares a variety of dishes using locally sourced and fresh ingredients, with options for vegetarians and any other dietary requirements. You can expect a range of Indonesian and international cuisine, including seafood, meat, and vegetarian options.
The boat also provides free-flowing water, local coffee, and tea throughout your stay on board to keep you hydrated and energized. In addition, a range of soft drinks and juices are available for purchase.
TEMAN LIVEABOARD DECK PLAN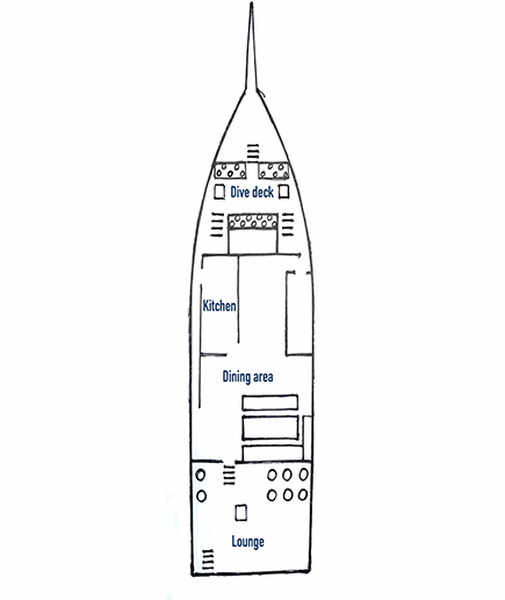 Schedule, Rates & Availability
Teman Liveaboard Schedule & Rates

---
Prices are per person in USD and do not include national park fees.
[See also: Inclusions & Exclusions]
scubadates here
INCLUSIONS
Airport to boat transfers (2 ways)

Freeflow of water, local coffee and tea
Meals 3 times per day & snacks
Welcome mocktail
EN & FR speaking Cruise Director
Snorkeling equipment
Towels & bed sheets
3 guided dives per day
12L Tanks, belts & weights
Paddle board & Kayak activities
English speaking Dive Masters (diving cruises)
exclusions
Park & Port fees Komodo – USD 35$ /pax/day

Park & Port fees Raja Ampat – USD 200$ /pax
Fuel surcharge if any
International and domestic flights
Alcoholic, soft and juice beverages
Diving equipment rental
Beach BBQ
Nitrox
15L Tank
RATES & AVAILABILITY
For more information on departure dates that are not listed and availability please email us at info@bluewaterdivetravel.com or call us at +1-310-915-6677 and we will gladly help you plan your dream dive vacation!
Dive Information & Itineraries

---
diving in raja ampat
Located in the northwest tip of Bird's Head Peninsula on Papua, Raja Ampat is the most eastern island of the Indonesian Archipelago. Translated by 'The Four Kings', the archipelago comprises over 1,500 small islands. It surrounds the four main islands of Waigeo, Batanta, Salawati, and Misool.
We sail seasonally in Raja Ampat between October and June.
Raja Ampat is one of the best diving spot in the world. There, you will be able to see high numbers of reef sharks, manta rays, turtles as well as rare endemic species such as the tasselled Wobbegong shark. It is also one of the richest sites worldwide for its corals and macro species. All the conditions are perfect to make Raja Ampat an unforgettable diving experience !
Komodo national park
Komodo National Park features one of Indonesia's richest and most biodivers scuba diving. It is a destination where the delights are very varied as you can enjoy the culture of Flores; underwater and on land with its traditional villages. Declared as a UNESCO World Heritage Site, the Park is also renowned to be the home of the famous Komodo dragons.
We sail seasonally in Komodo between June and September.
With the waters protected by the many Islands, Komodo National Park is a perfect spot for snorkeling and diving. With calm waters with pristine coral reefs to raging currents, you will be able to see Manta Rays, Sharks, Frog Fish, Ghotpipe Fish to a wide variety of Nudibranchs, and much more.
banda sea
Located in the archipelago of the Moluccas in the center-east of Indonesia, the Banda Sea is home to hundreds of islands and extends over 1000km. This archipelago is still little visited by tourists and remains very wild and authentic; the perfect opportunity to visit the traditional villages on the islands and discover an amazing underwater life !
Diving in Banda Sea and its Ring of Fire, located in the heart of Indonesia, (between two top diving locations: Papua and Java) offers a rare opportunity to float on waters which have remained effectively untouched, perfectly suited for diving cruises. The conditions are excellent in season with clear water and warm temperatures. Currents are mild at most dive sites, although there are some strong current sites.
The Banda Sea and its Ring of Fire is a rare fortune to dive with hammerhead sharks and other pelagic in the hot waters of Indonesia. On the top 5 areas to encounter Squat-headed and Scalloped Hammerheads, our cruises will take you to remote spots for an unforgettable diving experience.
triton bay
Triton Bay is located in the most Southern part of West Papua, which truly makes you feel you are away from civilization. There are plenty of smaller islands dotted around with some fantastic and hidden treasures. You will discover impressive landscapes and vertiginous cliffs.
The beauty of its incredible soft corals that emerge from the surface is certainly one of the main marine attractions of Triton Bay. There are more than 959 different types of corals and 471 types of corals known in this area.
Other highlights include black coral forests, overflowing sweetlips benches, vibrant macro lives, and a good chance to encounter whale sharks on Triton Bay Bagan. This is the perfect location for tremendous Coral Reef Growth, and nutrient-rich waters. Whales and sharks are in abundance in this site and makes another reason for the Protection of the area.
north raja ampat expedition
On board Teman towards Sulawesi, we will bring you to Wakatobi National Park, well-known for having some of the best diving and snorkeling spots in the world. An enriching experience where you will explore a breathtaking environment and enjoy unique food and culture.
Home to amazing reefs, rocks, walls, wrecks and caves, the dive sites in Central Sulawesi are the stuff of dreams. Here divers can swim with a huge number of species, from big to small as well as many endemics. The coral-reef are unique with limestone fossil due to a drier climate, coming with a variety of topography from walls, and drop-offs to overhangs and coral gardens. We will also bring you to the Gulf of Tomini, reputed to be the calmest deep-water bay in the world. As such, these islands offer excellent diving opportunities. The six main islands play host to over 819 species of fish and several endemic species, including 3 species of coral. The crystal-clear waters are perfect for exploring the walls of these islands.
halmahera
Halmahera is the largest island in the whole Maluku Islands. Tropical, it is covered with lush forests. Everywhere majestic volcanoes come out of a calm sea and the deep forests of Halmahera have remained intact. Pisang Island, the most loved by divers, will give you the feeling of being in the middle of nowhere.
We will bring you to some of the most remote diving locations in Indonesia. You will have a huge variety of underwater experiences: wrecks, hard coral, muck dives, drop off, pelagic, drift dives, volcanic rocks, cavern, swim-throughs… and much more. Our famous dives sites will let you discover Halmahera strait with the possibility of catching big fish such as Hammerhead, barracuda, oceanic whitetip.
Other Information

---
Boat Specifications
Overall Length: 36 m/118 ft
Deck Length: 28 m/92 ft
Beam: 7.5 m/25 ft
Draft: 2.4 m/8 ft
Masts/Sails: 2/6
Cruising Speed: 7 knots
Maximum Speed: 9 knots
Engine: Mitsubishi 6D22-6 270hp
Fuel Capacity: 2x3500L
Gensets: 40KVA & 22.5KVA
Electrical system: 220V/50Hz (EU Sockets)
Watermaker
Freshwater reservoir: 2x3500L
Compressors: 2xBauer air compressors, Nitrox membrane NRC 500L
Practical Information
Time Zone: UTC+8
Local Currency: IDR (Indonesian Rupiah)
Language Spoken: Indonesian & English
Electricity: 220 & 230 V
Payment Onboard: Cash, Visa, MasterCard, American Express, JCB, and Union Pay
Underwater Gallery

---