By Travel Editor | Date: 11 Jul' 2019
Great news! Explorer Ventures has announced the newest addition to their growing liveaboard fleet, the Tiburon Explorer, which will commence operations in the Galapagos starting April 2020, and the New White Manta Explorer in Indonesia, which will begin cruising the Banda Sea in September 2019, before making its way to Raja Ampat and Derawan Islands.
Tiburon Explorer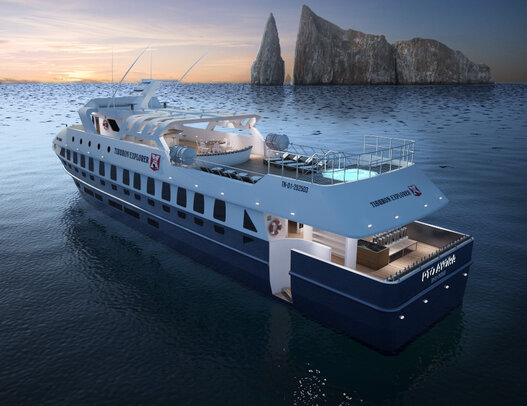 Construction of the Tiburon Explorer has officially started on Thursday, June 20th, 2019, and new bookings are now being accepted for travel beginning in April 2020.
The 125-foot (38-meter) Tiburon Explorer will feature 9 ocean view cabins for up to 16 divers, located on the main and lower decks. Each cabin will be equipped with a private bathroom, air conditioning, and twin beds that can convert to queen beds, making this boat perfect for single travelers, couples and groups!
The yacht will feature a partially covered sun deck with a jacuzzi, a salon with dining, bar and entertainment areas, a spacious dive deck, a large camera table with charging stations, individual storage areas and separate rinse bins for cameras and dive gear.
Diving aboard the Tiburon Explorer will be conducted from two large pangas (tenders), easily boarded from the dive deck.
Diving Galapagos on the Tiburon Explorer
The Tiburon Explorer will offer 7-night trips in the Galapagos year-round, starting and ending in Baltra. You will get to visit the Galapagos' "must-dives" including the world-renowned Wolf and Darwin Islands for hammerhead sharks and whale sharks, Cabo Douglas for marine iguanas, and Punta Vincente Roca to look for mola molas!
Interested in booking a trip? View Tiburon Explorer's full schedule and availability or contact us for assistance.
White Manta Explorer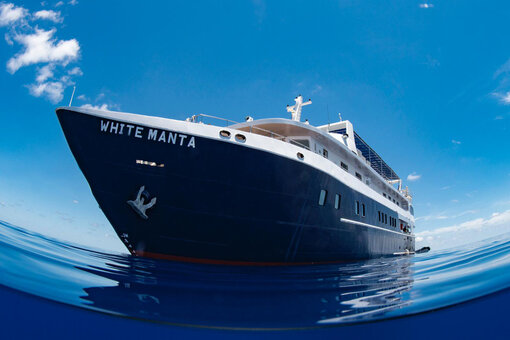 The White Manta Explorer, also known as the New White Manta, will be making her way from Malaysia to Indonesia to start cruising in Indonesia year-round. She is scheduled to cruise in the Banda Sea starting on September 16, 2019.
This 150-foot (46-meter) steel hull vessel is a stable and sophisticated yacht boasting an extensive range of amenities to accommodate the needs of avid divers and underwater photographers.
With an average of 20 crew members onboard and a high crew-to-guest ratio, divers may expect first-class services above and below the water. On board, up to 22 divers will be comfortably accommodated in its 14 modern and spacious en-suite cabins. The White Manta Explorer's extensive amenities include 24-hour satellite WIFI connection, a spacious sundeck, a hip alfresco dining area, an indoor air-conditioned dining area, a sizable dive deck, a dedicated camera room with ample space, and outdoor work station.
White Manta Explorer's Itineraries
Starting September 2019 the White Manta Explorer will take divers to the following amazing scuba diving destinations to explore Ambon and the Banda Sea, Sangalaki (Derawan) and Raja Ampat year-round.
Ambon & Banda Sea "Ring of Fire"
Diving Season: September to November
Highlights: Hammerhead sharks in the Banda Sea, sea snakes in Manuk, pristine coral reefs in Alor, muck diving in Ambon, and more.
Raja Ampat
Diving Season: November to May
Highlights: Some of the world's richest marine biodiversity with over 1000 fish species, 540 coral species, various sharks, rays, and occasional dolphins and whales.
Derawan Islands
Diving Season: May to August
Highlights: Lots of big fish and pelagic action, including manta rays at their cleaning station in Sanglaki, whale sharks, turtle hatching, jellyfish lake, and great macro opportunities.
Interested in booking a trip? View White Manta Explorer's full schedule and availability or contact us for assistance.
---
Book Your Dream Dive Vacation!
Need assistance? Bluewater Travel's advisors can provide recommendations and get you booked on any liveaboard in Galapagos and Indonesia and hundreds of resorts and liveaboards in 40+ destinations worldwide.
We can help sort out your flights, transfers, and just about everything else you need to have a perfect trip, all at no additional cost than doing it all yourself! Utilize our vast knowledge and experience and save yourself the trouble!
Contact us by email, call us at +1-310-915-6677 or leave us a message in the live chat box to start planning your perfect trip!