Destination: Honduras
French Harbour, Roatan, Honduras | Full-board + 2 dives from $177++/ppn

---
CoCo View Resort Quick Pitch
CoCo View Resort is an intimate south shore destination featuring waterfront accommodations and it is one of Roatan's most frequented dive resorts. Because of the location on the windward side of Roatan, the resort enjoys an almost constant gentle breeze from the prevailing winds of the Caribbean.
Why You'll Like CoCo View Resort
Free resort-wide WiFi access
Boutique shopping on property
Delicious meals and tasty tropical drinks in the Clubhouse
Unbeatable diving and snorkeling
Stunning ocean views
Oceanfront and over-water accommodations
A range of island activities
How to Get There
CoCo View Resort is situated on Roatan's protected south shore, 35 miles off the mainland. Only 2.5 hours by air from the US, you can easily travel to Roatan; some U.S. airlines as well as come Canadian Charters offer direct flights to the island. You'll be greeted at Roatan's international airport (RTB) and from there it's only a short trip by private bus to the landing, where the resort's boat will take you on the short ride to where CoCo View Resort is located.
Dive Overview
Roatan's water has the world's second largest barrier reef and an incredible array of sea life exploding with color. You can dive with Roatan's sea turtles, dolphins, tropical fish, eels, sharks, and more.
Watch this awesome video to give you a great feel for what it would be like to stay at CoCo View Resort!
Accommodations
Types of Rooms, Amenities and Photos

---
CoCo View Resort Accomodation Overview
No. of Rooms: 29
Accommodation Types: Bungalows, Cabanas, Oceanfront Accommodation, The Mango Suite, CoCo Casa, CoCo Villa General
Amenities: Air conditioning, in-room coffee pot, mini-fridges, lockable security box, hammock and maid service.
Bungalows
4 Bungalows are located in two over-the-water duplexes along a wooden walkway between the Clubhouse and Hawksbill Cay. They are considered by many guests to be the most private and romantic of our guest rooms. Spacious rooms and large decks ensure you will rest and relax in comfort. King and double/queen bed configuration available.
Cabanas
12 Cabanas are built directly over the water. These spacious rooms are located in three separate buildings. Enjoy the sunrise/sunset from your private oceanfront deck. Cabanas are located east of the clubhouse along a wooden walkway. Queen/Double bed configuration available.
Oceanfront Accommodation
12 Oceanfront rooms are built at the water's edge, 8 upstairs and 4 down. The ocean laps gently only a few feet from your door. These rooms are located conveniently near the clubhouse and dock. Large porches and decks ensure you have a front row seat to peaceful ocean views. King or queen/double bed configurations available.
The Mango Suite
An ocean-front, ground floor, 2 bedroom, 2 bathroom suite that offers 1 Queen size bed in the front bedroom and 2 twins that can be converted to a King size bed in the back room. Perfect accommodations for a group of 4.
CoCo Casa
Air-conditioned, 2 bedrooms/2 baths Ocean Front home, the first house past the Cabanas; it is an easy walk or a quick bike ride to the resort. Perfect for families and groups of 3 or 4.
CoCo Villa
It offers three bedrooms, 2.5 baths and spacious family areas including a large eat-in kitchen, living room and screened porch. It's on the beach and has amazing ocean views.
Resort Facilities

---
LEFT: Bar & RIGHT: Eco Tour
CoCo View Resort Features
Dive Center
Restaurant & Bar
In-Room Spa Treatments
Spa & Health Club
Free resort-wide WiFi access
Various activities
CoCo View Resort Food & Drinks
Home-cook goodness, including flavorful regional entrees, sample traditional Honduran fare, savor the taste of local fruits and vegetables.
Bar with alcoholic and non-alcoholic beverages
Non-Diver Activities
Snorkeling
Shark Diving
Canopy Tour
Island Tour
Copan Tours (Mayan Indian Ruins)
Dolphin Encounters
Butterfly Garden & Bird Park
Eco Tour
Dinner Party
Golfing the Black Pearl Golf Course
Kayaking
Packages & Rates
Coco View Resort Accommodation & Diving Rates

---
Jump to:
CoCo View Roatan 2019 Diver Rates
Rates are per person and do not include 19% tax. Non-divers deduct $100 from rates listed below.
Room Type

High Season

Jan 19, 2019 – Aug 9, 2019

Value Season

Aug 10, 2019 – Jan 17, 2020

7N

14N

Add. Night

7N

14N

Additional

Ocean View (Rooms 22 & 23 have a limited view)

$1,439

$2,778

$207

$1,239

$2,378

$178

Ocean Front

$1,489

$2,878

$214

$1,289

$2,478

$185

Over Water and Mango Suite

$1,539

$2,978

$221

$1,339

$2,578

$182

CoCo Casa (2 Bedroom beach house)

Contact Us

Contact Us
COCO VIEW ROATAN 2020 DIVER RATES
Rates are per person and do not include 19% tax. Non-divers deduct $100 from rates listed below.
Room Type

High Season

Jan 18, 2020 – Aug 14, 2020

Value Season

Aug 15, 2020 – Jan 15, 2021

7N

14N

Add. Night

7N

14N

Additional

Ocean View (Rooms 22 & 23 have a limited view)

$1,464

$2,828

$211

$1,264

$2,428

$182

Ocean Front

$1,514

$2,928

$218

$1,314

$2,528

$186

Over Water and Mango Suite

$1,564

$3,028

$225

$1,364

$2,628

$189

CoCo Casa (2 Bedroom beach house)

Contact Us

Contact Us
Additional Pricing Information
Type

7 Nights

Nightly

Ocean Front Single Supplement

$200

$35

Over Water / Mango Suite Single Supplement

$400

$60

Child 10-11 Years

½ price in a room with 2 adults
Inclusions
Accommodations: Ocean front or over water resort accommodations, depending on option purchased
Welcome cocktail
3 full meals daily, including arrival dinner, breakfasts to order, daily lunches, daily dinner buffets with salad bar and choice of entrée, and breakfast on departure day (at normal hour).
Complimentary Airport Transfers
Unlimited beach diving, including barrier reef wall diving and the wreck of the Prince Albert
Unlimited night diving from shore
2 boat dive trips daily, each trip including 1 tank at the selected site and an optional drop-off dive on return to the resort, for up to 4 tanks daily from the boat. *Optional all-day and remote destination trips may be offered during the week at an additional cost.
Tanks, belts, and weights
Free Use Of: Ocean kayaks, Internet access
Coco View Resort Availability
Drop us an email at info@bluewaterdivetravel.com or call us today at 310-915-6677 and let us help you plan your dream dive vacation!
Dive Information & Itineraries

---
Roatan Dive Overview
Best Diving Season: All year round
Water Temp: 25 - 29°C (77 - 84°F)
Visibility: 10 - 30m (33 - 98 ft)
What to See
Expect a vast variety of marine life: turtles, trumpetfish, groupers, octopi, squid, spotted drum, moray eels, parrotfish, triggerfish, grunts, tang, wrasse, chromis, pufferfish, porcupine fish, and eagle rays, occasional great barracuda or nurse shark, lettuce slugs, arrow crabs, lobsters, flamingo tongue cowries and the occasional seahorses.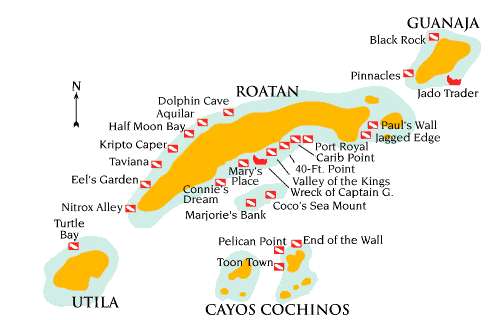 [Read More: Roatan Dive Travel Guide]
Dive Center Information

---
Coco View Resort Dive Center
The dive boats of Coco View Resort
Dive Center Overview
Boat Dives: 2 boat trips that depart from CoCo View daily, up to 4 tank dives from the boat
No. of Boats: 6 boats
Dive Courses: Various PADI courses
Dive Equipment: Rental Gear must be reserved in advance.
Underwater Gallery

---
Coming Soon!