Destination: Indonesia
Itineraries: Ambon, Banda, Sangalaki, Lembeh, Raja Ampat, Halmahera (6-11 Nights) |From $375++/night

---
KM Raja Manta Quick Pitch
KM Raja Manta (formerly White Manta) is a premier liveaboard dive boat designed by divers for divers. With a major makeover in 2016, she has now relocated to Indonesia where she is ready to WOW new and returning guests with thoughtfully decorated cabins, stylish finish, attention to detail and space, and comfort all around.
Dive Overview
With over 3,000 fish species and 600 species of coral, steep walls, deep water trenches, underwater volcanic mountains, and an endless variety of macro life, scuba diving Indonesia is truly excellent. With over 13,500 tropical islands straddling the equator, the Indian Ocean to the east and the Pacific Ocean to the west, Indonesia has the longest coastline of any country in the world and is one of the most beautiful places on earth. The Banda Sea, Sulawesi (Celebes & Molucca) Sea, and Flores Sea hold some of the best diving opportunities in this expansive underwater wonderland.
[See: Ambon & Alor Dive Travel Guide, Raja Ampat Travel Guide & Derawan Islands Travel Guide]
Accommodations
Types of Cabins, Amenities and Photos

---
Raja Manta Accommodation Details
Up to 22 guests are easily accommodated in 8 double & twin share en-suite cabins along with 3 standard twin share cabins with wash basins. Comfortable, roomy and beautifully designed, each cabin provides a home away from home.
En Suite Cabin 3+4 (LEFT) and En Suite Cabin 5 (RIGHT)
Raja Manta Cabin Details
All ensuite cabins are on the main deck and upper deck, have amber storage space for luggage with camera table, a spacious toilet with hot water shower, and aircon with individual control. Cabins also have large windows that can be open.
2 ensuite twin share single bed (upper deck C1/C2) can be converted to King size bed.
2 ensuite king bed (2 main deck C3 /C4) bed size 2.00m x 1.80m.
4 x ensuite twin bed (main deck) bed 2.00m x 1m.
3 x standard cabin with washbasin bed 1.00m x 2.00m ( below deck) with portholes that can open.
General Facilities

---
Raja Manta Boat Features
En-suite cabins: 8
Non-En-Suite cabins 3
All indoor air-con
Comfortable saloon with Big screen TV and media server
Large outdoor dining area
Sundeck with shaded area
Dedicated camera tables
Raja Manta Dive Facilities
Spacious Dive Deck
Compressors 3 L&W 450 liters
Nitrox system
Diving tanks yoke & Din
Nitrox clean air filter system
Rental equipment full set
Food & Drinks Aboard Raja Manta
Three plentiful meals a day are prepared by a fantastic chef. A blend of Western and Asian Cuisine awaits guests after every dive. Light breakfast and afternoon snacks complete the ensemble and a delightful array of fresh tropical fruits accompanies every meal. Further snacks, tea, coffee, hot chocolate, and drinking water are available all day. The refrigerator is stocked with chilled drinks which can be purchased at reasonable prices whilst a Nespresso coffee machine takes care of caffeine addicts.
Raja Manta Liveaboard Deck Plan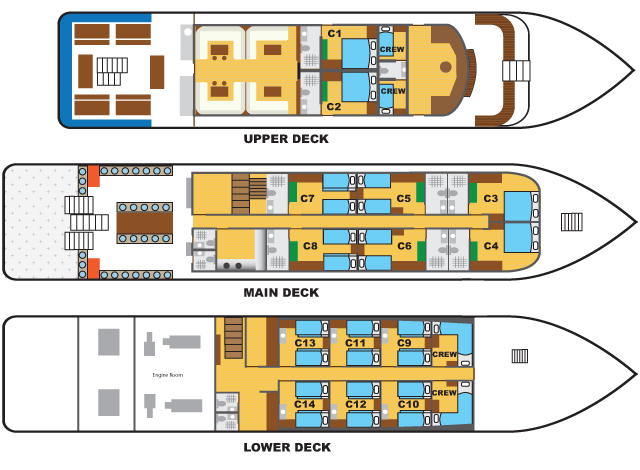 Schedule, Rates & Availability
Raja Manta Schedule & Rates

---
All prices quoted are per person, in US Dollar and exclude marine park & harbour fees.
[See also: Inclusions & Exclusions]
Inclusions
All nights' accommodations aboard the vessel
Up to 4 dives daily (weather and itinerary permitting)
3 meals daily (Western & Indonesian)
Snacks, hot beverages, coffee, tea, Milo, towel, toiletries, cabin services, etc.
Use of 12L tanks, weights, and weight belts, and all air fills
Round trip transfers from local airport or hotel (Bali Hotels excluded)
Exclusions
All flights & hotels stay
Marine Park & Harbour fee (Sangalaki: $180; Raja Ampat & Crossing Trips: $250)
Dive & travel insurance
Massage services
Soft drinks, alcohol, Nespresso coffee,
Diving gear; BCD, regulator, wetsuit (only 3mm shorty wetsuits available), fins, mask, dive computer, torch, 15L tank rental. Note; Diving Gear Items priced per diving day and are subject to availability
Nitrox refills EANx32, subject to availability
RATES & AVAILABILITY
For more information on departure dates that are not listed and availability please email us at info@bluewaterdivetravel.com or call us at +1-310-915-6677 and we will gladly help you plan your dream dive vacation!
Dive Information & Destinations

---
Destination Overview
Forming one corner of the 'Coral Triangle', the epicenter of world marine biodiversity, and containing 20% of the world's coral reefs, it will come as no surprise that this region boasts the most diverse waters in the world. Surprisingly, Indonesia is the least well-known of the world's best scuba destinations. Dive sites such as Raja Ampat in Irian Jaya, the Banda Islands and Sulawesi are all excellent destinations for a scuba adventure holiday.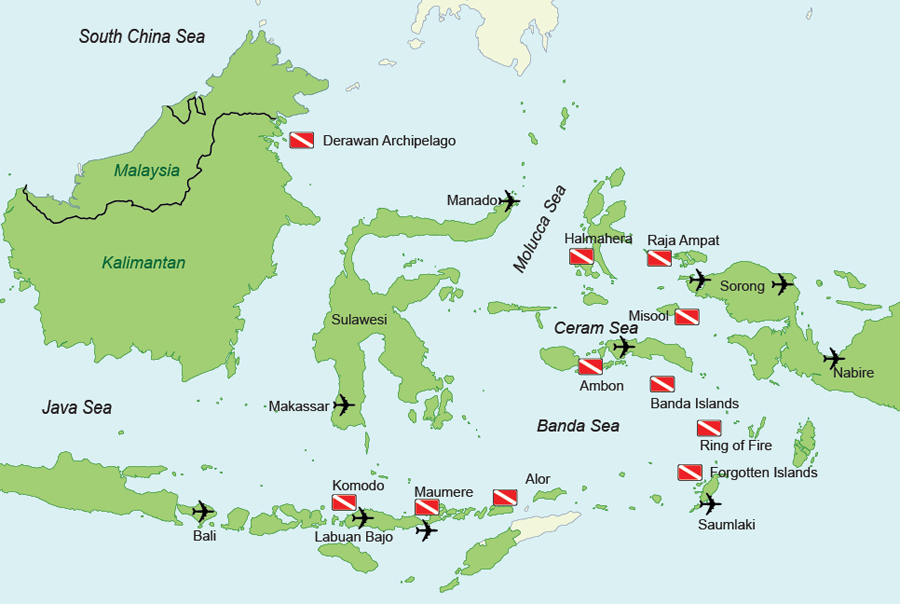 Raja Ampat
Raja Ampat is all about diversity - not only diversity of species, but also of dive sites. There are some areas where soft corals and sea fans dominate, others with hard corals, seagrass beds, mangroves, shallow reefs, drop-offs, caves, black sand, and white sand…and there are more species of fish life here anywhere else in the world. Here, all the levels of the food chain are well represented – from pygmy seahorses to top predators. In many places, brightly colored soft corals can be found close to the surface which, illuminated by natural sunlight, make these dive sites spectacularly colorful. The reefs in Raja Ampat just buzz with life!
Water Temp: 27-30 degrees Celsius
Air Temp: 27-32 degrees Celsius
Visibility: 15-30 meters
Current: mild to strong
Level: Intermediate to Advanced,
Best Time to Dive: October to April (less rain & much less wind; perfect for diving)
Ambon, Banda Sea, Maumere
Starting with muck diving and a Japanese wreck we cross the Banda Sea, tracing the perimeter of islands. Let their experienced crew show you these remote and almost untouched locations with wonderful reefs and stunning drop-offs. Marine life here is in abundance from the critters, sea snakes, manta rays, sharks and much more.
Water Temp: 27-29 degrees Celsius
Visibility: 20-40 meters
Air Temp: 22-31 degrees Celsius
Level: Intermediate to Advanced
Best Time to Dive: March, April, & mid-September to early December
Sangalaki, Kakaban & Maratua
Derawan Archipelago in North East Kalimantan is one of the most remote areas of Indonesia. Here you can find an archipelago the offers truly spectacular world class diving among its 5 islands, Derawan, Maratua, Kakaban, Sangalaki, and Pulau Sambit.
Thousands of years ago the island was naturally uplifted and then isolate the marine ecosystem from surrounding marine area making all biota in this marine lake become very unique and endemic critters such as four species of non-stinging jellyfishes and non-stinging anemones. Marine biologists have also found a number of unknown species of anemones, tunicates, flatworms, and crustaceans in the lake. The shoreline is fringed with a tangle of mangroves. Their sturdy roots are carpeted with sponges, seaweeds, and tunicates. Visibility is around 10- 12 meters and at its deepest point the lake is 18 meters with a tidal amplitude of about 0.2m, this is a result of a network of underground fissures that connect to the ocean. This truly is a biological paradise where everything can easily be seen snorkeling.
Water Temp: 28-30 degrees Celsius
Air Temp: 28-30 degrees Celsius
Visibility: 10-40 meters,
Currents: mild to medium, Level: beginner to advanced,
Best Time to Dive: all year round
What to See/ Highlights: Pelagic; Manta rays, hammerheads, barracuda, jacks, tuna, & more Reef; amazing soft corals, turtles, leopard & reef sharks, harlequin shrimps, pygmy seahorses, frogfish, ribbon eels, cuttlefish, nudis, & usual suspects
[See: Ambon & Alor Dive Travel Guide & Raja Ampat Travel Guide]
Other Information

---
Boat Specifications
Year built: 2011
Length: 36m
Beam: 7.5m
Construction material: Steel hull
Speed: 9-10 knots
Main engine: Cummins 2 x 500hp total 1000 Hp
Genset Perkins 2 x 75 Kva
1 x 100 Kva spare genset
Watermaker: 2 unit 5000 lit per day
Fuel capacity: 15,000 liters
Water capacity: 20,000 liters
Watermaker: 2 unit 5,000 liters per day
Range: 1500 nm
Tenders: 2 x 5.8m rubber dingy with 70 (HP) OBM
Max guests: 22
Number of cabins: 11
Crew: 14 deckhands + 5 dive crew (1 cruise leader, 4 instructors)
Practical Information
Time Zone: GMT+8 & GMT+9
Local Currency: IDR (Indonesian Rupiah)
Languages Spoken: English & Indonesian
Electricity: 220volts; 110v adapters available.
Payment Onboard: Cash & Credit Card (Visa & Mastercard)
Underwater Gallery

---