Destination: Micronesia
Kosrae, Federated States of Micronesia | Full-board + 2 dives from $220++/pppn

---
Kosrae Nautilus Resort Quick Pitch
The lush island resort of Kosrae Nautilus offers stunning views, magnificent diving, and hospitable accommodations, creating an idyllic tropical paradise.
Quick Information
No of Rooms: 18
Dive Center: On-site
Amenities: AC, televisions, ensuite bathrooms, pool, kayaks, bar, free airport transfer
WiFi: Yes, free
Nearest International Airport: Kosrae International Airport
Airport shuttle: Yes, free
How to Get There
Kosrae is the second largest Micronesian island, located north of the Solomon Islands. Guests fly into Kosrae International Airport, where they are greeted by resort staff and transferred by shuttle to the resort, 20 minutes away.
Dive Overview
A knowledgeable team of dive center staff design dive excursions according to diver preferences, allowing guests to explore the vast underwater environment, rich with living hard and soft corals.
Accommodations
Types of Rooms, Amenities and Photos

---
Kosrae Nautilus Resort Accommodation Overview
The 18-room complex emphasizes comfort, convenience and consideration. Striking tropical gardens surround the restaurant and bar, with an inviting swimming pool nearby for leisurely dipping. At Kosrae Nautilus Resort you will find friendly comfortable surroundings just a stone's throw from your own private beach.
Each room is air-conditioned with two double beds, a fridge, minibar, tea/coffee making facilities, 22-channel cable TV, direct-dial telephones, Wi-Fi, solar electricity and solar water heaters, and daily room service.
Resort Facilities

---
Kosrae Nautilus Resort Features
Private beach
Air-conditioned rooms
Full restaurant and bar
Swimming pool
Kosrae Nautilus Resort Food & Drinks
The restaurant at Kosrae Nautilus Resort opens at 7 am, and is open all day with a good selection of beer and wines from around the world.
Dine in the islands only air-conditioned restaurant, or enjoy the comfort of outside dining by the swimming pool. Western and local foods, think breadfruit chips and incredibly fresh fish. They also offer Micronesia's best pizza. Where ever possible, they use locally grown organic fruit and vegetables from their own garden and local farmers on Kosrae.
For those who want to dine in the comfort of their own room, daily room service is available with the restaurant menu, with no extra service charge. Each room also has tea/coffee-making facilities and a minibar stocked with soda and drinking water.
Kosrae Nautilus Resort Activities
Scuba Diving
Mangrove Kayak Trips
Snorkeling the Blue Hole
Swimming
Surfing
Kitesurfing
Deep Sea Fishing
Pre-historic Forest
Lelu Ruins
Lelu Hill
Menke Ruins Hike
Tafunsak Gorge Hike
Mt. Oma
Japanese Caves
Cascading Waterfalls
Finkol Hiking Trail
Walung
Sipiyen Waterfall
Packages & Rates
Kosrae Nautilus Resort Rates

---
Jump to:
Room Rates
All rates are per person per night in USD and include free airport transfers. Please add 5% for local taxes. Valid until December 31, 2020.
| | |
| --- | --- |
| Option | Rate |
| Single room | $140 |
| Double room | $155 |
Meal Plans
Includes non-alcoholic drinks
| | |
| --- | --- |
| Option | Rate |
| Breakfast | $14 |
| Lunch | $17 |
| Dinner | $27 |
Diving
All rates are per person in USD.
| | |
| --- | --- |
| Option | Rate |
| 2-tank boat dive including tanks, weights & lunch | $135 |
| Additional 3rd tank dive | $40 |
Can't find the information you need?
Drop us an email at bookings@bluewaterdivetravel.com or call us at 310-915-6677 and we will gladly help you plan your dream dive vacation!
Dive Information

---
Dive Overview
One of Kosrae's greatest attractions is the clear, clean ocean and its extraordinary living coral reefs that completely surround it. Offshore, the coral reefs slope steeply into the clear blue depths. Both vertical drop-offs and undulating profiles of cascading corals appear before you, as underwater visibility averages 100 to 200 feet. The reefs comprise hundreds of densely packed coral species, both hard and soft, attracting an abundance of marine life. A diver could easily observe 50 species of fish in a single dive. Turtles and rays inhabit the waters of this island paradise, and if you enjoy finding Nudibranchs and other macro subjects, you'll be delighted.
Kosrae's shape provides a sheltered side of the island (in case the trade winds blow a little hard). Our divemasters have a wealth of experience and will cater to your every need, no matter what your diving experience.
Imagine yourself diving and photographing a sheer vertical wall with hundreds of Pacific barracuda encircling you, feel your eyes widen in amazement at the huge and remarkably colorful coral reef systems, or watch the resident spinner dolphins as they jump and twirl for your entertainment.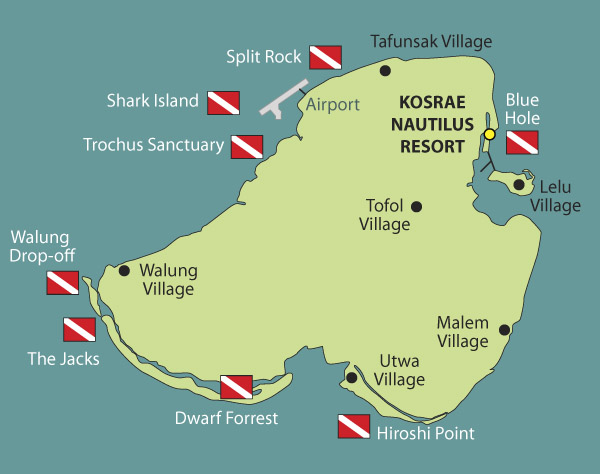 Schedule
7:00 am: Time for breakfast, our restaurant is open and waiting. Feel free to let us know if you think you might need a wake-up call, or you can set the clock radio in your room.
8:15 am: Meet at the dive shop, get your gear together and ready to load into the trailer. Don't forget to bring your certification card if this is your first day with us. We will need you to read through and sign our standard NAUI waiver form.
8:30 am: The minibus will drive you to one of the 3 marinas where we keep our boats. Kosrae is roughly triangular in shape with a high volcanic mountain in the center, so this usually makes for at least one side of the island to be shadowed from any wind that might be around. With this choice of three marinas to start our diving from, we can choose the best side of the island to give you optimum diving conditions for that day.
At the marina, we load all of the equipment onto the dive boat and have you assemble it before the boat leaves the marina. If you need assistance our staff will happily assist. We fit you on board with weights and tanks.
Once on our way and outside the harbor we can assess wind and swell to choose the best dive site for the start of the day. All dive sites are a mere 5 to 30-minute boat ride away, with over 60 mooring buoys to choose from. The dive
briefing for the chosen dive site is given once we're tied onto the mooring buoy.
For maximum safety, the dive guide will tow a surface float and the group will normally drift with the current. If the current changes direction, the guide will usually choose to change direction and go with the flow. Both guides let you dive your own profile and leave you to enjoy your dive as much as possible. However, if they see something interesting they are only too happy to point it out to you.
Between dives, we take a one-hour surface interval allowing time to snorkel if you wish. During this time you will be served fresh local fruit including some of the best bananas you'll ever taste, and some famous Kosraean tangerines. Depending on the season, we may also serve strawberry papaya, or local pineapples, both are a real treat. We also provide plenty of drinking water to ensure everyone is well hydrated.
After the second dive, we enjoy lunch on the boat before heading back into the harbor. Arrival back at the hotel is between 1.30 and 2.30 pm. If you wish to do three dives we get back about two-hours later.
Once back at the resort and after rinsing out the gear it is time to relax, go for a swim in the pool, or a snorkel out front on the reef, or simply read a book and relax till dinner time.
Dive Center Information

---
Kosrae Nautilus Resort Dive Center Overview
Nautilus Divers in Kosrae, the in-house diving operation, has 2 dive boats with full shade canopies, powerful 4-stroke engines, and oxygen on board.
Poseidon is 27' long and purpose-built for diving with a full shade cover, rear duck-board, oxygen, and a quiet 4-stroke 200 h.p. motor, maximum 6 divers.
Gecko, the second dive boat is 24' long with a full shade cover, substantial ladder, oxygen, and quiet 4-stroke twin 70 h.p. engines, maximum 4 divers.
Both boats make daily trips (except Sundays) to the best dive sites in Kosrae.
Other Information

---
Practical Information
Electricity: 110 V
Time zone: UTC+11
Languages: Kosraean, Japanese & English
Accept Credit Cards?: Yes, Visa, MasterCard, Discover & JCB
Underwater Gallery

---