Destination: Palau
From $450++/night

---
M/Y Black Pearl Quick Pitch
The M/Y Black Pearl is a premium 46-meter yacht perfect for exploring the waters of Palau. Outfitted with the latest navigation, safety, and scuba diving systems and equipment, the Black Pearl and its crew provides state-of-the-art amenities paired with a pristine and luxurious design.
Location
The M/Y Black Pearl operates out of the Port of Koror (ROR.) Guests arriving at the airport on the check-in day will be picked up by a Pearl Fleet representative; while guests who have opted to stay in a hotel or are coming from the city, can arrange to be picked up by a representative. Additional charges may apply.
[See: Liveabord Diving in Palau]
Dive Overview
Palau offers epic diving along a breathtaking archipelago with a variety of diverse sites including WWII wrecks, stunning wildlife, and Palau's famed Jellyfish Lake.
[See: Palau Dive Travel Guide & Micronesia Dive Travel Guide]
Accommodations
Types of Cabins, Amenities and Photos

---
m/Y Black Pearl Accommodation Details
The M/Y Black Pearl offers 11 twin cabins, providing comfortable sleeping arrangements for up to 22 guests. The upper deck features 2 Master Seaview Cabins with large windows, while the main deck offers 4 Seaview Cabins with equally large windows. The lower deck consists of 5 Deluxe Cabins, each with portholes. All cabins come with ensuite bathrooms, air conditioning, safety deposit boxes, reading lights, international plugs, and USB charging ports. This accommodation provides the perfect blend of comfort and convenience, ensuring a pleasant stay for all guests.
General Facilities

---
M/Y Black Pearl Boat Features
Main Deck Outdoor Seating and Jacuzzi
Main Deck Outdoor Bar
Spacious Indoor Dining Area with Cafe and Bar
Entertainment Salon equipped with Poker and Beer Pong tables, Gym Equipment, Business Centre
Camera Bay
Sun Deck Seating and Sun Beds
Hammock Area
m/y Black Pearl Dive Facilities
2x Shaded fiberglass tenders, each with a capacity of 12. Equipped with 170HP Twin Inboard Engines, Top speed 40 knots.
Large camera station that has a variety of plugs and USB ports for use by underwater photographers and videographers.
Boats are equipped with VHF Radios, GPS, Fresh Water Shower, First Aid Kits, DAN Diving Emergency Safety Equipment
Food & Drinks Aboard M/Y Black Pearl
The M/Y Black Pearl serves guests 3 meals a day and lights snacks, available before the first dive of the day and in the afternoon. Hot beverages and biscuits are also served onboard. The chefs onboard are more than happy to accommodate any dietary restrictions or allergies. This can be communicated to the team upon booking.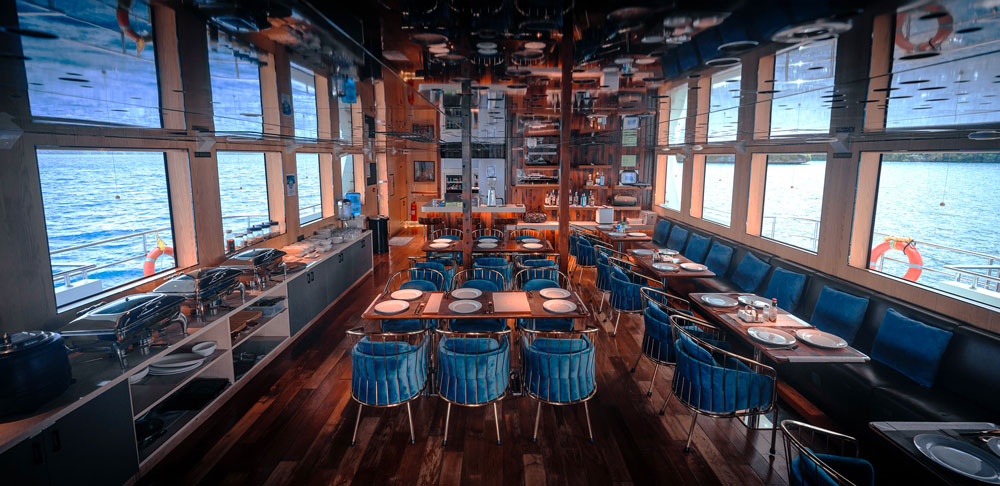 m/y Black Pearl Liveaboard Deck Plan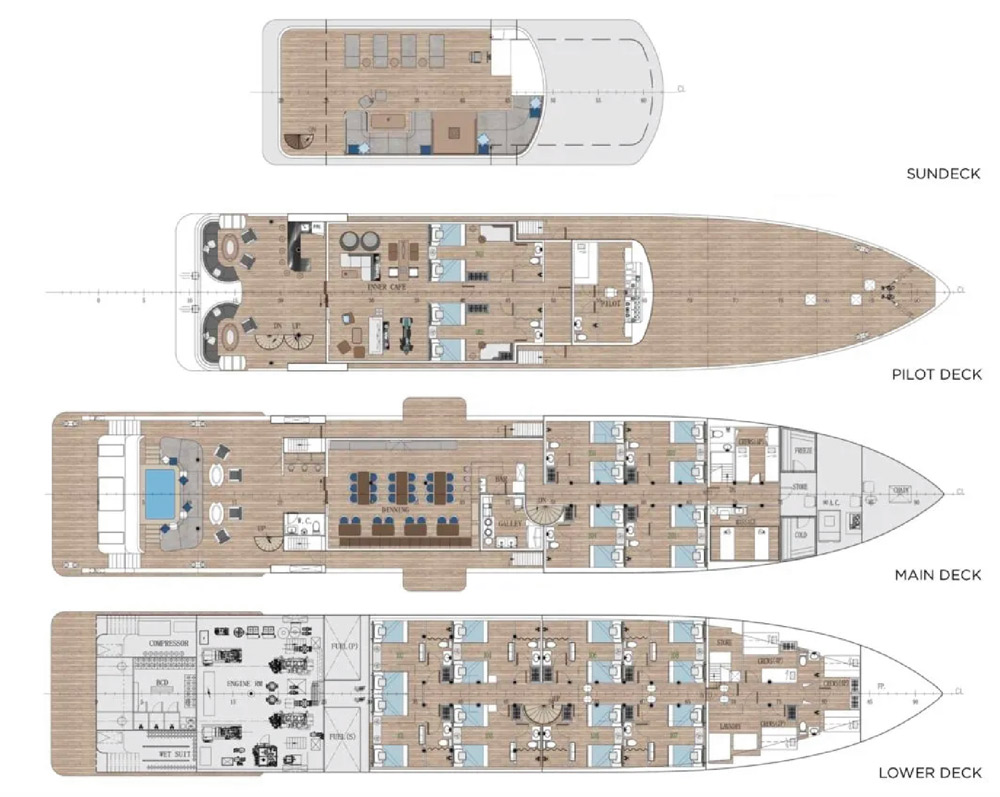 Schedule, Rates & Availability
M/Y Black Pearl Schedule & Rates

---
Prices are in USD, per person. Port and park fees are not included.
Inclusions
Full-board accommodation.
3 meals a day, including light snacks available before the first dive of the day, and afternoon snacks.
Hot beverages and biscuits.
Two-way transfers strictly between Palau International Airport and Malakal Port only.
Towels, bathroom toiletries, and daily cabin services/housekeeping.
Dive guide, tank, weight, and weight belt.
Nitrox tanks for Enriched Air Nitrox certified divers.
Up to 4 dives a day (dive schedules may vary depending on the location and the itinerary of the boat).
Water activities available onboard on request.
ExclusionS
Mandatory Marine Park Fees - $250 per person (to be paid onboard)
International flights.
Soft drinks and alcoholic beverages.
15-l tank rentals and other dive gear rentals.
Satellite internet connection - can be purchased onboard.
Diving insurance - can be purchased on board.
Marine Park Fees and Taxes.
Crew gratuities.
RATES & AVAILABILITY
For more information on other departure dates, rates, and on availability email us at info@bluewaterdivetravel.com or call us at +1-310-915-6677 and we will gladly help you plan your dream dive vacation!
Dive Information & Destinations

---
Palau Dive Overview
Palau Islands sits on the westernmost side of a region called the West Caroline Islands, which is part of a larger region called Micronesia. Locked in by the vast Pacific Ocean, Palau is a rare oasis, a self-contained, isolated archipelago thriving with biodiversity and abundance.
Palau's scenery ranges from soft, white-sand beaches, tropical rainforests, jungle trails, to spectacular waterfalls and hidden lakes. There are a multitude of activities to get involved in, from scuba diving, snorkeling, cruising, kayaking, bird-watching, and hiking to name a few.
Palau Islands presents magical blue holes, captivating wartime wrecks, pristine coral reefs, mysterious caves and tunnels, more than 60 vertical drop-offs to explore, and an astounding assortment of coral, fish, and rare sea creatures underwater.
Although Palau is considered an advanced dive destination due to frequent currents and depths, our experienced dive professionals are committed to ensuring guests' safety throughout every breathtaking moment underwater.
Best Dive Sites in Palau
Blue Corner: This is perhaps the most famous dive site in Palau with steep walls and an abundance of fish life. Expect to see fascinating underwater landscapes, experience full-throttle currents, and plenty of pelagic action. Snappers, jacks, and triggerfish schools roam around at this V-shaped plateau pointing out into the Philippine Sea. Currents at this dive site are mostly strong and it is very common to spot oceanic predators like sailfish, hammerheads, dolphins, whales, and reef sharks.
Blue Hole: A nice and easy dive site, several holes less than 16 feet/5 meters from the surface mark the entry point into the cavern which drops to 120 feet/35 meters. The walls of the cavern are filled with sponges, crustaceans, black corals, and reef fish. Inside the Blue Hole, divers exiting by the "window" can do a drift dive and find their way to the Blue Corner. It is always important to watch your depth and bottom time inside the cavern.
German Channel: During the German occupation of the Palau Islands, German miners dredged a channel that connected the inner lagoon with the open ocean to transport phosphate. The currents going through the channel help get nutrients in, and get waste out, inviting manta rays and large pelagics in from the open ocean. The German channel has plenty to offer, mantas rays, reef sharks, whale sharks, and hammerheads are frequent in the area, and the shallow reefs are home to a wide variety of macro life. The best time to dive in the German Channel is between January and March when manta rays visit the region to mate.
Peleliu Express: Peleliu Express is one of the deepest and most beautiful dive sites in Palau. This dive site is not recommended for beginners and is considered an advanced drift dive site. A large variety of marine life finds shelter in the deep canyons, crevices, and caves that cut into the wall of Peleliu Island. The vertical walls are covered with tube corals and sponges attracting colorful butterfly and angelfish, as well as green and hawksbill turtles. It is one of the best spots to interact with countless sharks and dolphins. It is important to always stay alert and pay attention to your guide when diving Peleliu Express.
Ulong Channel: This breathtaking drift dive is unique to the archipelago. The sandy bottom of the channel is decorated with numerous coral heads and coral formations. Currents here may be strong and unpredictable. You are sure to find grey reef sharks, stingrays, snappers, barracuda, and other pelagics. This is also one of the region's best places to search for macro and a prime location for spawning between April and July. Titan triggerfish dig out large grooves in the sandy bottom to lay their eggs due to their extremely territorial and protective nature when nesting on this site.
Chandelier Cave: This site was once an open-air cave but now a chain of cave system made up of five separate, connecting chambers with air pockets. Its dramatic stalactites and stalagmites formed, resembling glittering chandeliers. The halo-cline inside the cave is created by the meeting of salt and fresh water. If you are hoping to spot soldierfish and cardinal fish inside the cave, or small shrimp and crabs that cling to the sponges found along the walls, visiting the site just before sundown would do the trick. This site may not be favorable for divers who may be claustrophobic and/or have concerns about diving in darkness.
Siaes Tunnel: This deep underwater cavern offers divers an awesome experience as they dive through a large naturally-lit tunnel. Black corals, cup corals, soft corals, reef fish, and invertebrates in the walls and ceilings of the tunnel await. There are also white tip reef sharks and stingrays resting on the sandy bottom in the cavern. Currents can get very strong here and the use of reef hook and safety marker buoy is mandatory.
Turtle Cove: The vertical reef wall, with plenty of small caves, arches, ledges, and reef sharks roaming around, is great for an introductory dive. On the top reef is a mini blue hole that forms a large cavern. The reef extends out to a plateau from and around Ngercheu Island. Currents can be strong at the corner. Different species of nudibranchs, schools of jacks, striped and black snappers, goatfish, pyramid butterflyfish, hawkfish, titan triggerfish, and a variety of angelfish and yellowtail fusiliers patrol the reef. Divers should be cautious when surfacing due to heavy boat traffic on this site.
spawning special - new moon Itinerary Overview
Cruise through the pristine waters of Palau, Micronesia on our 8D7N Classic cruises. Best known for its diverse diving experiences and underwater landscapes, sharks, manta rays, and world-famous Jellyfish Lake, be awed by the magic this remote destination presents. The Spawning Special during the new moon will also give divers an opportunity to catch the spawning aggregations of the bumphead parrotfish.
palau classic ITINERARY OVERVIEW
Cruise through the pristine waters of Palau, Micronesia on our 8D7N Classic cruises. Best known for its diverse diving experiences and underwater landscapes, sharks, manta rays, and world-famous Jellyfish Lake, be awed by the magic this remote destination presents.
[See: Palau Dive Travel Guide]
Other Information

---
Boat Specifications
Length: 46.80m
Width: 8.60m
Speed: 12 knots
Engines: 2x 477kW Cummins with Auxiliary Propulsion
Generators: 2x 150kVa Cummins
Desalinator: 4x Reverse Osmosis Water Maker, 30 tons/day
Maximum guests: 22
Number of cabins: 11
Tenders: 2x Aluminium All-Purpose Built, 170HP twin engines
Practical Information
Time Zone: UTC+9
Local Currency: USD (US Dollar)
Language Spoken: English, Palauan
Electricity: 220v
Payment Onboard: Cash (USD and EUR) and Paypal Service
Underwater Gallery

---