Destination: Indonesia
Raja Ampat, Lembeh Strait, Ambon, Maumere, Kelimutu (Three color lake), Wakatobi (6-11 Nights) | From $400++/night

---
Sea Safari VI Quick Pitch
Sea Safari VI is the smallest vessel among the Sea Safari fleet. She is based in Raja Ampat for 6 months and Komodo for 6 months.
Dive Overview
Sea Safari Cruises operate diving and snorkeling liveaboards in Bali, Komodo, Raja Ampat all year round. Diving and snorkeling in Sumbawa, Ambon, Alor, Banda Neira, Lembeh Straits, The Forgotten Islands and many other destinations in the Indonesian archipelago are also offered. All Sea Safari vessels are equipped with modern navigation systems, up to date safety and first aid equipment and ENOS diver locator systems. Sea Safari Cruises offer a perfect balance of diving and comfort on their liveaboard dive vessels
[See: Komodo Dive Travel Guide, Ambon & Alor Dive Travel Guide, Raja Ampat Dive Travel Guide, Lembeh Dive Travel Guide, Wakatobi Dive Travel Guide & Derawan Islands Travel Guide]
Accommodations
Types of Cabins, Amenities and Photos

---
Sea Safari VI Cabin Overview
The Sea Safari VI liveaboard has 10 cabins, which can accommodate up to 20 passengers. The cabins have private bathroom, basin, hot and cold shower and air conditioner.
2 double bedrooms and 2 twin bed type deckstate room in the upper deck
2 double bedrooms type deckstate room in the middle deck
2 double bedrooms and 2 twin bed type deluxe in the lower deck
General Facilities

---
Sea Safari VI Boat Features
Restaurant with air conditioner, TV and DVD and 1 chiller showcase with 1 glass door for soft drink and fruits.
Guest kitchen with 6 door freezer: 3 doors for vegetables/fruits and 3 doors for meat.
Electricity 220V
Watermaker 10,000 Liter per day
Coffee Maker
Satellite Phone (+62 86 811 705 984)
LCD TV 32''
Camera Station
Laundry service available on request
SEA SAFARI VI LIVEABOARD DIVE FACILITIES
2 units speed boat Yamaha Enduro
2 units engine life saving boat
4 Units Out board Yamaha 40 HP (2 Stroke)
ENOS Dive Locator System
32% EAN Nitrox
DIN Adaptors
Diving platform
Freshwater deck showers
Diving gear rental available
Sea Safari VI Liveaboard Deck Plan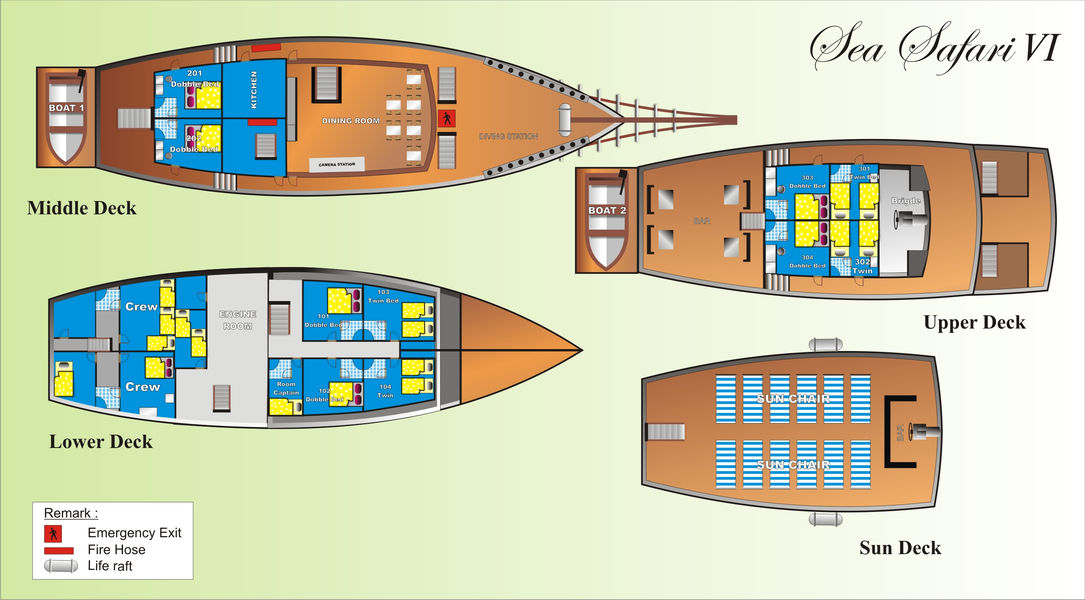 Schedule, Rates & Availability
Sea Safari VI Schedule & Rates

---
Rates are per person in USD. Park fees are not included. Raja Ampat Entrance Fee: 145 USD/person/package; Cendrawasih Bay Entrance Fee: 35 USD/person/night. Valid until December 2020.
[See also: Inclusions & Exclusions]
Inclusions
Accommodation onboard & meals (light breakfast, breakfast, lunch, dinner, tea time & snacks)
Coffee/expresso
Certified Dive Master (ratio 1 DM: 4 divers)
Compressor, regular air fills 3000 psi or 200 bar, tank, weight belt
Guided land excursions
Cruise Accident Insurance
Harbor and anchor fee
Free Souvenir (Aluminum Bottle, Singlet Shirt & Beach Sarong)
ENOS (Safety equipment for divers & snorkelers to show their position (with GPS) during the water activity)
DAN Insurance
Exclusions
International/domestic airfare and airport tax
Personal diving equipment (available for rent) and battery
Komodo National Park fee, Raja ampat entrance fee or Cendrawasih Fee
Gratuities to guide and crew
Onboard telecommunication
Laundry service
Alcoholic beverages & Soft Drinks (Corkage fee will apply when you bring and consume your own drink)
32% EAN Nitrox
RATES & AVAILABILITY
For more information on departure dates that are not listed and availability please email us at info@bluewaterdivetravel.com or call us at +1-310-915-6677 and we will gladly help you plan your dream dive vacation!
Dive Information & Itineraries

---
Raja Ampat
The Raja Ampat or "Four Kings" archipelago encompasses more than 9.8 million acres of land and sea off the northwestern tip of Indonesia's West Papua Province. Located in the Coral Triangle, the heart of the world's coral reef biodiversity, the seas around Raja Ampat hold the richest variety of species in the world with over 75% of all known coral species and over 1,500 species of fish.
Raja Ampat consists of the four large islands of Waigeo, Batanta, Salawati, and Misool, plus hundreds of smaller islands. In addition to incredible marine life, Raja Ampat offers you other cutting edge experiences such as mangroves, the bird of paradise and other exotic birds along with tropical plants and stunning sunsets.
Lembeh
The Lembeh Strait is located at Northeast tip of Sulawesi. Arguably the best muck diving in the world and a heaven for macro photography & videography. Home to many critters that are seldom seen anywhere else on earth, including the hairy frogfish, pygmy seahorses, larger seahorses like the thorny seahorse and estuarine, mimic octopus, wunderpus, flamboyant cuttlefish, hairy shrimp, Lembeh Sea Dragon and hundreds of Nudibranches.
Ambon
Ambon`s diving is one of the mecca`s of Indonesia`s diving. The near-mythical Twilight Zone, king of the Muck Dives in Ambon at Laha is still great.
You can expect to see everything from schooling Hammerhead sharks in the Banda Sea to Ambon Scorpion Fish and Rhinopias in the muck at Laha, Ambon. With stunning views of dormant volcanoes on the way and land excursions to 17th century Fort Belgica in Banda Neira.
Reef dives around Ambon are also spectacular with good coral coverage, schooling fish and unusual formations.
There are so many species of fish present in the Ambon region that specialists cannot give the exact total number. What is known is that there are more than 3000 species of fish and several hundred species of corals accounted for with the numbers still rising. Even the healthiest of Caribbean reefs has only 10 or 20 percent of the species diversity of a comparable reef in Ambon.
Maumere
Maumere is the seat capital of the Sikka Regency and the largest town in Flores, Indonesia. It lies on the north coast of the island and the port is in the north-west part of the town. Frans Seda Airport is located in Maumere.
The best time of year for diving Flores is from April to December as this usually forms the majority of the dry season.
The rainy season from January to March has an increased chance of rain during your time there. Sea temperatures do not change much during the year from a low of around 25°C and a high of 30°C, Depth: 12 - 28m, Visibility: 8 - 30m, Currents: Can be strong, Water temperature: 25 - 30°C, Experience level: Intermediate - advanced, Distance: ~800 km east of Bali.
Halmahera
Halmahera is located at northern Mollucas or Maluku one of the best dive spot in Indonesia.
Larger visitors include turtles, schools of barracuda and batfish, eagle rays, bumphead parrotfish and graceful manta rays.
The Ternate – Halmahera – Ternate itineraries for 7 days concentrate on the southwestern side of Halmahera exploring the dive sites around Bacan, Moti, Tidore and Ternate islands. For 11 days may cover north to south dive side from Bacan to Morotai.
Other Information

---
Boat Specifications
Name of vessel: KLM.SEA SAFARI VI
Type: Phinisi Buginese Schooner
Made of: Ulin Wood
Year built: Batulicin, 1999 - 2000
Length: 35 Meter
Breadth: 9.5 Meter
Depth: 3.50 Meter
Gross Tonnage: 189 GT
Fuel tank capacity: +/- 30 Ton
Water tank capacity: +/- 12 Ton
Speed: +/- 7 - 10 Knots/hour
Main Engine: 1 unit DEUTZ 241 PK – 2300 RPM Made in Germany
Watermaker: 10,000 Liter per day
Practical Information
Time Zone: UTC+8 & UTC+9
Local Currency: IDR (Indonesian Rupiah)
Language Spoken: Indonesian & English
Electricity: 220V
Payment Onboard: Cash, Visa or MasterCard
Underwater Gallery

---