Destination: Bonaire
Boulevard Santa Barbara 50 Kralendijk, Bonaire, Dutch Caribbean | Room + breakfast only + 2 dives from $134/ppn

---
Caribbean Club Bonaire QUICK pitch
Caribbean Club Bonaire is a friendly, full-service ocean-front resort with great amenities, located in the shore diving capital of the world. Dive, Relax and Explore is what Caribbean Club Bonaire stands for!
Quick Information
No of Rooms: 39
Dive Center: On-site
Amenities: Pool, hot tub, restaurant, AC, car rental and more!
WiFi: Yes, free
Nearest International Airport: Curacao International Airport
Airport shuttle: Yes
How to Get There
The island is located in the southern Caribbean, outside the hurricane belt close to Aruba and Curacao which are only respectively 86 and 30 miles (138 and 48 kilometers) away. Bonaire is just a 3-hour flight from Miami and approximately a 9-hour flight from Europe.
Dive Overview
Bonaire is the shore diving capital of the world! Consistently rated as the top dive destination in the world and with over 80 marked dive sites, you will find that the type of dive you encounter in the south will be distinct from the type of dive you encounter in the north, or at Klein Bonaire.
[Read More: Bonaire Dive Travel Guide]
Accommodations
Types of Rooms, Amenities and Photos

---
Caribbean Club Bonaire Accommodation Overview
A wide range of room types makes Caribbean Club Bonaire a unique resort. Guests may choose from basic studios to spacious villas overlooking the crystal blue waters of the Caribbean Sea or from a penthouse to comfortable one-bedroom cottages. All units have air-conditioned bedrooms, while the living rooms and porches feature ceiling fans. Kitchens in the one-bedroom cottages and studios are equipped with the utensils and equipment you need to prepare a good meal, while the kitchens in the two-bedroom cottages provide you with all the luxury you can wish. Cable TV and safes complement the convenience you need.
Resort Facilities

---
Caribbean Club Bonaire Features
Free WiFi
Car rental
Bike rental
Dive lockers and rinse tanks
2 swimming pools
Restaurant
Bar
Free Parking
Caribbean Club Bonaire Food & Drinks
There is no other restaurant and bar on the island that epitomizes the local and truly Caribbean atmosphere like Hilltop Restaurant & Bar. Imagine a peaceful setting with a constant breeze where local and international cuisine are melted into one: the perfect place to relax and enjoy delicious meals or just have a cold drink. The 'Free Managers Rum Punch Party' & BBQ on Sunday and Krioyo Night on Wednesday are events you should not miss.
Caribbean Club Bonaire Activities
Kayaking
Mountainbiking
Hiking
Bird watching
Horseback riding
Cave exploring
Kiteboarding
Snorkeling
Packages & Rates
Caribbean Club Bonaire Rates

---
Caribbean Club Bonaire Rates & Availability
For more information on rates, availability and to book, drop us an email at bookings@bluewaterdivetravel.com or call us today at 310-915-6677. We are always glad to help!
Dive Information

---
Bonaire Dive Overview
Visibility: 100 feet (30 meters)
Water Temp: 80F (29C)
Highlights: Shore diving (with reefs requiring only 30 feet of swimming), minimal currents, abundant marine life with a variety of multi-colored tropical fish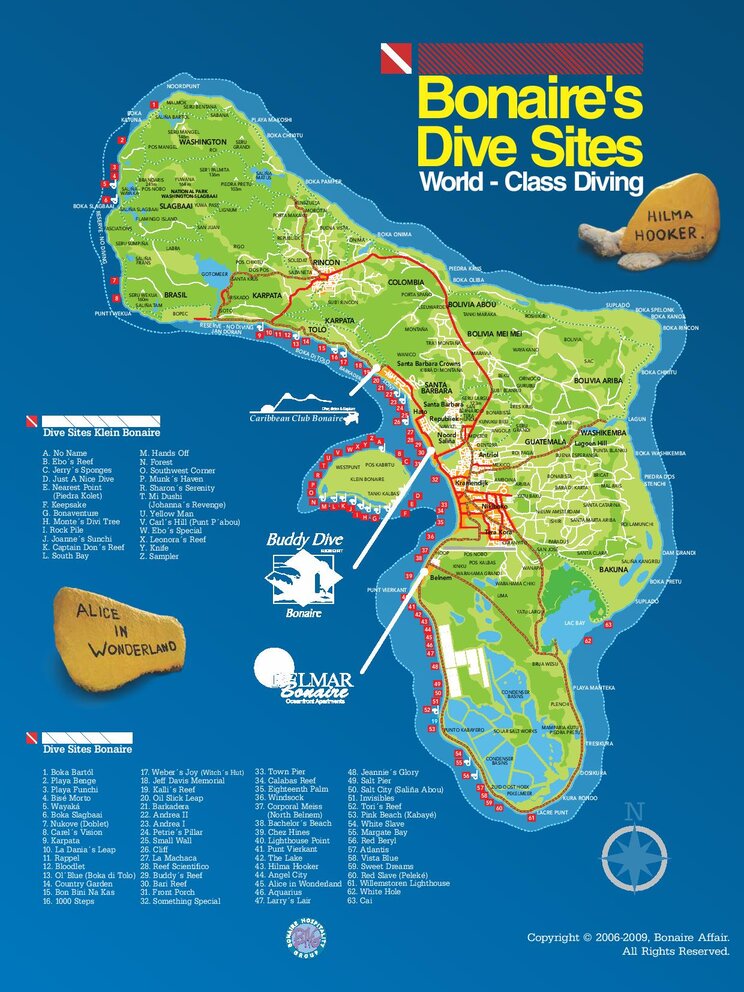 Bonaire Marine Life Overview
Below are some of the marine creatures you can expect to encounter during your dive in Bonaire!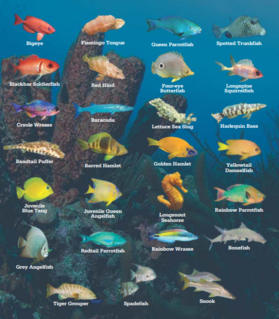 [Read More: Bonaire Dive Travel Guide]
Dive Center Information

---
Caribbean Club Dive Center Overview
The on-site Buddy Dive shop offers you everything you could need; professional, multilingual staff, a full-service retail shop and tanks for as many dives as you want. They also offer PADI, NAUI, GUE, TDI and SDI dive courses in different languages from beginner to professional level and most specialty courses. Most courses will be hosted at Caribbean Club Bonaire. For some more specialized courses, they move to the facilities of Buddy Dive Resort.
Other Information

---
Practical Information
Electricity: 110/220V/50Hz
Time zone: UTC-4
Languages: English widely spoken
Accept Credit Cards?: Yes, Visa, Mastercard, American Express
Underwater Images

---